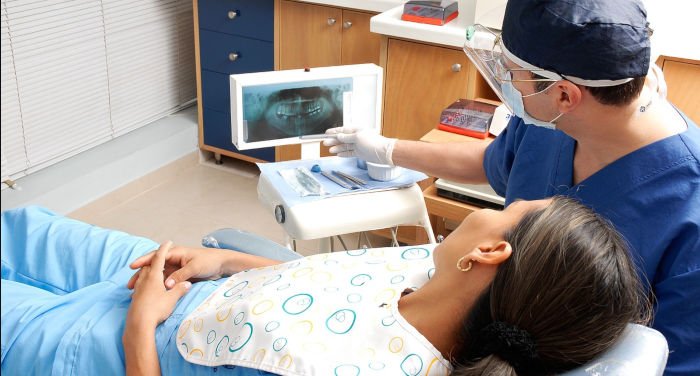 Do you live in Shanghai and need a dentist right now? Below you find a list of international dental clinics in the city.
Or, do you plan to relocate to the city in the near future? If that's the case, you should consider looking for an international dental clinic in advance and that can help you and your family in case you need help later.
Worth mentioning is that the services at international dental clinics are in the upper range, therefore, it's important that you confirm with your employer what options you have and what you're covered for.
In this article, we list some of the most popular dental clinics that expats and foreigners use in Shanghai. They often have offices in multiple locations in China and have Chinese-speaking dentists.
1. Arrail Dental Shanghai (瑞尔)
Arrail Dental was founded in Beijing in 1999 and they have a policy saying "Customers are family members". Since the start, Arrail Dental Shanghai has grown to become one of the top dental clinics in Shanghai that has helped many foreigners over the years.
Nowadays, they have more than 80 clinics in various parts of Beijing, Shanghai, Hangzhou, Tianjin, Qingdao, and more. The company has two brands, namely "Rytime" and "Arrail". Started by Rober Zou, the company offers professional, advanced, and international-level dental services to more than 5 million customers.
Some of the company's corporate clients include well-known brands such as China Merchants Bank, UOB, Pingan, Microsoft, and Siemens.
Cities
Tianjin
Shanghai
Hangzhou
Shenzhen
Guangzhou
Xiamen
Chengdu
Chongqing
Xi'an
Ningbo
Qingdao
Changsha
Ji'nan
Wuxi
Office address: As the company has many clinics in Shanghai, I recommend you to check their website.
2. Pure Smile Shanghai Dental Clinic
Pure Smile Shanghai Dental Clinic has been voted as a top dental clinic by the Timeout Shanghai readers and is one of the most popular clinics in the city. The company has four offices in Shanghai and has received plenty of reviews from foreign clients. Not only do they have top-trained Chinese dentists, but also foreign dentists.
Looking at the services, Pure Smile currently offers the following services to foreigners and locals:
Pediatric Dentistry
Dental Hygiene
Preventive Exams & Cleaning
Restorative Dentistry
Periodontics
Cosmetic Dentistry
The company also works with many insurance companies, including SOS First, AXA, Bupa, CIGNA, Pingan, and Henner. For up to date information about their services and prices, I recommend you to check their website directly.
Cities
Office locations: Jinqiao Pudong, Jing'an Puxi, Hongqiao Puxi, Minhang Puxi
3. DDS Dental Care
DDS Dental Care is a reputable dental clinic that has offices in many locations in Shanghai. Founded as early as 1999, they have an international team and western trained dentists.
Dr. William Xu currently serves as the company's Managing Director, he is certified in DDS, MSD, College of Stomatology at Shanghai Jiao Tong University.
Examples of services offered by the company are:
General dentistry: Examination and consultation, digital X-rays / 3D imaging, and fillings.
Preventive dentistry: Oral prophylaxis and cleaning (Professional Biofilm Management), Fissure sealants and fluoride application.
Aesthetic and restorative dentistry: Porcelain veneers, full-mouth smile design, E-max crown and bridge restorations, 3Shape digital design technology – CADCAM, Cold light whitening, and home bleaching.
For more information, check their website directly as these are just a few examples of services.
Cities
Office locations: DDS Dental care has clinics in Puxi, Pudong, Hongqiao, Huacao, Qingpu.
For information about the exact addresses, please visit their website.
4. United Family Health
United Family Healthcare, referred to as UFH, is both an international hospital and clinic chain, offering high-quality and private healthcare to foreigners. The company was founded around two decades ago and has opened clinics in plenty of cities, including Shanghai and Beijing.
Having more than 600 doctors from 25 countries and regions, UFH, has undoubtedly one of the biggest network of clinics in the country. In addition to the 600 full-time doctors, UFH also has more than 1000 part-time experts and 1000 nurses.
Interestingly, UFH also has its own online stores on platforms like JD and Tmall, called UFH Online Mall. This shows what a great brand UFH has become and the financial capabilities they have to enter these eCommerce platforms.
Cities
Beijing
Shanghai
Guangzhou
Tianjin
Qingdao
Bo'ao
Office locations: UFH has clinics in various locations in Shanghai, therefore, please check their website for details about the locations.
5. Raffles Medical
Raffles Medical is a leading dental clinic that offers high-quality services to locals and foreigners in Shanghai. With years of experience in the industry, Raffles Medical focuses on maintenance, prevention, and routine care to keep healthy teeth and gums, fresh breath, and a confident smile.
At the moment, there are two persons working for the clinic's Dentistry and Orthodontics department, Dr. Yee-Jae Yoon, who is a Dental Surgeon from Korea, and Dr. ​Zoe Zhang who is an Orthodontist.
Besides, Raffles Medical offers services in ​Family Medicine, Cardiac Surgery, Paediatrics, Mental Health and ​Counselling, and more.
Cities
Office address: Level 2,Innov Tower,1801 HongMei Road (near Yi Shan Road),Xu Hui District ,Shanghai, China 200233.
Photo Credits: Photo by Oswaldo Ruiz on Pixabay