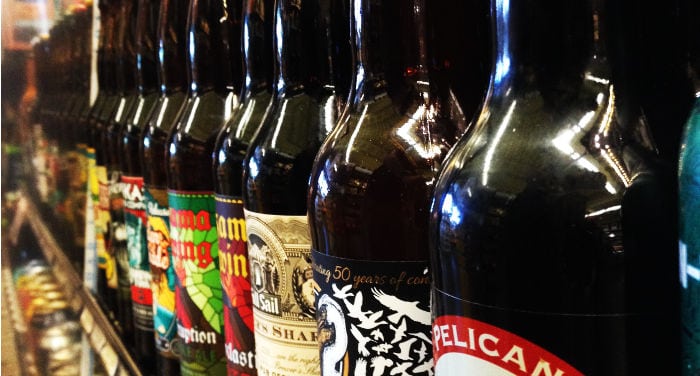 Do you enjoy beer?
I don't mean the stuff that was invented because it was safer to drink than water, I mean really good beer! Maybe, you've never experienced a beer with such complexity and balance that it should be savored like a fine wine. A beer that needs to "open up" a bit as it settles into the glass, and as you take your first sip you breathe in the aroma of hops and malt.
A beer that, like wine, to fully enjoy it you have to educate yourself a little (or rely on a knowledgeable server) if you are going to find the flavors that tingle your unique palate. If you haven't yet, then you should, and know that you're not alone. You can join hundreds of millions of Chinese who have yet to discover craft beer.
Like many places in the world, China has been brewing beer since the beginning of time. Well, at least far enough back to cause a debate. And like other places in the world, it served its purpose then fell out of favor for some other alcoholic beverage. But now China is back on beer, and is the largest beer consuming country on the planet.
Yes, it's true, when you have a billion plus people you are the largest consumer of many things. But that also means it's an exciting time for the craft brewers of China. However, only time will tell whether they can follow the same trend as other beer drinking countries like the US, Japan, and the numerous other countries.
China, it's easy, just follow the trend!
In the U.S., the craft beer movement gained traction in 1979 after the deregulation of the beer industry. At that time there were less than 90 breweries in the States. It was slow but consistent growth at first, pushed forward by home brewing and brewpubs. By the 1990's the craft brew makers had found a niche. At that time craft beer was hovering around one percent of the U.S. beer market share, but it was enough to cause the big beer boys to notice, and they have been buying up craft beer companies ever since.
Many life long drinkers of light American lagers like Budweiser, Coors, and Miller felt obligated to at least see what the fuss was about. Some, like me, never went back. Since that slow beginning, the craft beer niche has steadily gained market share, even as Americans consume less beer overall.
As of 2014, there are more than 3,000 U.S. breweries in operation, of which 99 percent are small and independent craft brewers as defined by the Brewers Association.
In 1994, as the U.S. craft beer industry gained momentum, it also crossed the Pacific into Asia, and specifically the beer-friendly country of Japan. Since then Japan has seen a similar trend as the U.S. They deregulated brewing, and saw a slow but steady rise in home brewing and brewpubs.
In 2013 Japanese craft breweries owned about 1% of the market. And, the Japanese big beer companies noticed to the extent that they have started to launch their own craft beer labels, and buy other craft beer companies. In addition, while total beer consumption in Japan is down, the craft beer companies continue to see positive growth. Does this sound familiar?
China loves beer, but is it ready for craft beer?
Can you name the best selling beer in the world? It's called Snow, and it's brewed in China. Ever heard of it? No? Me neither, and I live in China. If it makes you feel any better, it very recently knocked off Tsingtao, which you may have heard of since it remains China's most popular exported beer. Both are light lagers similar to America's Budweiser. They are both safer to drink than the Chinese tap water, but, in my opinion, aren't much tastier.
In the Kirin Beer University December 2014 report on global beer consumption by country, China is not only number one in market share and consumption, it is only one of two countries out of the top 13 beer consuming countries in the world with positive year over year consumption growth. However, China's consumption per capita doesn't even show up on the Kirin report, which means you have many Chinese that don't care for what is currently being brewed. So, if you add these numbers to a steady increase in wealth among the growing middle/upper class, and sprinkle that with a little built-in classism, you get a lot of potential craft beer drinkers.
The Chinese middle/upper class consumer is the key for the craft brewers, because while they LOVE their experienced craft beer drinking expat customers, their long term future totally depends on the Chinese customer.
The Chinese palate is slowly opening up to Western tastes, and young Chinese that return home from college abroad are some of the first brewpub customers through the door. According to Beijing's "Great Leap Brewing", "Younger Chinese drinkers were joining the expatriates as customers. [Soon] they were making up 70% of the brewery's customer base. Some come, they think, 'That's a bit weird', and leave after one drink," but then they come back the next day, the next week, and bring their friends, too."
Where is craft beer at present in China?
Just like the U.S. and Japan in their early history, craft beer in China isn't relevant… yet. However, home brewing is at an all time high. In historically Western-friendly Shanghai there are a handful of brewpubs that have popped up in the last 5 years, such as Shanghai Brewery, Boxing Cat Brewery, The BREW, and Dr. Beer. In Beijing brewpubs like Great Leap Brewing and Slow Boat Brewery are also less than 5 years old. And always the little brother, in my newly adopted home of Shenzhen, we might have one, Bionic Brew, depending on whether or not the local government has shut them down this week.
Bionic's story is really a metaphor for the craft beer industry in China. "Bionic Joe" (my own name for him) opened Bionic Brewpub in July of 2014. I remember hearing about this place through the expat grapevine around September. Soon after, my Dutch friend and I wandered around walking streets and alleys for an hour only to find it closed. Since then, Bionic has opened in two other locations. Each time the police have shut them down. Although the police have never given Joe a reason, I had one brewer tell me that "the government just doesn't know how to classify the onsite brewing process."
So, like the growing pains in the U.S. and Japan, China's home brewing keeps growing in popularity, brewpubs keep popping up, and Shanghai and Beijing Beer festivals, which began in only in 2012, have seen more foot traffic each year.
This year Bionic hosted Shenzhen's first annual beer fest. "Beer Fest blew it out of the park. Every Brewery involved loved it, and wants to come back. All of us sold out of beer. Customers loved it and came from around [mainland] China and Hong Kong. Next year we may even have to extend it to two days."
If there's one thing I know about brewers, they are passionate about their beer, and every one of them believes that if you give them the chance, you will be passionate about craft beer too.
Cheers!
Brewing and beer have been around seemingly forever, so it's hard to pinpoint where things really begin. But for me, craft beer happens to be part of the culinary culture in the two places that I call home. Today both have grown into two of the hottest spots for brewing beer in the last 30 years in the U.S.; Portland, Oregon (Oregon ranks 2nd in breweries per capita) and Boulder, Colorado (home to the Brewers Association and the Great American Beer Festival since 1982).
Although I wouldn't call myself a beer expert, I do admit that I'm a bit of a "beer snob". So, after 4 years in China complaining about Chinese beer and equally bad "imports", it seems that, I may have the pleasure of witnessing the launch of the craft beer industry all over again.
Photo Credits: Photos by Blue Heron MacCormack