Hong Kong is divided into several islands (Hong Kong island, Landau and others) and a peninsula (Kowloon and New Territories). Beside its "complicated" geography, here you'll find hotels of all kind of prices and quality, which makes the choice extremely difficult. This guide is a selection of the best hotels in Hong Kong, whatever your budget may be.
If your looking for general recommendations on booking hotels in China you can click here to read our guide.
Review of Reviews of Luxury Hotels (5 Star) in Hong Kong
Island Shangri-la Hotel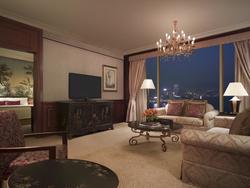 The Island Shangri-la Hotel is a luxury hotel in Central part of Hong Kong with 565 guestrooms. Some of the rooms offer harbor views and all of them are well-equipped with modern facilities and free Wi-Fi. It features 8 restaurants, full service spa, fitness center, business center, and an outdoor pool. Around the hotel, you will find Pacific Place, Bank of China Tower, Victoria Peak Tram, Hong Kong Academy for Performing Arts, and Hong Kong Convention and Exhibition Center, located within 1.7 km from the hotel. The best thing about this hotel is that the staff is extremely helpful and speaks languages like French, Russian, Japanese, Korean, and English. By staying at this hotel, you get facilities like valet parking, airport transfer, currency exchange, baby sitting services to name a few.