Koh Samet is the closest island to Bangkok and a popular weekend destination for the residents of the Thai Capital. Here you'll find a selection of some of the best hotels in the island for all kinds of budgets.
If your looking for general tips on booking hotels in Thailand click here to read our guide.
Reviews of Luxury (5 star) hotels in Koh Samet Island
Paradee Resort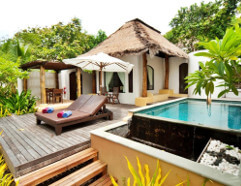 Offering beach front pool and garden view villas, The Paradee Resort is one of the top beach resorts in Koh Samet with 40 guestrooms. The resort is on the beach offering easy access to Sun, sand, and sea. It is also closely located to many other beaches with distance ranging between 0.9 km and 4km. The resort features a full serviced spa, fitness center, outdoor pool, and business center. The resort's private beach is spotlessly clean and is equipped with beach umbrellas. The hotel's English speaking staff welcomes its guests with welcome drinks and are very courteous to make the stay truly relaxing by attending to every little need of their guests. The villas are equipped with modern amenities and feature comfy beds with gorgeous views. The hotel provides free Wi-Fi only in public area and not in rooms. In addition, guests can enjoy motorized water sports at the beach to add to their entertainment.
Le Vimarn Cottages & Spa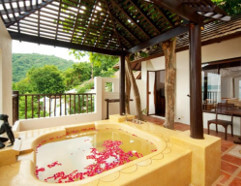 Enjoy beautiful sunsets at the Le Vimarn Cottages & Spa, featuring 31 guestrooms that come gorgeously designed in earthy tones with wooden floors and ceilings. The resort is situated on the slopes of hilly cove with a view of breathtaking sandy beach. It is a great option for couples and families with kids as the hotel provides childcare services and non-motorized sports. The hotel provides free Wi-Fi in public areas and the English speaking staff is ever smiling to make the stay better and truly memorable. For older people, it is advisable to go for the lower floors as the resort has many stairs to access the rooms on higher levels. Also, the hotel features a fitness center, well-kept garden, fully serviced spa, swimming pool, and restaurants.
Sai Kaew Beach Resort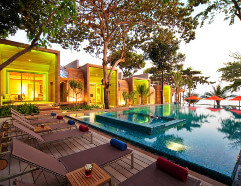 With 152 guestrooms, the Sai Kaew Beach Resort is located only a short walk away from the town. The hotel features cabins and rooms with poolside views where cabins offer more privacy. When compared to the other luxury hotels, Sai Kaew Beach Resort offers free Wi-Fi not just in public areas but also in rooms. The resort also offers both motorized and non-motorized water sports unlike most other resorts in the same vicinity that only offer one of them. Some of the other facilities offered at the hotel include a souvenir shop, cash withdrawal facility, salon, and shops in addition to essential facilities like a fitness center, spa, swimming pool, and garden. The beach is a few steps away from the resort with fewer crowds. It is a good hotel if you are looking for better services and facilities and easy access to downtown area and other restaurants and bars.
Reviews of mid-range hotels in Koh Samet Island
Ao Prao Resort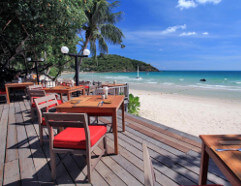 A relaxing refuge amid lush gardens, the tropical style of the Ao Prao Resort offers a comfy stay with exceptional facilities including plenty of leisure activities for guests. The resort offers facilities to relax and many activities like snorkeling, windsurfing, sailing, boating, and fishing to keep the guests on toes. Its isolated location adds to the relaxing experience of the guests and the clean private beach makes it even better to relax amid beautiful surroundings. To go to the town, the guests will have to hire a taxi, which can easily be arranged by the courteous staff. The resort offers free Wi-Fi in public areas, babysitting services, airport transfer, and car park. The hotel is expensive when compared to the other hotels of same standard.
Bari Lamai Resort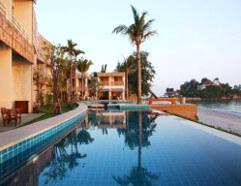 Located far away from the city attractions, the Bari Lamai Resort is a cozy beach resort at the end of Suan Son beach. The resort houses few rooms with only one category, which is Beach Front Deluxe. The rooms are not very spacious but comfy enough to provide peaceful sleep and are well-equipped with modern amenities. Some of the good points of staying at the hotel are free Wi-Fi across the resort, pets are allowed, non-smoking rooms, and free parking. The hotel is away from hustle-bustle and crowds, making it a cozy boutique beach resort with good facilities offering quite ambience for a true relaxing experience. In addition, English speaking staff is always ready to help the guests with their enquiries and needs.
Baan Ploy Sea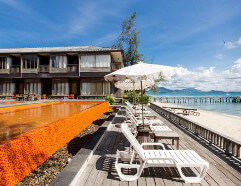 Baan Ploy Sea is a beautiful hotel offering excellent facilities at economical prices, when compared to other hotels in the same vicinity. The 23 guestroom hotel features spacious rooms with hues of brightly colored walls and furnishings, exuding modern décor. Each room comes equipped with modern amenities with sea views and free Wi-Fi. The resort also offers babysitting services and child friendly rooms to make the guests with kids feel comfy at the resort. The hotel also offers other services as free ferry terminal shuttle, free parking, luggage storage, room service, and airport transfer. The resort gives easy access to Sun and sand as it is located on the beach. Other tourist attractions like Rayong Aquarium, Ao Prao Beach, and Ko Samed Beach can be reached within 20-30 minute walk from the resort.
Reviews of budget hotels in Koh Samet Island
VIP Condochain Rayong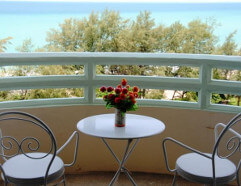 Located in Ban Phe, VIP Condochain Rayong features an excellent outdoor pool and a sun terrace. This property is nearly 100 meters away from the famous Mae Rumphueng Beach. They offer all the modern facilities in the clean and spacious rooms for a comfy stay. Free parking and free Wi-Fi access are certainly great features of this property. The famous Ban Phe Pier is only 4 kilometers away from this hotel. The staff of the hotel offers impeccable service to their guests and helps them to explore the destination without any hassles. Since they can speak English, guests can easily communicate with them. The hotel is a very good option when looking for good facilities at economical rates.
Baan Khun Yaai Mai Khun Ta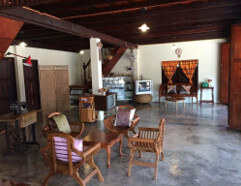 Baan Khun Yaai Mai Khun Ta is a lovely homestay facility in Thailand. It is suitable for travelers who seek affordable accommodation in Ban Phe. The spectacular Mae Rumphueng Beach is approximately 2.6 kilometers from this homestay while the Ban Phe Pier is only 1 kilometers away. In addition to its well appointed rooms, this property features a barbecue and a shared kitchen. Guests here also enjoy free Wi-Fi access during their stay in it. Free Parking facility is another advantage of choosing this home stay. The hosts and staff of this property are friendly and capable of speaking English.
Hotel Photos on Agoda.com