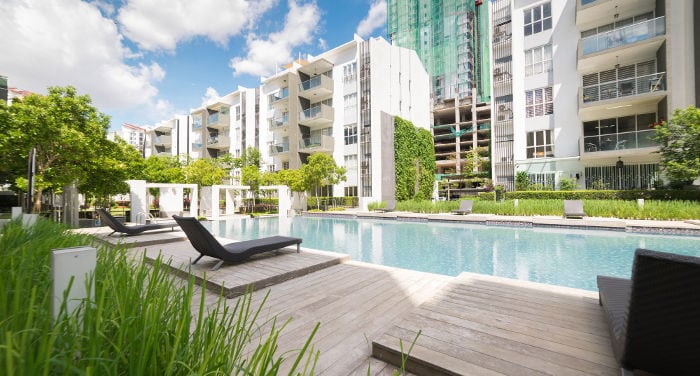 This article was written by AsiaPropertyHQ.com, a website that helps Asian investors who wish to purchase properties abroad.
If you buy property in Europe or the US, you can be fairly sure that your property investment will appreciate, and that you will find a tenant to pay monthly rent.
Now, if you can find somebody to rent in rainy Sheffield, it can't be that hard to make a good return on a condo in Bangkok?
Well, not so fast.
While many countries in ASEAN, and elsewhere in Asia, still post high growth rates – an increasing GDP may not necessarily translate into good property yields.
In Bangkok, where I am at the time of writing, residential buildings are popping up everywhere.
In fact, they are building too much.
Many condos are left empty for the most part of the year, and you may find it hard to convince somebody to buy your apartment – rather than a brand new one in the next compound.
On the other hand, condos near public transportation and universities have a far higher occupancy rate. In the end, it comes down to fundamentals.
Hong Kong or Ho Chi Minh City?
Asia is a very diverse continent, with poor and rapidly developing countries, next to some of the world's most powerful financial centers.
The real estate market in Hong Kong is completely different from the one in Ho Chi Minh City – which only opened up to foreign investors as late as 2015.
The risk profile and potential upside in different countries, and even cities, is extremely different – to the point where you need to use completely different criteria when finding the right place to buy.
While Hong Kong might offer the best investment opportunities in the outskirts, buying anything outside of the central areas of Bangkok could be a guaranteed loss.
Below follows an overview, that explains the difference between some major Asian countries and markets:
Hong Kong S.A.R.
Hong Kong is one of the world's leading financial centers. This is one of few places in Asia, where Entrepreneurs, investors and, well, government officials can safely store their (sometimes) hard-earned money and other assets.
The legal system is sound. The life quality is, for those who can afford it, fantastic. The local economy is rock solid.
And, it's the most expensive real estate market in the world.
The average apartment price is around US$500,000. And, you'll need a 40 to 50% deposit to even get a mortgage. Yes, that's for local residents.
And, some may ask how long Hong Kong real estate prices can keep climbing. With Mainland China next door, it might take a while before we see this market cool off.
In short, Hong Kong is out of reach, even for the average millionaire.
China (Mainland)
China? It's not as bad as you might think.
Foreigners can buy property in the country after living there for at least one year, and you can even get a mortgage.
With a sound local economy, you may even see a decent yield on your investment.
There's just one problem.
Once you sell, you will have a hard time getting your money out of the country, due to the strict capital controls.
Thailand
The Kingdom is probably the top destination for inbound property investment in ASEAN. The country is for many a dream… an elusive dream.
Foreigners cannot own land, but can own condos.
Bangkok is quite interesting, and the condos are reasonably priced. That said, you may find it hard to get a decent yield on your investment – unless you invest in carefully selected areas.
Anything that's not a two minute walk from the skytrain (BTS) might not even be worth considering.
Vietnam
Vietnam is red hot right now, with Saigon (or, Ho Chi Minh City) growing the second fastest in all of Asia.
Foreigners are, as of 2015, allowed to own condos.
We don't know much about Vietnam as a market, or where it will be heading. But things are looking good at this stage.
While I would consider the risk to be above average, so is the potential upside.
Cambodia
Similar to Thailand, foreigners cannot own land but can buy condos. Cambodia is a poor country, but a relatively free market.
High risk, but possibly a high reward – especially with more Chinese travelers looking to rent and even buy holiday condos.
Malaysia
Foreigners can own land and property in Malaysia, with some exceptions. The local economy is strong, and growing. Possibly the best option now.
This is also reflected by the number of foreign property investors from Europe and China – many of which end up spending considerable time in Malaysia.
As a foreigner, buying can be hard, and selling even harder…
As I mentioned previously in this article, real estate in the US or Europe is fairly predictable. There is a healthy turnover of both new builds and existing stocks.
In fast-growing developing economies, the dynamics are completely different.
When you read about the latest spectacular property boom in China, and elsewhere in Asia, you have to keep in mind that they only report the price of newly built units.
Forget about trying to sell that 3 bedroom flat in Shanghai, built 'way back' in 2009, for anything that's even near the square meter price in the glitzy compound next door.
In some Chinese cities, newly built units make up 95% of all property transactions. 'Second hand' apartments are not fetching close to the prices of new units.
As such, everything is not always what it seems.
This is what you should look for when buying property in Asia
Did I just destroy the entire case for buying property in ASEAN or other Asian countries? Not really.
No, don't get me wrong on this.
Just be careful, and use common sense and fundamentals when you decide where to invest.
In the end of the day, the game plan is more or less the same as in other countries:
a. Location: Is there a metro or Skytrain nearby? Is it under construction? What about local universities? Location is everything in cities that are rapidly developing. Yet, prime land next to the metro stop or campus will always be scarce.
b. Local Economy: Can locals afford to buy? Do they have jobs? The real estate economy cannot be supported by foreign investment only. Well, at least yields and rents will be limited. The local economic conditions must be sound.
c. Legal System: Are you allowed to own land? Can you own a condo? Can you even get the money out of the country if you decide to sell? Consult a lawyer before you decide where to invest.
d. Are you allowed to rent it out?: If you buy for your own use, you might not care whether or not you're allowed to rent out your flat to a tenant. But, if you plan to stay in your home country most of the year, you might want to consider renting your place out. First, are you as a foreign landlord even allowed to do that? And, how can you access the rent money?
e. AirBNB: Many foreign buyers, especially in Bangkok and other major cities in Thailand, investing in property for the sole purpose of renting them out on AirBNB. This is a practice that's been cracked down on by the authorities – and as of 2016, landlords are not allowed to rent out their apartments for less than 30 days.
Do you want to learn more about investing in Asian property?
Many Asian economies, perhaps with Malaysia as the brightest shining star, are becoming increasingly mature and resilient.
The Asia Pacific region offers something for everyone, depending on your risk appetite.
Visit AsiaPropertyHQ.com, for free guides covering everything from finding the right country where to buy a property in Asia, financing options, and much more.
Bio
Fredrik Gronkvist is a Swedish Entrepreneur, based in Mainland China since 2010. He has a background in product development and quality assurance and has co-founded several internet-based businesses in the manufacturing and property investment space.
Cover Photo Credits: Photo by jamesteohart on Depositphotos©