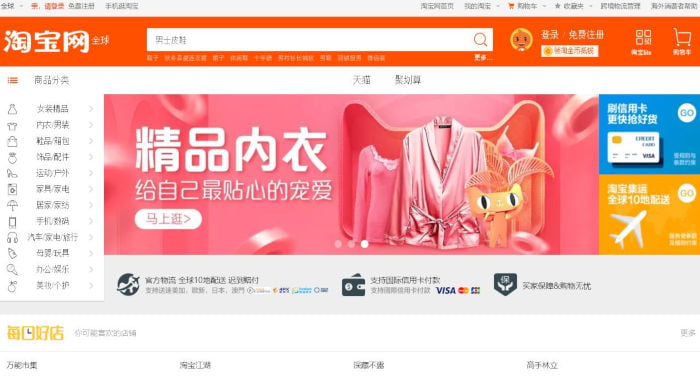 Open an Online Shop on Taobao – Index
China. 1.4 billion people with a huge consumer market that get an increased appetite for foreign products. In the past years, we've seen increasingly more foreign brands that want to enter the Chinese markets thanks to the many opportunities offered.
Many companies prefer selling online via cross-border eCommerce and on websites like Kaola.com, JD.hk, and Tmall.hk. That said, you shouldn't neglect Taobao.com where entry requirements are lower and where sellers pay substantially lower fees.
Today, we review Taobao, how you can sell there, what you need, and more.
What is Taobao?
China is the biggest eCommerce website in China and was launched as early as 2003. The website was acquired by the Chinese giant, Alibaba, and started to evolve into becoming a major platform after that.
At the moment, there are more than 8 million stores registered on Taobao, including everything from cheap locally produced products to expensive Western brands. Major brands like Nike and Adidas have shops on the site.
That said, it's primarily used by customers who want to find products in the low to medium price segment. Over the years, Taobao has struggled with sellers that sell counterfeit products, something that the Chinese government has forced eCommerce websites to start clamping down on.
If you look for a more high-end solution, you should take a look at Tmall (tmall.com) and Tmall Global (tmall.hk) instead. These have more foreign products, modern interface, and are popular among customers in larger cities.
Who can open a Taobao shop?
Anyone who has a China-registered company or has the opportunity to work with a partner who has a registered company in China can register to sell on Taobao. The requirements are significantly lower to the more high-end eCommerce websites, such as JD Worldwide and Tmall Global.
That said, entering the Chinese market requires much planning and that you have sufficient knowledge about the market. Besides, many foreigners have to work with so-called Tmall Partners or other eCommerce agencies, due to the complexity of entering the Chinese market.
What do I need to open a Taobao shop?
First of all, you have to register a company or work with another company that is registered in China to get access to Taobao. You must have a physical address and using a postbox company with the help of a virtual office is not possible.
If you want to know more about how you can open a company, I recommend you to read this article. Some of the most important documents include your business license, China
office rental contract, and passport copies.
Setting up a company in China is fairly easy and cost you around USD 3,000 – 5,000. The time can take up to 6 months, which is comparatively long to set up a Hong Kong company, which takes a week or so.
That said, you're unfortunately not able to sell on Taobao by simply having a Hong Kong company.
One of the issues of setting up a Chinese entity is also that you need a Chinese office address before you're able to apply for your Chinese business licenses. Thus, you have to pay a deposit month of rent upfront before you even know that you're capable of opening the Taobao shop.
Taobao requires that you have a Chinese bank account as well and connect it with your Taobao store. Some of the most popular options are the Bank of China (BOC), ICBC, and China Merchants Bank (CMB).
Finally, don't forget that selling on Taobao will require that you import the products into China. Thus, you have to register the products with the China customs, the AQSIQ, and other authorities before importation.
For more information, I recommend you to contact a distribution management company or eCommerce partner that can help you with such registrations.
What is the procedure to open a Taobao shop?
You can set up a Taobao store by following seven steps:
Setting up the account and register as a seller
Link your account to Alipay
Finalize the identity verification
Create your store, connect all the plugins you need, and set up Ali Wang Wang (which is used for Customer Service)
Design your store
Upload products (keep in mind that images and videos are important)
Market your store and products
You can set up the account and register as a seller once you have opened a Chinese company or identified a partner that can do this on behalf of you.
Of course, you also have to get paid by Chinese customers and Alipay is the biggest payment solution available in China, used by hundreds of millions of people. Bear in mind that you don't necessarily need a Chinese company to get paid via Alipay as you can now manage payments from China via foreign payment solutions like Stripe.
I won't go through all the steps but recommend you work with a digital agency that can help you setting up and designing the store. The reason is that the Chinese have other preferences than foreigners. A key takeaway is that they generally like to read more product reviews and watch more photos, from different angles.
As mentioned, a requirement when selling online in China is to be able to manage customer support. This can only be done by Chinese speakers, again, you'll most likely need a local for this job.
What are some popular products on Taobao?
Before you start selling on Taobao.com, it's important that you do some market research to understand what the demand is for your product. Entering the Chinese market can be costly and requires thorough planning.
We've heard about both success stories and failures where brands like Asos.com and Marks & Spencer have left the market due to fierce competition.
So what products are popular on Taobao? Some of the most popular product categories are:
Health Products & supplements As, the Chinese become increasingly health-conscious, a reason why we see an increased demand for health products and supplements.
Kid's supplements, vitamins, liver detox, and weight loss products are just examples of products where foreign sellers see a lot of potentials. Yet, keep in mind that your products have to undergo local testing before you're capable of importing them into China.
The easiest way to manage imports of these kinds of products into China is to work with a reputable eCommerce agency that has helped foreign companies in the past.
Food & beverages are highly popular on Taobao and there are some noticeable trends. For example, we see stronger demand for healthier F&B products, including nuts, supplements, olive oils, and dairy products.
It's not strange as China develops and with increased disposable incomes, the population becomes more fond of these kinds of products. Besides, we see decreased sales volumes for less healthy food products, including fat, sugar, and meat.
Clothing products are some of the most sold products on Taobao and you can find accessories for as little as a few RMB to luxury handbags that cost thousands of RMB. Taobao has primarily had issues with counterfeit clothing products, something that will change in the coming years, thanks to the implementation of new eCommerce law as of 2019.
Mom & baby products are popular everywhere in China, you might have heard how Australian and European brands sell milk formula in huge numbers. In addition to baby food and formula, we also see strong demand for baby beds, diapers, nutrition food, baby clothes, toys, and more.