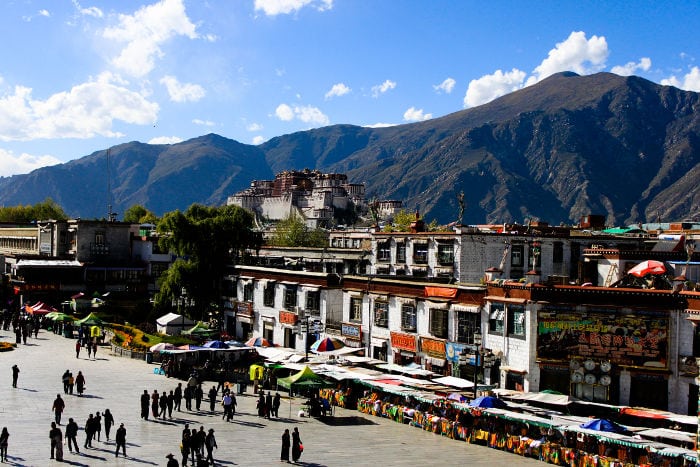 Potala Palace view's from Jokhang Temple
When I arrived in Lhasa all I could think about was that I needed a shower. I got there by train and it was two days that I couldn't get one.
Besides that, I felt a sense of accomplishment. When I was a teenager I could imagine myself traveling to Paris, or even Los Angeles… after all I had seen these places in so many movies. It seemed possible.
But going to Tibet? No way.
Then again, sometimes reality goes beyond fantasy and here I was, at 3,650 meters of altitude, just in front of the exit of Lhasa's train station.
Are we missing anyone?
The third thing I thought was "Where the hell is our tour guide?"
It was two days that I didn't see him (since we left from Beijing) and I'm not used to following a guide. But you aren't allow to travel to Tibet by yourself, as I've explained on my guide to Tibet. So here I was… looking for our chubby Tibetan guide.
After about twenty minutes the guide was able to gather all the people that were traveling with me. There were my three friends, two Russian girls, a bunch of international students from Beijing Language and Culture University (BLCU), a Korean guy and six or seven Chinese people.

Lhasa's train station
Impressions from Lhasa
Before I arrived to Tibet, my idea of Lhasa was quite romantic. I was expecting to find a magic town as on the video at the beginning of this article. That is an old town with tiny alleys and monks everywhere. I guess I was being optimistic. Or, to be more exact, naif.
When I saw the train station (check the first minute of the video just above) I suddenly woke up and understood that Chinese "progress" didn't stop at the East coast. The result is that, besides the Old Town, nowadays Lhasa looks like any other Chinese city, with its large avenues and its modern, anonymous buildings.
This impression was confirmed when we arrive to Potala Square, which is a huge, modern square just in front of the Potala Palace. I'm not blaming Chinese people for destroying the "old" Lhasa. Just joking, I am blaming them of course! But I also know that we, the Westerners, aren't better.
In Rome Mussolini knocked down the old neighborhood Spina del Borgo, just in front of Piazza San Pietro, to build the utterly ugly Via della Conciliazione.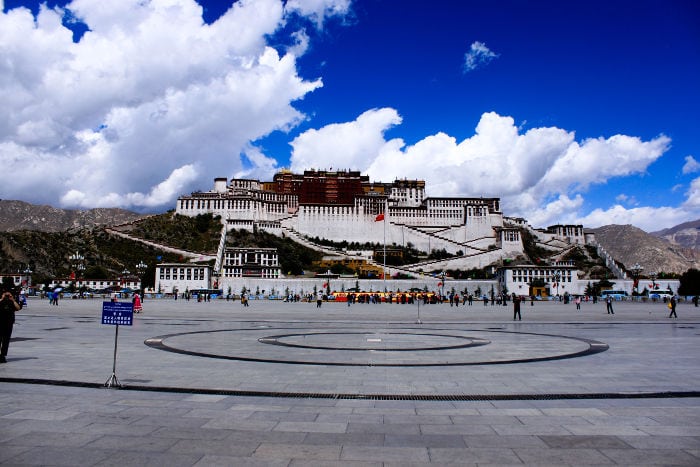 Potala Square
Don't sit on the floor!
As soon as I sat on the square to take a pic of the Potala Palace from a different point of view, a Chinese soldier started to run towards me, yelling at me to stand up. I found it quite rude and, at first, I couldn't understand what was going on. Only later, when I learned that it was here that the 2008 Tibetan u.p.r.i.s.i.n.g started with people sitting on Potala Square, I understood why now the Chinese forbid you to sit down in front of the Palace.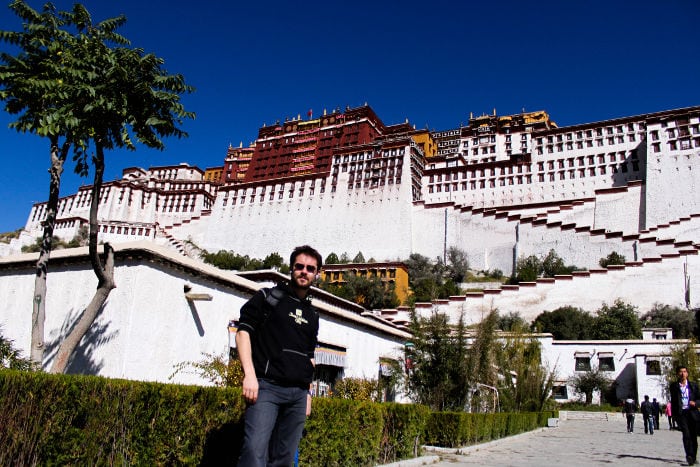 In front of the Potala Palace
The Potala Palace (Podrang Potala)
The Potala Palace was the residence of the Dalai Lama. Nowadays it's a museum. I don't have any photos to show you because taking photos inside the palace is forbidden (yeah, there are a lot of forbidden things in Tibet). And anyway it was too dark and my old camera wasn't able to take any decent pics (yes, I know it was forbidden and I shouldn't have tried but then again…).
The visit inside the palace lasts about one hour and a half and if you are claustrophobic you'll have a hard time going up and down the maze of stairs, small rooms, and Buddha statues that fill the palace.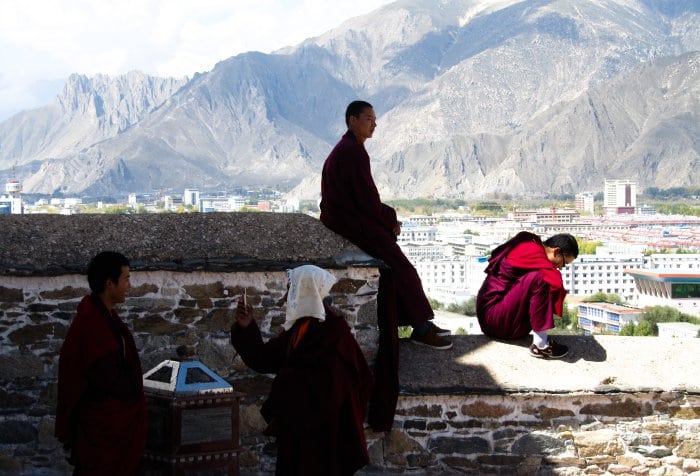 Monks enjoying the sun outside the Potala Palace
The Old Town and the Jokhang Temple (Tsuglagkhang)
The Old Town was my favorite part of Lhasa. And not only because we could finally taste the famous (?!) yak burger. The point is that here you can somehow still feel the atmosphere of Lhasa.
Yeah, I know that "atmosphere of Lhasa" doesn't mean shit and sounds like a non-sense infomercial puked by the brain of a copyrighter that works for a cheap travel agency. What I mean is that, for the first time since being in Lhasa, I got a tiny feeling of how it could be to live here one hundred years ago.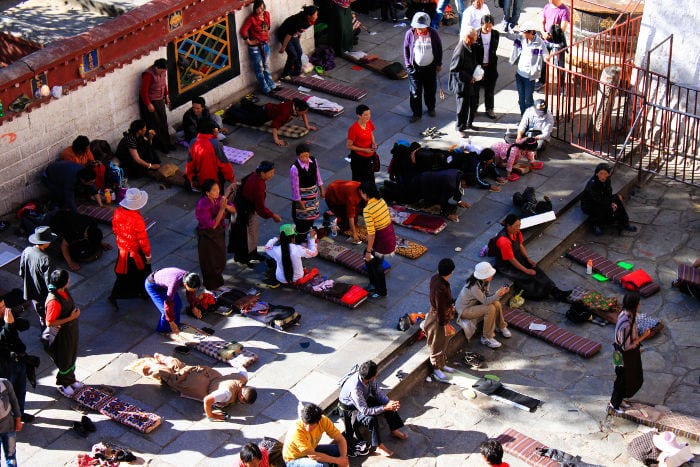 Tibetan people preying in Barkhor Street
Sure, Barkhor Street market, which is the circular street around the Jokhang Temple, was probably very different before the Chinese and the tourists came. However here the old buildings were preserved and you can still see the Tibetan people that keep walking and preying around the temple.
p.s. Here you find my guide to travel to Tibet.
Photo Credits: Photos by Sapore di Cina & Floraian Hudelist