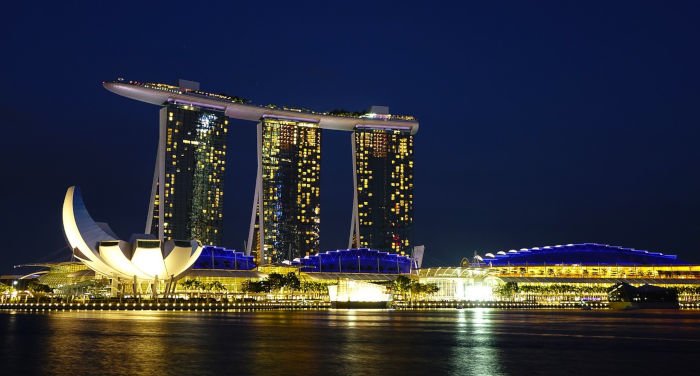 Singapore has long served as the main financial hub in Southeast Asia and attracts tons of tourists. In addition to its many commercial activities, you can find UNESCO World Heritage Sites, such as its Botanic Garden, a long-prevailing history of colonialism, spectacular buildings, and of course, plenty of tasty food.
Yet, before you embark on your first trip to Singapore you must understand what visa regulations apply, what you should bring if you need insurance, what food you can eat, and much more.
In this article, I present all the details you need to know before you visit Singapore. Let's start a check what general visa regulations that apply to the country and what documents you need to prepare when visiting Singapore.

Requirements for entering Singapore
Since the beginning of 2022, Singapore has been allowing foreign travelers to enter the country without needing to quarantine.
Below are the country's entry requirements:
Proof that you are fully vaccinated against COVID-19 or are less than 12 years old: To enter Singapore without having to quarantine, anybody above the age of 12 must be completely vaccinated with one of the WHO-approved COVID-19 vaccines.
Passport with a minimum of 6 months' validity
Visa, if required: Check out the visa requirements for Singapore here.
Fill out the SG Arrival Card (SGAC) 3 days before entering Singapore: To enter Singapore, you must fill out a health declaration within 3 days of entering the country. Click here to fill out the form.
Install the TraceTogether app: Anybody over the age of 6 must have a mobile device with the TraceTogether App installed. The app must only be activated once you have passed the immigration checkpoint. You can download the TraceTogether app here.
Comply with local health protocols: You can check out the latest updates to health protocols on this webpage
Important: Keep in mind that entry requirements may be modified without prior notice. You can consult the latest updates to requirements on this website.
If you haven't been fully vaccinated with one of the WHO-approved COVID-19 vaccines, you can consult the entry requirements applicable to you here.
Getting a visa to travel to Singapore
Most foreign travelers find it easy traveling to Singapore as visas are only required from people that come from 36 countries and regions. Some examples are Afghanistan, Bangladesh, Hong Kong SAR, mainland China, Libya, and Morocco.
As such, Singapore allows citizens from almost 80% of all the countries globally to enter Singapore for 30 to 90 days visa-free. People who come from any of the following countries and unions are allowed to stay in Singapore for up to 90 days visa-free:
European Union Citizens
Australia
New Zealand
Norway
South Korea
Switzerland
United States
That said, keep in mind that all visitors need to have the following documents or others:
Passport or travel document valid for more than 6 months at the time of departure
Return or onward ticket
Sufficient funds while in Singapore (bank statement might be needed)
Completed Disembarkation/Embarkation Card
Entry documents (including a visa if required) to your following destination
Visa and/or a yellow fever vaccination certificate for entry into Singapore (if applicable)
The Singapore government has an easy-to-use website in English where you can find much information related to immigration and visa issues. Simply visit the Immigration & Checkpoints Authority Corporate website for more information.
Travel insurance for Singapore
It probably doesn't come as a surprise that Singapore has some of the most expensive healthcare systems in the world, especially if you're a non-resident foreigner. Therefore, you need to have good travel insurance before visiting Singapore. Even if Singapore is safe, you never know if you'll experience an accident or suddenly become ill.
If you get sick and have to stay as an inpatient in a hospital you might have to pay tens of thousands of US dollars for treatment, which can be a complete nightmare. To avoid this problem when traveling, I recommend you checking World Nomads insurance. It covers all the costs for medical care and with many add-on items so that you get covered for theft, flight cancellations, and more.
It's renowned for being affordable and flexible insurance as you can decide between which dates you want to be covered (short-term), you can buy it after you departed (which is not possible with most other insurance companies), and more.
Hotels and hostels in Singapore
Many faulty believe that traveling to Singapore is out of their budget, mainly due to expensive hotel nights. However, Singapore has a lot to offer and you can find everything from luxury hotels to cheaper hostels where it costs as little as 15 US dollars per night.
I normally go to Agoda Hotels for Asia as they have many options and good offers on display. If you're on a budget, let's say 15 to 20 US dollars per night, you can find plenty of good hostels in or around Chinatown in Singapore.
That said, you don't have any issues speaking English with the staff, which can be a hustle in China. Just keep in mind that you need to bring your passport during check-in so that the hotel or hostel can register you with the local police.
Vaccines and medicine
Centers for Disease Control and Prevention in the US informs that there are outbreaks of Dengue fever in Singapore from time to time. Stay updated and try to avoid mosquito bites, as there are no vaccines against Dengue fever.
You should at least be vaccinated against Hepatitis A and Typhoid when before visiting the country, humans can get these diseases through contaminated food and water.
Other recommended vaccinations for some travelers include Hepatitis B (which spreads via sexual contact), Rabies (which can spread via bats in caves, for example), and Yellow Fewer (required if traveling from a country with risk of YF virus transmission and ≥1 year of age).
In any case, you should contact your doctor, as he/she will know your immunization history and can decide what's best for you.
Singapore is a developed nation for sure, yet, I'd still recommend you to bring some medicines that you're used to from back home. This is especially the case for prescription medicine. If you suddenly get sick, it's always good to have some Aspirin or anti-diarrhea medicine available in your vanity case.
In addition to prescription medicine, anti-diarrhea medicine, and Aspirin-Ibuprofen, I also recommend you to bring antibiotics and anti-inflammatory medicine. Not to forget, keep in mind that hostels can be noisy, so you should bring an eye mask and earplugs if you stay in a hostel.
Flying to Singapore
Singapore is a major trading and financial hub that attracts tourists in vast numbers. Thus, you have no issues to find flight tickets at reasonable prices from the major airline companies. I usually go to flight search engines online to find the cheapest tickets and best offers.
You can either purchase tickets directly from the website or go to the airline company's website and buy the tickets there. If you book tickets from 3rd party websites, it can be more time-consuming and expensive in case you make changes to the flight.
Singapore's airport is famous for being the best and most efficient in the world, they even have a swimming pool inside. From here, you can reach the city center by taxi, which costs around 15 US dollars. They also have shuttle buses that cost around 6 US dollars.
I like to take the MRT as it's convenient and cheaper. For 1.25 US dollars, you can reach the airport in as little as 30 minutes (more about the MRT later).
Internet and phone cards
Singapore has free Wi-Fi called Wireless@SG in many places in the city center. You can find hotspots in places like museums, malls, MRT stations, and libraries. That said, it can make sense to buy a prepaid SIM card if you plan to stay in Singapore for a few days and want to assure you that you have full coverage all the time.
Buying a prepaid SIM card is almost as easy as buying ice cream at 7-eleven, just bring your passport, pick a phone number, and you're ready to go. Below I've listed some of the most popular options for prepaid SIM cards.
Singtel
Singtel's normal prepaid SIM card called Singtel hi! is one of the most popular options among travelers. Fees start from 8 Singapore Dollars and reach up to 50 Singapore Dollars, depending on the data package, validity, and more.
Starhub
Starhub is another popular option and they have a prepaid SIM card called Happy Prepaid. The same as it goes with Singtel, prices start from 8 Singapore Dollars and reach up to 50 Singapore Dollars, depending on the service package and the validity.
M1
Finally, we also have M1 which has the cheapest option, starting from just 5 Singapore Dollars, reaching up to 50 Singapore Dollars. The more expensive options are for longer stays if you will just be in Singapore for a few days, you better opt-in for one of its cheaper options.
Money, ATMs and credit cards
Singapore's currency is called Singapore Dollars (SGD) and 1 US dollar equals around 1.35 Singapore dollars. The SGD is not pegged to the US dollar, like the Hong Kong dollar, so we've seen greater fluctuations between the two over the years.
You don't necessarily need to exchange Singapore Dollars before visiting the country as there are plenty of ATMs and cards widely accepted. Scams are uncommon, as Singapore is one of the safest places on the earth, thus, you don't need to hesitate to swipe your card in restaurants or bars.
Despite not being as common as the Octopus Card in Hong Kong, Singapore has cashless payment solutions where NETS is one of the most popular. If you have a NETS card, you can pay in retail stores, for transportation, do online payments, and more.
That said, cash is often used for small payments, such as in convenience stores. Credit cards are also widely used for payments in restaurants, retail stores, and other places.
The MRT system in Singapore
Taxi fares are high in Singapore and you should use the MRT as much as you can. It's clean, efficient, and one of your best options when moving around Singapore. As of 2019, the MRT network consists of 199.6 kilometers of railway and with 119 stations spread across 5 lines.
If you want to travel in a hassle-free and inexpensive way, then the MRT is your option. Tickets normally cost between 1.40 to 2.50 Singapore Dollars, which is reasonable. That said, it can be time-consuming and inefficient to buy and refund tickets every time you want to travel with the MRT.
As such, a better option is to buy the so-called EZ-Link card, which is a contactless card introduced for public transportation. You can use the card for the MRT, LRT and buses since April 2002. Besides, you can also buy one of Singapore's tourist passes which start from 10 Singapore Dollars a day. The card comes in three different forms and you can read more about it on EZ-Link's website.
What to bring?
Below I've listed some important items that you should bring when visiting Singapore.
Medicines
As mentioned above, you should preferably bring some medicine before visiting Singapore, including Aspirin, anti-diarrhea pills, anti-inflammatory medicine, and antibiotics. On top of that, you should bring a mosquito repellent due to the ongoing issues with Dengue fever. This will come in handy if you plan to visit the Night Safari, or the zoo, or spend long hours outside during the evenings.
Universal plug adaptors
Another thing you should bring is one or two universal plug adaptors as Singapore has three-pronged UK-style electrical outlets. Preferably, bring two as you'll need to charge your cell phone, laptop, electric toothbrush, Kindle, electric shaver, and maybe other gadgets.
Swimwear and other clothes
Swimwear and sun gear should also be on your packing list as Singapore is hot, has many nice beaches around Sentosa islands, and surprisingly many outdoor activities.
Looking at the climate, Singapore is hot and humid practically all time over the year, so you should bring t-shirts, thin cotton or linen shirts, thin pants, and shorts. Evenings can be a bit chilly during the Monsoon from November until January, you can bring a thin jacket and cardigan during this time.
When to travel to Singapore?
Singapore offers a hot and humid all year round, so you can go there pretty much anytime. That said, I'd try to avoid the Monsoon period that lasts from November until January, to avoid expected heavy rainfall, which can destroy outdoor activities.
Having said that, the best weather is generally from February to April. From May to August, Singapore experiences issues with smoke that blows in from Sumatra, due to clearing fires. Thus, the air quality is reduced and can reduce your views.
Common sense and cultural issues
Don't litter. Singapore takes littering very seriously and you might face a fine of 300 to 1,000 Singapore dollars if you litter. That includes cigarette butts. There are bins pretty much everywhere, so there's no real reason why you should litter.
Stand on the left side of the escalator and when walking on pavements. They drive on the left side in Singapore, the same as in Malaysia, Thailand, and Hong Kong.
Mind your manners and don't become aggressive. They even have a sign in the subway saying that you can get punished by caning if showing aggressive and outraged behavior in public.
Don't tip! Locals don't expect tips and service charges are sometimes automatically included in the bills. This is a common practice in Malaysia as well.
Bring cash to be used for local markets and hawker centers.
Don't cross the red lights (jaywalking). Not only is it dangerous, but you'll risk a fine of 100 to 1,000 Singapore dollars.
Food and drinks
Singapore is one of the few places in Asia where you can drink tap water. The tap water is well within international guidelines set by the World Health Organisation. You do not need to filter or boil the water before drinking it.
As mentioned, don't tip as it's not expected. Local wages are high in Singapore and we don't want to import cultures from countries that cope with low wages for restaurant staff and bartenders.
Singapore has so much tasty food to offer and it doesn't necessarily need to be high-end. Simply go to a local food market or hawker center to indulge in an amazing food experience. Some even claim that the food is better in Singapore than in Penang!
Some dishes you shouldn't miss are Chili Crab, Rou Gu Cha (肉骨茶), Hainanese Chicken Rice, and Pork Rib Soup.
Keep in mind that alcohol is expensive in Singapore, a 330 ml can of Tiger beer costs as much as 3 US dollars at convenience stores. That said, if you want to drink cheap, go to the local hawkers and food courts to buy beer.
Nightlife in Singapore
Singapore has a vibrant nightlife with everything from local bars to nightclubs and rooftop bars. That said, Singapore is not the ideal place for party-seekers who are on a restrained budget. '
Singapore is the second most expensive place to buy alcohol in Asia and a 330 ml bottle of beer can cost you up to 8 to 9 US dollars on average.
The highest concentration of bars is in the Downtown core and areas like Bras Basah, Queens by the Bay, and Kampong Glam. Some famous clubs and bars in the area include Zouk, Ce La Vi Singapore, Bang Bang, and Commas.
Having said that, you can also enjoy beers at local hawker centers and food courts.