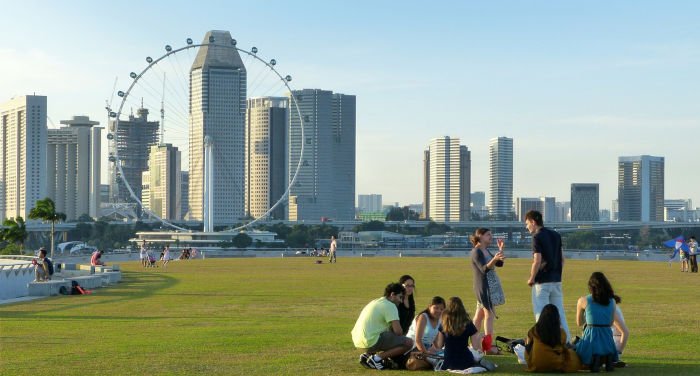 Cost of Living in Singapore – Index
In the first part of this article, I share my general reflection on the cost of living in Singapore. Here, I don't present any numbers, but explain how Singapore works and how costs differ depending on your lifestyle.
In the second part, we go into more details and check the costs for rents, SIM cards, food, and more. This will give you a better overview of how much you need to pay per month while living in Singapore.
We will also check the minimum salary and wages for various occupations. At the end of the article, I round up the article by explaining whether Singapore is expensive or not and how you can save money while staying there, no matter if you are a tourist or a resident.
If you have any input, feel free to share a comment at the bottom of the article!
General reflections
Singapore is one of the most developed nations in the world and has been named the best place to do business numerous times. The quality of life is high, business opportunities many, at the same time as the weather and the food is great.
Understandably, Singapore is on the top of many foreigners list when it comes to taking on new job opportunities overseas, pursue studies, or start a business. With that in mind, Singapore has turned into one of the most expensive places to live in the world.
This is particularly the case for rents, property prices, alcohol, and cars, which we will review in greater detail later in this article. Even if many studies and surveys show that Singapore is one of the most expensive places to live, you must take your lifestyle and expenses into consideration.
Are you moving with a big family and need a large apartment and a car? Well, then your expenses will skyrocket. If you move as a single-person, live in a shared apartment, and take the subway every day, your expenses will be remarkably lower.
I even dare to say that Singapore is not considered one of the most expensive places to live if you earn a decent salary and can enjoy its low taxes.
With that in mind, you'll also save tons of money if you mainly drink alcohol and hanging out with friends at home or in cheaper bars, compared to lounges and fancy clubs in the central areas.
So how much do you need to pay in rent, for food, and more when living in Singapore?
Costs for rents, food, transportation, and more
Let's start with rents. If you live in a 1-bedroom apartment in the city center, you need to pay SGD 2,775 (USD 2,010) on average. For many people, living by themselves in the city center is a no-go.
If you decide to live outside of the city center, you will reduce your rent significantly, ending up at an average amount of SGD 1,718 (USD 1,244). A 3-bedroom apartment in the city center, on the other hand, will set you back SGD 5,290 on average (USD 3,833) on average, while the same apartment outside of the city center will cost SGD 2,931 (USD 2,123).
That said, bear in mind that many Singaporeans live in subsidized public housing, allocated via the Housing Board Department (HBD). These apartments aren't available to foreigners, unfortunately.
You also need to add the cost for utilities, which is reasonable in Singapore. Be prepared to pay SGD 148 (USD 107) for electricity costs, water, and more when living in an 82 square meter apartment. The amount will be half of that or a third if you decide to share an apartment with one or two persons.
If you're on a budget, you probably won't eat out every day in Singapore. Keep in mind that it's a small nation that imports much of its food. Meals at inexpensive restaurants cost SGD 12 (USD 8.69) on average, which is high. A three-course meal for two persons in a mid-range restaurant will set you back around SGD 60 (USD 44).
You'll also need a local SIM card when moving to Singapore. Being a tech-savvy nation and a leader in this field, you won't need to pay more than around SGD 5 (USD 3.62) for a monthly subscription, including 2 GB of data and 50 minutes of talk time.
Yet, Singapore also offers free Wi-Fi in most parts of its city center to tourists. And you can even find service providers that offer 2GB of data/day for free! I'm not sure for how long this will exist though, as I can't understand how they make profits.
Taking the subway is cheap and for the masses, you won't need to pay more than SGD 1.80 (USD 1.30) for a single trip. You should also have a look at various operators who offer bike-sharing services, which is both cheap, convenient and gives you some exercise.
It's comparably cheap to go by taxi and fares start at SGD 3.60 (USD 2.60) and you pay SGD 0.55 (USD 0.39) per kilometer.
How high are the salaries in Singapore?
Wages are high and the taxes low in Singapore, a reason why so many people want to relocate there. It has one of the most business-friendly systems and environments in the world, making it a prime-option for overseas investors.
The minimum salary for cleaners is around SGD 1,200 (USD 880) as of 2019, which is high with Southeast Asian standards. That's more than what many university graduates make in places like Bangkok and Ho Chi Minh (of course, it's cheaper to live there).
According to Seedly.sg, the average annual salary in 2019 was SGD 67,152 (USD 48,660), which averages out to be SGD 5,596 (USD 4,055) per month. According to Payscale.com,
Mechanical Engineers in the early stage of their careers (1 to 4 years of experience) earns SGD 42,026 (USD 39,574) in total per year, based on 274 salaries.
A Mechanical Engineer with 5 to 9 years of experience earns an average total compensation of SGD 54,613 (40,053 USD, based on 167 salaries) for example.
In 2018, the average expat cash salary in Singapore was SDG 124,200.25 (USD 90,170).
Is it expensive to live in Singapore?
Yes, needless to say, it's expensive to live in Singapore. Yet, keep in mind that you'll most likely earn more compared to most other Asian countries, perhaps more than your home country. Also, Singapore has low taxes.
According to Expatistan.com, the cost of living in Singapore is 112% more expensive than in Kuala Lumpur, 16% cheaper compared to Hong Kong, 23% cheaper than New York City, 38% more expensive than Barcelona, and 35% more expensive than Berlin.
However, keep in mind that the salaries are comparably high in Singapore as well. You'll earn more if you take up a role in finance or IT in Singapore compared to Barcelona, for example. Thus, we cannot only check the living costs but also need to take taxes and salaries into consideration.
As mentioned, Singapore has low income-taxes, the main reason why so many foreigners and investors relocate or open businesses there.
If you want to save money while visiting or living in Singapore, I'll share with you some advice:
Drink tap water: Believe it or not, but it's actually safe to drink the tap water in Singapore! To avoid paying SGD 2 (USD 1.44) for water bottles at the convenience store, it's perfect to just take a sip or refill your own bottle at any of Singapore's public water fountains.
You can also refill your bottle at your hotel or in other places. Singapore is hot, so you'll need plenty of water during your stay here.
Don't drink in bars or clubs: Singapore is infamous for slapping high taxes on alcohol and tobacco. Don't be surprised if you have to pay USD 8 to 12 for a single beer in bars. Therefore, I recommend that you avoid drinking alcohol in excessive amounts. Try to gather with friends instead and drink at home.
You can also buy beer at significantly lower prices at food stalls, inexpensive restaurants, and hawkers.
Get a transportation card (EZ link): This will save you both time and money in the long-run. If you go by subway frequently and buy single-tickets every time, it will quickly add up.
Don't spit, jaywalk, or through chewing gum or cigarette butts on the street: Singapore is a clean city where you can get fined heavily for inappropriate behavior and littering. Be street smart and behave like a civilized person.