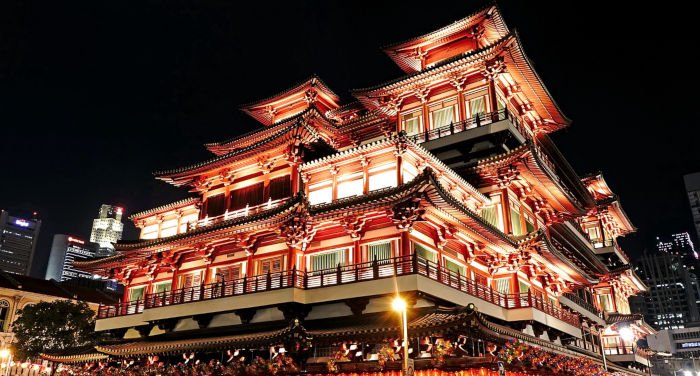 Day Tour Agencies in Singapore – Index
Despite being a small nation and referred to as the "Red Dot", Singapore has a unique heritage and culture that can't be found elsewhere in the world. If you will stay in Singapore for a limited time, I recommend you to join a tour for at least a few hours or even a full day.
In this article, we present some of the most reputable and popular tour agencies in Singapore that offer just that. The agencies have a long experience in catering to foreigners who visit Singapore for the first time, offering them a memorable experience.
If you want general information to organize your trip to Singapore you can read our complete guide on traveling to Singapore.
Monster Day Tours
Monster Day Tours is a leading tour operator in Singapore that has won plenty of awards over the years. Their team consists of 9 happy and young individuals, three of them have won the Singapore Tourism Awards in 2018 and 2019 – Best Customer Service for Tourist Guiding.
The company was also awarded Tripadvisor's Certificate of Excellence both in 2018 and 2019.
What makes Monster Day Yours even better is that don't only offer paid tours, but free walking tours. You don't even have to book the free tours, just show up on time, no matter how the weather is.
During the free walking tours, you can visit any of the following sites (according to the day and the time of the day):
Kampong Glam
Little India
Chinatown
Yet, be prepared to tip a little as indicated on their website. In addition to the free walking tours, they also have private customized tours and signature-themed tours. The themed tours are as follows:
The Original Singapore City Sightseeing Walking Tour
A Taste of Michelin 1-Star Chicken Rice & Local Hawker Food Tour
Tiong Bahru Hipster "Old Town" Heartland Tour
Singapore After Dark Local Street Food & Nightlife Tour
Crazy Rich Asians: Singapore Icons & Filming Locations Car Tour
Asia 101: A Mix of Chinese, Malay, Indian & Peranakan Cultural Tour
The tours cost around SGD 160 to 180 (USD 115 to 130) for adults. For more information about their private customized tour, you can visit this page.
City Tours
City Tours was founded in 1971 and has a fleet of various vehicles that run around Singapore. For example, single-deck open-top buses, double-deck open-top buses, and amphibious vehicle were first used during World War II.
They are one of the biggest tour operators in the nation with numerous attractions that can be booked on their website. Some examples are:
The Night Safari
Sky Dining
Singapore Zoo
Sentosa Island
Jurong Bird Park
The company also has 600 cars, 80 minivans & coaches, and 80 drivers which speaks for City Tours as being the biggest tour operator in Singapore. It's easy to navigate on the website and you can make bookings online.
One of their most popular services is the FunVee Open Top Bus tours where you can visit most of the places worth seeing in Singapore, at the same time as you'll listen about the history of each place.
Below are some examples of the prices for their services:
FunVee Open Top Bus – One Day Hop-On-Hop-Off
Buy in Store: SGD 28.90 (USD 20.94) for adults
Online Booking: SGD 26.90 (USD 19.49) for adults
Night Safari
SGD 62 for adults (only booking online)
Singapore Zoo Tour
Buy in Store: SGD 50 (USD 36.23)
Online Booking: SGD 48 (USD 34.78)
For more information about the tours and prices, I recommend you to visit their website.
Hello! Singapore Tours
Hello! Singapore Tours is a well-known tour operator that was founded by a British woman, Laura, who has lived in Hong Kong for more than five years. With their head office in Hong Kong, they also offer tour services in Tokyo and Singapore.
They have a team of 7 people of different nationalities working in Singapore. It's one of the most popular agencies in the country, averaging 5/5 on Tripadvisor and with hundreds of reviews.
You'll find private tours, group tours, and activities listed on their website. The private tours are as follows:
Private Walking Tour
Private Car Tour
Private History & Culture Tour
Airport Layover Tour
Cruise Passengers Tour
Their Private Walking Tour is a popular choice and where you visit some of Singapore's most iconic and historic areas and try its great cuisine. The tours last from 4 to 8 hours and the prices range from USD 315 – 800, according to the tour length and amount of people.
For example, 1-2 adults who join a tour for 4 hours pay USD 315, while the price goes up to USD 800 if you're 8 people who join for 8 hours. Children aged 11 years and under are free of charge.
For more information about the other tours listed above, simply go to their website. Worth mentioning is that they also offer the following add-ons:
Singapore River Cruise (add a ride down the Singapore River on a Bumboat)
Singapore Flyer
Gardens by the Bay
Battlebox (the former WWII British underground command centre)
Chinese Tea Ceremony
RMB Tours
RMB Tours was founded in 1970 and has become one of Singapore's leading tour operators since. They offer both tours to overseas (Malaysia), daily tours in Singapore, and individual tours.
If you want to participate in a tour that lasts for a few hours or up to a full day, you should check the following tours offered:
Singapore City Tour
Night Safari
Singapore River Safari
Singapore Garden by the Bay
Jurong Bird Park
Sea Aquarium
Universal Studios Singapore
Sentosa Island Tour (Sunset)
Morning City Life
The Singapore City Tour should be at the top of your list as you'll be able to explore some of the most interesting parts of Singapore for 3.5 hours. The tour starts at 9 AM and at 2 PM.
During the tour, you will join a tour guide and explore the history, culture, and lifestyles of the multi-racial Singapore we see today. The tour starts in Little India, showcasing the beautiful colors and vibrant culture of Singapore's Indian community.
You'll then continue to the Singapore River, The iconic Merlion (an area which started as a fishing village), continuing to the Financial District, Chinatown, and finally round up the tour at Singapore Botanic Gardens (now a UNESCO World Heritage site).
The price for adults is SGD 35 (USD 25.36), while children from 3 – 12 years of age pay SGD 17 (USD 12.31).
You should also have a look at the Sentosa Island Tour, where you will get a splendid view of the sunset at Sentosa. The price for adults is SGD 82 (USD 59.42) and the tour lasts for 5 hours.
Journeys Heritage Tours
Journeys is an award-winning company that launched its Original Singapore Walks in 2003. Lonely Planet has said that "If you just do one tour in Singapore, make it one of these.". The company has received hundreds of positive reviews and high ratings online.
Over the years, Journeys has won the following awards:
TripAdvisor – Certificate of Excellence (2018 – 2019)
Singapore Tourism Awards 2018 Finalist
Singapore Tatler 2019 (Best Inbound Travel)
As you can hear by the name, they specialize in heritage-based tours where you join researchers, historians, educators, writers, and guides who are specialized in different subject fields.
If you plan to stay in Singapore for just a few days, then I recommend you check this company as they offer half-day to full-day tours for short-stay travelers.
For more information about their services, I recommend you check their website.
Get a quote for your tour in Singapore
Are you looking for a reliable travel agency to organize your trip to Singapore? Fill out the form below to get a quote with no strings attached from the travel agency that we are currently recommending.