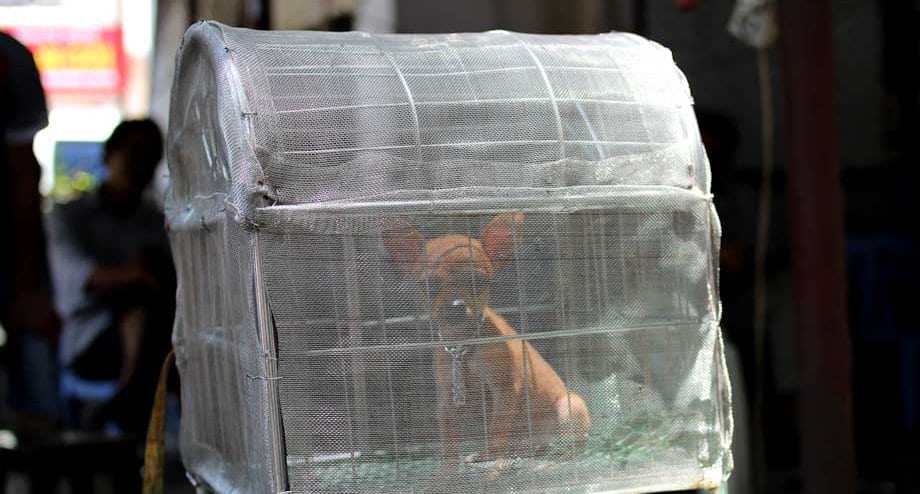 It's more than two years that I live in China – the country of dog-eaters by default – but I'd never seen a slaughtered dog.
It may be because I only spent a few weeks in Guangxi and Guangdong Provinces, the Southern provinces where the habit of eating dog meat is most common.
Or maybe because eating dog meat is not as common as people think and you have to make a conscious effort to find it.
The point is that it took me less than two hours of sightseeing in Hanoi, the capital of Vietnam, to find a dog butchery.
Well, it wasn't exactly a butchery as there were two girls selling raw and roasted dog meat (thịt chó in the Vietnamese language) on a table in the street.
This is a controversial topic in the West.
We do not eat dogs. We consider dogs as part of our family. I personally grew up with a German Shepard called Apo and I love dogs. Almost as much as I love cats. And I distrust people that dislike animals.
But before you get mad at the Vietnamese for eating dogs – or at me for showing these pictures, – think about that.
In India, you go to prison if you kill a cow. In California people can legally butcher AND eat cows but slaughtering a horse is forbidden. In Italy, we eat both cows AND horses. However, we are horrified by people that eat dogs.
In Northern Vietnam eating dog meat is a widely accepted tradition. This is their culture and we should accept it, even if we disagree.
This photo gallery show slaughtered dogs. If you think it may hurt your feelings, you should leave this page now.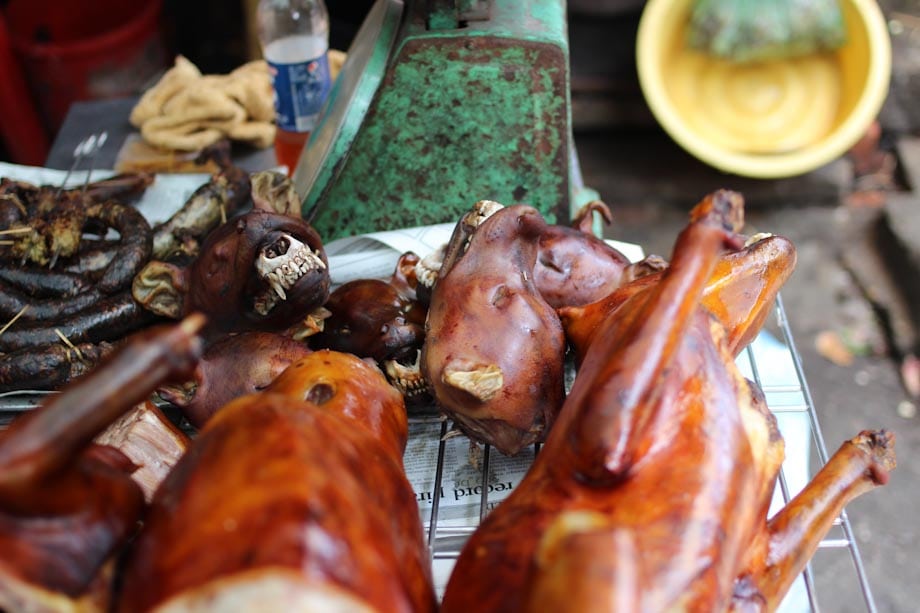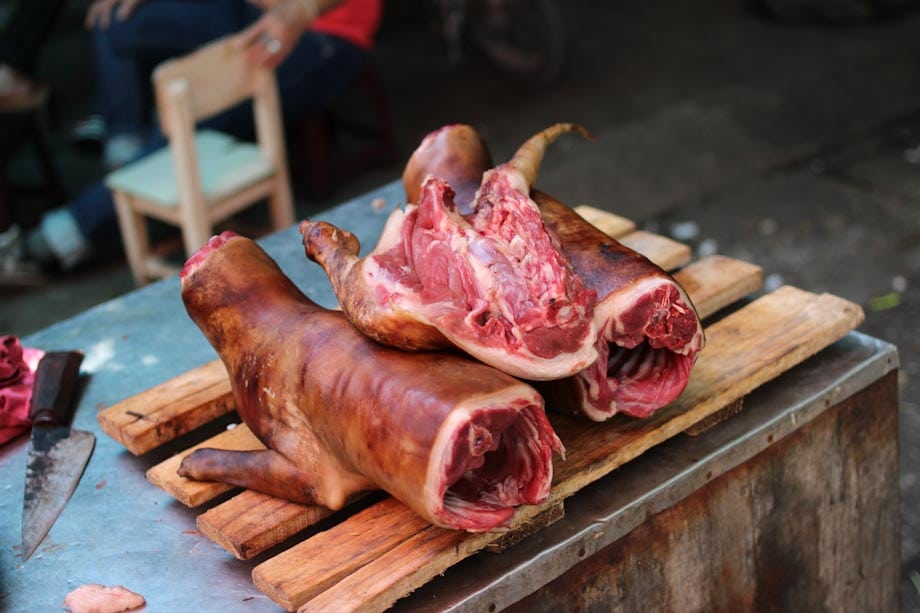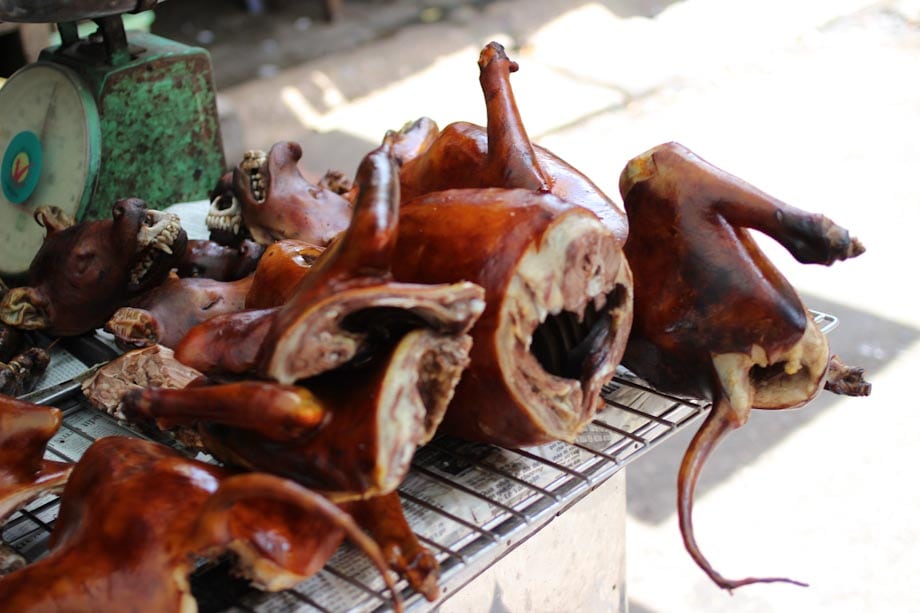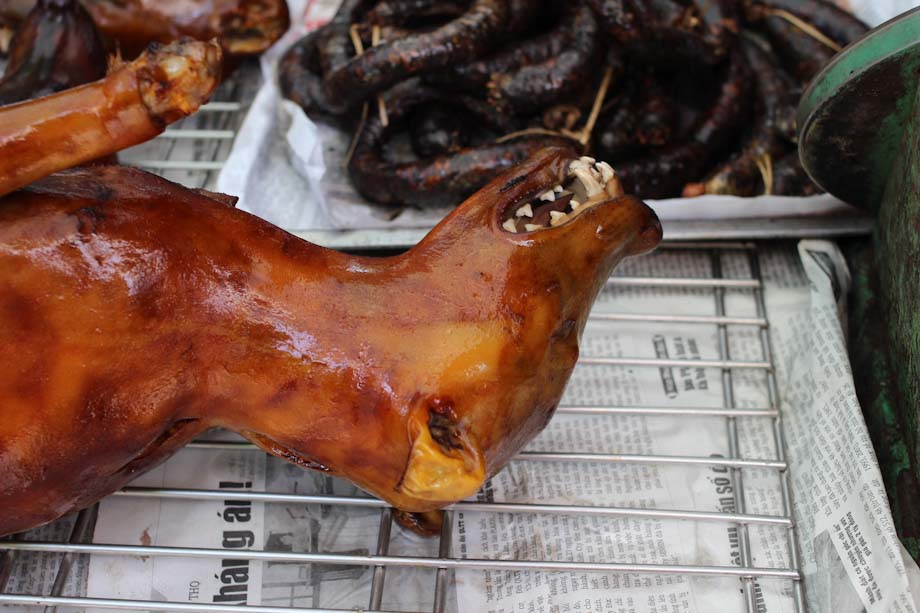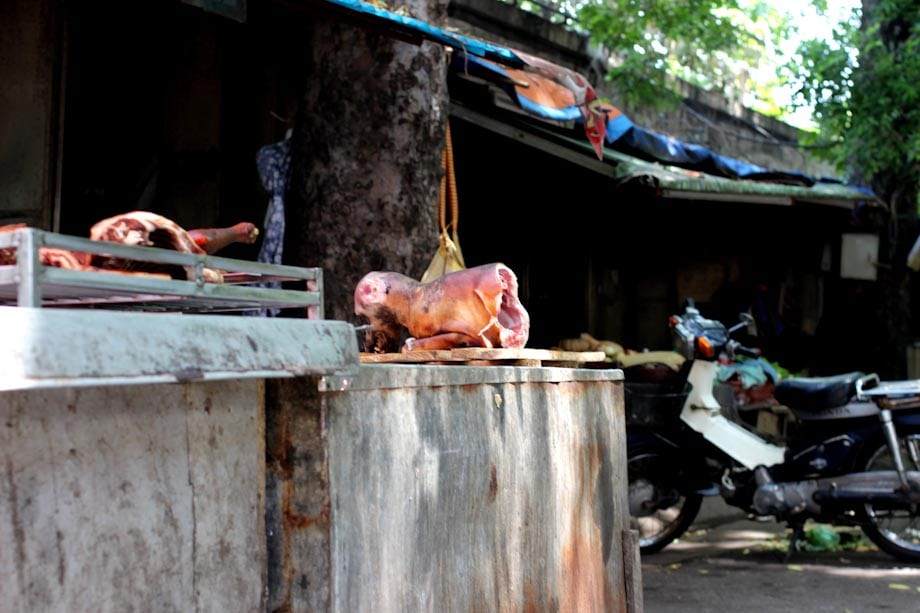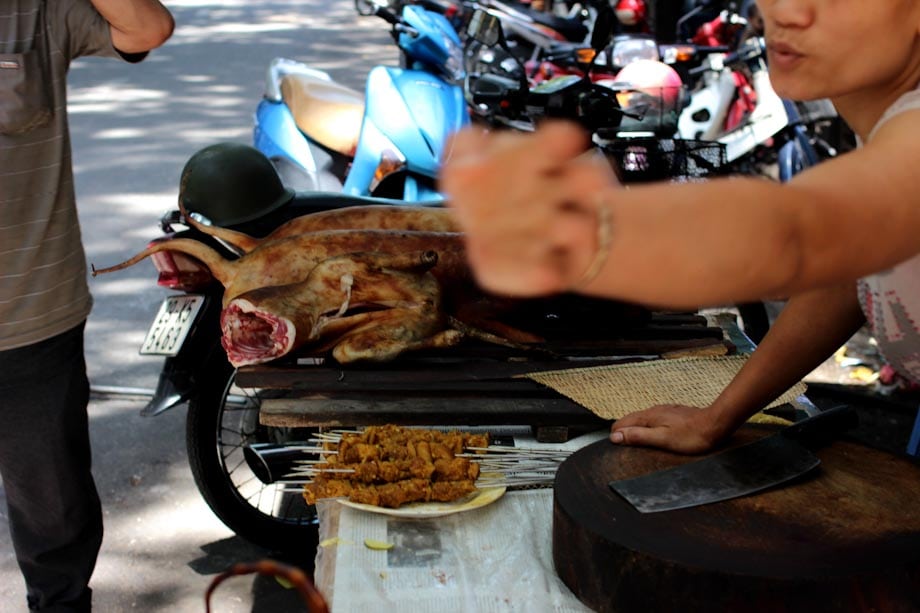 After I took a couple of pictures the butcher tried to push me away
A weird theory
I would have said that dog meat is so popular in Vietnam because the country has been occupied for almost 1,000 years by the Chinese.
However, wondering on the Internet I found a different theory. I quote from suite101's website:
"Dog Meat or thịt chó is a specialty in the North of Vietnam arising from famines during the many years of war in the country. Since the wars, eating dog meat has remained popular and has now become part of the culture."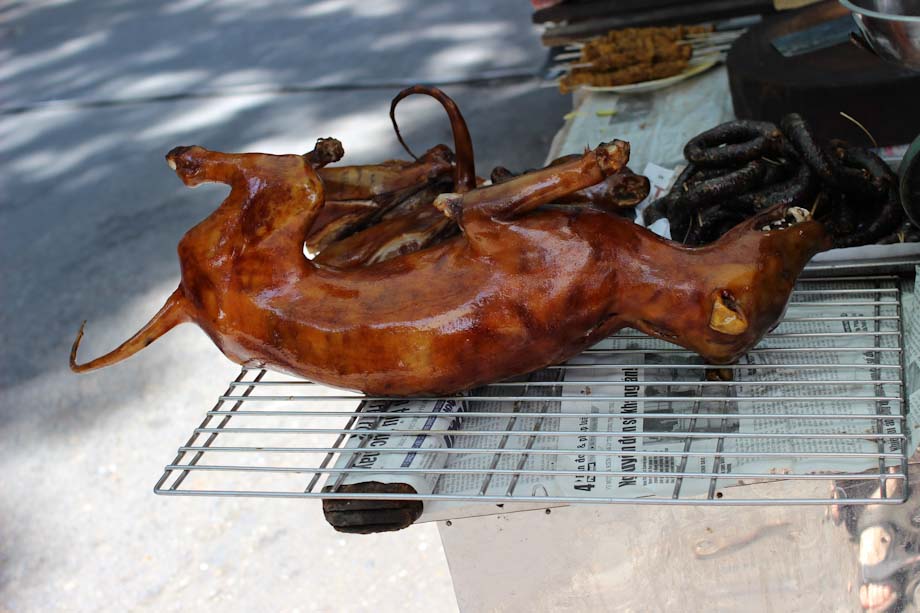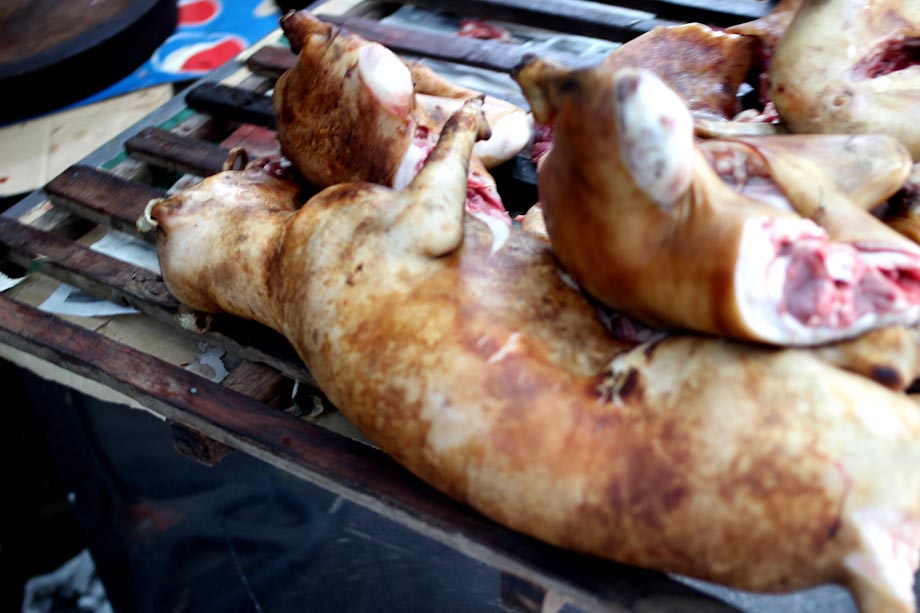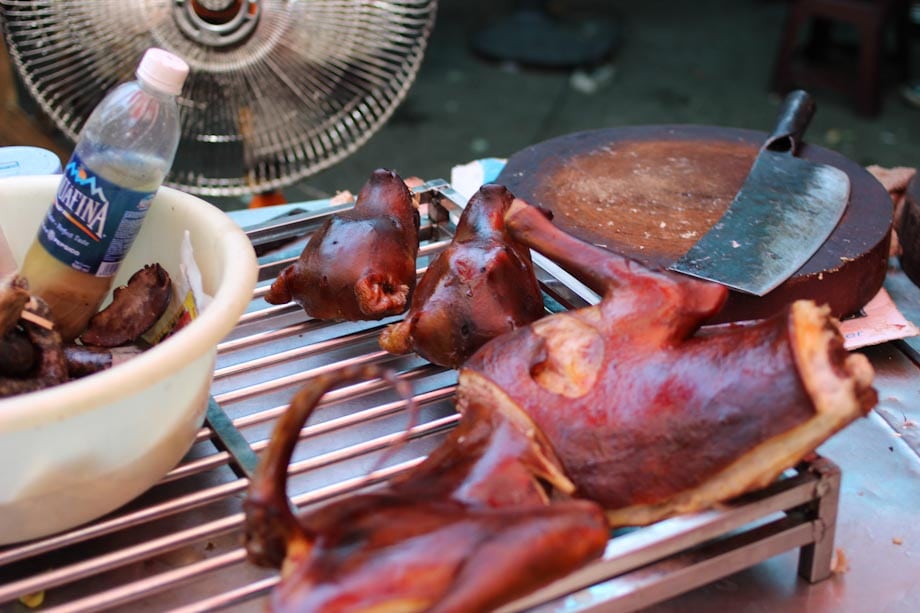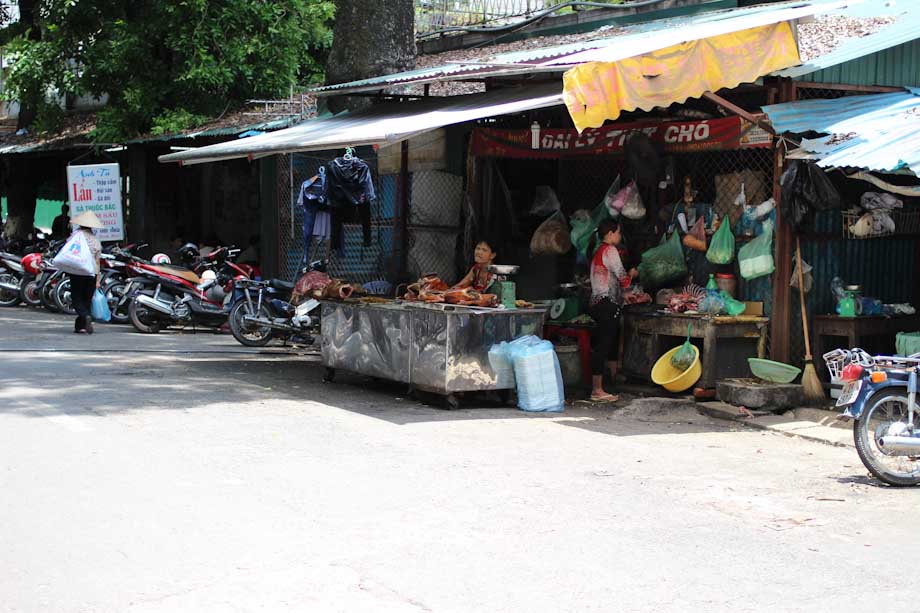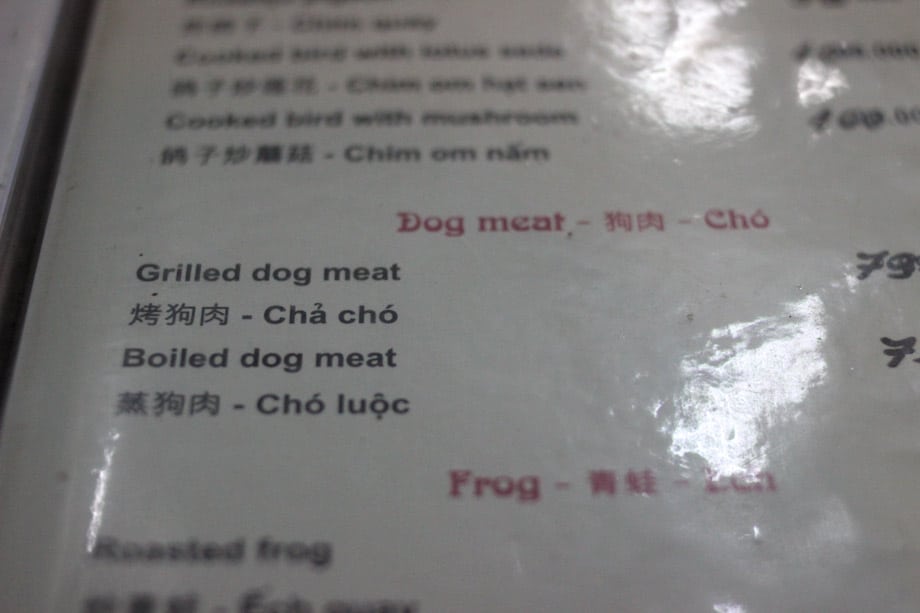 Dog meat on the menu of a restaurant in Hanoi city center
Should you worry while traveling to Asia?
While traveling to Vietnam, China, or South Korea, many Westerners are afraid that if they order beef or pork meat at the restaurant they will get dog meat instead.
This will never happen for the simple reason that dog meat is considered a delicacy and it's very expensive. It's even believed to raise the libido in men.
So don't worry. The worst thing that can happen to you is that you go to a restaurant specializing in dog meat (in general the restaurants that sell dog meat expose the panel "thịt chó") and you get beef instead of the pricy dog meat that you ordered.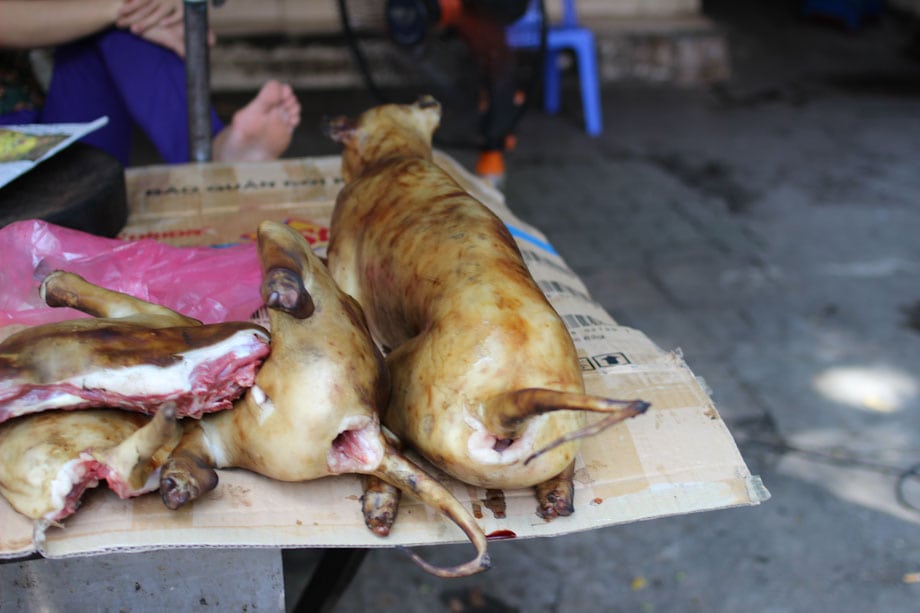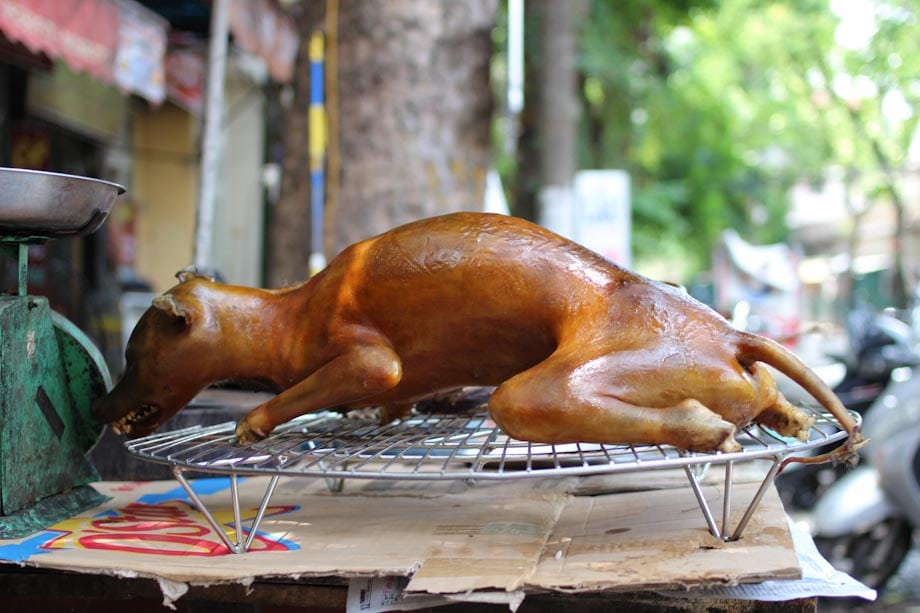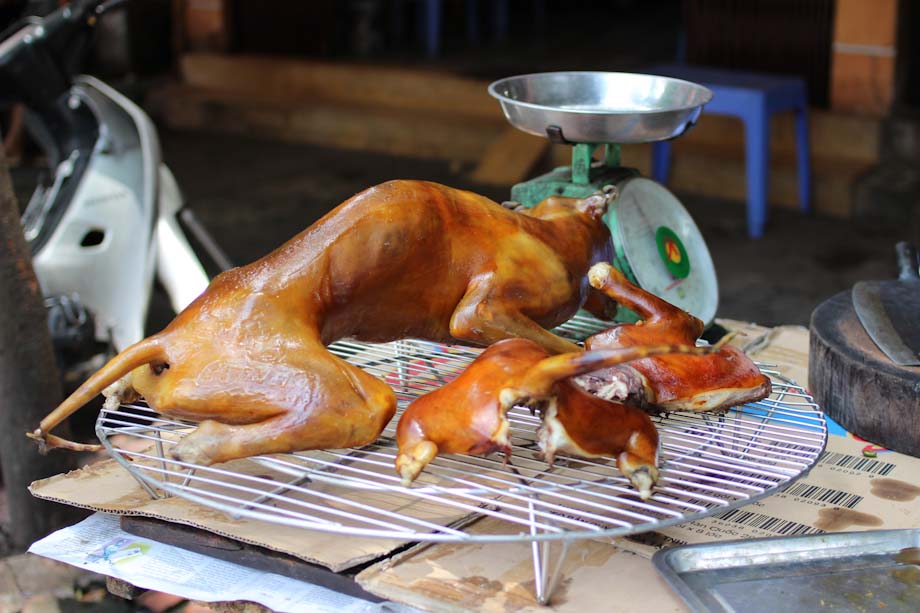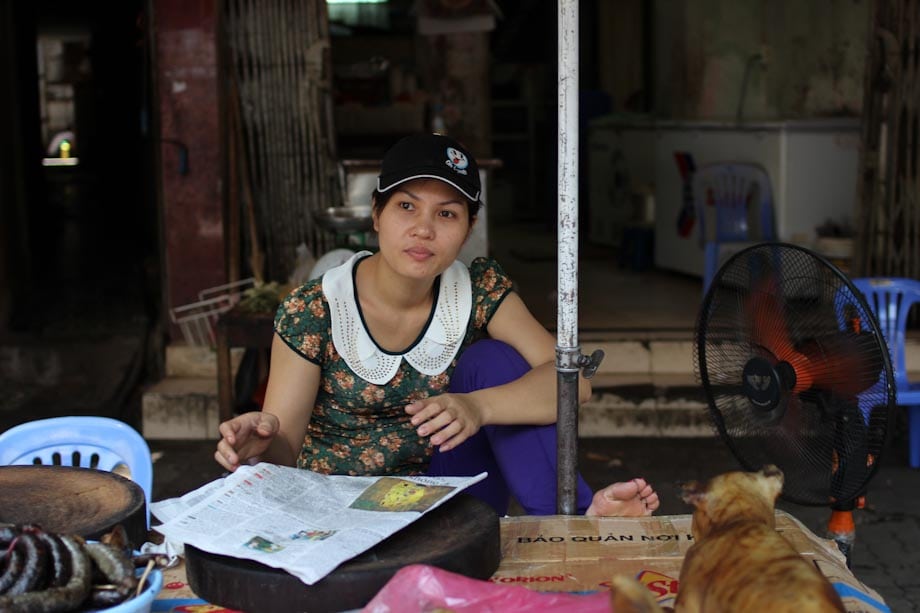 A fine difference
Don't get me wrong, this article is not at all a pro-dog-eaters manifesto.
However, to be fair with the Vietnamese, I should point out that the dogs raised for the meat cannot be considered as "pets." They are grown on the same farms that grow chickens, pigs, and cows destined to the market.
Sure, these dogs probably spend their life in a cage before getting slaughtered, which is sad. But in my opinion, it would be hypocritical to claim that pigs or chickens receive better treatment.
Photo Credits: Photos by Sapore di Cina