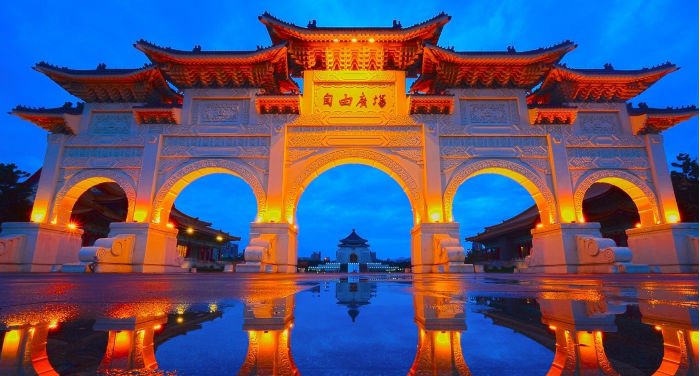 Taiwan is a popular travel destination thanks to its tasty food, beautiful nature, friendly people, and having a relaxed atmosphere. It's a perfect place to visit for weekend-getaways or if you travel around Asia.
Despite being a small island, there's plenty of things to do in Taiwan. In short, it has a good mixture of both new and old, with a preserved culture and old buildings mixed with the skyscrapers of a developed nation.
If you visit Taiwan and want to spend your time efficiently, I recommend you to one or more tours available. The tours are often cheap and you'll get accompanied by a local guide, having the opportunity to visit some of Taiwan's most beautiful national parks, villages, and historic sites.
In this article, we present some of the most popular tours in Taiwan, how long it takes to participate and how much it costs.
Below I have listed some of the most popular group tours available in Taiwan. Keep in mind that Taiwan is a small island, therefore, some of the tours are day-tours in just one city, such as in Taipei.
One-Day Tours
Ultimate Taipei Sightseeing Tour (Taipei)
The Ultimate Taipei Sightseeing Tour is available on various travel websites, including Tripadvisor, and has a rating of 5 on average. Leaving this tour out of the least would be a no-brainer.
During the tour, you'll spend 6 to 7 hours traveling around Taipei and with a local guide joining you. You'll make stops at some of the capital's most famous landmarks, including Chiang Kai-shek Memorial Hall, Longshan Temple, and Taipei 101.
Besides, you will visit the famous National Palace Museum, pass through Yangmingshan National Park, pay a visit to the Beitou Hot Spring Museum, and finally go to Shilin Night Market.
I know, it sounds a bit exhausting and you might wonder how one can be able to enjoy so many activities within just 6 hours or so. Don't worry, it's a truly memorable experience!
Worth mentioning is that the tour is limited to 16 people at a time. Thus, be sure to book the trip a couple of days before. The tour starts from USD 120, which is reasonable, considering all the activities included.
They also provide:
Hotel pickup
Professional English guide
Lunch
Travel Insurance
Admission to the National Palace Museum

I recommend you check this tour if you stay in Taipei and want to visit many sites in the shortest time possible.
Full-Day Private Custom Taipei Tour (Taipei)
The Full-Day Private Custom Taipei Tour is similar to the above-mentioned tour and you will visit some of the city's most famous landmarks in just a few hours. It takes a bit longer, 8 hours, and you'll visit the Chiang Kai-shek Memorial Hall, the Martyr's Shrine, Lin An Tai Historical House, the Dalongdong Baoan Temple, Taipei 101, and restaurants.
An advantage of choosing this tour is that you can customize your itinerary, getting help from the local guide that joins you. They will also provide you water and pay for all road-tolls and parking fees.
The tour has received dozens of 5-star reviews and will set you back USD 100.
Worth mentioning is that the tour requires 'good weather'. Therefore, the tour will be moved to another day if the weather is bad (rainy) on your booked day.
You can find the tour on different travel-booking websites, including Tripadvisor.com and Viator.com.
Taroko Gorge Classic Day Tour from Hualien City (Hualien City)
Being located in the Eastern parts of Taiwan, Hualien City is the home to one of Taiwan's most beautiful wonders – Taroko Gorge. It's a truly relaxing and memorable experience and you'll be able to wander between hills, waterfalls, mountains, caves, lakes, and more.
The tour merely costs USD 85 and includes the following:
A full-day tour in Taroko Gorge (small-group) departing from Hualien City
Relaxing hike along the Shakadang Trail
View the Eternal Spring Shrine and Swallow's Grotto
Try tasty Taiwanese dishes at a local restaurant (not included in price)
Hotel pickup and round-trip transfers (cost born by agency)
The tours are limited to 8 people for a more relaxed experience. You'll spend 8 hours on the tour together with a guide. They will also provide safety helmets and pay for parking fees, insurance, tolls, and fuel.
Pingxi and Jiufen Day Trip (from Taipei)
The Pingxi and Jiufen Day Trip is one of the most popular trips available. First, you depart from Taipei and visit various unique and traditional villages and towns. The guide will bring you to local tea houses and restaurants so that you can try the local food.
Pingxi is a rural district in New Taipei and it's mainly famous for its Sky Lantern Festival. Jiufen, on the other hand, is a beautiful mountain area located in New Taipei and with proximity to Pingxi District.
Especially Jiufen has a lot of old history and buildings, here, you'll walk on narrow cobbled streets and alleys, at the same time as you indulge in its local culture. I recommend you to participate in this tour if you want to see the old parts of Taiwan.
The tour starts from USD 100 and available on many travel booking sites. The agency will pick you up and drop you off at your hotel. You'll join a local guide that will explain the areas in English. Not to forget, you'll also learn to create sky lanterns.
Multi-Day Tours
5-Day Best of Taiwan: Sun Moon Lake, Taroko Gorge, Kaohsiung, Taitung
This 5-day tour is a popular option among travelers as it allows you to travel around the whole island for a reasonable cost of around USD 600.
During the trip, you'll visit plenty of shrines, national parks, temples, and hot springs. As you'll visit remote areas, it can be a wise choice to participate in the tour after you've enjoyed the hustle and bustle in Taipei.
You'll see:
Sun Moon Lake
Taroko Gorge
Kenting National Park
The East Coast National Scenic Area
You'll get accompanied by a local tour guide that will tell you many interesting stories behind the Wenwu temple, the Fo Guang Shan Monastery, Tse-En Pagoda, and Holy Monk Shrine.
What makes this tour-package so special is that you'll stay in 5-star hotels for 4 nights, including breakfast. On top of that, the agency will pay for all parking fees, entrance fees, and road tolls.
USD 600 is a true bargain considering everything that's included. You would never be able to find a 5-day tour at such a low price in any Western country. You won't need to worry about insurance either as it will be provided free-of-charge for the tour.
Having said that, you should have travel insurance that covers you during the whole duration of your trip.
4-Day Tour of Central and Southern Taiwan from Taipei Including Kaohsiung and Sun Moon Lake
In this 4-day tour, you will visit the central and southern parts of Taiwan. You will depart from Taipei by bus, at the same time as your tour guide explains about the various places you pass by and visit. During the trip, you'll see old pavilions, magnificent pagodas, and temples. Of course, there will be plenty of nature to see too.
The itinerary includes the following stops:
Kenting National Park
Town of Puli
Sun Moon Lake
Lukang
Kaohsiung
The same as it goes with the aforementioned trip (5-Day Best of Taiwan: Sun Moon Lake, Taroko Gorge, Kaohsiung, Taitung), you'll get 3 nights for free in a good hotel, including breakfast. The cost is slightly lower as the trip is shorter and will only cost you around USD 490.
The following is included:
Air-conditioned vehicle
Professional tour guide
Admission fee and entrance tickets
3-night hotel accommodation
Insurance
3-Day Tour of Sun Moon Lake, Puli and Alishan National Scenic Area
Despite not being as popular as the above-mentioned tours, it can be worthwhile to do the 3-day tour of Sun Moon Lake, Puli, and Alishan National Scenic Area.
If you participate in this tour, you'll depart from Taipei on a bus and see the astonishing countryside of Taiwan. It only costs around USD 430 to participate and you won't need to pay for the hotel-nights (5-star hotels).
You will visit the famous Wenwu Temple, Tehua Village, Tse-En Pagoda, Holy Monk Shrines, and much more. In this price, you'll also get access to:
Air-conditioned and comfortable coach
Professional local guide
Coverage for entrance tickets
1-way forest train ride from Alishan to Zhaoping
2-night hotel accommodation (5-star)
Insurance
Hotel pick-up and drop-off