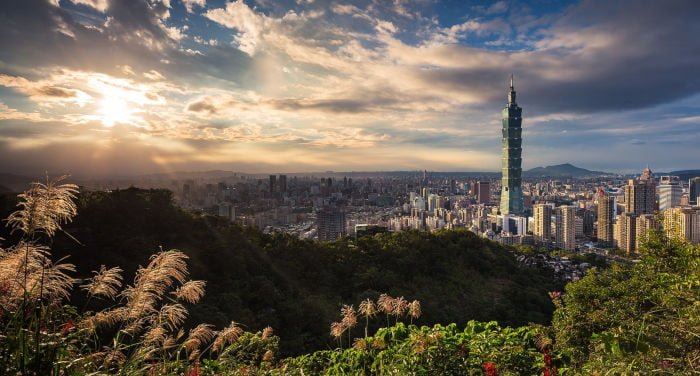 Getting a visa to travel to Taiwan
Visa regulations are fairly relaxed in Taiwan and nationals coming from 54 countries don't need to apply for a travel visa when visiting Taiwan for less than 90 days. Some of the countries and unions include the US, Canada, the EU, Australia, Israel, Japan, and South Korea.
Besides, travelers from Singapore and Malaysia, for example, can stay in Taiwan for up to 30 days without the need of applying for a visa. For a complete overview of the visa regulations for specific countries, I recommend that you visit the Taiwan government's website or this Wiki-page.
Applying for a visa is easy and you need to submit the following documents to an embassy or consulate where you live:
Passport (minimum 6 months validity)
Plane ticket out of Taiwan
Bank statement (minimum USD 3,000)
Address and phone number while you are in Taiwan
A tourist visa costs USD 50 (160 if have an American passport) and issued within just one business day. Keep in mind that it will expire if not used within 90 days from the date it was issued.
Worth mentioning is that travelers coming from countries such as Saudi Arabia, Kuwait, Peru, UAE, and Turkey can apply for 30 days single-entry eVisas, which cost around NTD 1,600. This eVisa program was introduced in 2016 and has been further expanded since.
Travel Insurance for Taiwan
We have explained the importance of having travel insurance when visiting Asia before, but it's worth to reiterate this. Even if Taiwan has an efficient healthcare system and with great coverage for residents, foreign travelers should buy insurance to avoid unforeseen issues.
Sure, Taiwan is considered safe with low risks of coming across unprovoked violence, theft, and robberies. However, you don't know if you'll become ill unexpectedly, or come across an accident.
Events where you need to stay hospitalized for a long period or get evacuated can cost a great fortune, at least compared to the minuscule cost of having temporary travel insurance. There are many affordable insurances available that cover you for outpatient and inpatient costs, medication, and repatriation.
So what insurance do I recommend? World Nomads offers travel insurance which is flexible, cost-friendly, and with good coverage. Some of the benefits of using this insurance is that you choose when you want to be insured (input specific dates and countries), you can buy the insurance online, and even after you departed for Taiwan.
Many insurance providers don't allow this as they require that you buy insurance before departure. Besides, World Nomads offer add-on features that can cover you for flight cancellations, theft, injuries obtained if you participate in extreme sports, and more.
Just make sure to read the terms of service before buying their insurance, for up-to-date information and so that you understand what you're covered for!
Hotels and hostels in Taiwan
Taiwan is not as expensive as Hong Kong and Singapore, but generally more expensive than Southeast Asian countries. Hotel nights usually starts from 50 USD a night in the central areas, but can reach up to hundreds of US dollars.
Some travelers prefer staying in hostels, which is recommended if you're on a stricter budget and want to interact with other people. Hostel nights start from around USD 20 and reach up to USD 50 per night.
If you want to save time, costs, and get a hold of some of the best deals, I recommend you check Agoda Hotels. You can find hundreds of options available and filter the accommodation options based on your preferred location, your accommodation dates, and budget. It's well-known for offering great discounts and deals, a reason why I frequently use it.
As mentioned, Taiwan is safe and the risk of coming across burglary or theft is low. The staff generally don't have any issues communicating in English as they're used to catering to foreign guests. That said, they will be more than happy to speak in Chinese with you, if you know the language.
Vaccines and medicine
Adults who have undergone routine vaccinations are recommended to get vaccinations for Hepatitis A at least. Centers for Disease Control and Prevention in the US also recommends that some travelers get vaccinations for Hepatitis B, Japanese Encephalitis, and Rabies.
Any travel can get Hepatitis A, if not protected, by eating or drinking contaminated food or water. Hepatitis B is transferred through sexual contact, contaminated needles, or other blood products. Therefore, getting a shot for both Hepatitis A and B is recommended.
Japanese Encephalitis and Rabies can rarely be found in Taipei, but as many travelers visit rural areas and smaller cities like Taichung or Kaohsiung, it can be worthwhile to get a shot for the prevention of these diseases.
Taiwan has a humid and tropical climate and in 2019, the government reported cases of Dengue fever, where most cases were reported from Kaohsiung. Rabies, on the other hand, can be transmitted from bats if you participate in outdoor activities and visit caves or jungles, for example.
In any case, you should contact your doctor, as he/she will know your immunization history and can decide what's best for you.
Another recommendation I have is to visit a local pharmacy back home, before your departure. It's always good to bring medicine that you're used to, you don't want to end up looking for medicines after you become sick!
Prescription medicine is important to bring of course, if you need certain medications daily. On top of that, I recommend you to bring anti-diarrhea pills, Aspirin or Paracetamol, antibiotics, and anti-inflammatory drugs.
To get a good rest on your airplane and while staying at a hostel or in busy areas, you should also consider to bring a pair of earplugs and an eye mask.
Flying to Taiwan
Many international airlines have routes to Taiwan, it's easy to find cheap tickets if you book some time in advance. It's most common that people land in Taipei and visit other cities by bus or by train. The reason is that Taipei serves as the capital and commercial hub with more to see and to do. Also, flight tickets are cheaper when flying here from overseas.
I prefer to look for flight tickets on flight search engines, which are similar to Agoda Hotels. You can find a list of all the airlines and tickets available for the dates when you plan to travel. Simply use the filters available to get the rates, flight times, and transits that suit your budget.
Having said that, I sometimes look for tickets on flight search engines but book the tickets on the airline 's website directly. Why? Because it's often easier and cheaper to make changes and rebook flights by communicating directly with the airline.
After you've arrived at Taoyuan Airport, it won't take you more than 35 minutes to reach the City Center (Taipei Main Station) by Metro. Trains operate between 6:05 AM to 11:35 PM from Taoyuan Airport to Taipei Main Station and depart frequently.
You can also take a taxi or bus from the airport, but the Metro is probably your easiest option to save time and costs.
Internet and phone cards
If you plan to stay in Taiwan for more than a few days, it can be handy to buy a local SIM card. Being a traveler, you're unfamiliar with the city and local areas, using data to browse the net check Google Maps can save you a lot of time and energy.
Another benefit is that you can find local attractions and the best restaurants with just a click. Simply go to Google and input "Restaurants near me" and check the ratings from other visitors. You'll then be able to check reviews, ratings, and prices, displayed as dollar signs ($ = Cheap, $$ = Medium price, $$$ = Expensive).
Some of the best providers of prepaid SIM cards include China Unicom, Chunghwa Telecom, FarEastone, and Taiwan Mobile.
They have branches at the airport and in Taipei City, preferably you should buy the SIM card directly at the airport. The internet speed is fast and you pay around USD 10 for a SIM card that includes the equivalent amount of pre-loaded credit, including an equivalent amount of pre-loaded credit to be used for the package you prefer.
Money, ATMs and credit cards
Taiwan's currency is called Taiwan Dollar (NTD), where 1 USD equals to around 31 NTD. The currency is not too volatile, so you won't end up with big currency fluctuations.
Finding ATMs that accept foreign bank cards can be a bit more tricky compared to places like Hong Kong and Singapore. This brings similarities to Japan where it can sometimes take a couple of frustrating hours before you're able to withdraw money.
Check the ATMs for stickers (VISA, PLUS, CIRRUS, etc.) before you attempt. Also, it's easier to find ATMs that accept foreign cards in convenience stores such as 7-Eleven and Family Mart.
Keep in mind that many local shops don't accept foreign debit cards either, so it's wise to bring some cash when strolling the streets. The fee to withdraw money is generally 100 NTD, which equals to around 3 USD.
Taiwan by train
If you want to discover Taiwan, you better do so by train. Being such a small island, it won't take you more than 40 minutes to reach Taichung if you take the High-Speed train, which is another city worth visiting.
You should also visit Kaohsiung if you have the chance, the second biggest city in Taiwan, it won't take you more than 1.5 hours. Food, drinks, and accommodation is cheaper here compared to Taipei, but it's also less bustling.
Speaking of High-Speed trains, you have two different options if going by train: Using the TRA Public Railway System or the High-Speed Railway System. The main difference between the two is that the TRA operates to more cities, while the High-Speed train is faster and more expensive.
Train tickets from Taipei to Taichung cost around NTD 670 – 750 (USD 22 – 24) and around NTD 1,500 (USD 48) from Taipei to Kaohsiung.
The MRT system in Taipei
Even if there are Metro lines available in both Taipei, Taichung, and Kaohsiung, I've decided to focus on Taipei as it's the most visited city with the biggest MRT system.
The Taipei Metro opened in 1996 and is renowned for being safe, reliable, some even claim that it's one of the best Metro systems in the world. Having 117 stations, it transports 2 million people every day and connect cities such as Taipei, New Taipei, and Taoyuan.
It's smaller than the Metro systems in bigger cities like Shanghai and Hong Kong and has 5 lines as follows:
Wenhu Line, Line 1, Brown color
Tamsui-Xinyi Line, Line 2, Red color
Songshan-Xindian Line, Line 3, Green color
Zhonghe-Xinlu Line, Line 4, Yellow color
Bannan Line, Line 5, blue color
Single journeys cost NTD 20 – 160 with all MRT lines operating from 6 AM to 12 AM at intervals of about 5 / 7.5 minutes. If you plan to use the MRT frequently, it can be worth to buy a Taipei Pass or a 24-hour Metro Pass. The cost ranges from NTD 180 – 440 according to the days, where you're allowed to travel for 1 to 3 days without the need of buying single tickets.
As mentioned, you'll also find MRT systems in Taichung and Kaohsiung that help commuters to move around the city effortlessly and at low prices.
What to bring?
Taiwan has a subtropical climate with a comfortably hot weather all year round. That said, temperatures can vary greatly depending on when you go and where.
The annual average temperature is 22 degrees Celsius, while temperatures can drop to 12 to 17 degrees Celsius during the winter months. The summers can be scorching with temperatures at around 27, but even reaching up to 35 degrees Celsius, if you're "unlucky".
Taiwan also has much precipitation and problems with typhoons, so it's important that you pack your bags wisely. Don't forget to bring or at least buy an umbrella when arriving!
If you visit Taiwan during the hotter months (April ~ October), I would recommend you to bring long-sleeved t-shirts, regular t-shirts, shorts, a couple of shirts, and comfortable pants. You'll probably walk a lot so be sure to bring a couple of comfortable trainers and perhaps a pair of leather shoes, if you plan to visit fine dinings or rooftop bars.
Not to forget, you should bring medicine and a universal plug adaptor as Taiwan has the same electrical standard as the US and Canada, with electrical sockets that have two vertical slots.
As such, if you come from Australia, Southeast Asia, or Europe, buy a universal adaptor before departing.
If you want to do some reading, you can bring a couple of books or a Kindle, which gives you access to, well… almost an unlimited amount of books.
When to travel to Taiwan?
Taiwan is good to visit all year round. However, I'd say that the weather is the best from April to June and from September to November. During this time, there will also be fewer tourists. But, keep in mind that it's rainy from May to September, due to the summer monsoon.
Common sense and cultural issues
The Taiwanese are well-known for being super-friendly and polite, especially towards foreigners. Don't become aggressive or use inappropriate language in public. In fact, it's illegal to insult someone in public, according to Taiwan's Criminal Code Articles 309-314.
Offer your seat to elders and kids in the subway. You might get scolded otherwise.
Don't tip as they don't accept it. If you tip, the restaurant owner might even run after you and give you the money back.
Don't jaywalk. Crossing the streets when there's a red light is not a common practice.
Food and drinks
Taiwan is famous for having great food, you'll find bakeries and bubble-tea shops anywhere in the downtown areas.
Food is in excess at low prices where some of the most popular dishes include beef noodles, oyster omelet, braised pork over rice, seafood, and so much more. The Taiwanese are also famous for craving street food, you should try it out.
That said, pay attention to the following before visiting Taiwan:
Don't drink the tap water, buy bottled water. Yet, you can take showers, brush your teeth, and wash your hands with tap water without problems.
As mentioned, don't tip as it's not a part of their culture.
Nightlife in Taiwan
Taipei is the most popular destination for travelers that wish to visit clubs and bars for sure. Overall, it's considered one of the best cities to party in Asia. The New Year's Eve is spectacular with thousands of people on the streets, drinking and watching the fireworks from Taipei 101.
You can find both cheap and high-end clubs and bars, in general, cocktail costs around 300 NTD (10 USD) at clubs and beers will set you back around 200 NTD (6.5 USD). But it highly depends on where you go.
Some bars and clubs that you should have a look at are:
The Wave Club Taipei (Club)