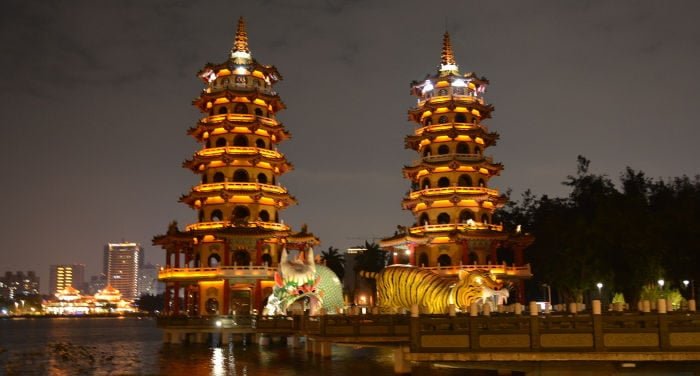 This is a travel guide to Kaohsiung, in Taiwan. Kaohsiung (pronounced GOW-shung) has a population of around 2.7 million people and is Taiwan's second largest city.
The city is found in the extreme south of Taiwan, and being located inside the tropics, the weather is understandably hot and humid. The primary part of the city is clustered around the port area, as well as the Love River. Like everywhere else in Taiwan it is clean, safe and boasts many modern conveniences.
Getting There & Around
To my knowledge, there are no direct flights from North America or Europe directly to Kaohsiung. This means that you either need to connect in a nearby Asian city, or fly into Taipei Taoyuan International Airport (TPE) and take a high-speed train down to Kaohsiung. Since my best-priced flight was nonstop Houston to Taipei on EVA Airlines (a great airline, by the way) I opted for the latter.
Getting the high-speed train is not as complicated as you might think. At Taoyaun International Airport there is a counter selling tickets for the bus (follow the signs for Bus for High Speed Rail). It costs about NT$30 (or about US$1 ) and the trip takes about 20-25 minutes. At the HSR station, buy a ticket for Zuoying Station, which is in the northern area of Kaohsiung. Depending on which train you take, the trip will take between 1.5 to 2 hours, and give you an ample look at the entire length of the western coastline.
From Zuoying you can take the Kaohsiung Mass Rapid Transit (MRT), which is a subway system to points all around the city.
You can buy tickets at the ticket counters or from automated machines. Fares are based on the distance you travel. Simply tap on your desired destination and you'll see how much money to insert (having coins is easiest as not all machines accept banknotes or credit cards). At this point you'll receive a blue token that will get you past the turnstiles – DO NOT LOSE IT! You'll need to insert it in the turnstiles on the way out.
Taxis are plentiful and cheap, and their only drawback is that they're subject to street traffic just like everyone else. But if your destination isn't too far away and you don't feel like walking in the stifling humidity, I highly recommend them. Just keep in mind that not all drivers speak English, so having your destination written down in Chinese will save some time and confusion.
Where to stay in Kaohsiung
There are pleinty of hotel and hostels in the city. As for most of Asian countries, the best webisite to book your hotel room is Agoda.
What to See in Kaohsiung
One of the reasons Kaohsiung isn't terribly well known in the Western world is that it doesn't have what can be described as world-class attractions. Still, there are some things to see and do to keep you busy for a few days.
The Tuntex Sky Tower or 85 Sky Tower is the tallest building in the city by far, and also the city's unofficial icon. Located near the port and exhibition center, it was built to resemble the Chinese character meaning "tall", which is certainly appropriate.
You can take a trip up to the 74th floor for views of the city, which are nice though hardly on par with the Empire State Building or Eiffel Tower. Or you can do as I did and stay at the hotel located inside, which offered similar views and an excellent breakfast buffet.
The Love River area is popular after dark, as are the various Night Markets that come to life with the setting of the sun. Personally, the smells from the various food vendors did little to spark my appetite, but the nighttime bustle and lights do make for a pleasant ambiance.
There are several parks in the city and its surroundings, but my favorite spot by far is Lotus Lake, nearby to Zuoying Station (yes, the same place you got off the HSR). This serene lake is ringed by numerous statues, temples, pavilions and trails, all of which make for great photos and a peaceful night's stroll. My favorite was the Tiger and Dragon pagodas, each with a huge representation of their respective namesakes guarding the entrances. I can say from experience that coming around sunset and watching the lights come on one by one is one of the most enjoyable scenes in the entire city.
For shopping addicts, there are modern shopping malls throughout the city – many several stories high and each seemingly equipped with large food courts catering to all palates. If street food isn't doing it for you, this is a good option. But I have to say, the stores here are all the same stores (and prices) of upscale malls back home. So if you're looking for unique products (or souvenirs) you'll be quite disappointed with the commercial homogeny you'll find everywhere in Asia.
If you're looking for a more natural setting, another place of note is located about an hour outside the city. The Maolin National Scenic Area is found right in the rugged Central Mountain Range that serves as the island's spine. The primary draw here – aside from the gorgeous mountain scenery – is its location as a spot to see the Purple Crow Butterflies – which at certain times of the year (such as November when I visited) are around in large numbers.
Nearby is the Duona High Suspension Bridge, which is exactly what its name would suggest. This huge pedestrian span crosses a beautiful gorge and allows for some great photo opportunities. For more on these sites and others in the area, click here for the official website.
Odds and Ends
While Mandarin Chinese is the official language, most signage will also include English, so finding streets, buildings and your way around the MRT shouldn't be much of a problem.
Prices in general aren't all that expensive in Western terms, so even a hotel like the 85 Sky Tower can be relatively reasonable. The people in Taiwan were almost to a person quite friendly and helpful. And as I mentioned before, it really is a very safe destination, so don't hesitate to venture out after dark for the bustle and buzz of Chinese nightlife.
Kaohsiung will likely never be on the main Asian tourist circuit, and honestly, I couldn't say it would be worth traveling halfway across the planet on its own merit. But if you do find yourself in the Orient, and would like an easy, comfortable location for experiencing Chinese culture without having to get a visa, Kaohsiung is a worthy option.
Photo Credits: Photos by Ben Pastore