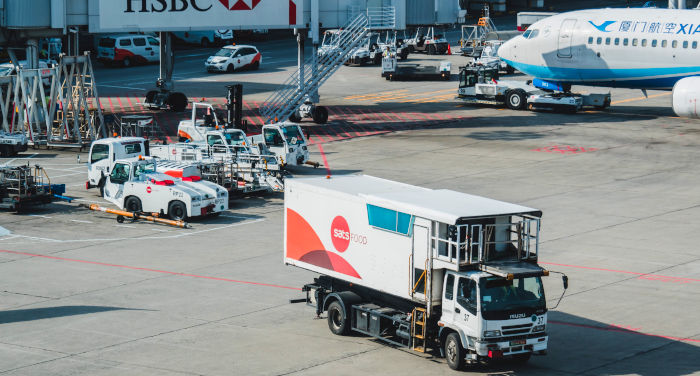 Do you plan to move to Taiwan and need to find an international moving company?
In this article, you can find some of the most popular moving companies that can help you to send your goods to Taiwan (if you are moving there) or from Taiwan to overseas (if you plan moving back home or to another country).
The companies are handpicked and have a long experience of catering to foreigners in the international moving industry. They manage relocations within the shortest possible time and sometimes provide other useful services, covering visa & immigration issues, intercultural training, school searches and more.
If you fill in the form below, you can also get free quotes from trusted moving companies chosen by our moving service partner. If you have any questions about relocating to Taiwan, feel free to drop a comment below or send us an email.
Why you should hire an international moving company
It's practically impossible for many people to move across the globe and manage the relocation of large-sized and heavy belongings on their own. Moving furniture, vehicles, and even pets, require thorough planning and preparations.
Managing a move overseas is significantly more difficult than domestic and you have to manage paperwork and declare your goods at customs, for example.
Professional relocation companies are experts in this field and can help you to package the belongings in the most optimal way, manage insurance, storage, inbound at the port of destination, and more. Besides, they can also clean your house and manage storage on your behalf in your home country.
As such, it's worthwhile to let a professional service provider manage the moving on your behalf. Expats are generally fortunate in the sense that their employers pay for the relocation services.
If you can get reimbursed for the costs to move your belongings overseas there's really no reason why you shouldn't go for this option.
How much does it cost to move to Taiwan?
It's hard to give a fixed price as the costs vary due to seasonality, oil prices, how much you want to move, the weight and the size of the goods, which service provider you pick, the type of goods, and the list go on.
With that said, many people get surprised about the costs they have to pay when relocating overseas. If you live in a 3-bedroom house in the US and plan to move to Asia, be prepared to pay USD 4,000 – USD 6,000 if you ship some furniture, clothes, and household appliances within the coming 3 months.
The price can be lower or higher, depending on the above-mentioned factors. For up-to-date information and to get a personal quotation, I recommend you to contact the service providers directly.
International moving companies in Taiwan
Taiwan is the home of many expats and foreigners, not strangely, you can find plenty of international relocation companies here. Below are some of your best service providers available that have helped thousands of foreigners in the past.
Many of the companies operate in other overseas markets and can help you to move to a wide range of destinations worldwide.
AGS Movers
AGS Movers Taiwan was founded as early as 1999 and is one of the oldest international relocation companies in Taiwan. They are renowned for offering high-quality services and following the latest standards.
AGS Movers is a part of the large global company AGS Group and has a network of 142 locations in 95 countries. Besides, the parent company also contributes to AGS Movers Taiwan's operations thanks to its long experience and robust processes.
The company has staff speaking Mandarin, English, and French, thus being able to serve clients from various parts of the world. AGS Movers helps over 85,000 families to relocate annually. With 4,100 employees worldwide, it's by far one of the biggest relocation companies in the world.
Summary:
Santa Fe Relocation
Santa Fe Relocation was founded more than a century ago and is one of the oldest and biggest international moving companies in the world. Not only do they have an office in Taiwan, but in 47 other countries, served by 2,400 professionals.
In addition to international relocation services, Santa Fe can help you with domestic moving, property management, corporate services, hotel installations, and consulting. Besides, they provide support with immigration-related issues.
Santa Fe Relocation is a reliable service provider that has helped hundreds of thousands of foreigners over the years.
Summary:
Crown Relocations
Crown Group is a large conglomerate that owns the international moving company Crown Relocations. With a presence in 60 countries and offices in more than 200 locations worldwide, Crown Relocations is one of the biggest international moving companies in Taiwan.
Crown Relocations primarily helps foreigners with international and domestic relocations, but can also help with school searches, immigration-related problems, intercultural training, and others.
Over the years, Crown Relocations have started to offer different kinds of services as well, including wine cellars (storage of high-end wine) and fine arts. The company helps both museums, galleries, auction houses, and private collectors to transport fine arts.
Summary:
Allied Pickfords Taiwan
Allied Pickfords is one of the biggest international relocation companies globally and was established almost 400 years ago. They were the pioneers in the moving industry and have used everything from packhorses in the early seventeenth century to advanced shipping and transportation solutions in the 2000s.
Not surprisingly, the company has expanded to more than 40 countries and has more than 600 offices. Their Taiwanese office was established in 2001 and is currently supported by 25 employees. The team has professionals of three different nationalities and they have a long experience in catering to foreigners.
For more information about their services and to receive a personal quotation, you can visit their website and send them a message.
Summary:
Get up to 5 free quotes from trusted moving companies for Taiwan
Fill in the form below to receive up to 5 FREE quotes within 24 hours from international shipping companies, most with decades of experience, to ship your personal belongings. Since 2004, our partner Sirelo has helped more than 200,000 expats choose the best moving company for their international move.
With their continually growing network of international movers, Sirelo can also help you to find the right international moving company and save you up to 40% on your international moving costs!
Photo Credits: Photo by Goh Rhy Yan on Unsplash