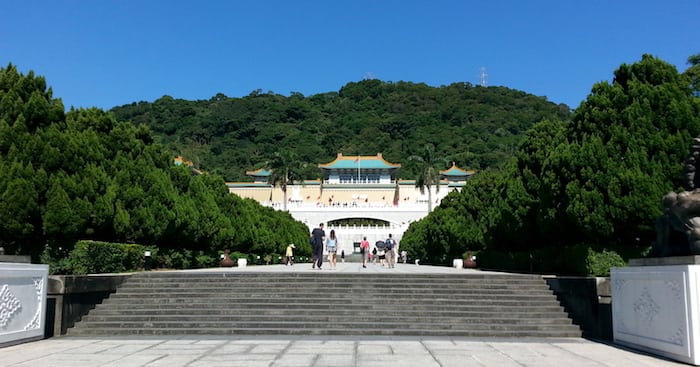 The entrance to the National Palace Museum of Taipei
Taipei has the characteristics of a modern large city, which is the result of Japanese, Chinese and American influence, and a very difficult internal conflict with the local populations. After the boom of the 90's of Made in Taiwan, today Taipei (and all of Taiwan) feels itself being surpassed by other nations and is slowly working to reinvent itself to its own place in the world. The city is therefore at an evident crossroads between East and West, on an architectural level as much as a gastronomic one and in the gentle ways of its people.
Note that the Taiwanese understand and can speak Mandarin Chinese (which is the official language), but an originally Fujian dialect is very widespread, hokkien. Moreover, writing is commonly done with traditional characters; Taiwan hasn't adopted pinyin in transliteration, but a phonetic system called Zhuyin or Bopomofo.
When to go to Taipei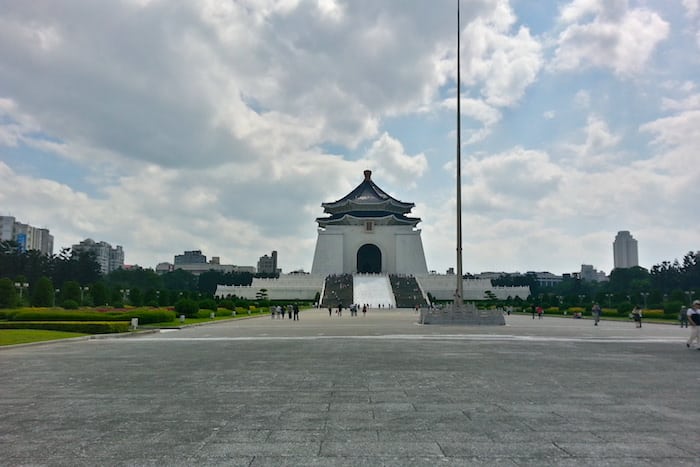 Chiang Kai-Shek Memorial Hall
In planning a trip to Taipei you need to keep carefully in mind that the island of Taiwan has a monsoon climate, and the torrential rains and powerful winds can make a touristic visit less than comfortable. You won't encounter the health problems of Southeast Asia due to the heavy rains; but really, you can enjoy mild temperatures without worrying about rain during other times of the year, so why not make the most of it.
Look, Taipei is the right city to "winter" in: specifically it's best from October onward, considering late Autumn as the best period. Winter is cool but tolerable. The Spring is also a good choice if humidity doesn't bother you. Forget about the summer and early Autumn due to the downpours. This doesn't necessarily mean that going during the hot season you'll get drenched; but if you don't get wet, you'll cook, since temperatures can even reach 40° which on asphalt, isn't very pleasant.
Remember too that the island is also affected by seismic phenomena. Being used to dancing earth, the Taiwanese have built appropriate structures, so minor tremors are almost never felt. Nevertheless, to stay up to date with extreme weather conditions, you can check with the site of the Central Weather Bureau which also offers advice on what to do under dangerous conditions. Refer too to these two telephone numbers if you find yourself in trouble:
when weather conditions are extreme (02)2349-1234;
when there's an earthquake (02)2349-1168.
The Central Weather Bureau also has an App with updates on conditions; it's downloadable here for the iPhone and here for Android.
When it comes to holidays, Taiwan also more or less follows a lunar calendar and there are two celebrations (the New Year and Mid-Autumn Festival) that bring in tourists. However Taipei isn't a destination that draws hordes of tourists, so it remains manageable even in peak seasons.
How to get there and how to get around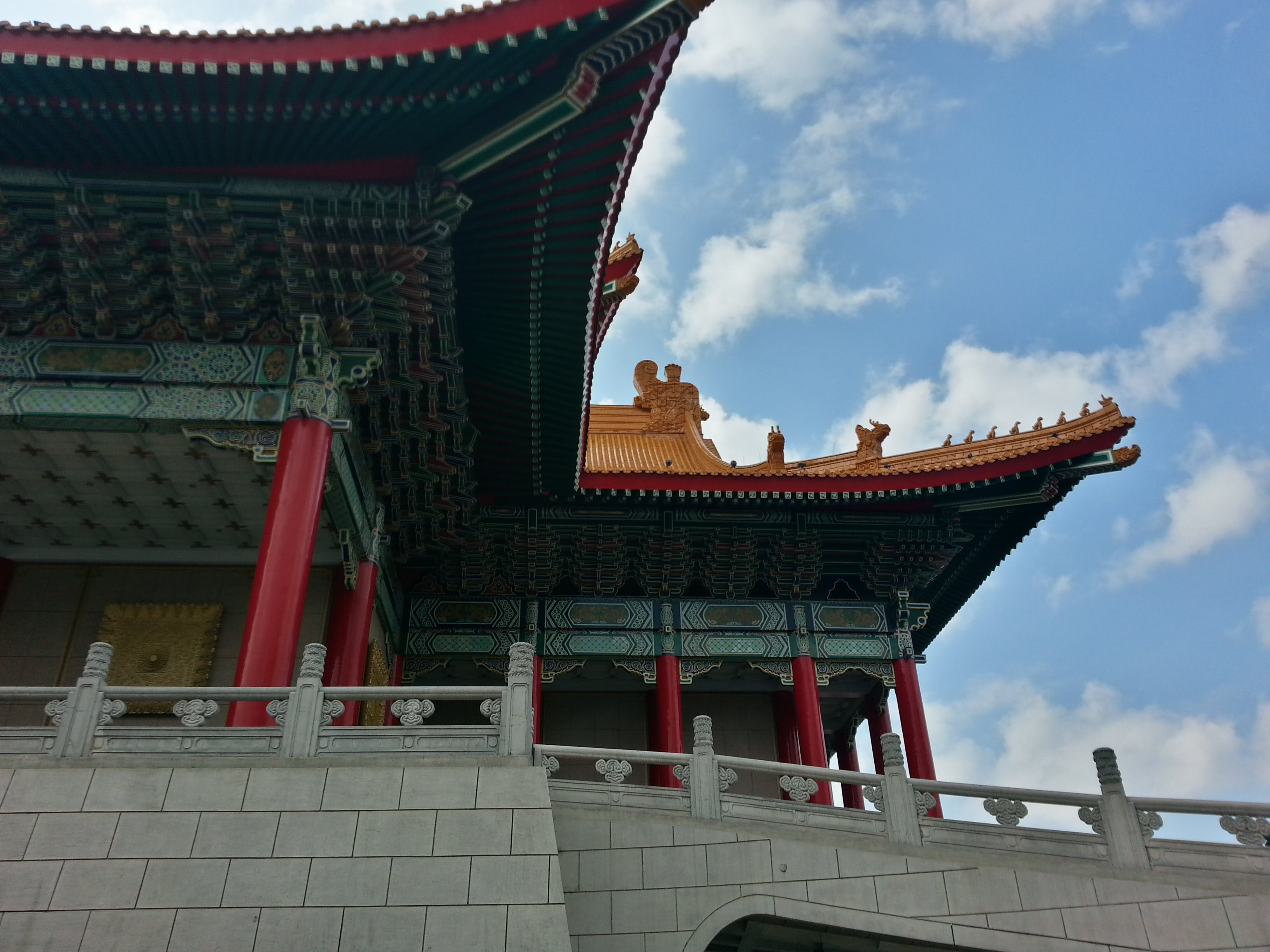 A detail of the National Theatre
Taipei is served first and foremost by the largest international airport in Taiwan, Taiwan Taoyuan International Airport.
This airport is far from the city center (in the city of Taoyuan in fact, west of Taipei), while the Taipei Songshan Airport is closest to the city, but offers limited international service. So keep in mind that getting to the city from Taoyuan county, you'll have to figure on at least an hour, hour and a half travel times if you use public transport, a little less than an hour if you take a taxi (traffic permitting).
Flying from Europe you'll have to stop in Dubai if flying with Emirates, in Istanbul if using Turkish Airlines, in Beijing with Air China, in Hong Kong if flying with Cathay Pacific and so on (these are the main airlines with frequent service). If instead you're leaving from mainland China, there are at least 15 destinations connected by short flights that conveniently land at Songshan Airport. Among these: Shanghai, Chengdu, Chongqing, Fuzhou, Xiamen. There's also Tokyo and Seoul.
There are excellent connections to the city. From Taiwan Taoyuan International Airport you can get to the center of town in the following ways:
by bus, which is the cheapest way, between 90 and 145 NT$: there are three lines run by different companies which mostly go to the Taipei Main Station, to City Hall, to various hotels, or connecting to a MRT stop (among which is the MRT Xingtian Temple Station); detailed and real-time information can be found at this link clicking on Arrival Terminal of your flight. There's also frequent bus service between the two airports. Operators with prices from NT$ 140 on up are the best maintained. Some of these offer request service, where they'll bring you right to your hotel of it isn't on the list of stops for an additional price. Find out ahead of time from your hotel which bus line best serves them. The fastest, most convenient and frequent connection is the one offered by Kuo Kuang Bus (國光客運) which goes to Taipei West Bus Station, exit number 3.
by fast train (Gaotie 高鐵) from the Taoyuan HSR (High Speed Rail) Station. This can be reached by shuttle bus, a fast and direct connection for 30 NT$. The same connection with Taoyuan station is also possible using the MRT (NT$ 35). Considering the waiting and transfer times it's almost the equivalent amount of time as a trip on four wheels, depending on your preference. Fast train tickets can also be booked online at the official site or using the Klook service up to 28 days before the trip.
by taxi, for all destinations. Obviously a taxi has the advantage of leaving you right at your destination, but the price varies between 800 and 1200 NT$. And city traffic can be quite intense during rush hours. If you're traveling as a group, this is an excellent option. If you're planning on going to the airport, book a taxi in advance from your hotel (or call 55850 from your cell or 0800-055-850 from a landline).
by MRT train which connects the airport to the central Taipei Main Station (which is crossed by several metro lines); service leaves on one direction and then the other a little after 6 a.m. and ends by 11 p.m. toward the direction of the city and an hour later toward the airport. There are two types of trains, one Express and one Commuter, with the latter being slower. The fastest option connecting the airport and the station takes 37 minutes for NT$ 160.

Using the MRT to get to the airport you can take advantage of the advanced check-in service. This means that before taking the metro you can free yourself of your baggage!! It's a real convenience. Keep in mind that the service is available up until three hours before your flight's departure time and only for passengers without special requests.
From Songshan airport, the city is easily reachable and the most convenient way is using the MRT. The stop is found outside of Terminal 1, behind the bus stop. There are buses for all directions, but an arriving tourist without much knowledge of the language will find themselves in some difficulty. So as to not lose your mind, I recommend that unless your hotel explicitly indicates otherwise, go right for the metro. Obviously there are also taxis, always right outside Terminal 1 that are easily identifiable.
When it comes to getting around the city, Taipei is extremely well-organized and its transportation network is capable of streamlining traffic on wheels. For a city of this size, it is a big advantage.
To best appreciate it, I recommend that you use two methods of getting around, the metro and public bicycles. Moreover, it would be practical to get one of two public transportation cards on arrival. There are two types available to tourists:
EasyCard: is the classic card that exists in all big cities, covering all means of transport plus buses, and keeps you from going crazy over having change. In some cases, the rates applied to the EasyCard are discounted, and are especially discounted for students. You can buy cards at a convenience store (7/11, Family Mart, OK, Hi-Life) or at metro stops. They can be recharged, and are even reimbursable.
Taipei Pass: this is the tourist version. Depending on your length of stay, you can choose to buy a daily or multi-day pass (24, 48 and 72 hours, for a price of 180/280/360 NT$; or one day, two, three, five days for a price of 180/310/440/700 NT$). The Taipei Pass is valid for buses and the metro from the first use until the end of the specified time (note: they are NOT valid for using the Youbike public bicycles). If you want to use the Maokong Gondola you'll have to buy an extension. Passes are found at metro stations, at the EasyCard office at the Taipei Main Station, or online on their site.
Let's take a closer look at the various forms of transportation and tools that will be useful during your trip.
Metro (MRT)
Today there are five highly-efficient lines that cover the entire city center and go off into the periphery. With this bilingual map you can track down the stops. As a reference, the metro runs between 6 a.m. and midnight, but it's best to check a specific stop for its last train; a single ride ticket costs NT$ 25.
Many stations are equipped to host nursing mothers and for changing diapers in an emergency; they are also well equipped for disabled access. You can also bring your bike by paying for a ticket.
Bus
While the metro is known for its efficiency and user-friendly system, buses are much less so unless you're familiar with traditional Chinese characters. Some companies offer translation of the stops, others no (or they're less precise). But the site of a company that runs it shows consideration for those who can't speak a word in Chinese and offers a very easy tool in English for figuring out the buses.
For buses it's easiest to swipe your Easycard (have I already told you how convenient the card is?);but if you have to pay in cash, you have to have exact change since no change is given on board (as in Japan). The average price is 15 Taiwanese Dollars.
Tourist buses
There are two bus lines that run tourist itineraries, the so-called sightseeing buses. Both the blue and red lines leave from Taipei Main Station. You can make good use of these hop-on hop-off style buses, getting on and off an unlimited number of times, after buying a time-sensitive ticket: there's a minimum of 4 hours (300 NT$) and maximum of 2 days (1200 NT$). Check the site for detailed information on itineraries and pricing.
Or, other lines run tourist routes for moderate prices (15 NT$ per section) and not only cover Taipei, but also New Taipei and surrounding districts. Check the maps offered on this site and rely on your EasyCard.
Taxi
Taxis are abundant and can be stopped on the street by waving your hand. If you need to be certain of having a car, I recommend that you book service by calling 0800-055850. Pressing 2 in the first selection menu will let you use the service in English.
Taxi companies, with advance booking, also offer daily tour service and you can request a driver that speaks English.
Bicycle
How great is Taipei, full of bike lanes! Without a doubt, going on two wheels is a great way to tour it. To make it even easier to use, the city is carpeted with public bicycles (I'm not joking, they're everywhere!), the bright orange YouBike.
You can rent one using your EasyCard (there it is again!), but you'll need a local telephone number. Or you can pay for a single use rental by credit card. The first four hours cost 10 NT$ per half hour. You can find a simple bilingual guide using this link.
For all other doubts, check the official site.
For those who love biking it doesn't end here. In fact you can see not only the city center but also the suburbs with green countryside, along the river and throughout the entire city: Far and wide, perfectly kept biking itineraries make exploration available even to families. Take a look at the promotional material from the Tourism Office, divided into lists of itineraries and a city map with highlighted routes,for an idea of where to go pedal.
Cable car
Romantically called a gondola, Maokong (貓空) is a cable car that connects the Taipei Zoo to Maokong. At the top you'll see city panoramas and various tea houses where you can taste and buy.
High speed train
You won't need it at all for getting around inside Taipei, but it is the best way for getting to other cities on the island. The Taiwan High Speed Rail, THSR or HSR – leaves from Taipei Main Station.
Getting around by water
It's called the Blue Highway, and it represents river connections on the water between Keelung and Tamsui. They are guided tours (such as a historic theme or romantic evening for example) that pass through the most interesting points on the Keelung and allow for peace and tranquility on the shores of the Tamsui. For more information check with the two largest marinas, Dadaocheng Wharf and Guandu Wharf.
Visas and money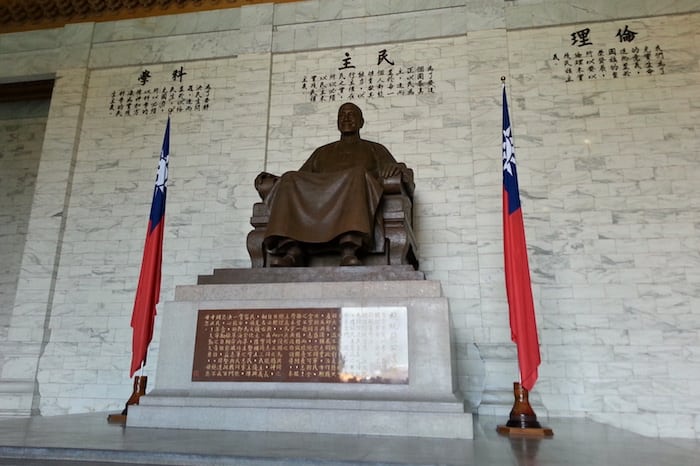 Statue of Chiang Kai-Shek inside Memorial Hall
If you are from Australia, Canada, Japan, Korea, New Zealand, any of the Schengen countries, the United Kingdom, or the United States, you can travel to Taiwan for a stay of less than 90 days, you won't need an entry visa. Your passport must be valid for at least six months and you have to have a return ticket: these are the only requirements. Your visa will be issued on arrival.
If your stay is longer, you have to apply for a Visitor Visa or Resident Visa. Consult our guide for more detailed information.
Most countries in the world officially don't recognize the existence of Taiwan as its own state, so there aren't any embassies in both countries. You'll find a representative's office which carries out the same functions. However, I feel moved to tell you that even though due to bureaucracy they handle the same paperwork, a foreginer traveling in Taiwan that finds themselves in an uncomfortable, inconvenient or dangerous situation, does not enjoy consular protection. I don't recommend that you go there looking for trouble, but if it should happen, use the emergency numbers that follow.
The currency used in Taiwan is the New Taiwanese Dollar (NTD or NT$). In Chinese the Taiwanese call them, just as in mainland China, Yuan (or kuai in the spoken language). There's not much trouble in exchanging money, but smaller banks will likely require requesting it well in advance.
You can withdraw local currency right from ATM machines. In Taipei you can obviously find them near banks but they're also widely found in convenience stores. Credit cards from main circuits are all accepted as is the Chinese circuit Unionpay.
Taiwanese banknotes are in 5 denominations, and fortunately don't replicate the Chinese experience of small bills so that you won't find your wallet overstuffed. You might have to put on your glasses when dealing with the money, at least in the beginning, since the numbers are written on one side and the rest is in traditional Chinese characters… This little detail gave me a lot of trouble, to the point that end of my vacation I had my pockets filled with baubles… – I can't imagine what I could possibly do with these doubloons!
In Taiwan each transaction that gives you a receipt automatically participates in the government lottery. It's free and open to all who have a tax receipt, so even foreigners can participate. For small prizes you can conveniently redeem them in the famous convenience stores. It's an excellent strategy on the part of the government to give incentive to the emission of receipts on the part of merchants and therefore the payment of taxes. So if you've made purchases in Taipei, keep your receipt and check the winning numbers on this link.
Useful information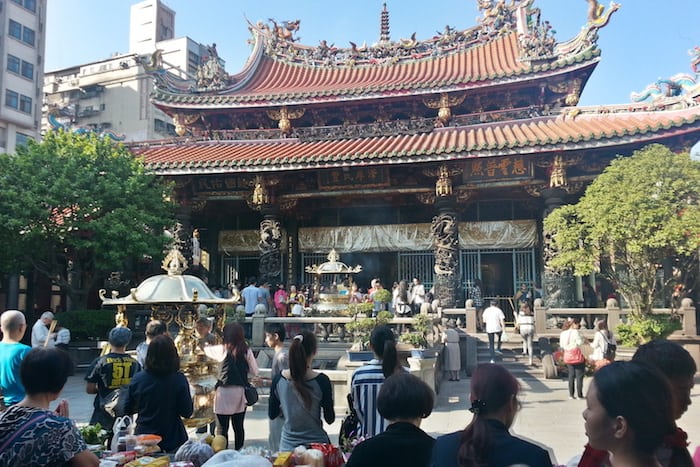 Entrance to Longshan Temple
Internet
Public WiFi is widely available and the majority of places offer internet to their customers. The free internet city project is called the "Taipei WiFi Alliance"; just download the App and create an account for having internet access at metro stations, shopping malls and the main tourist destinations.
Taipei is a friendly city and English is widespread, especially among the youth. I never felt completely lost or in danger. Though it's obvious that in the XXII century in an Asian country, an internet connection in your pocket is a great convenience. So it's an excellent idea to arrange the purchase of a SIM card for your cell phone.
SIM cards can be bought in telephone stores around the city, at the airport or in convenience stores (7/11s sell the 7-Mobile SIM). If you're in a rush or don't want to go crazy looking for a telephone store, you can buy a SIM online and get it on arrival at the airport store. The simplest services is offered by Klook, and you can choose between
Pay attention during your purchase to choose the right package for your length of stay and the air terminal for your card. When you buy it in person or go to pick it up you'll have to present your passport plus another identification document, whether a driver's license or national identity card.
Online tickets
Especially in the event that you're visiting Taipei in the high season, you might consider the site I already listed above, Klook, for buying tickets to the attractions.
Klook also has an App for iPhone or Android.
Electricity
Come equipped with an adapter for American style plugs (110 volt). Some hotels also have 220 V, but don't count on it.
Tourist information
Taipei offers a few free services to better appreciate the city and its tourist attractions. A multimedia option is the App, Travel Taipei, where you can find a calendar of events updated daily. Download it here if you have an iPhone or here for your Android.
The same local tourism agency has organized a free tourist orientation program that takes place on weekends around the most well known stations. It's called the Mobile Visitor Information Service and besides just being an information counter it gives guided tours at prearranged times. Check the site for specific information.
What to see in Taipei
It's a large city, so there's lots of things to see. However, Taipei is also good for concentrated itineraries that can be done in a few days. It's a great long weekend destination so long as you haven't crossed two continents to get here. At that point I'd recommend that you dedicate a little more time here, perhaps trying one of the biking itineraries then exploring the rest of the island. Because from north to south the differences and touristic opportunities are infinite.
The classic route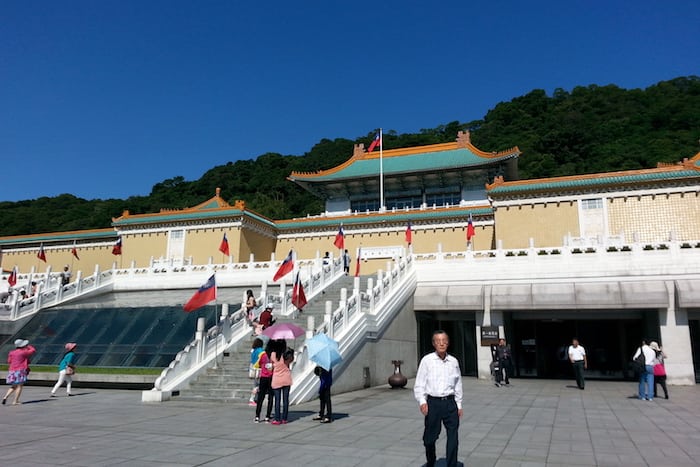 The main building of the National Palace Museum
You haven't seen Taipei if you've left one of these off your list highlights:
National Palace Museum (Guólì Gùgōng Bówùyuàn國立故宮博物院):this is the most beautiful Chinese museum. Take time to be fascinated by the artifacts, and even wait in line due to the crowds. The collection is continually in rotation in view of a large number of pieces, so even if you've already visited something might surprise you!

It's open every day at 9, while on Fridays and Saturdays the closing hours are extended. The whole ticket costs 250 NT$.

The museum is located a little out of the way and you'll have to transfer from the metro to the bus: first get to the Shilin (士林) stop of the red Line 2, then look for Bus R30 (紅30) on the same side of the street (one every 30 minutes weekdays, every 15 minutes on holidays).
Chiang Kai-shek Memorial Hall (Zhōngzhèng Jìniàn Táng中正紀念堂) or CKS Memorial Hall: a clean and imposing monument that is best appreciated on sunny days when it rises massively into the blue sky. The park (Chiang Kai-shek Memorial Park 中正紀念公園) is very popular early in the morning with the usual fans of gymnastics and tai ji quan. The complex also includes a theater (National Theater 國家戲劇院) and a concert hall (National Concert Hall 國家音樂廳).

Line 2 red or Line 3 green to Chiang Kai-shek Memorial Hall (中正紀念堂).
Taipei 101 (台北101): a source of great local pride, this skyscraper of "just" 89 floors was the highest until 2010, when it's record was eclipsed. Regardless of height, it remains a particularly interesting work of architecture, withstanding earthquakes and being ecologically sustainable; its shape bears homage to a bamboo plant. It hosts a very popular shopping mall and unique balcony view of Taipei (open from 10 to 10). On New year's Eve they hold a spectacular fireworks display along the entire extension of its height.

From Taipei 101 you can easily take a walk on the slopes of Xiangshan (象山), Elephant Mountain, from which you can admire a view of the city…from the opposite side of the balcony of Tapei 101. The walk isn't long but full of stair.

Line 2 red (Xiangshan) to the Taipei 101 (台北101) station, or to Xiangshan station (象山), head of the line, if you want to get to the mountain; line 5 blue to Taipei City Hall Station (市政府).
National Sun Yat-Sen Memorial Hall (Guólì Guófù Jìniànguǎn 國立國父紀念館): Sun Yat-Sen is highly respected in Taiwan and this monument celebrates his memorial; there's an entertaining changing of the guard at set times.

Line 5 blue to Sun Yat-sen Memorial Hall (國父紀念館) station.
Longshan Temple (Lóngshān Sì龍山寺): is one of the most famous temples (among many) in Taiwan; built in 1738 it has seen its share of everything, even American bombs during the Second World War.

Line 5 blue to Longshan Temple (龍山寺).
For those with a little more time
Shung Ye Museum of Formosan Aborigines (Shùnyì Táiwān Yuánzhùmín Bówùguǎn 順益台灣原住民博物館): this is a visit that allows you to penetrate the complex history of Taiwan, which often tends to give greater consideration to its modern dealings with mainland China. In reality the island was inhabited well before the arrival of the Han, by aboriginal populations that started here and still live off to themselves (they make up about 2% of the population and live in the mountainous regions of the east coast).

Right by the National Palace Museum.
Songshan Cultural and Creative Park (Sōngshān Wénchuàng Yuánqū 松山文創園區): is a very active artistic center where they alternate exhibitions and collections of modern and contemporary art. Taipei has many other interesting museums and artistic centers, this is just a taste.

Line 5 blue to Taipei City Hall (市政府).
Ximending (西門町): is considered the Harajuku of Taipei because it's a neighborhood that the Japanese themselves built with the intention of using it for entertainment. Today it has been enlarged and is very popular among the youth. Here you'll find the Honglou (西門紅樓), a building with a distinctive octagonal architecture, first used as a market, today it's the seat of a very active cultural center.

Line 5 blue or line 3 green to the Ximen (西門) stop.
Yongkang Street (Yǒngkāng Jiē永康街): eat, eat and eat! It would be good to go there once a day to try all the delicacies that are concentrated here, starting with the famous chain Din Tai Fung (鼎泰豐), which started its long international career on Yongkang Street.

Line 2 red or line 4 orange to Dongmen (東門).
Yangmingshan National Park (Yángmíngshān陽明山): an enchanting national park that covers an area of volcanic origin; lots of activities are possibles besides walking in the mountains, even as a day tour. It's not directly served by the metro, it's best to check with your hotel for the quickest way of getting there. If you're interested in the baths, you could consider combining Beitou and Yanmingshan since they're in the same area.
Night markets
There are many night markets,but here I've chosen those most deserving of a visit. For shopping, if you're looking for typical products and delicacies, these places are for you. If you'd like to buy other things, such as technology, then go during daytime to Xinyi, the shopping district based out of Taipei 101.
Shi-Da (師大) and Gongguan (公館): Shi-Da is the market close to the National Taiwan Normal University and Gongguan is a nearby neighborhood next to it, offering the best of young night life. Taiwanese indie music.

Line 3 green to Taipower Building Station (台電大樓) or the Gongguan (公館) stop.
Raohe (饒河街觀光夜市): this market surrounds the Ciyou Temple (慈祐宮) and is an essential stop for discovering the gastronomy of Taiwan, to be eaten while standing.

Line 3 green to Songshan (松山).
Shilin (士林夜市): this market is close to the National Palace Museum, so it's often the next stop after the museum. It's among the most popular and crowded, where you'll not only find the best of Taiwanese cuisine, but you can also do some shopping at moderate prices. If you only have limited time, I recommend that you choose this market over the others.

ACareful, the MRT stop Shilin isn't the closest one. You should still take line 2 red, but get off at Jiantan (劍潭).
Huaxi (華西街觀光夜市): this market is known for its snake soup, but it's also a picturesque walk for vegetarians.

Line 5 blue to Longshan Temple (龍山寺).
Where to stay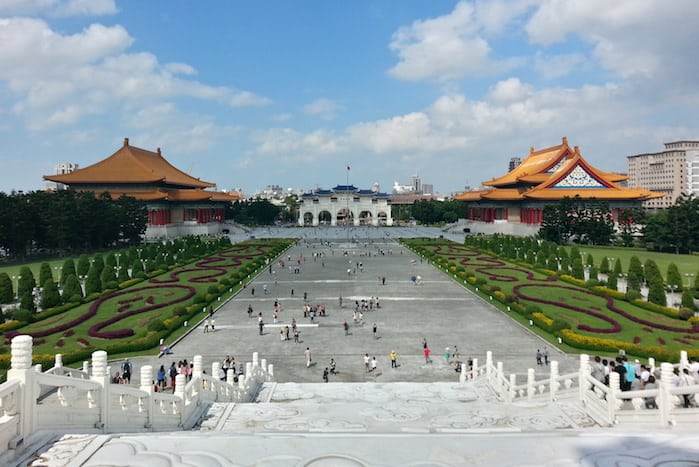 Chiang Kai-Shek Memorial Hall Park
Taipei is a modern city that is well-served. There are lodging options for all tastes and budgets, and as a result, there's a ton of choices. To help you decide, the best advice I can give you is to look for accommodations close to the Taipei Main Station or near the Shi-Da night market. The former because it is the central hub for transport in all directions, not just Taipei; the latter because it's in a great location in respects to the center of the city.
Click here to read our reviews on the best hotels in Taipei.
Clearly, if you'd like to visit the surrounding areas, such as Yangmingshan Park or the Beitou baths, you should consider staying onsite in the Beitou district, which will allow you to experience the area more intensely and get the most out of local services.
My hostel experience in Taipei was very positive (Taiwan Flip Flop Hostel): Taiwan is used to spoiling tourists. Therefore their services are up to Japanese standards, just to give you an idea. This is because they learned a lot from Japan, you'll find both capsule hotels and, Love Hotels.
They are also widespread in Korea and Hong Kong, where space is a luxury and the cost of rent is sky high, so young ones grow old at home and intimacy is quickly lost once the family arrives. Therefore the love hotels offer an indispensable social service!!
Don't think that these are naughty places with dirty sheets: here the business is taken seriously and you can't imagine how decorated they are! Also because the clientele is demanding. So: karaoke with booming subwoofers, jacuzzis, theme rooms, sexy-toys for hire. And if this wasn't enough or there's a particular situation: super guaranteed privacy, a hidden escape for protecting one's lover and recordings in the room to simulate external sounds like the background noise of telephones.
If you're interested in this experience, you don't need to book well in advance, so long as it isn't a holiday: on New Years, often groups of friends choose the best rooms of a love hotel to party. A stay is paid for by the hour.
Say Love is one of the best known love hotels, but not the only one. iMore and Wego are also quite special.
Delicacies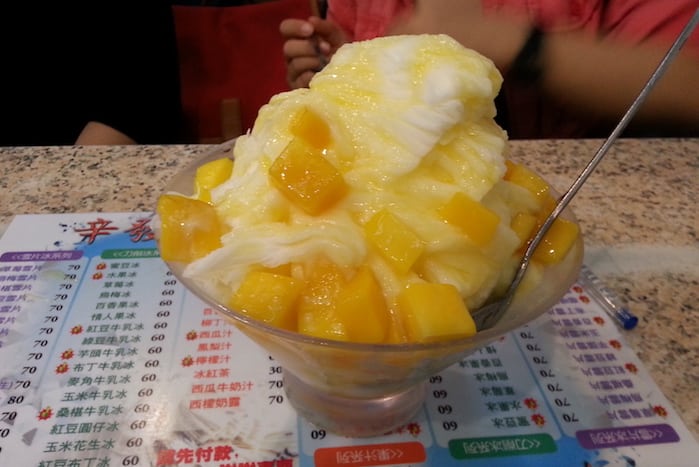 Taiwanese ice with fresh mango on top
This is a very important chapter: I'll begin by saying that no matter what you might think, you visit Taipei for the good food. Yes, yes there's lots of interesting things for sure. But, listen to my advice, taste all that you can and come back for seconds, and you won't regret it!
There's a great sensibility of the palate, much more than other cuisines that I've had the chance to sample: and I believe that there's a reason behind it. Taiwan has absorbed the best of mainland Chinese and Japanese cuisine, with western interference and local authenticity. Moreover, it's an island so fish is part of the menu (as in Italian cooking, it's an essential element).
There are lots of specialties and re-examined dishes. So, here's my personal selection of must try foods. You'll find all of them at the Shilin or Shi-Da markets, unless otherwise specified.
Braised pork with rice (Lǔròu fàn 滷肉飯): this is a typical local braised dish eaten on a bed of white rice;
Taiwanese hamburger (Gē bāo 割包): steamed bread enriched with minced meat and vegetables and a dusting of peanuts, so it's really tasty;
Pineapple cupcakes (Fènglí sū 鳳梨酥): I could die for these… one leads to another to infinity and beyond!
Onion pancakes (Cōng zhuā bǐng 蔥抓餅): Chinese pancakes aren't good for the diet because nothing is spared from oil, but it's worth tasting;
Taiwanese ice (Bàobīng shān 刨冰山): in the original version, it's crushed ice covered by fresh mango in a place where the mangoes are esquisite;
Black pepper sandwich (Hújiāo bǐng 胡椒餅): this isn't for vegetarians because the pepper is accompanied by pork; to be ordered in twos, in the sense that eating just one is a sin. A specialty of the Raohe market.
Din Tai Fung Dumplings (Dǐngtàifēng xiǎo lóng bāo 鼎泰豐小籠包): no, they aren't just any dumplings, they're those of the famous chain Din Tai Fung and are the one and only xiaolongbao;
Rice cake cooked in bamboo (Tǒng zǐ mǐ gāo 筒仔米糕): this is a specialty of Daqiaotou, for lovers of mushrooms and the smell of bamboo;
Taiwanese breakfast (Shāobǐng jiā yóutiáo 燒餅夾油條): made up of a mash of sesame bread, the classic Chinese fried doughnut and craft soy milk. I'm not crazy about fried foods early in the morning, especially when dipped in the soy milk that they use here, but the sesame bread is really mmmmh.
Calamari (Huāzhī 花枝): fried, on the grill (mainly), stewed! Calamari is a major protagonist of Taiwanese street food, and why not… If calamari doesn't appeal to you, there's also shrimp and jumbo shrimp, stuffed and grilled, boiled, for all tastes!
Noodles: there are different varieties of noodles in Taipei. I recommend that you try the traditional beef and noodles plate (Niúròu miàn 牛肉麵), which is traditional in all of China, but each place has its own take on it. The most well-known restaurants are Lin Dong Fang (林東芳) and Niu Ba Ba (牛爸爸). Or enjoy rice noodles, seasoned in oyster sauce (Hézǐ miàn xiàn 蚵仔麵線), or the tagliatella version that is a typical dish of the Hakka (Bǎn tiáo 粄條).
Ending my personal list for curious taste buds, I remind you that being the cosmopolitan capital that it is, Taipei offers a diversified and international choice of cuisine. So if you're tired of ethnic flavors, I can guarantee that you won't have difficulty finding flavors from home.
Photo Credits: Photos by Rita Andreetti