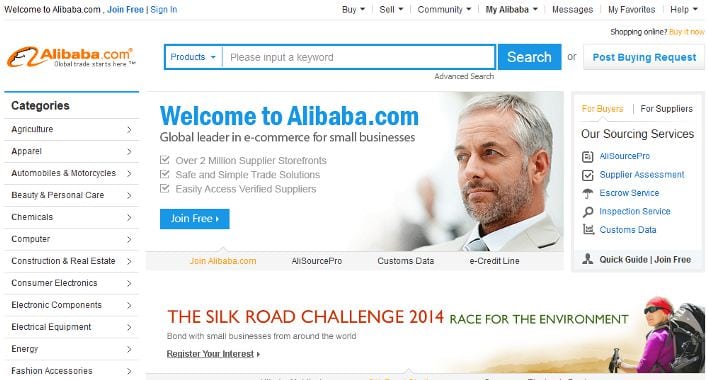 Are you looking for new and interesting products to import from China? Click here to visit Chinaimportal.com and get a discount of 20% using the coupon "SDC2014″
So you dream to set up your online shop or your import business? In both cases the best way is to begin your research on the internet.
But how to get started?
I asked my friend and business partner Fredrik, who's been helping Western companies to import from China since 2009, to write this article for my website. Here what he has to say!
Alibaba.com and Aliexpress.com are well known among importing business worldwide. Both websites are owned by Alibaba Group, based in Hangzhou, China. The difference between the two websites can be hard to spot at a first glance, but its two very different business models with equally different strengths and weaknesses. This article will help you to choose which one you should use.
p.s. Here you find my review of The Official Alibaba.com Success Guide, the only book that I was able to find on the topic.
Alibaba.com key facts
A B2B (business to business) portal that connects manufacturers – mainly Chinese – with overseas buyers.
No built-in shopping cart system, the order terms are negotiated and confirmed using email or the built-in chat.
No transaction fees or commissions paid to Alibaba.com, the main revenue stream is the "Gold Supplier" membership fee paid by the suppliers. Alibaba verifies that each Gold Supplier is a legally registered company. However, it's not a guarantee for quality products.
Focused on "make to order". In practice this means that suppliers on Alibaba don't advertise "ready made" products but rather manufacture products based on the specifications provided by the buyer. The suppliers are basically listing reference products.
Aliexpress key facts
A transaction based B2B and B2C (business to customer) platform that connects trading companies – mainly Chinese – with overseas buyers.
Focused on small volume orders of "ready made" products instead of "make to order" and thus more suitable for the medium and small importers who can't afford to buy a container of goods.
Click here to visit ChinaImportal.com and get the free e-Book "Six Steps Towards Profitable Import Business."
Alibaba and Aliexpress comparison
Minimum Order Quantity (MOQ)
A supplier needs to manufacture a certain number of pieces before he can make a worthwhile profit. The raw material and component suppliers also impose MOQ requirements on your supplier, since they also need to provide a certain amount of products to your supplier in order to reach profitability. This translates into the MOQ. If you can't reach it, the supplier won't do business with you.
Alibaba: The suppliers tends to have rather high MOQ requirements. The reason is that they don't keep products in stock and need to purchase a minimum quantity from their sub suppliers. They also need to manufacture a minimum quantity of products in order to make a profit. Many consumer products, such as wristwatches, can easily have MOQ requirements on 300 pieces and above. An MOQ requirement is usually valid for a specific product, so if you want to order two different products you need order 2 x MOQ requirement. This is often too much for small businesses that don't have fairly large sales volumes.
Aliexpress: Most suppliers here can offer an MOQ from 10 pcs and above. The simple reason is that Aliexpress suppliers can split up a larger quantity between many small buyers. This eliminates the issue of reaching a high MOQ requirement, but will of course affect the prices.
Pricing
The price paid for a product are based on two main factors: its quality standard and the quantity you buy. The approach an importer should have to pricing is very different when comparing the two portals Alibaba and Aliexpress.
Alibaba: There are no fixed prices but everything is quoted from scratch to a various degree. You send your product specifications (colors, dimensions, materials, certification requirements etc.), the delivery terms and the quantity you want to buy; then the supplier gets back to you with a price. A wristwatch can anything from US$2 to US$200, the pricing is a question of which quality standard you require.
Assuming that you can reach the suppliers MOQ requirements you will also enjoy lower prices compared to if you are ordering a 10 to 20 pcs at a time from Aliexpress suppliers.
Aliexpress: The supplier lists a product, and they list prices for different quantities. It's usually not up for negotiation. Prices on Aliexpress are higher compared to if you would order a larger quantity from an Alibaba supplier.
Custom designed and branded products
Creating a brand instead of just importing random no name products can increase the customers perceived value of the product, even if it's not a well-known brand name. A brand can consist of a logo, certain colors or design. Some importers also want to develop a completely new product or modify an existing design.
Alibaba: Most suppliers can offer custom design and logo print. However, developing a new product from scratch is not easy and you'll need to have very well-drafted product specifications and graphical material at hand. This includes, but is not limited to, material specifications, components, Pantone colours, product packaging design, product body artwork and logo design.
Aliexpress: Products on Aliexpress are already manufactured and waiting for a buyer. It's not possible to send back a few pieces to the factory to modify their design or print a logo. Thus, Aliexpress is not the right choice if you're looking for custom designed or branded products.
Product certification
Certain products such as electronics, toys, plastics and food require product standard compliance. Different countries (USA, Canada) and markets (EU) have different product standard certificates. Many importers assume that exporting suppliers are compliant by default, but this is completely wrong. Importing products that are non-compliant is illegal can result in having your shipment confiscated, so you better take this part seriously. Below is a list of different product certificates:
Alibaba: Since suppliers "Make to Order" you have the option to ask your supplier to make the products compliant with a certain certificate whereafter the supplier use the materials and components that are required for compliance. Remember that not all Alibaba suppliers have the experience or knowledge required to manufacture compliant products, but there are plenty that do. The conclusion is that if you are importing products to the EU or USA, that at the same time require compliance with a standard such as CE, then Alibaba is your next destination.
Aliexpress: The products listed on Aliexpress are already produced and it's very unlikely that the supplier has made products that are compliant with western product standards. Compliant products are more expensive and it would make the supplier less competitive to their Russian, African and Latin Americans buyers. This group tends to be larger than American and European buyers so it does make sense for the average AliExpress trader to not bother with American and European certification standards. Plenty of consumer products are not required compliance with a certification standard in the US or EU, so simply avoid those that do from Aliexpress.
Quality Issues and Risks
It's risky to import products from China. A whole industry focused on quality assurance and fraud prevention has grown in China, unlike anywhere else. There's anything from small details that don't follow through in the final product to outright frauds. This costs business money, some issues can be overlooked while other issues force businesses into bankruptcy.
Alibaba: Far from all suppliers are qualified to take your order, especially if you want to import custom made products or have a certification compliance as a requirement. You'll need to invest many hours into questioning your suppliers regarding their manufacturing capabilities. The risk of quality issues will increase if you don't know which product specifications define the quality of the product. In other words, the more you know about your product, the more quality issues can be avoided.
Aliexpress: It's very straightforward to order from Aliexpress, and you get what the supplier got on offer. Nothing less, nothing more. Keep in mind that "quality" is subjective, and you should order a sample before placing a larger order. What's considered to be good quality in Ecuador or Russia (no offence!) might not be considered to be good quality in the United States or Italy.
It's not unheard of that Aliexpress suppliers have cheated their buyers by sending the wrong or defective products. Unlike Alibaba, Aliexpress provides buyer feedback directly on the site. Review your suppliers negative buyer feedback to get a rough overview of what kind of mistakes this supplier has been making.
Lead Times
Time is money and that becomes especially clear when importing from China. Below we list the different lead times you need to take into consideration when buying from a Chinese supplier:
1. Order preparations
2. Production time
3. Shipping time
Alibaba: It can take months before you've identified the right supplier, confirmed samples, negotiated prices and have a signed and stamped Sales Agreement in your mailbox. On the other hand you can just ask a random supplier to send a digital invoice and transfer your money right away, but that's obviously risky. The order preparations can take anything from 15 days to 6 months. The larger the order, and the more complex the product is, the longer it takes.
Production time is easier to predict since its usually around 30 days in total, counting from the day the supplier receives the payment.
How long it will take to ship the products from China is basically a question of mode of transport. Air Freight usually takes 5 – 7 days while Sea Freight takes around 4 weeks. If you're sourcing suppliers on Alibaba, you're likely to order fairly large volumes and then Sea Freight is more competitive than Air Freight.
Aliexpress: Since the products you see on Aliexpress are already manufactured and ready for delivery you don't need to worry about any time consuming order preparations and production time. Since you're sourcing from Aliexpress your order is probably not large enough to make Sea Freight viable. Thus the only lead time you'll need to take into consideration is the Air Freight delivery time. Alibaba Group didn't name this portal Aliexpress without a reason.
Summary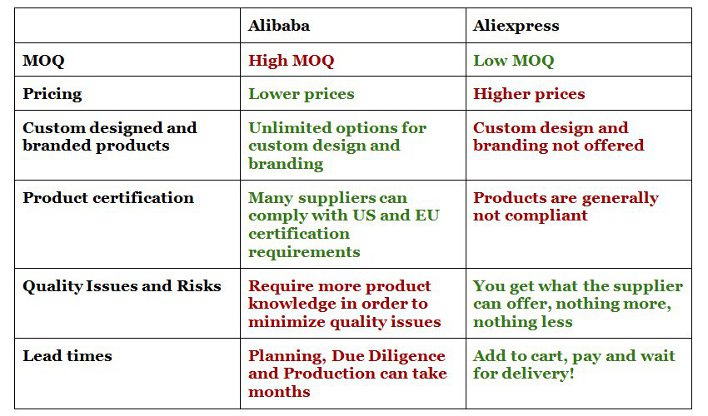 We recommend Alibaba.com if…
You can buy a few hundred pieces of each product
You want to import custom designed products
You want to import products with your own logo print or custom product packaging
Your products are very price sensitive
You are importing electronics, toys, plastics or any other product to the EU or USA and thus needs to comply with a certain certification standard (CE, FCC etc.)
We recommend Aliexpress.com if…
You buy 10 – 100 pcs per product
Custom design, logo print and custom product packaging are not important to you
Your products are not that price sensitive
You are not importing products to the EU or USA OR your products don't need to be compliant with any certification standard
You need your products right away
Fredrik Grönkvist is the Co-Founder and Limited Partner of ChinaImportal.com, a Shanghai-based information services company who provides start-ups and small businesses with an online system for managing sourcing and production in China and other Asian countries.
Are you looking for new and interesting products to import from China? Click here to visit Chinaimportal.com and get a discount of 20% using the coupon "SDC2014″
Related Articles:
Sign up to get our free e-books ; )
Sign up to get the "Find a Job and Live in China e-Book" and the "Chinese/English Travel Phrasebook." Your email address will never be shared.
Enjoy this post? Please share a bit of love...