Ho Chi Minh City also known as Saigon is the biggest city in Vietnam and a top touristic destination. Here you'll find more hotels that you can count, which may make choosing where to stay extremely difficult. This guide is a selection of the best hotels in Ho Chi Minh City (both in the city center and close to the airport), whatever your budget may be.
If your looking for general recommendations on booking hotels in Vietnam you can click here to read our guide.
Reviews of Luxury (5 star) hotels in Saigon (Ho Chi Minh City)
InterContinental Asiana Saigon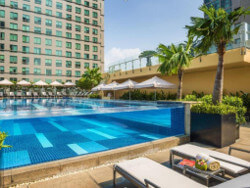 The InterContinental Asiana Saigon is a big hotel with 305 guestrooms featuring many categories to suit guest's different preferences and needs. The rooms are spacious and beautifully done up in earthy tones and chic furniture for contemporary ambiance. The hotel is located in District 1, which makes it easily accessible from Tan Son Nhat International Airport. Ho Chi Minh City Notre Dame Cathedral, Diamond Plaza, and Saigon Notre Dame Basilica are only 3 minute walk away. From family friendly services like babysitting services, connecting rooms and in room childcare to a technologically advanced conference center, the hotel is ideal for couples, families, and business travelers. For beautiful panoramic views of the city from the higher floors of the hotel, go for the Club Rooms that not just offer great views but exceptional service by the club manager who is more like a personal concierge. The hotel also takes care of fuzzy guests and welcomes them to stay with their owners. The hotel provides free Wi-Fi in all rooms and public areas to keep the guests connected to the world all the time. The restaurants here serve South East Asian, Vietnamese, Cantonese, and French cuisines.