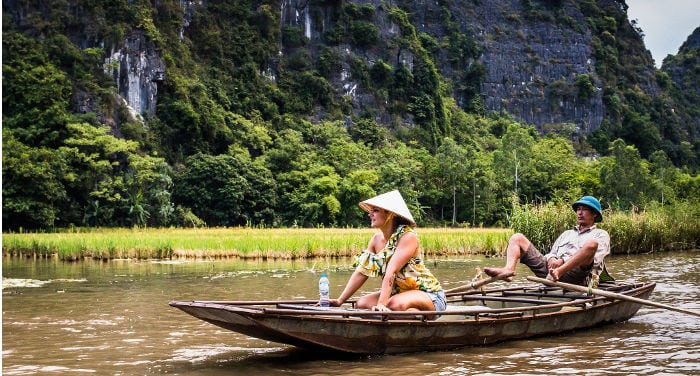 An overview of the town
Ninh Binh is located in north Vietnam, along the Red River Delta, and is also known as "Ha Long Bay on Land", because it looks a lot like famous Ha Long Bay with its karst formations; but unlike the famous bay, this is located in the interior and "floats" on immense rice paddies and waterways.
In this area you can see, and if you want, participate in the rural life of Vietnam. In fact the entire province is relaxing, without much traffic and very few tourists. You can also fully enjoy the panorama, from ancient temples, fishermen among frangipani, rice paddies and karst formations.
How to get to Ninh Binh?
Ninh Binh is the perfect place to relax after visiting Hanoi, the chaotic capital. It is located about 100 kilometers south of Hanoi, and 200 kilometers southeast of Ha Long Bay; it is therefore easily reachable by train or bus from main towns.
The ideal time for visiting this part of Vietnam is in my opinion the rainy season (from May to October), because it is in this period that nature is at its lushest and the rice paddies are a shiny green. During the rest of the year, the beauty will be just as disarming but the colors will tend towards yellow.
Where to stay in Ninh Binh?
In Ninh Binh you'll find hotels, guest houses and hostels. I personally stayed at Go Ninh Binh Hostel, one of the prettiest of my entire stay in Asia. However, with the benefit of hindsight, I recommend that you find accommodations outside of the city, in the Tam Coc area in the countryside, which is much more scenic and outside of the chaos.
Click here to read our advice about booking a hotel in Vietnam.
What to do in Ninh Binh?
Ninh Binh is a good place to explore typical Vietnamese landscapes, and by renting a motorbike or bicycle it's extremely easy to get anywhere.
Right away you'll note that the area is distinguished by a lovely natural landscape, as well as many ancient temples.
La Bai Dinh Pagoda and Chua Bai Dihn Pagoda
La Bai Dinh Pagoda is interesting because it consists of temples carved out of the rock of the mountain.
Not to be missed is a visit to Chua Bai Dinh: a Buddhist complex of over 500 acres of land dotted with innumerable Buddha statues; in addition to being the largest temple in Vietnam. In one of its temples there's a bell weighing 36 tons.
The complex is situated 11 kilometers from Ninh Binh. Once you get to the main parking lot, you'll be forced to proceed to the main entrance by electric train. It costs 30,000 VND per person.
Around Ninh Binh: Tam Coc
9 kilometers from the center of Ninh Binh is the Tam Coc area, a somewhat more touristic place infested with mobile vendors that will try to pass something off on you but is still an unmissable charm.
Tam Coc is essentially the countryside of Ninh Binh, made up of three caves (which is also the meaning of Tam Coc) and a "green sea": an immense expanse of the greenest fields possible.
Renting a scooter, a bike or taking a boat tour, it will be very easy to reach the various attractions or lose yourself in the countryside. I recommend that you visit the whole area by bicycle, going off the main roads and wandering among the fields and villages in order to taste the characteristics of rural Vietnam.
By boat along the rivers of Tam Coc
You can explore the area by boat, fascinatingly steered by a woman – who will steer the boat by using her feet – along the Ngo Dong River, which leaves from the dock at Van Lam and also attracts many local tourists.
A boat tour will last about two hours and you'll have the sensation of being inside a film – or inside a kingdom – since it's a surreal crossing through the mountains, limestone formations and rice paddies. The price of a boat tour with two people aboard can go from 180,000 to 200,000 VND.
The caves: Trang An and Mua Cave
You can move on to Trang An, which are fascinating World Heritage caves, where you'll encounter the Sao Khe, another river to travel by local methods; it's a lesser-known region, and perhaps even more authentic.
To get to this river you'll have to cross through villages and will encounter plenty of animals: geese, goats, horses and lots of buffaloes; that's why it's worth traveling by bicycle. To get to these caves you have to pass through Chua Bai Dinh, the Buddhist complex I spoke about above.
Lastly, Mua Cave. This cave is accessible via a rarely traveled road, which offers a breathtaking view of the landscape from above. The cave is reached by climbing 500 stairs, since it is found on a rocky peak where you can admire an amazing panorama. Here you'll also find a statue of the most sacred creature in Vietnam, a giant dragon.
Van Long, the reserve for endangered birds
To finish your three day stay exploring the region, I recommend that you take a half day to see the Van Long natural reserve. This tranquil oasis is one of the last refuges for several endangered birds and, even paying for the boat to get there as well as the entrance fee (about 90,000 VND), it's worth the effort just to lean out among the reeds and watch the birds.
Volunteering and responsible travel
If you're a fan of "responsible travel" and still have the desire to explore, you can also drop by Cuc Phuong National Park, one of the most protected places in Vietnam when it comes to flora and fauna, with more than three hundred birds, a hundred mammals and reptiles and more than two thousand types of plants.
You can visit by contacting an agency and can even take a night excursion to see animals in captivity. Moreover, you'll also have the chance to lend a hand to the conservation center that lets only those who volunteer to help in the park see the animals.
Curiosities
The region's landscape, made up of rivers, karst mountains and almost blinding rice paddies is so impressive that it was also chosen for the remake of the movie King Kong. In addition, there's a great variety of food in Vietnam: remember to taste everything that you are offered, since the Vietnamese are very hospitable, but also quite proud.
Here the special dish is goat meat cooked in any way: with lemongrass, grilled, or stuffed with peanuts.
Photo Credits:

Ninh Binh by Tore Bustad