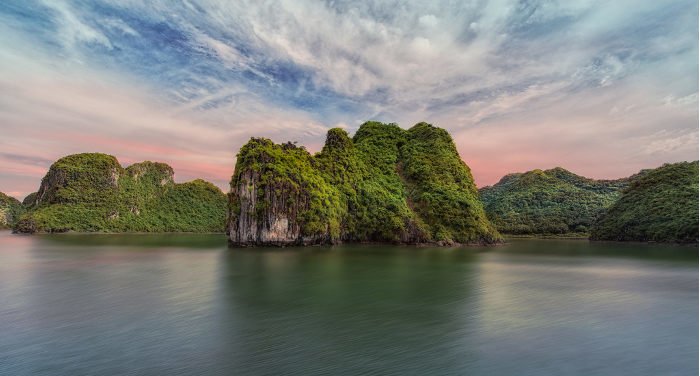 In these articles I will bring you to discover Ha Long Bay, one of the 7 wonders of the natural world!
Ha Long Bay is a UNESCO World Heritage Site since 1994. Known for its emerald waters reflecting millions of limestone rocks and islets that shoot up from the water, the bay recreates an almost surreal and mythical scene.
Many of these rocky formations are islands where nature provides a true spectacle: jungle, caves and vast marine and animal biodiversity.
How to get to Ha Long Bay?
The bay is located in the northeast of Vietnam, in the Gulf of Tonkin, off of the provincial capital of Ha Long, a few kilometers from the Chinese border.
To visit the bay you can stay in Ha Long City or get there from Hanoi.
From Hanoi
Hanoi is located 165 kilometers from the bay and in 4 hours you should get to your destination. There are various ways for getting from Hanoi to Ha Long Bay; for sure the most comfortable way is by bus, which you can also book directly at your hotel, or the minibus, a comfortable option that comes right to your accommodations.
You could also opt for a private car and driver. This last option is certainly not as cheap compared to the previous choices.
Since 2014 there's also a flight from Hanoi with an airline called Hai Au Aviation. In this case the trip takes about 45 minutes.
From Hai Phong
You can also get to Ha Long Bay from Hai Phong, which is 75 kilometers away, so compared to Hanoi it's much closer. But this depends on where you're located. It takes more or less 2 and a half hours to get to the bay from Hai Phong.
Where to stay in Halong Bay?
First of all, I recommend that you stay at least three days so that you can also see places that are less assaulted by tourists. Moreover, you can also stay on a boat. Depending on the company you choose for your cruise, you could also spend a night in a bungalow with a sea view on the island of Nam Ca, another of the bay's pearls. In that way, you can take a nice walk or ecological bike ride to discover the island when you wake up.
If instead you'd rather have a "normal" hotel, click here to take a look at the best hotels located near Ha Long Bay.
What to do in Halong Bay?
The bay offers lots of activities, both in terms of natural excursions or active tourism. You can opt to spend hours on a kayak or just relax on the bridge of a Junk Boat, a local vessel, and enjoy this unique panorama.
You can select boat tours of one, two or three days. Spend the night aboard a boat, stop at islands like Cat Bat or take in views of the bay from a seaplane: it's a unique and different experience to enjoy the spectacular bay alone and from above.
Another activity offered on excursions are visits to floating villages, pearl growers or the caves of Dau Go. Or you could also rent bikes or go trekking on the islands.
The Fall is the best period for enjoying a cruise on Ha Long Bay.
Here's a recommended 3 day itinerary for seeing the bay:
1st day: depart for Ha Long Bay and spend the day on a Vietnamese boat surrounded by the magnificent colors of turquoise water and green mountains, where the more than two hundred granite islands poke out of the calm waters. Cruise the bay and visit the Me Cung caves with a local guide;
2nd day: spend the day in one of the countless beaches in Ha Long Bay, a short cooking class and lunch with the delicacies prepared; afternoon dedicated to snorkeling;
3rd day: kayak the bay and a 20 minute ride in a seaplane; sunset on the boat and a Vietnamese dinner.
Prices and cruise excursions
Depending on the excursion you choose you'll be able to see and explore more areas, even those more remote and less trampled by tourists.
A cruise for one day and two nights will cost at a minimum between 40 and 80 USD. A cruise for two nights and three days could cost more than 100 USD, but will allow you to also explore places further from the port.
Usually prices include food and lodging as well as a transfer to and from Hanoi or other places.
Note that we've cited only the cheapest cruises. Obviously there are much more expensive ones!
What's there to see in Halong Bay?
Cat Ba Island is the largest in the bay. The island is a bit overrun by mass tourism like the rest of the bay, and in some places there are buildings that are not completely in harmony with the rest of the landscape.
However a tour of its jungles and its streets is obligatory, From here you can take in magnificent sunsets on the bay and the boats of fishermen that live on Cat Ba, and even see the lovely women looking for oysters or other fish for their supplies wading in knee-deep water.
Curiosities and legends of the bay
The term Ha Long indicates "where the dragon goes into the sea" and the reference is quickly revealed. It is said that a dragon, while coming down from nearby mountains, created the bay with its large tail, with which it dug out holes and hollows. Between the water and these hollows all that remains visible are the peaks that correspond to the islands.
Photo Credits:

Floating past a thousand islands by Shawn Harquail