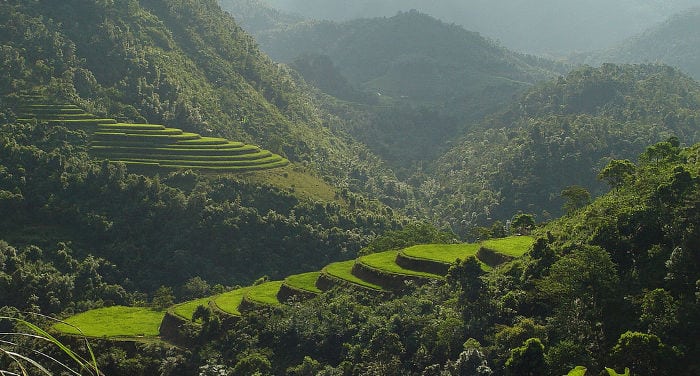 The appeal of the north
The emotions and multiethnicity that you'll discover when traveling in Vietnam will stay with you your entire life. It's an experience so profound that only time will cause it to vividly emerge in your mind, ready to be recounted.
In this article I'll bring you to the northwestern region of Vietnam, specifically in Ha Giang Province, on the border with China's Yunnan Province, where the two countries share an immense spiritual and cultural heritage of Buddhism and Confucianism, ethnic minorities and an impressive natural landscape.
Ha Giang
Ha Giang is a peaceful town immersed in the green karst mountains at the base of the Dong Van high plain. I suggest that you choose it as a base for the trip I'm about to recommend.
Like Sapa, the region's attraction is the limestone mountains that extend over a wide area. But here, compared to the northeast they have a unique rocky formation, with peaks and villages of countless ethnic groups clinging to the mountains or at the bottom of valleys, where I still wonder how they manage to live and grow things there.
But let's go in order.
How to get to Ha Giang
Ha Giang is located 130 kilometers from Sapa and 320 kilometers north of Hanoi and can be reached by sleeping bus, an overnight bus, which stops at the central station.
From the country capital you can get to Ha Giang for 220,000 VND, on a trip that lasts about 7 hours. Or, you can reach the province by motorbike, or a private car with a personal driver by taking route number 2. The latter could be a cheap alternative if shared with other travelers.
Where to stay in Ha Giang
I stayed at the Green Hill hostel, a wonderful compromise between hostel and homestay, typical in Vietnam, surrounded by green, meticulously cared-for and run by a sweet family that will make you succulent Vietnamese dishes accompanied by rivers of rice wine.
Click here to read our advice on how to book a hotel in Vietnam.
Ha Giang – Dong Van – Meo vac – Ha Giang Ring (better known as a "loop")
Ha Giang has a rather recent history, and in the last few years it's been gaining ever more notoriety, especially because the starting point – or arrival point – of the fascinating tour that goes from Ha Giang to Dong Van, passing through Meo Vac: an incredible route of 300 kilometers, preferably done by motorbike in about 4 or 5 days.
In Ha Giang, though, there are no particular attractions besides the relaxing atmosphere and a taste of what your eyes will see when heading toward Quan Ba.
The first part of the route: Heaven Gate and Tam Son
After 40 kilometers of curves, the road opens up to a spectacular pass through the mountains called – Heaven's Gate Pass. Here you'll also find an information center where, if you'd like, you can get local news about the region. On the other part of Quan Ba, there's Tam Son, where each Sunday you'll have the chance to visit the local market and meet some of the region's ethnic groups such as the white Hmong, the red Dzaos, the Tays or the Giays.
Before you get to Tam Son, stop at a panoramic viewpoint, like a typical café to admire the two identical rolling hills – Fairy Blossom – that rise in the valley.
Yen Minh and Dong Van
Halfway through the loop between Ha Giang and Meo Vac, is Yen Minh; I recommend that you spend a night in a homestay. Continue your trip the next day, skirting the Chinese border towards Dong Van. Along the winding road, on sections hanging over nothing, you'll come across numerous villages, women and children in the fields, terraced rice paddies, pastures run by children.
Dong Van and the Sunday market
Dong Van is the most popular place to stay and spend at least one night. Try to get there on a Saturday so as not to miss the Sunday market: a unique spectacle where all the inhabitants of the surrounding mountains arrive in droves.
These ethnic minorities dress in colorful clothing, jewelry and traditional head coverings and come to the market to sell and exchange their products, starting with fruit and vegetables, passing on to skirts and things for the home, all the way to all sorts of animals. It's more of a fair than a market.
Lung Cu Tower, the northernmost point of Vietnam
At Dong Van, besides the traditional Sunday market, you can stroll through the town where there are still traditional houses from the time of French colonization.
In addition, from here you can also go as far as the most northern point in Vietnam, Lung Cu, where there's a tower that marks the border with China. The tower is located some 20 kilometers – and 300 stairs and 20,000 VND – from the center of Dong Van and it's worth going there, both for the trip, as well as to take a picture with the Vietnamese flag loaded with fierceness and pride.
Ethnic minorities in Lung Cu
The population in these parts is varied and placed under diverse influences, practices and beliefs. They cultivate terraces of rice and stick with unique traditional methods.
Well known in these parts is the alcoholic beverage that tastes like corn, and honey, and Thang Co, which is instead a sort of soup cooked with every part of the animal, whether pork, horse, or something else.
Up to Meo Vac through the enchanting Mai Pi Leng Pass
From Dong Van to Meo Vac you have to pass through Mai Pi Leng Pass: the most spectacular 22 kilometers that – despite loving the sea – I've ever seen. In fact, the road was dug out of the walls of the mountain, a peak on a cliffside of the impressive mountains.
You'll literally find yourself in the middle of the clouds, encountering a river and inhabitants of roadside villages, and it will take you a few hours to run the route as far as Meo Vac, because it will be impossible not to stop at the most panoramic views and admire the silence and landscape. In Meo Vac too there's a wonderful Sunday market.
From Meo Vac, get back on the road toward Ha Giang and thereby finish this wonderful loop that doesn't completely cover the northwest.
To conclude
The roads in these parts are far from perfect and are often dirt tracks. So, especially if you're traveling by motorbike, I recommend that you use caution. I also recommend that you take the time to stop in the many villages you'll come across, maybe spend the night and taste the typical dishes and observe how different life is in these parts. You'll joyfully share smiles with kids who will leave you with a feeling of sweetness in your soul.
Photo Credits:

Western Ha Giang province by Peter Garnhum