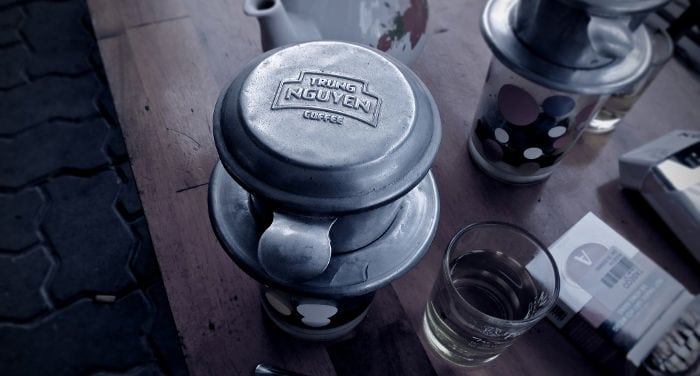 Even if you've never even visited Vietnam, the chances are that you've already consumed its coffee at some point in your life. As the world's second-largest coffee producer, its beans can be found all over the world in some form or another, though you may not know it. It's output, until recently, had a reputation for being of low cost, and of low quality.
Having been introduced to Vietnam by the French during their colonisation of Indochina in the late 19th century, as both a lifestyle and an agricultural commodity, coffee is now deeply ingrained in Saigonese culture.
Traditionally consumed over ice, with a spoonful of canned sweetened milk (both of which were also introduced to Vietnam by the French), it is said that while Saigon's 9 million motorbikes run on petrol, its 8 million people run on coffee. They call it ca phe sua da, "coffee with milk and ice", and no trip to Vietnam is complete without having tried it. Another popular style is ca phe den da (black with ice), or swap "da" for "nong" (meaning "hot") if the weather turns chilly.
But despite the massive export quantities, topped only by Brazil, Vietnam's coffee never quite made a name for itself in terms of quality, Robusta being the bean of choice for many of the nation's farmers due to its resilience and high yield. In fact, Vietnam sits at the top of the table for global Robusta output alone.
It is for this reason that Nestlé has become the biggest customer for the nation's coffee farmers, purchasing approximately 20 percent of its entire crop in 2014 and turning most of it into cheap instant granules. It's a trend, however, that's on the turn.
Raising Standards
As Vietnam's economy grows, as its middle-classes find themselves with more disposable income than ever, so has its thirst for a better quality cup of joe. Helped by NGOs, local and foreign enthusiasts, and global corporations like Nestlé, Vietnam's coffee farmers are quickly getting up to speed on issues such as over-farming, organic production, and the mis-use of pesticides. In short, Vietnam's coffee market is getting a makeover.
Small, family-run operations, many of which hail from the remote tribal minorities of Vietnam's highlands, are beginning to emerge as producers of high-quality, speciality coffee beans, many switching from high-yield, low value Robusta, to speciality Arabica varietals such as Bourbon and Typica. In 2015, Starbucks acknowledged the shift by offering Vietnamese coffee for the very first time in its US stores, sold as part of a limited edition range of coffees.
In Saigon, where Starbucks and other global chains such as The Coffee Bean & Tea Leaf have already started making inroads to the city's increasingly cosmopolitan and increasingly wealthy population, a band of small, privately-owned coffee outlets has emerged. Often found hidden in the urban maze of alleyways and apartment blocks, these 'speak-easy' style establishments are riding the wave of Vietnam's coffee revolution, satiating the city's newly acquired taste for single-source, artisanal coffee, in comfortable, contemporary environments, all in the company of expertly-trained baristas.
That isn't to say that the kerbside coffee vendors should be overlooked. Their thick, syrupy brews, loaded with sugar and caffeine, are an essential accompaniment to a breakfast banh mi sandwich – the two often sold side-by-side. While coffee puritans may (and do) turn up their noses to such bean-based blasphemy, it's worth trying at least one cup of "Saigon rocket fuel" to see how far a leap the speciality coffee houses are making in terms of quality and flavour.
The Best Speciality Coffee Shops in Saigon
Saigon's speciality coffee menu is expanding more and more each day, utilising local and imported beans, along with a myriad of roasting, grinding and brewing methods, all served up in increasingly cool and stylish surroundings. The city's proximity to the Central Highlands and the high-altitude city of Dalat, an area renowned for its Arabica plantations, allows for an unending and direct supply into the southern metropolis, where the barista pouring your coffee may well be on first-name terms with the farmer who grew it. It has taken over a hundred years to get there, but Saigon is rapidly becoming a coffee lover's heaven.
Here are some of the best speciality coffee houses the city has to offer:
[a] Coffee House
Situated at the opposite end of District 1 to the tourist zone, [a] Coffee House opened in 2011 and began serving speciality brews in 2012 – one of the first cafes in the city to do so. Their siphon coffee is regarded as one of the finest in town, made with hand-picked, single-origin Arabica beans sourced directly from the farmers that grow them. They even have their names and portraits on each bag. Aeropress, Chemex, Woodneck and V60 brews, among others, are also available.
The space is cool and bright, yet cosy enough to snuggle down with a book and spend an entire rainy afternoon breathing in the delicious aromas as the roaster gets to work out back.
Address: 15 Huynh Khuong Ninh Street, District 1, Ho Chi Minh City
The Workshop
The Workshop is one of the leader's of Vietnam's speciality coffee movement, providing some of the finest beans in the world and utilising so many brewing methods that the central bar area looks more like a laboratory than a coffee shop, filled with digital scales, thermometers and the best coffee-making equipment money can buy. Find the rickety old staircase behind the nondescript door in downtown Saigon and head upwards. A short climb reveals a cavernous space of bare brick, high ceilings, exposed steel girders and the heady scent of freshly roasted, freshly brewed beans.
The Workshop's menu changes regularly, depending on the month and the season, and provides full tasting notes and explanations of the beans' origins, including altitude, harvest date and the farmer's name.
Address: 27 Ngo Duc Ke Street, District 1, Ho Chi Minh City
Saigon Coffee Roastery
A visit to Saigon Roastery is worth it for the building alone. This crumbling behemoth from the colonial era is a warren of twisting corridors and stairways randomly dotted with boutique clothing stores, restaurants, bars and cafes. Tucked away on its first floor, this speciality coffee shop is another funky space dedicated to serving the best beans the world has to offer, including several Vietnamese Arabica varieties such as Bourbon and Pacamara.
Address: 1st Floor, 151 Dong Khoi Street, District 1, Ho Chi Minh City
Website: www.facebook.com/saigoncoffeeroastery
Shin Coffee
Shin are suppliers of speciality coffee to several cafes and restaurants around Saigon. Their own coffee shop, located in the heart of District 1, close to Dong Khoi Street, offers a varied menu of local signature blends plus imported brews from Africa, South America and beyond. For a truly authentic experience, order a Vietnamese drip coffee, made in the traditional way.
The space is another great example of Saigon's industrial chic, strung with Coolicon-style lights, clad in bare brick and topped off with exposed beams and wiring.
Address: 18 Ho Huan Nghiep, District 1, Ho Chi Minh City
The Coffee House
Chain coffee shops are unavoidable in the 21st century, and Saigon provides no exception, with foreign and local franchises popping up on an almost weekly basis. While some may focus more on their image than their products, The Coffee House is all about flavour and quality, sourcing its beans from the highlands of Dalat and roasting them once they've arrived in Saigon.
Address: Various locations
Website: thecoffeehouse.vn
G Coffee
Firstly, this place is by no means a 'speciality' coffee house, but for anyone looking for a taste of authentic Vietnamese coffee, brewed strong and thick and served with a customary (and complimentary) glass of iced tea, G's various 24-hour locations are as good a place to start as any. Hugely popular with the locals, they are likely to be as busy at 4am as they are at 4pm. This downtown branch is a short walk from the tourist hotbed of Ben Thanh Market.
Address: 38 Ly Tu Trong, District 1, Ho Chi Minh City
Website: www.facebook.com/G-coffee-Lý-Tự-Trọng
A Coffee Pilgrimage
To get to the heart of Vietnam's coffee industry, head to Dalat. Situated in the central highlands, this former French hill-station sits 300 kilometres northeast of Ho Chi Minh City and can be accessed by bus or car in approximately 7 to 8 hours, or in less than one hour by plane. With an elevation of over 1,500 metres, the cool air and rolling hillsides of Lam Dong province make for a perfect environment for coffee cultivation, particularly Arabica.
Reputable tour companies such as Highland Holiday Tours offer numerous trekking, motorbiking and mountain biking excursions through the countryside to visit the coffee plantations, giving you the chance to get up close and personal with the coffee fruits as they are grown, harvested and dried. Dalat is also renowned for various other cool-weather crops such as cauliflower, carrot, strawberry and passion fruit.
After a day exploring the countryside, be sure to visit La Viet Coffee, a cafe owned and run by one of the country's most successful speciality coffee suppliers, located at 200 Nguyen Cong Tru. It may be the freshest cup of coffee you've ever had.
Photo Credits:

coffee by 一人寿司-Hitori Sushi