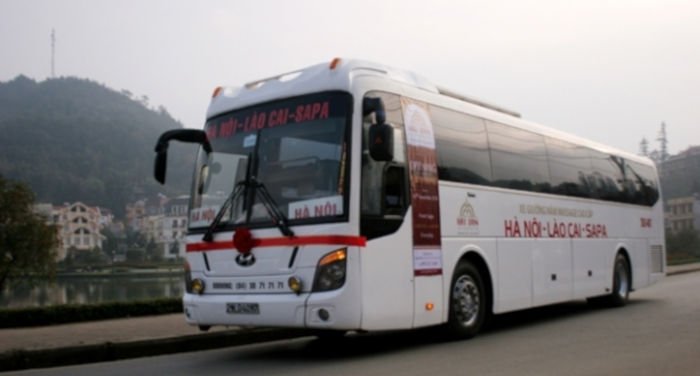 Travel Around Vietnam by Bus – Index
Do you plan to travel to Vietnam and wonder whether going by bus is the right choice for you?
Vietnam has become an increasingly popular tourist destination and doesn't only attract backpackers, but regular travelers and retired couples. Nowadays, more and more travelers choose to go by bus, especially with distances that take less than 6 hours.
In this article, we explain the pros and cons of traveling by bus in Vietnam. You'll also learn how you can buy bus tickets, what bus types that exist, about bus schedules, and some general suggestions.
Let's start and review the pros and cons of traveling by bus in Vietnam.
Pros and cons of traveling by bus in Vietnam
Pros
It's very cheap to travel by bus in Vietnam
Renting a bike or going by bus are the two cheapest options when traveling in Vietnam. According to Lonelyplanet, you can pay as little as USD 35 to USD 70 when traveling from Ho Chi Minh to Hanoi and traveling from Ho Chi Minh to Hue cost around USD 25.
Having said that, the quality of the services and the bus can differ dramatically depending on which tour operator you chose. If you can afford a slightly more expensive option, I recommend you to go for it.
This is especially the case if you will travel long distances, for example, it takes around 32 hours from Ho Chi Minh to Hanoi.
It gives you more flexibility
It's convenient to go by bus as you don't need to book the tickets well in advance, thanks to the many tickets available and the low prices. Thus, you can choose your next destination with just a day or two prior to the departure.
This is preferred among backpackers who like to take each day as it comes and travel without hassles. Traveling by bus gives you a lot of flexibility as you can quickly change your mind and do spontaneous trips.
You can see more of the beautiful nature and local culture
Of course, you will see more of Vietnam's beautiful nature when going by bus. It's a relaxing and rewarding experience to just sit on the bus and read a book, talk with other travelers, at the same time as you gaze out the window.
Vietnam is a mountainous country with deserts, rice paddies, and jungles. It's also the home of 54 ethnic minorities, having different cultures and customs. Traveling by bus is a recommended option if you want to see everything that Vietnam has to offer.
You can reach many destinations
Vietnam's railway system is comparably underdeveloped and not on par with countries like China. Traveling by train in China, for example, is easier as the country is so big and they have invested much more in the infrastructure.
Even if Vietnam plans to build a 1,560 kilometer-long high-speed railway line that connects Hanoi with Ho Chi Minh, it will take until 2045 until it's finished. That said, you also have the option to go by its iconic Reunification Express trains, which is also a memorable experience.
It's still a preferred option to go by bus among travelers, thanks to the many destinations that are reachable.
Access to bus stations/pick-up
Bus stations are often located in the city center, as opposed to many airports. Sure, the Tan Son Nhat airport is located in Tan Binh district in Ho Chi Minh, which is considered fairly central. The train station is located in District 3, which is considered to be in the city center.
However, if you travel from Nha Trang Airport to Nha Trang city center, for example, you'll have to spend around 1 hour if going by cab or bus. The ride costs around USD 10 by cab and USD 2.5 by bus.
It's both cheaper and more convenient to arrive directly in the city center if you go by bus from other cities to Nha Trang.
Besides, sometimes buses make several stops to pick up passengers along the way and before continuing to other cities.
Cons
Long traveling times
Traveling by bus can take a considerable amount of time, especially if you travel to the highlands or to remote areas. The roads and highways are sometimes busy, especially during rush-hour, which means that you have to spend time in traffic jams.
The distance between from Ho Chi Minh to Mui Ne, for example, is not even 220 kilometers, but the bus rides usually takes almost 5 hours. Ha Thien is located a bit more than 300 kilometers away from Ho Chi Minh, still, it takes almost 7.5 hours to travel between the two.
If you plan to travel by bus in Vietnam, don't only check the distance but the actual traveling time as it can differ greatly, depending on how developed the infrastructure and roads are in certain areas.
Comfort
Plenty of travel agencies have modern and air-conditioned buses with comfortable seats, offering water and snacks. You can also opt-in for night buses and sleep most of the time during the ride.
That said, be careful when you select a travel agency as the buses might be old and not that comfortable. This is not often the case for night buses, but for buses that travel shorter distances during the day time.
How to buy a bus ticket in Vietnam
At the station
Your first option is to buy your ticket(s) at a bus station, in Ho Chi Minh that would be Mien Dong bus station. The stations are sometimes big and a bit chaotic, but that's generally the case in most Southeast Asian countries.
You don't necessarily need to go to the stations a day or two in advance, but it can be good to assure that you're able to reserve the tickets needed. Keep in mind that some of the staff might have difficulties to converse in English, therefore it can be good to write down the information on paper beforehand.
You can also bring a dictionary and your smart-phone to make things easier. If you have the chance, try to bring a local person to help you.
Online
Buying bus tickets online has become increasingly popular thanks to the convenience and as you won't have to visit the chaotic bus stations. There are plenty of service providers available online, such as Baolau, where you can buy the tickets in a short time.
If you have any questions and need help, you can give them a call for support. The popular websites where you can buy bus tickets include:
Vexere: A Vietnamese website that is easy to navigate and to book tickets. They can help you to book tickets for buses departing from Ho Chi Minh, Hanoi, Da Nang, Ninh Binh, and Quang Ninh.
Baolau: Is a major website where you can book train tickets, flight tickets, and bus tickets in various Asian countries, including Vietnam. The website is easy to navigate and they also provide recommendations on where to go depending on your needs.
Vietnam Local Bus: It is based in Hanoi and helps travelers to find and book bus tickets. The company connects with all local and tourist buses and bus companies in Vietnam.
Types of buses in Vietnam
City buses
This article was written to give you a better understanding of how it works when traveling medium to long-distances by bus in Vietnam. However, I also want to explain about local buses and whether this is the right option for you.
Overall, intercity buses are old, worn down, and not a preferred option among travelers or many locals for that matter. Scooters and motorbikes are far more popular. If you're not a fan of driving scooters, you can also use Grab, which is Southeast Asia's equivalent to Uber.
Keep in mind that the bus drivers won't speak English (in most cases). So you better bring a smart-phone to navigate your way through the cities if going by bus.
The price of bus tickets usually cost from 3,000 to 10,000 VND, according to the distance.
Medium and long-distance buses
These are the typical tourist buses that ride between cities and tourist attractions. You can find good medium and long-distance buses, having comfortable seats, air conditioners, and snacks. The buses mostly have one floor, but you can also find doubledeckers.
The buses make stops along the route so that you can buy food, drinks, and go to the toilet. Sometimes, there's also a tour guide at the front speaking.
Night buses
Traveling by night buses is a popular option in Vietnam. Most buses have seats that can be adjusted so that you lie almost flat. Some buses even have real but small beds.
Night buses might be uncomfortable if you get car-sick easily or are tall. In that case, it might be better to travel by plane or by train.
Bus schedules
One of the major challenges of traveling by bus in Vietnam is to check bus schedules. Some buses depart several times a day, while other buses (especially traveling long distances) can depart once a day.
You have two options to check bus schedules:
Online
Searching for bus schedules online is convenient and time-saving. With that said, the information can be outdated or incorrect. A way of countering this issue is to book the tickets via any of the websites listed above.
You can also ask a Vietnamese friend to help you to buy the ticket. Preferably, they should give a call to the company to make sure that the schedule is up-to-date.
At the bus stations
You can also go to the bus stations to check the schedules on-site. After, you can book the tickets. Just write down where and when you intend to go and the salesperson at the counter will help you.
Suggestions
Bring something to eat and drink
The bus operators often provide a bottle of water and sometimes a light snack. But, if it will take you 3+ hours to reach a certain destination, I recommend you to bring water and eat before you enter the bus. You can also bring snacks on your own.
As mentioned, buses often make stops along the highways, allowing customers to buy some food and snacks.
Beware of pickpockets and petty crime
Keep your belongings close and don't leave any valuable items, such as your wallet or mobile phone, on the bus when making stops along the highways.
Don't be afraid to ask questions
Ask fellow travelers and the driver if you have any questions, might it be regarding food, the trip itself, and more. Vietnamese people are friendly and will be more than happy to help you.
Bring a dictionary
To make yourself understood and unless you travel with a Vietnamese person, it can be smart to bring a dictionary. You can also use your smartphone and visit websites like Google Translate. Just make sure that you have enough battery and bring a power-bank if needed.
Photo Credits:

sleeper-bus-sapa-vietnam by Tourism A Viet