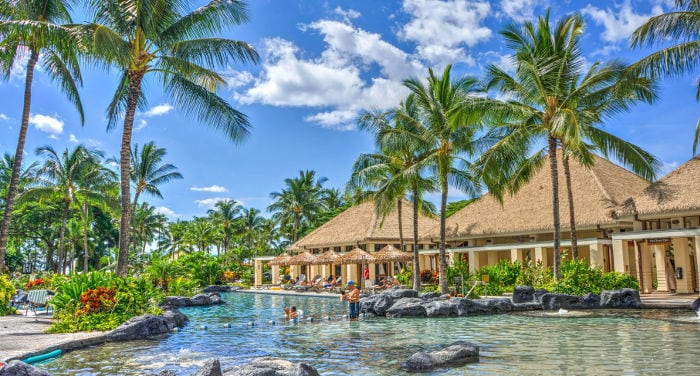 In this article I'll explain how and where to book a hotel (or hostel) in Vietnam. If you're interested in booking a hotel in a specific city, click here to read our reviews.
If you need firsthand information on how plan your travel in Vietnam, click here to read our complete guide.
Which online portal should I use to book a hotel in Vietnam?
Despite the existence of many online portals that allow you to book one or more hotels, in my opinion for Vietnam the best are without a doubt Agoda and Booking.
Why use Agoda or Booking?
The reason is that, even though some portals like Trip Advisor also consider Agoda or Booking, booking with the latter you'll have access to exclusive offers that you can only find on their sites.
Agoda
Agoda is one of the best portals for Asia, both in the number of hotels and for prices.
Pros: Usually Agoda is the portal that has the best offers available on Asian hotels. Moreover, its hotel network in Vietnam is more extensive than Booking.
Cons: Honestly, I don't see many cons in using Agoda for Vietnam. For China, as an example, it's different in that there are Chinese sites (cTrip, just to cite the most famous) that offer a larger choice in smaller cities that don't have much to interest tourists.
Booking
Booking is one of the most used platforms for booking a hotel in the entire world.
Pros: Booking is an extremely professional platform that offers an excellent selection of hotels.
Cons: The selection of hotels in Vietnam is slightly less compared to Agoda.
Comparing the two platforms
Number of hotels:
If we look at Agoda's site, we see that in Vietnam there are about 9.400 possible hotels, on Booking there are about 7.300.
If we take Saigon as an example, one of the most visited cities, Agoda offers 1.696 hotels and Booking 1.235. Lastly, if we take a look at Mai Chau, a destination that is not at all touristy, Agoda offers 38 hotels and Booking 29.
To conclude, if you already have an account with Booking, since it's not a huge difference you could choose to book with them (so long as the price on Agoda is not much less). If you still don't have an account with either Booking or Agoda, then Agoda is probably the best choice!
Rates:
Here's a comparison in USD of three hotels in Saigon (for three nights beginning on August 1, 2017). It's a budget hotel (Vintage Hostel Saigon), a mid-range hotel (Ma Maison Boutique Hotel Saigon) and a high end hotel (Villa Song Saigon).
As you can see, Agoda can be cheaper (even if the prices are similar).
Internet Connection
Hotels in Vietnam usually offer a satisfactory internet connection, such as in international hostels. If though internet access is really important to you, then I recommend that you read carefully the reviews you'll find on Agoda and Booking.
Also, take a look at our article on net restrictions in Vietnam.
Where to book your hotel
For Saigon and Hanoi, I suggest that you book in the center of town since they're both very extensive cities and in Vietnam,public transport is almost nonexistent (there are no metro lines and buses are always jam-packed).
Other cities are more "livable"; so if walking for 20-30 minutes isn't a problem for you, you won't be forced to book in the middle of the city.
Are Vietnamese hotels safe?
Vietnam is a pretty safe country. The only problem that you might come across is theft from rooms, especially in cheap hostels where the locks aren't all that great. So, if you don't trust the locks, I recommend that you don't leave valuable objects in your room!
The best hotels in the main Vietnamese cities
[Photo Credits (Creative Commons CC0): Pexels.com]