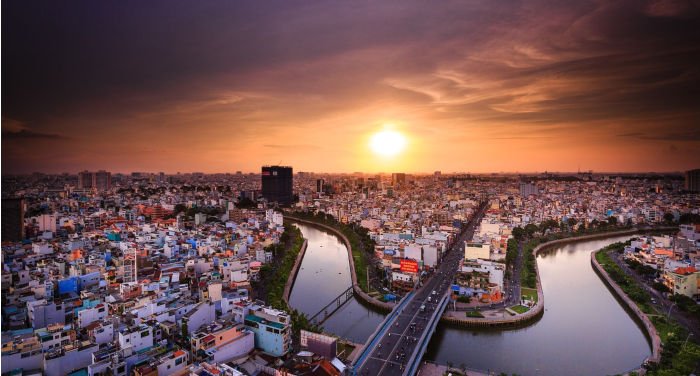 Cost of Living in Vietnam – Index
Do you plan to move to Vietnam and want to know more about general living costs? Don't look any further.
In the first section of this article, I will explain the general living costs in Vietnam. Here, we will not review detailed numbers, you'll get a better understanding of why cities like Ho Chi Minh City have become more expensive in the previous years.
In the second part, I will go into more detail and present prices for rents in the city center and outskirts, inexpensive and mid-range restaurants, SIM cards, alcohol, transportation, and more. After, we continue and review the average salary in Vietnam as a whole, for you to get a better understanding of how much you can expect to earn as a foreigner.
Finally, I'll give you some tips on how you can save money in Vietnam.
If you have any information that you would like to share about the cost of living, feel free to drop a comment at the end of the article!
General reflections
Vietnam is one of the fastest-growing export markets in the world and has grown at an impressive rate since it opened to foreign investors in 2015. Everything from real estate buyers to multinational corporations have poured in to take advantage of Vietnam's rise.
Along with this expansion, we've seen rapid price increases in the major cities like Ho Chi Minh City and Hanoi. Property prices have skyrocketed in the central areas, at the same time, we see obvious changes in areas with a high concentration of tourists and expats.
Having said that, before we claim that a country is expensive, we need to look at your overall lifestyle. This is something I've explained in our article about the cost of living in Singapore. Adding a car and one or two bedrooms can be a game-changer.
Moving as a single-person to Vietnam isn't that expensive. You can easily survive on a budget of USD 1,000 a month if you're willing to share an apartment and cook at home from time to time. You could even manage to save some money.
Yet, you should also keep in mind that the country has some of the most expensive international schools in the world when compared to general living costs and salaries. Thus, if you're an expat and move with a family, be sure to confirm what costs that your company will cover.
Even if Ho Chi Minh City attracts by far the most foreigners, prices there are incomparable to the rest of the country. The third-biggest city, Da Nang, is around 30% on average, I would say when looking at rental fees and overall living costs.
Costs for rents, food, transportation, and more
If you live in Ho Chi Minh City, you'll spend a big part of your salaries or savings on rent. While the average rent for a 1-bedroom apartment in the city centers is VND 9,140,028 (USD 400) nationally, you need to pay VND 10,839,415 (USD 471) in Ho Chi Minh City).
That's comparably expensive when looking at more developed cities, like Bangkok and Kuala Lumpur, where prices are at a similar level.
Upgrade to a 3-bedroom apartment in Vietnam and you need to pay VND 20,004,997 (USD 869) on average in Vietnam, while the amount reaches VND 25,167,339 (USD 1,094) in Ho Chi Minh City. If you decide to live outside of the city center, you'll save around 30% of the costs.
Vietnam is famous for having great food with great local cuisine, many foreign restaurants, and influences from the French kitchen. Did you know that the Vietnamese love to eat baguettes filled with veggies, meat, spices, and pate? You won't need to pay more than USD 1 for one of those.
Meals at inexpensive restaurants generally cost VND 50,000 (USD 2) on average but can reach up to VND 70,000 – 80,000. If you spend the night out and eat a three-course meal together with a friend or your partner, you need to spend an average of VND 400,000 (USD 17.3) in Vietnam, while the price goes up to VND 450,000 (USD 19.56) in Ho Chi Minh City.
Alcohol is cheap, at least beer, and you can buy a can of cold Tiger or Saigon Beer for as little as VND 20,000 in restaurants (USD 0.86). Keep in mind that no tipping is needed either, but restaurants sometimes add VAT separately and a service charge.
One drawback of living in Vietnam is that not even the major cities have efficient public transportation (yet). The subways are currently under construction in Hanoi and Ho Chi Minh City and will hopefully be finalized in the coming years.
Yet, this also means that you need to either buy a motorbike or go by taxi. If you go by taxi a couple of times daily, it will add up. Therefore, my recommendation is that you either buy a bike or download the biggest taxi-hailing apps in Southeast Asia – Grab.
You don't necessarily need to book a car when using Grab, but can also book scooters. This will save you a lot of money in the long run.
You'll also need a SIM card if you move to Vietnam. Rates are comparably low and you can easily survive on VND 80,000 per month (USD 3.5). Two of the most popular service providers include Viettel and Mobifone.
One thing you'll notice is that utility fees can be high, at least for electricity. Foreigners often pay as much as USD 100 a month for electricity, even in 2-3 bedroom apartments. I've noticed that electricity fees tend to go up if you cook food a lot. Also, don't forget to turn off your air conditioners when not being at home, as these tend to drive up the costs as well.
How high are the salaries in Vietnam?
Tons of companies want to outsource their operations to Vietnam, thanks to its talent pool and low salaries. According to Vietnamworks.com as of 2018, Ho Chi Minh City had the highest monthly average salary in Vietnam at VND 10.37 million (USD USD 456), 38% higher than the national average.
Thus, if you look for jobs in Vietnam, you better look for an expat job or a position that cannot be filled by a local person. It's well-known that it's hard for foreigners to find jobs in Vietnam, especially at local companies, unless you have some unique experience or knowledge.
I suggest that you start looking for jobs at least 3 months in advance before making a move to the country.
Don't be scared if you're single and get an offer of USD 2,000 to USD 3,000, as this is considered to be a good salary in Vietnam, especially if you have no local work experience.
Is it expensive to live in Vietnam?
Generally speaking, no. Sure, if you live in a serviced 2-bedroom apartment in the central parts of District 1 in Ho Chi Minh City, you might have to pay as much as USD 1,500. But, you can also live comfortably in places like District 2, Binh Thanh, and District 7, where rents are lower.
That said, if you want to save money, you should also consider moving to Hanoi, Nha Trang, or Da Nang, which are all cheaper than Ho Chi Minh City. At least if you have an online-based profession.
Many young people share apartments in Ho Chi Minh City and Hanoi. Unless you can split the rent with your partner, you should definitely give this a try as you can save hundreds of dollars each month. Apartments are big compared to places like Hong Kong and Singapore and you often have access to swimming pools, parks, and a gym.
According to Expatistan.com, Ho Chi Minh City is cheaper than 85% of all the other cities in the world. It's 56% cheaper than Paris, 28% cheaper than in Bangkok, 59% cheaper than Tokyo, and 56% cheaper than San Diego, for example.
If you want to save money, I give you the following recommendations:
Buy a scooter or use Grab bike: You'll save plenty of costs if you buy or rent a scooter, instead of going by taxi everywhere. The second-cheapest option is to go by Grab-bike, which simply means that you book a scooter instead of a car.
The transportation system is underdeveloped in Ho Chi Minh City and going by bus is a no-go for most foreigners. That said, you can also reach places by foot or bicycle. Just keep in mind that the traffic is hectic and it's easiest to get around by scooter.
Share apartment: Apartments are big compared to places like Hong Kong and Singapore, you can share a nice 80 square meter unit in a new condo for USD 700 – 1,200 a month. It's common that foreigners share apartments in Ho Chi Minh City. The good part here is that you often get access to cleaning services, a gym, and a swimming pool.
Avoid the expensive bars: There are so many local bars and restaurants where you can eat and drink for a fraction compared to fancy rooftop bars and clubs downtown. If you're on a strict budget, I recommend you head to the local places.
Photo Credits: Photo by Quangpraha on Pixabay