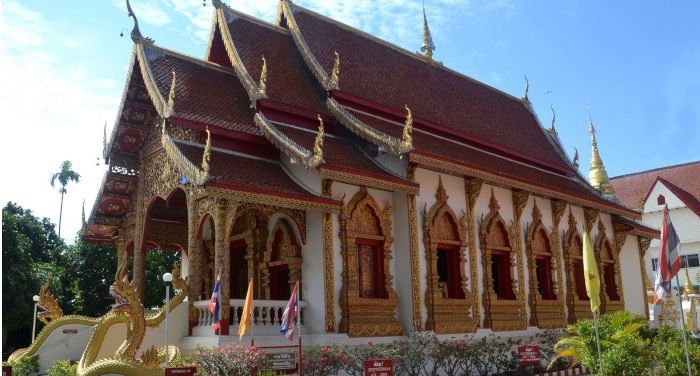 Study Thai in Chiang Mai – Index
Study a foreign language in a foreign country requires planning. Not only do you want to find a suitable city to study that particular language, but you also want a reputable school that has a decent track record of helping foreigners.
If you read this article, you've probably decided to study Thai, but not sure whether Chiang Mai is a good choice yet. Don't worry in that case. In this article, we list both the pros and cons of studying Thai in Chiang Mai.
Later, we also list some of the most popular private schools and public universities among foreigners who study Thai. Let's get started and review some of the pros of studying Thai in Chiang Mai, especially in comparison to Bangkok.
Pros of studying Thai in Chiang Mai
Let's review some of the main perks of living in Chiang Mai.
It's cheap
Being the second-biggest city in Thailand, Chiang Mai is cheap with Southeast Asian standards and a preferred place for digital nomads, retirees, and people who study in Thailand.
When comparing to Bangkok, for example, rent prices are 49.55% cheaper in Chiang Mai on average, which speaks for itself. Also, consumer prices are more than 18% cheaper than Bangkok on average, while restaurant prices have a similar price difference.
With Bangkok considered 'cheap' among most Westerners, you probably understand that you can live a good life in Chiang Mai with a limited budget. The universities have lower tuition as well, something that can be beneficial if you simply go to Thailand to learn Thai.
Studying Thai is not like going for an MBA, the key to learning the language is to interact with locals and speak the language daily. In Chiang Mai, you'll have plenty of opportunities to do so.
A lot of outdoor activities
Chiang Mai is located in the Northern parts of Thailand, having much vegetation, rivers, mountains, and forests. Thus, it's popular among foreigners who want to visit elephant sanctuaries, do rock climbing, kayaking and canoeing, trekking, and more.
If you want to study in a place where you have the opportunity to participate in outdoor activities every weekend, or why not every day, then Chiang Mai should be at the top of your list.
If you're a party person and prefer staying in a big city, then Bangkok is a better option.
Relaxed atmosphere
Chiang Mai is famous for attracting many tourists and long-term residents who practice mindfulness, yoga, and meditation. If you want to live a relaxed lifestyle and perhaps find yourself, then Chiang Mai is one of your best options in Thailand.
Tasty food
Chiang Mai has tons of restaurants that serve delicious food, with prices in the lower to the higher price segment. Some of the city's most famous dishes include Sai Oua (Grilled Herb Sausage), Khao Soi (Egg Noodle Curry), Nam Prik Ong/Nam Prik Nume (Red/Green Chilli Dip), and much more.
If you go to Chiang Mai, you should not miss its street food.
Cons of studying Thai in Chiang Mai
So, we have reviewed some of the best parts of studying Thai in Chiang Mai. Now, let us review some of the drawbacks of studying Thai there.
Far away from the beaches
So, Chiang Mai is located in the Northern parts of Thailand and far away from the coastal areas. As such, you won't be able to spend days on the beach and swim in the ocean. If that's what you prefer, you might want to look at islands and cities like Hua Hin, Phuket, and Koh Samui.
Also, Bangkok is located significantly closer to the coast and you can reach Hua Hin in less than 3 hours.
Less job opportunities
Chiang Mai is the second-biggest city in Thailand but significantly smaller than Bangkok in terms of population. While Chiang Mai has as little as 130,000 people, more than 8 million people are living in Bangkok.
Therefore, you'll find fewer job opportunities in Chiang Mai, at least if you pursue a university degree and want to work for, let's say, a multinational company.
That said, it's worth mentioning that the salaries are lower than the capital too. If you look for career opportunities in Thailand, you better move to Bangkok than Chiang Mai.
Less bustling than Bangkok
This is not necessarily a drawback as some people move to Chiang Mai to enjoy its tranquility and peaceful atmosphere. Having said that, if you're young and want to live in a fast-paced and international city, then Bangkok is your option.
Private schools in Chiang Mai
TSL Chiang Mai
TSL Chiang Mai, Thai as a Second Language Chiang Mai, is a popular language school that offers education to students and working professionals. According to their website, it took ten years to create their curriculum, which is tailor-made for foreign students.
TSL is a licensed and certified Thai language school by the Thai Ministry of Education (MOE), which means that they can offer you a student visa. The visas are normally valid for 90 days.
We Learn Thai
We Learn Thai is a highly acclaimed private language school that has received plenty of positive reviews. Some of the benefits of choosing We Learn Thai is that:
They have fluent English speaking teachers and staff
They offer a co-working space for students
Offer free coffee, tea, and Wi-Fi
All materials are included in the price of their courses
The company has a unique and fun way to teach Thai to foreigners, using games, flashcards, and textbooks.
Easy Study Thai
Easy Study Thai has offices both in Chiang Mai and Chiang Rai and a popular option among foreign students. Founded in 1999, the school is approved by the Ministry of Education and offers One Year Thai Education Visa.
The school helps foreigners to learn Thai online, during 1-to-1 lessons, and in group classes. If you want, you can also participate in trips with the school, visiting different parts of Northern Thailand.
Universities for studying Thai in Chiang Mai
Honestly, there aren't many universities available in Chiang Mai. As explained, only a bit more than 130,000 people live here so it's not that strange. Let's review two of the best universities in Chiang Mai and the courses they offer in Thai.
Chiang Mai University (CMU)
Chiang Mai University (CMU) was founded in 1964 and a leading university in Northern Thailand. With almost 36,000 students, the university has a strong emphasis in the fields of science, engineering, agriculture, and medicine.
The school offers a 12-month Thai language program where you participate in classes 6 hours per week. Keep in mind that some universities might not treat this as a full-time program and you might not be able to apply for student loans in some instances.
CMU is located 1,600 above sea-level with beautiful facilities and many amenities, including:
400-metre athletics track
8-tennis courts
Multiple football fields
Basketball courts
Volleyball and badminton areas (both indoor and outdoor)
Fitness center
Libraries and a variety of coffee shops and canteens across the campus
According to their website, you have to pay THB 35,000 (around USD 1,200) to study Thai for 216 hours of instruction over one year, which is reasonable.
Maejo University
Maejo University was founded in 1934 and is the second-best university in Chiang Mai, after Chiang Mai University, according to the rankings.
The university has dozen of faculties, including Liberal Arts, Tourism Development, Business, Economics, Information Technology, Fisheries Technology and Aquatic, Resources, and more.
The Thai language programs are managed under the MJU Language Center. To study Thai here, you need to:
Have finished 12 years of education at primary and high schools. You also need a grade 12 certificate, or equivalent, by the Ministry of Education
Be mentally and physically sound
Not been expelled from other institutions on grounds of misconduct
Not be enrolled in more than one institution of higher education (except open universities) concurrently
There's no information about the tuition fees when studying Thai at Maejo, but we can expect tuition fees to be at a similar level as CMU. For up-to-date information, I recommend you to contact Maejo directly.
Photo Credits: Photo by terimakasih0 on Pixabay