Choosing a good hotel in Nanjing, the capital of Jiangsu Province, can be a difficult task due to the large number of hotels that exist and because in the city, many of the hotels are of doubtful quality. In this article, you will find a review of the best hotels in Nanjing, whatever your budget may be.
If you are interested in the general idea of how to book hotels in China, you can read our recommendations here.
Reviews of Luxury Hotels (5 Star) in Nanjing
Intercontinental Nanjing Hotel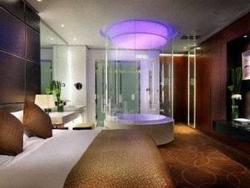 The Intercontinental Nanjing Hotel is an ideal base for those wishing to discover Nanjing. Located in the District of Gu Lou, it is close to the City's main attractions, the Drum Tower, the Jiming Temple and the Xuanwu Lake. The hotel has 433 rooms over 32 floors with free Wi-Fi, no smoking rooms and 24 hour service.
Staff speak English. There are good recreational facilities; fitness center, sauna and pools indoor and out. Despite in location in the middle of a busy city, the Intercontinental has a reputation for offering a relaxing environment, essential after a busy day, sightseeing or business.
Nanjing Jinling Hotel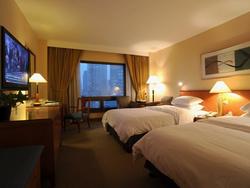 The Nanjing Jinling Hotel is the largest hotel in Jiangsu Province boasting 970m rooms, as well as extensive business facilities and a quality shopping facility. It offers facilities expected of all quality hotels; free Wi-Fi, 24 hour service, recreational facilities, including health club, pool and spa, and advice on assistance for guests wishing to explore the City. Airport transfers can be arranged with the front desk.
English is spoken with the hotel that has been open for over 30 years. The Hotel has its own coffee shop and restaurants which have gained a reputation for fine dining.
Nanjing Central Hotel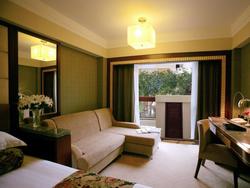 The Hotel's name says it all; Nanjing Central Hotel is in Gu Lou just five minutes from the center of Nanjing. As a result it is convenient for business, sightseeing and the City's nightlife and cultural venues. The hotel boasts free Wi-Fi, 24 hour service and recreational facilities such as sauna, massage, indoor pool and fitness center.
English is widely spoken while for those looking for plenty within the hotel there is a restaurant and casino. There is a babysitting service for those needing time away. There is a current proviso which is the renovation work and people considering this hotel should check on its progress.
Kayumanis Nanjing Private Villa & Spa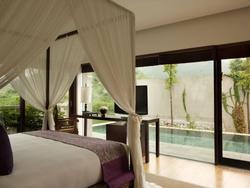 The Kayumanis Nanjing Private Villa & Spa provides the opportunity to relax away from the City Center which is just 28 kms away. Access to the center is straightforward and the staff is happy to arrange that as well as tours in general. The Nanjing Yangshan Tablet Stones are nearby.
Services in the hotel include free Wi-Fi throughout, 24 hour front desk and room service as well as shop and restaurant. Ideal for both tourist and businessmen English is a language on offer. There is a garden to enjoy as well as sauna, hot tub, outdoor pool and spa.
Reviews of Mid-range hotels in Nanjing
Lakeview Xuanwu Hotel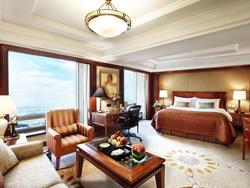 The Lakeview Xuanwu Hotel close to Mount Zijin is an ideal hotel to use as a base to visit the Nanjing Museum, the Taiping Kingdom History Museum as well as the Presidential Palace. There is Wi-Fi throughout together with 24 hour service, a business center and meeting facilities. The restaurants offer both western and local cuisine and there is a nightclub and casino for those enjoying a late night.
There is a fitness center, spa and sauna as well as an indoor pool and hot tub. English is spoken and the staff is happy to arrange guests' transport and tours.
Sofitel Galaxy Nanjing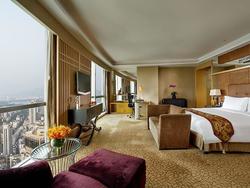 The Sofitel Galaxy Nanjing is approaching its 10th year and is located in the heart of the commercial and shopping district in Nanjing. There are wonderful views over the City from many rooms, all of which have free Wi-Fi though most guests want to be out enjoying the amenities and the City.
Within the hotel there are restaurants with a range of cuisine, bars, shops, coffee bars and a night club. There is a fitness center, indoor pool and spa and a play area for children. The staff is happy to organise tours and the 24 hour service answers guests' every need. Meeting rooms can also be arranged for businessmen. English is spoken.
Eastern Pearl Hotel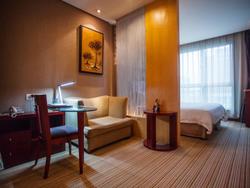 The Eastern Pearl Hotel is in the busy commercial district of Nanjing close to its famous nightlife. There are 144 rooms, all with free Wi-Fi, and an excellent restaurant; an ideal location for the businessman that wants to be close to his appointments. Tourists are welcome and the beautiful Xuanwu Lake is nearby for relaxation. Staff is on hand 24 hours for help with anything from tours and airport transfers to meeting facilities.
English is spoken in this value for money hotel where cleanliness and location are often the important factors for its guests.
Reviews of Budget hotels in Nanjing
GreenTree Inn Nanjing Jiangning Zhu Shan Road Metro Station Express Hotel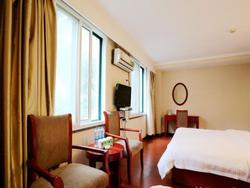 The GreenTree Inn Nanjing Jiangning Zhu Shan Road Metro Station Express Hotel is in the Jiang Ning District 25 kms from the Center of Nanjing. Many of the City's major attractions are close by including the Yiwu Commodities Market, the Tang Pagoda and Buddhist Grotto and Jiangjun Mountain. It is close to the Metro for ease of getting around the City
There is Wi-Fi in public areas but there is no English spoken which guests must remember. However there is 24 hour service, a business center and meeting facilities. The hotel is inexpensive and in a quiet area which is a priority for many travelers.
Motel 168 Nanjing Yangpixiang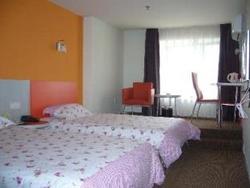 The Motel 168 Nanjing Yangpixiang is in Qin Huai District, just a very short walk from the heart of the action. The Orient Department Store, Golden Eagle International Shopping Center and Xinjiekou International Cinema are on the doorstep as well as many of the main cultural and tourist attractions.
There is a business center, family room and the staff is happy to arrange tours for guests. Car parking is free for guests staying there and there is internet access making Motel 168 value for money accommodation without the trimmings. There are plenty of restaurants nearby for visitors to explore but English is limited within the hotel.
Nanjing All Those Years Hostel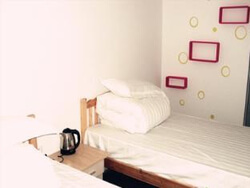 The Nanjing All Those Years Hostel is in Xuan Wu District, the major tourist area in the City. For those on a budget wanting comprehensive services the hostel is certainly an option; a laundry service, car park, tour organization, Satellite TV and a casino are on offer. There is air conditioning, internet access while guests can hire bicycles if they want to explore. Visitors should check when booking if any services will cost extra above the room rate.
Despite being in the midst of the action Nanjing All Those Years Hostel offers relaxing accommodation, so important after a busy day in the City. There is no guaranteed English.

Hotel Photos on Agoda.com