Choosing a good hotel in Xi'an, the capital of Shaanxi province and home of the Terracotta Army, can be a difficult task due to the large number of hotels that exist and because in Xi'an, many of the hotels are of doubtful quality. In this article, you will find a review of the best hotels in the city, whatever your budget may be.
If you are interested in the general idea of how to book hotels in China, you can read our recommendations here.
Reviews of Luxury Hotels (5 Star) in Xi'an
Sofitel Legend Peoples Grand Hotel Xian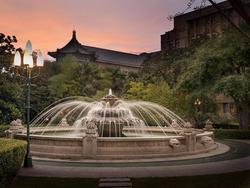 When it comes to quality few can match Sofitel Legend Peoples Grand Hotel Xian. It lives up to its 5-star hotel billing and is located in an ideal position for the city's main attractions. As guests might expect there is everything from free Wi-Fi in all rooms to staff on hand 24 hours a day for their every need. There are excellent leisure facilities for guests when they are not out exploring. English and French are among the languages spoken and help is on hand to direct visitors to the many sights worth seeing including New Times Square, the Bell Tower and 8th Route Army Memorial, all just a short walk away.
Hilton Xi'an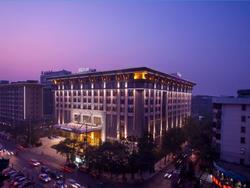 The Hilton Xi'an in the heart of the City offers excellent accommodation for businessmen and tourists. The hotel is surrounded by culture, shopping and visitor attractions. This hotel with over 300 rooms provides 24 hour service and free Wi-Fi in public areas as well as many of the rooms. The Hotel is fully air conditioned with non – smoking rooms. There is a range of recreational facilities including an indoor pool, spa and sauna to help guests relax after a busy day. English is widely spoken and staff is only too happy to handle any enquiries.
Mercure On Renmin Square Xian Hotel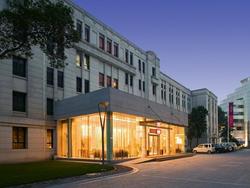 The Mercure On Renmin Square Xian Hotel has earned a good reputation for its friendly staff and excellent location. It lives up to its 4 Star status, providing a range of services including free Wi-Fi, 24 hour service, bar, coffee shop and restaurant with meeting room facilities for the businessman. Many of the City's main attractions are just walking distance away and the nearby railway links Xi'an to the other major centers in the Country. Transfers to the airport are just one of the many things that staff is only too happy to arrange. English is spoken as well as Mandarin.
Regal Airport Hotel Xian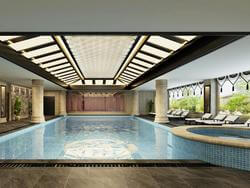 Visitors wishing to stay close to the International Airport need look no further than the Regal Airport Hotel Xian . It has recently been renovated and offers all the facilities that seasoned travelers would expect including free Wi-Fi, tours, meeting facilities for business and all transport arrangements. The city center is 30 km away with the airport just five minutes; no getting stuck in traffic and after a long flight guests can be in their rooms within minutes of leaving arrivals. There are plenty of recreational facilities for guests to enjoy. The main language is Mandarin.
Reviews of Mid-range hotels in Xi'an
Sofitel Xian On Renmin Square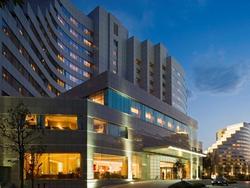 Guests staying at Sofitel Xian On Renmin Square can expect a warm welcome and a spacious room during their stay. This hotel is in the heart of the City with plenty of shopping and a vibrant nightlife. The main sights in Xi'an are also within walking distance including New Times Square, Xian Drum Tower and 8th Route Army Memorial. Wireless internet is free and there is a range of cuisine on offer every day; Chinese, Japanese, Halal and Mediterranean. English, French and German as well as Korean and Mandarin are an impressive range of languages spoken within the hotel.
Citadines Central Xi'an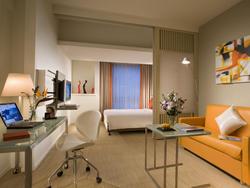 The Citadines Central Xi'an is ideally located for visitors new and old to Xi'an. It is central, close to the main tourist and commercial districts as well as the railway station. Those mixing business with pleasure can go the financial district in the morning then enjoy some sightseeing later in the day before visiting one of the many restaurants by night. The De Fa Chang Famous Dumpling Restaurant is certainly worth a visit. The hotel is modern with complimentary internet and satellite television. English is spoken and the staff is happy to help with any questions.
Bell Tower Hotel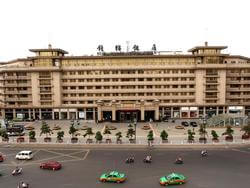 The Bell Tower Hotel is a centrally located hotel and an ideal choice for visitors to the City. Many of the cultural sites are on the doorstep including the New Times Square, Bell Tower and Xian Drum Tower. Businessmen have access to the commercial districts as well. Facilities include free Wi-Fi in every one of the 172 tastefully decorated bedrooms, air conditioning, mini bar and no smoking rooms. Recreational facilities include a fitness center and a casino for unwinding one way or another after a busy day. The friendly staff is happy to help with any arrangements and English is spoken.
Shunda Xian Xianyang Airport Hotel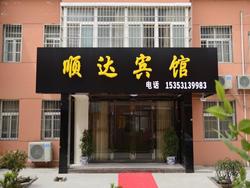 The Shunda Xian Xianyang Airport Hotel is less than 5 minutes from the Airport and offers car parking, bicycle and car rental, an airport shuttle and transport into the City 30 kms away. The Hotel has comfortable rooms with flat screen TV, cable channels and some with DVD-CD player and iPod docking stations. Wi-Fi is free in public areas. There are recreational facilities and staff that help create a cosy atmosphere. Some rooms have balconies and terraces and it is possible to book interconnecting rooms. Guests share the bathroom facilities but they can be guaranteed a good night's sleep in the comfortable rooms.
Reviews of Budget hotels in Xi'an
Xian Wenyuan Hotel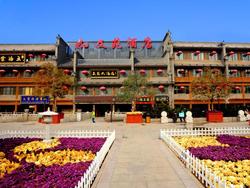 The Xian Wenyuan Hotel is located between the Drum Tower and the Grand Mosque, less than 10 minutes walking distance from many of the most popular tourist sites in Xi'an. There is free Wi-Fi throughout, 24 hour service and meeting facilities for business. Tours can be arranged and this modern hotel has its own restaurant, Chinese and Western cuisine, and shops. There are also many restaurants nearby both on Muslim Street and downtown as a whole. The airport shuttle stops close by and taxis are readily available, perhaps to take visitors to see the wonderful Terracotta Army about an hour away by road.
Xian Ancient City Youth Hostel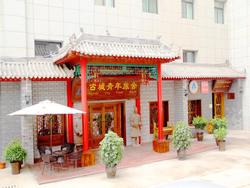 The Xian Ancient City Youth Hostel is a centrally located hostel on the subway where lines 1 and 2 join. It is modern with a variety of different sized rooms up to 4 bed dorms. Cleanliness and comfort are guaranteed with telephone, internet, TV and air conditioning. There is a restaurant offering western food, coffee and drinks. The hostel has a computer for guests' use, table tennis, a pool table and gym equipment. Trips can be arranged by the staff and a laundry service and bicycle rental are other amenities on offer. Many of the City's main attractions are within walking distance making this hostel ideal for a value for money stay in Xi'an.
Xian Warriors Youth Hostel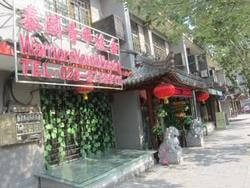 Xian Warriors Youth Hostel is comfortable accommodation offering a restaurant, cafeteria and room service to its guests. The Hostel is centrally located within walking distance of many of the main attractions and surrounded by excellent restaurants. Staff is happy to help with tours and transfers to both the airport and the railway station and there are laundry facilities. Warriors Youth Hostel has LCD television, Wi-Fi is free and there is air conditioning in public areas. A safe-deposit box can be obtained at the front desk and luggage storage is available. There are designated smoking areas within the hostel.

Hotel Photos on Agoda.com