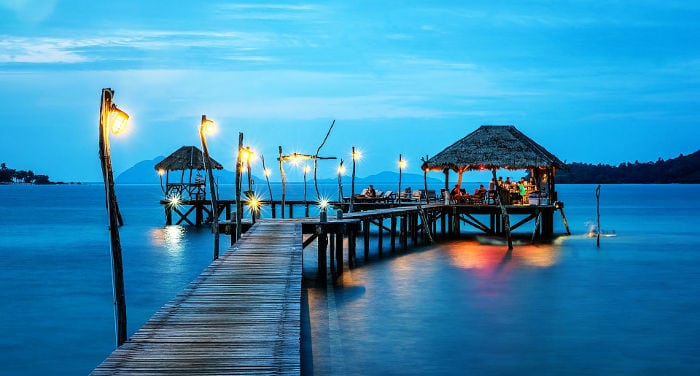 Which portal is best for booking a hotel in Thailand?
Despite the fact that there are lots of online portals for booking a hotel in the Land of Smiles, in my opinion the best are Agoda and Booking.
Why book through Agoda or Booking?
The reason is that even though there are other platforms besides Agoda and Booking such as Trip Advisor and the like, prices on those platforms are higher than what you can find directly on the aforementioned sites since even Trip Advisor has to make something (thereby charging an additional commission).
In addition, Agoda and Booking often have special offers available only through their sites, and not on third-party platforms.
Agoda
Agoda is one of the best portals for Asia, both in the number of hotels and the price.
Pros: Usually Agoda offers the best deals when it comes to hotels in Thailand. Additionally, their network of hotels in the country is superior to that of Booking.
Cons: There aren't many "cons", when booking a hotel in Asia on Agoda. The only exception is, perhaps, China, since there are specialized portals for that country that offer a wider range of hotels, especially in less visited areas.
Booking
Booking is one of the most famous and efficient platforms for booking a hotel in the entire world.
Pros: Booking is an extremely professional platform; they also often offer the possibility of cancelling your reservation without additional fees (by a certain date).
Cons: Their selection of hotels in Thailand is less than that of Agoda, and their prices are often higher.
Comparing the two platforms
Number of hotels:
If we check the Agoda site, we see that in Thailand there are about 25,504 possible hotels, on Booking there are about 18,300.
If we take Bangkok as an example, the most visited city, Agoda offers 3,153 hotels and Booking 2,217. Lastly, if we take a look at Nong Khai, a destination that isn't frequented by tourists (at the most you could pass by if you're heading to Laos), Agoda offers 64 hotels and Booking 43.
To conclude, if you already have an account on Booking, considering that the differences aren't terribly great, you might think about just booking with them (unless the prices on Agoda are much less). If you don't have an account with either Booking or Agoda, then Agoda is likely your best choice!
Prices:
Here's a comparison of prices in USD (American Dollars) of three hotels in Bangkok (for three nights starting August 1st). There's a cheap hotel (In a Box Hostel), a mid-range hotel (Hotel Clover Asoke), and a high-end hotel (Villa Song Saigon).
Hotel Clover Asoke: The price for a double room on Agoda is 50 USD a night, while on Booking it's 64 USD a night.
As you can see, Agoda can be cheaper (even though prices are often similar).
Internet connection
Hotels in Thailand often offer a satisfactory internet connection, as do international hostels. If though internet connection is really important to you, then I recommend that you really read the reviews found on Agoda and Booking.
Also, take a look at our article about net restrictions in Thailand.
Where to book your hotel
For Bangkok, I recommend that you book something in the center since you're talking about an enormous city and public transportation isn't the best.
The other cities are more "liveable"; so if walking for 20-30 minutes isn't a problem, you don't necessarily have to book in the city center.
Are hotels in Thailand safe?
Thailand is a relatively safe country (so long as you stay away from the frequent political protests). The only problem you might run into is theft from your room, especially in budget hostels where the locks aren't the greatest.
Many hostels offer the option of inserting a padlock on the door to your room; you can bring one from home or get one in the many tourist shops (usually shops that sell bags and pouches, etc, also sell padlocks).
The best hotels in the major cities
Frequently asked questions
Is Thailand cheap to visit?
It all depends on what you want. You can survive with as little as 20 US dollars a day, if you book a cheap hostel and survive on street food. Other people, on the other hand, spend hundreds of dollars a day on fancy dining and expensive hotels.
Can I use US dollars at hotels and hostels in Thailand?
No, you cannot unfortunately. You can only use Thai Baht (THB) which is the official currency in Thailand. If you end up being able to use US dollars in local markets, for example, it will be with a bad exchange rate in most cases.
Should I tip the staff in Thai hotels?
It's not mandatory but is appreciated, of course. A tip of 20-40 Thai Baht is sufficient.
Can I book tours at the hotels and hostels in Thailand?
Yes, many hostels and hotels can connect you with different tour companies that can bring you for activities. Trying out local food for an evening in Bangkok, or go to shooting ranges or elephant sanctuaries in Chiang Mai are just a couple of examples of activities that you can attend.
Where should I stay in a hotel or hostel in Bangkok?
If you're a backpacker, then staying close to Khao San road is a popular choice. It's a bar street with music and where many backpackers from around the world meet up. Staying close to Sukhumvit and stations like Asoke, Nana, Phrom Phong, Thong Lor, Ekkamai, Phra Khanong and On Nut should be of interest if you plan to stay in Airbnb, hostels or in hotels.
How's the hotel breakfast like in Thailand?
You can usually eat both Western food and Thai food, or other Asian food. If you go for a 4 star hotel, you'll be satisfied most of the times.
Can they speak English in hotels and hostels in Thailand?
Yes, most of the staff in the reception and at the hotel breakfasts speak English. However, you shouldn't take for granted that the cleaners speak English. When it comes to hostels, you'll often find young people working who are well versed in the English language.