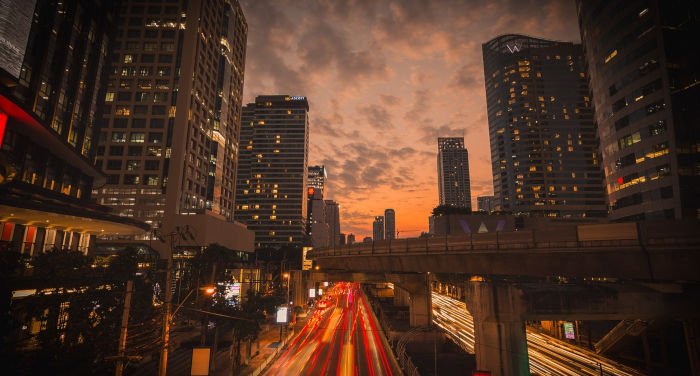 Thailand is the second-biggest economy in Southeast Asia and has welcomed millions of foreign retirees, expats, and workers in the past decades. Here, you can find numerous Japanese, German, and manufacturers from other countries who set up assembly operations.
In this article, we explain how you can find a job in Thailand, about the job market, the requirements to work there as a foreigner, the best cities to look for jobs, and more. Let's get started and review the best ways to find a job in Thailand.
How can I find a job in Thailand?
You can look for jobs in various ways and you can also combine the options. This is the most effective way if you want to land a job quickly. For foreigners who have stayed in Thailand for a while, some options might be better than for persons who just arrived.
Below we have listed some of the most common ways for foreigners to find a job in Thailand.
Finding a job through referrals and recommendations
This is one of the most common ways of finding jobs, not only in Thailand but in many other places in the world. One of the benefits of having and nurturing a wide network of people is that you will manage the hiring process significantly easier.
The best way of expanding your network in any given city is to attend events, socialize, and actively try to connect with people. Let's say that you arrive in Bangkok, one of your first steps should be to join Facebook and Internations groups.
Don't be shy, connect with fellow countrymen on Facebook, say that you just arrived, and ask if they want to have a coffee. People are often more than helpful.
Finding a job via job boards
Thailand has many job boards available and that allows you to start looking for jobs even before you enter the country. It can be preferable to start looking for jobs a couple of months before you depart from your home country, to build up some kind of record.
When applying for jobs, the companies and recruiters will keep your CV in case you're suitable for other positions within the company. Some of the best job boards that you should have a look at are:
LinkedIn
Monster
Careerjet
Robert Walters
Michael Page
Also, ThaiNGO: is an excellent site for those looking to work in international development. This portal is constantly updated with offers from simple unpaid internships, up to particularly important positions.
If there's contact information for the recruiters who posted the vacancies, you can also follow them up to show your interest.
Finding a job with the help of inhouse recruiters
This is another good option if you're interested in a particular company and want to get some additional exposure. LinkedIn is inevitably one of the best websites to connect with recruiters at companies. Simply add them to your network and introduce yourself and your goals. You can also connect with hiring managers directly.
Finding a job via recruitment agencies
This is a great option if you want to maximize your exposure to local companies. Most recruitment agencies allow you to submit your resume online and you can also call or send emails to recruiters via the contact information on vacancies online.
In Thailand, you have access to plenty of recruitment agencies, including:
Robert Walters Thailand
Michael Page Thailand
PRTR
JAC Recruitment Thailand
I suggest you submit your resume to all the websites to increase your chances of finding a job.
How is the job market in Thailand?
Thailand's job market is comparatively developed by Southeast Asian standards and the most sought-after jobs in Thailand are a mix of non-tech and tech jobs. In 2019, the most popular jobs were in:
Sales
Engineering
IT
Accounting
Administrative
With the increased digitization, we also see a particularly big demand for highly-skilled tech workers, such as programmers and data scientists. There are also plenty of applications for sales roles.
That said, many of the roles require that you have a unique skill or experience that cannot be found among local applicants. Thus, landing a job in Thailand is easier said than done and you can get hired significantly faster if you have developed a network there.
Requirements for foreigners to work in Thailand
Before you can start working in Thailand you need to have a work permit. The permit shows your occupation, position in the company, or job description, and the Thai company you work for. It's also used as a license to perform a job in Thailand.
To get a work permit, you first need to have a non-immigration visa being obtained before you enter Thailand. After you've received this non-immigration visa, you can apply for the work permit which usually takes 7 days.
It's processed by the Ministry of Labor and your employer or agent can help you with the application. To get granted a work permit, you have to prepare the following documents:
A passport sized photo
A medical certificate
Your original passport
The letter of employment
Certificate of degree
Your address in Thailand
Your employer, on the other hand, has to provide the following documents:
A company certificate and objectives
The list of shareholders
An application for VAT
Withholding tax of the company
Financial statement
Photocopy of the director's passport and work permit with signature affixed
Office map
Letter of employment stating position and salary of applicant
Employment agreement
Keep in mind that you also have to bring and keep the work permit at your workplace and during work hours. Besides, you can only do the job as stated in the permit and for that specific employer.
How high are salaries in Thailand?
Recruitment agencies predict salary raises of 20% – 30% among job movers in Thailand, rates that are high, of course. Below I've listed the yearly salaries for various occupations in Thailand.
Accounting Manager: THB 960,000 – 1,500,000
Financial Controller: THB 1,800,000 – 4,500,000
Production Manager: THB 1,000,000 – 1,900,000
Engineering Manager: THB 1,200,000 – 2,200,000
Technical Manager: THB 1,400,000 – 2,400,000
Quality Director: THB 2,800,000 – 5,500,000
*The exchange is around 32 THB / USD
With that said, if you're looking for your first job in Thailand and already moved to the country, I'd suggest you lower your salary requirements and if you're in urgent need of a job.
You can live a comfortable life if you earn THB 600,000 a year (THB 50,000 a month), which equals around USD 1,500.
How high are the income taxes?
Both non-residents and residents are taxed on income derived from business or employment in Thailand. It doesn't matter if the money is paid outside or in Thailand.
Thailand taxes both residents and non-residents on income derived from employment or business carried out in Thailand, regardless of whether it is paid in or outside of Thailand.
As of 2020, the income tax rate increases progressively as follows:
0 – 150,000: Exempt
150,000 – 300,000: 5%
300,000 – 500,000: 10%
500,000 – 750,000: 15%
750,000 – 1,000,000: 20%
1,000,000 – 2,000,000: 25%
2,000,000 – 5,000,000: 30%
5,000,001+: 35%
The tax rates are comparatively low in Thailand and persons who are aged 65 or above also receive a tax exemption on the first THB 190,000 of their taxable income. Worth keeping in mind is also that they don't have a 45% tax rate as in many other countries.
Which cities are best to look for jobs in Thailand?
Before you start looking for jobs in Thailand, you have to understand which cities are most interesting and where you can find the most job opportunities. Below we've listed the best cities to look for jobs in Thailand.
Bangkok
Bangkok is one of the most visited cities in the world and the capital of Thailand. With a population of almost 10 million people, Bangkok is generally the best city if you look for jobs in Thailand.
You'll also be able to find most jobs catered to foreigners and expats here.
Worth mentioning is that Bangkok is home to all foreign banks and insurance companies in Bangkok. Thus, if you look for a job in banking or accounting, you should have Bangkok at the top of your list.
Chiang Mai
Chiang Mai is famous for its laid back atmosphere, many temples, mountains, and foreigners who do yoga and meditation. The job market is slimmer in Chiang Mai compared to Bangkok, but you'll still be able to find a job as a teacher, IT support/web developer, graphic designer, hotel manager, and similar.
Phuket
Phuket is a vibrant resort island that attracts plenty of foreigners. The job market is not as big as in Bangkok, you'll mostly find jobs in the traveling, real estate, and restaurant industry. You can also find a job in IT and teaching.
Teaching English in Thailand
The majority of foreigners that I met in Bangkok taught English. Why is this profession so popular among the so-called Farang?
The main reason is that the education sector, particularly that of English, is what offers the majority of job opportunities, and is the easiest to get.
The level of English of the Thai population is very low, and to remedy this situation that is more than just a little embarrassing, the government has decided to raise the level of a foreign language, hiring foreigners (considered by the Thais as the only ones who can effectively speak English well), mainly because of their mother tongue.
There's certainly no lack in this sector, the schools are very willing to pay for a work visa and permit to qualified foreign teachers.
Moreover, the schools really look for foreign Western teachers (those of Asian ethnicity are far less sought after), to attract new enrollment, given that there's the popular belief that all you need is to be white to speak "perfect" English.
In recent years the Thai government has also introduced a new criterion for being allowed to teach English in their schools: possession of a three-year degree, the so-called Bachelors.
Many schools though are willing to hire foreigners that don't meet this requirement, and since work visas aren't issued to those who don't have a first-level degree, the schools pass off these people as volunteers, offering them a different type of visa and also paying them less (even just 15,000-18,000 THB a month).
Illegal jobs
The following is considered illegal work:
Jobs done by people in fields prohibited by law (such as a carpenter for example);
Jobs done without a work visa and permit;
Part-time;
Remote. Well yes, working with your home computer or from any bar, and earning money on Thai soil in this manner (without a work visa and permit) is considered illegal. Chiang Mai is the preferred destination for digital nomads, but know that according to local laws it's illegal work.
For those discovered to be working illegally in Thailand, there are some hefty fines. You could also be deported from the country and be barred from entering the country for many years. The worst eventuality is a prison!
There are many foreigners that work illegally, especially in sectors like IT, and real estate agencies, where local companies need people who speak English well, but also when they find those who aren't willing to sponsor their work visa.
Many foreigners in fact work with 60-day tourist visas, after which they are obligated to leave the country (or request a 30-day extension) to then re-enter and repeat the process after two months.
Photo Credits: Photo by Thanakorn Munyuen on Pixabay