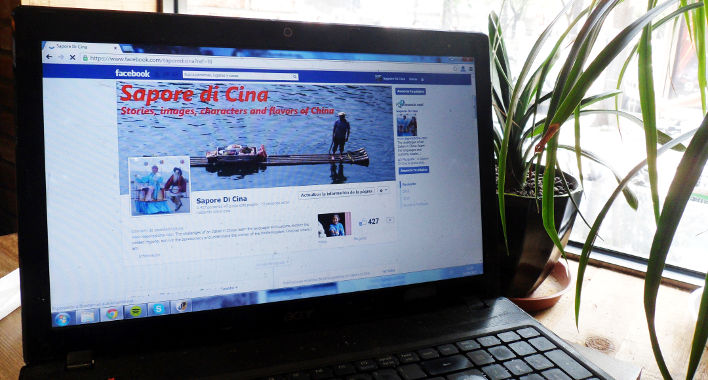 The first part of this article explains what a VPN is and how can be used to access all the websites that are currently blocked in China (Facebook or Youtube, for instance). The second part is a review of StrongVPN, the VPN that I'm using this year.
What is a VPN and why I need it in China?
As you probably already know Internet doesn't work as we wish in China and a large number of websites are blocked by the Great Firewall. Among the websites that you can't access there are Facebook, Youtube, Twitter and Google+.
There are many other blocked websites, to the point that according to what you do it will be virtually impossible for you to work without a VPN (Virtual Private Network) from China. The most striking case is probably given by Google.com, which often returns an error message when used from within the Middle Kingdom.
But there is still hope…
What you can do is to install a VPN, which masks your I.P. address so that your laptop appears to be connected from U.S. or Japan even if you are in China.
Having a VPN will allow you to bypass the firewall and access any website you want. However the sine qua non condition is that your VPN works well, which isn't always guaranteed!
Just for seek of clarity, the VPN were originally developed for other purposes, such as gain remote access to a private network, encrypt sensible data, anonymously surf the web and so on. However with the time they become very popular in China, especially within the foreigners that need it for working (or for those that can't refrain to update their Facebook state every two hours haha).
Which VPN should you choose?
Even if there are several free option such as Freegate (which is actually a proxy, not a VPN), they aren't reliable at all and extremely slow. The practical result is that with a free option you won't be able to do nothing beside checking your Facebook or Twitter feeds. Yup, even post a comment on Facebook will become a mission impossible. Let's not talk about watching a video on Youtube.
The best option is, without a doubt, to buy a VPN service, which are usually quite affordable as you can get a good VPN for 7-8 USD per month.
Nowadays there is a great number of VPN services on the market. During the years I spent in China I had the occasion to test many of them such as Witopia, Webmaster, Astrill, Hide My Ass and more. Independently of what the review that you can find on the web say, many of them aren't working anymore because the Great Firewall is being constantly updated and it's becoming every day more difficult to bypass. The result is that many reviews you find are outdated; so check the data of publication before you buy!
At the moment I'm using StrongVPN and I must say that so far it's working well. This is the reason for which I decided to write this review.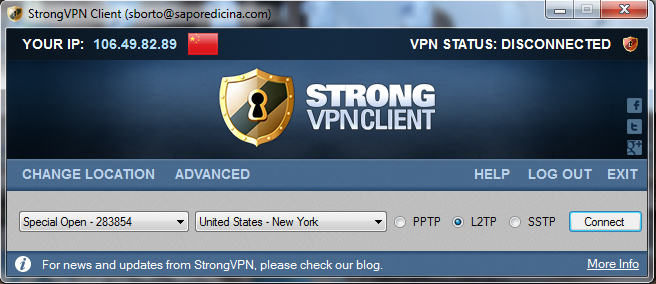 StrongVPN's pros
First at all, it works: As I've already stated, I'm personally using this VPN, so when it will stop to work I'll update this article.
It's fast: I tested many VPN and I have to say that StrongVPN is one of fastest that I saw.
It's stable: Once you are connected it's very rare to lose the connections (this is a major issue with most of VPN out there).
It offers an excellent post-sale service: If you have any doubt or problem with your connection, you can chat with a technician at any moment. Usually he'll find a solution within ten or twenty minutes.
It offers a large number of protocols and servers. It's an important detail because the Great Firewall is being constantly updated. Thus, even if your VPN works today nobody can assures you that it will work tomorrow. Having the possibility to choose among different protocols and serves provides you much more flexibility and then it's more luckily that your VPN will make it through the next firewall's update.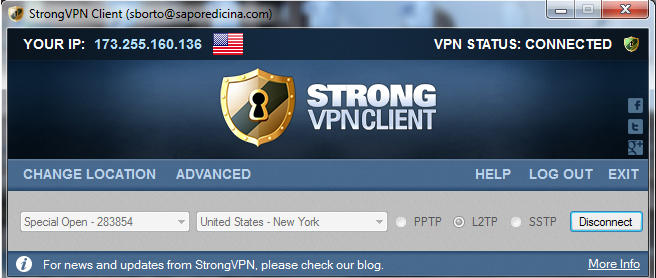 StrongVPN's cons
Even if it's the best VPN I've tested so far, StrongVPN comes with some drawbacks:
The installation is a bit heavy. First, you have to pay, download the software and install it. With many VPN this is enough. With StrongVPN you have to perform an additional step, that is going back to the website and tell to the technician on the chat that you want him to activate your service. At this point it should work.
The configuration may not be straightforward: Since you have the possibility to choose among several protocols (which as I said is an advantage in the longterm), nobody will guarantee that the default setting will work on your town. If you can't solve it yourself you can always chat with a technician, who will tell you how to properly set the VPN. Many times it just comes down to click a button or change the DNS of your wireless connection.
It's possible that different settings will work on different places: I work from my office, home and several coffee shops. And I noticed that different settings work best in different places. Usually switching among PPTP, L2TP and SSTP protocols (see photo above) is enough.
You can't buy StrongVPN for only a month: The shortest plan is three months (but most of VPN have similar plans).
Additional advices
What pack should you buy?
I recommend the cheapest one (Lite PPTP, which costs 7 USD/month but you have to pay every three months, that is a total of 21 USD per three months). Why do I recommend the Lite PPTP? The reason is that the "Open" protocol – more expensive and, at least in theory, better – currently doesn't work in China. Don't ask me why, but what I can say is that at the moment the cheapest servers that only offer the "Lite" service are more than enough.
How to optimize your connection
When you are in a place where you wish to use your VPN, just visit StrongVPN's homepage, insert your email address and password and accede to the Customs Area.
At this point click on VPN Accounts -> VPN Accounts Summary and then go to Speed Tests. Click on Start Ping Test All, select the server that shows the smallest number (this represents the time necessary for the info to travel from your laptop to the server) and finally click on Change Location (see image below for the details).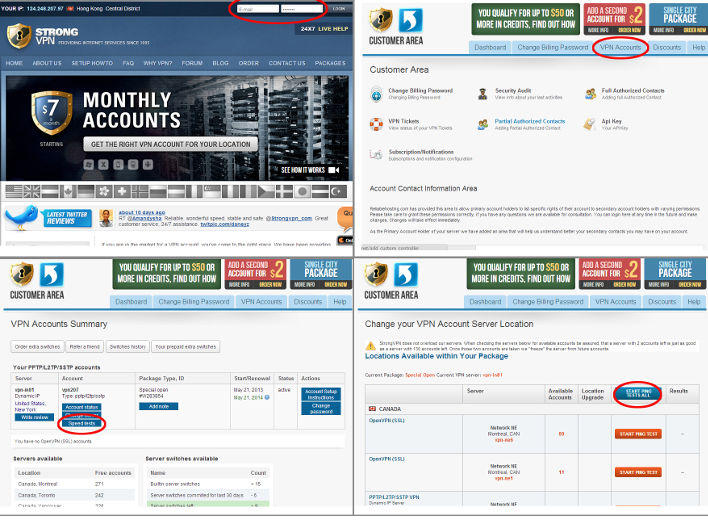 Avoid to download or share files protected by copyright while you are using your VPN
When you are connected to your VPN you are acting from the country where the server is located (tipically U.S.). This means that you are subject to U.S. copyright laws (and not to Chinese laws, which are much more relaxed on this matter). Do it at your own risk!
Click here to try StrongVPN
P.S: Here you can find our full disclosure.
Related Articles:
Sign up to get our free e-books ; )
Sign up to get the "Find a Job and Live in China e-Book" and the "Chinese/English Travel Phrasebook." Your email address will never be shared.
Enjoy this post? Please share a bit of love...