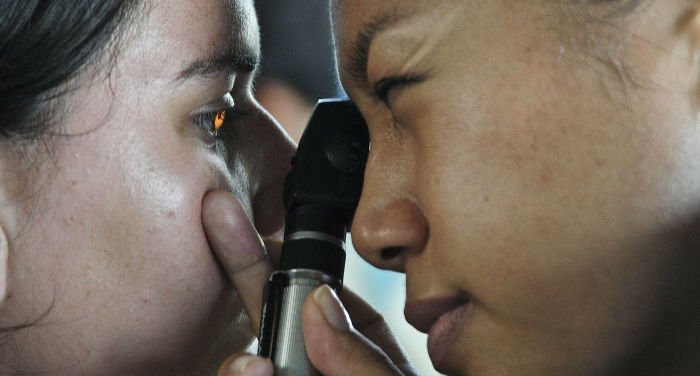 Vietnam is on the rise and one of the fastest-growing countries in the world. Ho Chi Minh City leads the pack as it serves as the country's financial hub, has the largest population, and the biggest number of foreigners.
As Vietnam and Ho Chi Minh City continue to develop, we see increasingly more foreigners who relocate to Vietnam as expats. Many also look for local job offers or pursue studies.
If you live in Ho Chi Minh City or plan moving there, it can be good to identify clinics and healthcare facilities before you need to visit them. In this article, we list some of the most renowned and reputable ophthalmologists and eye clinics in the city. Let's get started.
FV Hospital
FV Hospital is an international hospital located in the expat-dense and developed District 7, offering high-quality services to locals and expats in Ho Chi Minh City. The hospital has various departments that operate in different fields and was founded by Dr. Jean-Marcel Guillon in 2003.
In addition to Jean-Marcel, there was a group of French doctors who felt that there was a need for high-quality medical services in the city. The clinic is primarily known for its customer service, quality services, and that it follows international standards.
Since its inception, the clinic has grown fast and currently has around 950 persons working there. This includes 130 Vietnamese and foreign doctors, providing more than 30 medical specialties. In addition to District 7, they now offer outpatient-services via their clinic in District 1, which is more centrally located.
In addition to Vietnamese customers, you'll find patients from Cambodia, Laos, and Myanmar that visit FV Hospital.
The clinic provides numerous services in the following fields:
Cardiology
Bone & Joint Centre
Bone & Joint Centre
Otorhinolaryngology (ORL or ENT)
Otorhinolaryngology (ORL Or ENT)
Ophthalmology & Refractive Surgery
Ophthalmology & Refractive Surgery
General & Thoracic Surgery
General & Thoracic Surgery
Cancer Treatment
Office Address: 6 Nguyen Luong Bang St. Saigon South (Phu My Hung), District 7, Ho Chi Minh City, Vietnam
American Eye Center
American Eye Center is an international eye clinic located in District and has years of experience catering to expats in Ho Chi Minh City. The same as it goes with FV Hospital, American Eye Center is located in District 7.
The clinic offers many different services in different fields, including:
LASIK
Cataract Surgery
Presbyopia Surgery
Myopia Control
Ortho-K Lenses
General Eye Care
Dry Eye Syndrome
Diabetic Eye Disease
Macular Degeneration
Glaucoma
The clinic has an American style and modern high-tech equipment with great facilities and equipment:
Private examination and consultation rooms
Sophisticated diagnostic equipment from the United States, Germany, Japan
Zeiss Humphrey Automated Visual Field
Canon Retinal Camera and Fluorescein Angiography
Zeiss HD-OCT for retinal, macular and optic nerve evaluation
Argon and Yag Lasers for glaucoma and retinal diseases
Others
If you want to know more about their services and read some of the testimonials received, simply visit their website.
Office Address: 105 Ton Dat Tien, Tan Phu, District 7, Ho Chi Minh City, Vietnam
Cao Thang Eye Hospital
Cao Thany Eye is another leading eye clinic in Ho Chi Minh City that was founded in 2001. It provides outpatient treatments but also education and research. Over the years, the clinic has done more than 5,000 surgeries and welcomes 90,000 patients. They help local and foreign clients with various issues, including:
Diabetic retinopathy
Retinal detachments
Macular degeneration
Glaucoma
CataractsRefractive abnormalities
Others
Below you can find examples of prices for services offered by the clinic:
LASIK Surgery: USD 525 – 1,000 per eye
Cataract Surgery: USD 909 – 2,363 per eye
Vitrectomy Surgery: USD 950 – 3,400
Keep in mind that the prices might vary and you should ask for an individual quotation upon receiving treatment. Cao Thang Eye also works with various international insurance service providers, including:
Aetna
Pacific Cross
PG Insurance
PJICO Insurance
Gras Savoye Willis Vietnam
Insmart Insurance
FTCclaims Insurance
BIDV Insurance Corporation
Dong A Insurance
Office Address: 135 Tran Binh Trong, Ward 2, District 5, Ho Chi Minh City, Vietnam
Centre Medical International (CMI)
Centre Medical International offers outpatient services of high-quality and is a well-known clinic in Ho Chi Minh City. Their team consists of both Vietnamese and French doctors who speak English, French, and Vietnamese. Since the clinic was established, they have grown a lot and helped plenty of foreigners living in Vietnam.
The price for a consultation with ophthalmologist costs VND 1,650,000 and where the following work is covered:
Eye and visual system examination
Diagnoses
Surgery (if needed)
The doctors can help you to treat the following diseases:
Anatomy and Physiology of the Eye and Vision
Strabismus
Orbital Diseases
Vitreoretinopathy and Neuro-ophthalmology
Glaucoma
Refractive error
Paediatric Ophthalmology
Cataract and Its disorders
In addition to ophthalmology, the clinic also help patients with issues in the following fields:
Cardiology
Gynaecology
Acupuncture – Traditional oriental medicine
Speech and language therapy
Osteopathic medicine
Others
Office Address: 30 Pham Ngoc Thach, Ward 6, District 3, Ho Chi Minh City, Vietnam