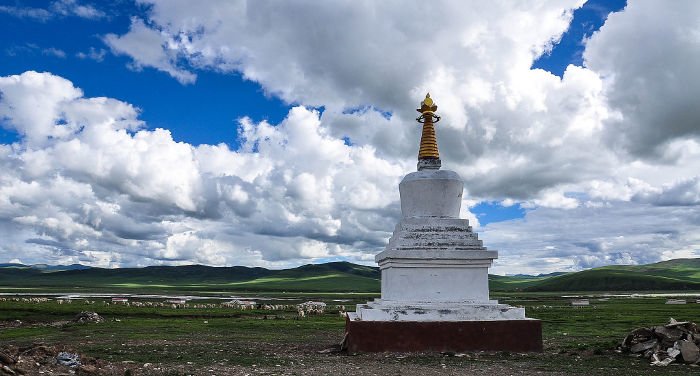 In this travel guide, we will describe what there is to see in Sichuan Tibetan Kham. Further, we will present some tour itineraries and provide you with the opportunity to get a free quotation for your tour in this beautiful region.
Where is Sichuan Tibetan Kham?
When people talk about Tibet, they usually refer to the Tibetan Autonomous Region (TAR), a province of the People's Republic of China. However, Tibet is a much larger area, and includes all the areas of the Tibetan Plateau, where Tibetan people are native of.
So, in reality Tibet spreads across five provinces of China including the whole TAR, most of Qinghai province, the Southwest part of Gansu province, the Northwest corner of Yunnan and the Northern and Western portion of Sichuan Province.
In a traditional and historical way, the greater Tibet cultural area includes three main regions: U-Tsang (Central Tibet), Amdo and Kham.
U-Tsang is also known as Central Tibet, and is the area of the current Tibetan Autonomous Region (TAR). It is the cultural heartland of Tibet and the beginning point of the Tibetan civilization, where you can visit the first palace amd monastery of Tibet, the Yongbulakang Palace and the Samye Monastery, the world's highest peak, Mount Everest, the universal center of Buddhism and Hinduism, Mount Kailash, and the masterpiece of Tibetan architecture – Potala palace.
In order to visit Central Tibet (TAR), foreign passport holders need to apply for an additional documents, the Tibet Permit, and take part in an organized tour.
The region of Amdo is located across the Northeast region of Tibetan Plateau, in Qinghai province, Southwest Gansu and Northern Sichuan. Amdo is best known for its high altitude grasslands and some top scholars in the Tibetan history. Amdo is the best place to experience the Tibetan nomadic life and enjoy the beautiful grasslands.
Beyond that, Amdo also boasts some top natural and cultural sites including Qinghai Lake, Amnye Machen Muntain, the traditional Thangka painting town of Rebkong (Tongren), Jiuzhaigou National Park and the Four Sisters Mountain (Mount Siguniang). Amdo is easily accessible from Xining and Chengdu. No special permit are required to visit most part of Amdo region.
Kham, is also called Eastern Tibet, and includes the Eastern parts of the Tibetan Autonomous Region (TAR), Western Sichuan, as well as a small portions at Southern Qinghai and Northwest Yunnan. It is a geographically diverse region where you will see high snow capped mountain peaks, beautiful deep river valleys, vast high altitude grasslands and the primitive alpine forests along with the distinctive Khampa culture.
While the area of Kham that is inside the Tibet Autonomous Region (TAR) is called Chamdo Tibetan Autonomous Prefecture, and is currently closed to foreign tourists, but the rest of the Kham region in Sichuan, Yunnan and Qinghai is open to foreigners and no special permit is required. In this article we would like to give you a complete guide about how to travel to the Western Sichuan Tibetan Kham.
Top things to see and do in Sichuan Tibetan Kham
Sichuan Tibetan Kham generally refers to the Ganzi Tibetan Autonomous Prefecture located in the Western Sichuan, the prefecture's area is 151,078 square kilometers (58,332 square miles), about the half size of Italy. It has a population of over 1.1 million, 78% of them are Khampa Tibetans who live up to their reputation for bravery and horsemanship. Farming communities can be found throughout the whole area, and yak herding nomads groups can be found in the higher elevation counties such as Lithang, Sensual (Shiqu) and Xinlong.
Ganzi, the Sichuan part of Kham, is one of the most scenic parts of Tibetan plateau, and in this part of the land you will not only enjoy the breath-taking natural landscapes but also their unique Khampa culture. Check out our top recommendation below.
Hailuogou Glacier Park and Minya Konka (Mount Gongga)
Hailuogou Glacier Forest Park is located on the Eastern slope of the Gongga Snow Mountain and is known as Asia's lowest modern glacier. It is normally hard to find big glacier in such low altitude. The glacier was formed about 1600 years ago and its lowest point is about 2,850 meters high.
Hailuogou Glacier park is a national nature reserve where you can enjoy the huge glaciers with different shapes, prime forest, snow capped mountain and the natural hot spring. The sunset and sunrise over the Gongga Mountain are the highlights.
Minya Konka (Mount Gongga) lies on the Eastern edge of the Tibetan Plateau, and is the highest mountain in Sichuan province with the altitude of 7,556 meters. Boasting some of the most inspiring and breath-taking landscapes in the region, Gongga valley has become one of the most popular trekking destination in Sichuan Tibetan Kham region.
The classic trekking starts near Kangding and it takes roughly 6 days towards Gongga Monastery and Zimei village (Tsemi village). There are also shorter ones available when travelers have limited time.
Tagong Grassland and Yala Snow Mountain
Tagong is a small Tibetan town, located about 90 kilometers Northwest of Kangding, where you will enjoy the beautiful grassland, get an insight into the local Tibetan Buddhist culture with its monasteries, as well as having chances to experience the nomad Tibetan life with local homestay.
It is also a good place to explore some off-the-beaten-path hiking and horse riding to the surrounding villages and monasteries. Tagong is a good spot to catch the nice views of Holy Yala Snow Mountain.
The imposing Yala Snow mountain is located in the nature reserve on the border between Kangding, Danba and Daofu counties, it is one of the four holy mountains worshiped by the local Tibetan in Sichuan part of Kham. With its beautiful surrounding area, Yala snow mountain becomes another popular trekking destination in this region.
The trekking takes roughly 3 days, normally starts from the small village of Zhonggu near Kangding, then crossing Mount Yala's high pass at 4,216 meters, and finally descending to Danba county, enjoy the grasslands, the alpine forest, the high plateau lakes and the snow capped peaks along the trail.
Danba Tibetan villages
The bustling town of Danba sits in a narrow valley on the Eastern edge of the Sichuan Tibetan Kham Region (Ganzi Autonomous Prefecture), about 350 kilometers Est of Chengdu, and it is the home of some of the most beautiful villages in China.
The unique Tibetan fortress houses and ancient watchtowers on the surrounding Tibetan Jiarong villages in the hills shapes the landscape of this county. The most famous are Jiaju, Zhonglu and Suopo villages. This is a great place to experience the Tibetan farm life in a local homestay.
Yading Nature Reserve
Yading Nature Reserve is located at the Daocheng county in the Western Sichuan Tibetan Kham region, and is one of the most beautiful places on the Tibetan Plateau. Here you will find villages around three sacred snowcapped mountains, a holy trinity encircled by forested valleys, crystal-clear rivers and glacier-fed lakes. Honored as the 'Last Shangri-la', the last pure land on the blue planet and the holy land in the sun, Yading Nature Reserve is a paradise for photographers and nature lovers. The best times to visit the reserve are May to June and September to early October.
Sertar Larung Gar
Sertar Larung Gar sits in a valley at the of elevation 4,000 meters (13,123 feet) in Sertar county of the Western Sichuan Tibetan Kham region. It is well known as the largest Tibetan Buddhism Institute in the world with over 40,000 monks, nuns and lay-students. Sertar Larung Gar started in 1980 after the Chinese Cultural Revolution and grows ever since.
At your first sight after the entrance, you will probably be shocked by all the houses for the monks and nuns spread all over the the valley and up in hills, by chance to visit Sertar Larung Gar it should be a lifetime experience. However Sertar Larung Gar is closed to foreign travelers since 2016 June, the reopening date has still to be announced.
Yarchen Gar (Archen Monastery)
Yarchen Gar is the other biggest Buddhist school in Western Sichuan Tibetan Kham region, lies in an isolated valley at elevation over 4,000 meters (13,123 feet) between Ganzi town and Baiyu town. Established back in 1985, it is one of the Nyingma Sect Monastery inhabited about 20,000 monks and nuns, with nuns holding the majority.
Many of the monks and nuns at Yarchen Gar are here for meditation, they will stay up to 100 days in the tiny white huts each year for the meditation. Yarchen Gar is a great place to get the impression of the Buddhist lifestyle while you tour in the Tibetan Kham region. Unlike Sertar Larung Gar, Yarchen Gar is accessible to foreign travelers.
Palyul (Baiyu) Monastery
Palyul monastery in Baiyu county is one of the three main Nyingmapa monasteries in Western Sichuan Kham region, the other two are Katok monastery near Palyul monastery and Dzogchen Monastery in Dege county. Palyul monastery was founded in 1665 by Kunzang Sherab, the first Palyul Throne holder. 'Palyul Monastery' in Tibetan means 'auspicious land', the buildings of the monasteries cover the whole side of the mountain, with palaces and Sanghas' nuts for mediation in tight rows, creating a grand and imposing view.
Katok Monastery
Katok Monastery is one of the six great Ningmapa monasteries on the Tibetan Plateau and was founded in 1159 by Katok Dampa Dashek. It is located on a hillside in a town called Horpo about 51 kilometers away from Baiyu county. This old Ningmapa monastery has a nearly 860 year history and the greatest scholars in Tibet have come out of it.
Dzongsar Monastery and its village
Dzongsar monastery is in Menshod valley, about 100 kilometers from Dege county, roughly 3-3.5 hours drive. The old Dzongsar monastery was founded in 746 A.D. by a Bonpo Lama, then transformed into Ningyma and Kadampa temple, and finally in 1275 founded as a new Sakya monastery on the site. Dzongsar monastery is noted for being flexible with teaching different sects of Tibet Buddhism. Another highlight of visiting Dzongsar monastery is the village itself, here you will enjoy beautiful landscapes and also some interesting handicrafts shops.
Dege Parkhang Sutra-Printing House
Built in 1729 in Dege county in Tibetan Kham Region (at the border between Sichuan province and the TAR), Dege Parkhang Sutra Printing House has grown and became the principal storehouse of Tibet culture throughout the Tibetan Plateau and it has been housing publications of different sects of Tibetan Buddhism and other works in the fields of history, medicine, literature, astronomy, technology, mathematics and more. With over 250,000 hand-engraved wooden blocks of knowledge, the Dege Parkhang is home to 70% of Tibet's literary heritage.
Dzogchen Monastery
Dzogchen Monastery is another main Nyingmapa monastery in the Western Sichuan Kham, located about 52 kilometers Northwest of Manigango in Dege County. It was founded in 1675 by Pema Rigdzin to spread Buddhism in East Kham.
It was famous for its colleague the Shri Singha Shedra and also was renowned for its retreat centers and ritual traditions, in particular the sacred art of lama dancing. The surrounding area of Dzogchen Monastery offers good exploration.
Tibetan family homestay experience
A Tibetan homestay experience in a farmer or nomad families will allow you to understand the real livelihood on the Tibetan plateau. You can for instance arrange the nomad family tent stay and horse trekking in Tagong and Lithang grassland.
When you choose a Tibetan nomad family stay, you will be asked to help milk the yak, learn how to make Tibetan butter and yoghourt, and so on. There are also some farmer homestay available in Danba Tibetan villages.
Trekking in Sichuan part of Kham
The rugged mountains in Sichuan part of Kham offer some of the best hiking and trekking in the Tibetan Plateau. The most famous ones include the 5-7 days trekking at Minya Konka, 3-4 days Mount Yala trekking and some moderate hiking at Mount Siguniang Nature Reserve, which takes 2-3 days.
Recommended Sichuan Tibetan Kham tours and itineraries
The overland tours in Sichuan Tibetan Kham are normally customized based on personal interests, however below you find the three most popular ones.
Tour 1: 14 Day Tibetan Kham culture and nature in-depth Tour
Day 1: Drive to Rilong town and visit Mount Siguniang Changping valley, then head to Danba Zhonglu Tibetan village;
Day 2: Full day Danba Tibetan villages exploration including Zhonglu, Suopo and Jiaju;
Day 3: Travel from Danba to Ganzi with stops at Bamei Huiyuan temple and Daofu Tibetan house;
Day 4: Visit Ganzi monastery and then drive to Derge with stop at Yilhun Lhatso;
Day 5: Visit Derge printing house then head to Dzongsar village, explore Dzong village;
Day 6: Visit Dzongsar monastery then drive to visit Pelyul monastery;
Day 7: Drive to visit Yarchen Gar, late afternoon to Xinlong town;
Day 8: Enjoy breathtaking landscape on the way to Lithang and Daocheng;
Day 9: Drive to visit Yading Nature Reserve;
Day 10: Another half day in Yading Nature Reserve, return to Daocheng late afternoon;
Day 11: Drive to Xinduqiao;
Day 12: Drive to Tagong grassland to have nomad family experience;
Day 13: Drive to Moxi and enjoy Hailuogou Glacier;
Day 14: Drive back to Chengdu and end the travel.
Tour 2: 9 Day Overland travel from Chengdu to Shangri-la
Day 1: Drive to Rilong town and visit Mount Siguniang Changping valley, then head to Danba Zhonglu Tibetan village;
Day 2: Full day Danba Tibetan villages exploration including Zhonglu, Suopo and Jiaju;
Day 3: Travel from Danba to Xinduqiao via Tagong grassland;
Day 4: Travel from Xinduqiao to Daocheng via Lithang;
Day 5: Drive to visit Yading Nature Reserve;
Day 6: Another day in Yading Nature Reserve;
Day 7: Travel from Yading to Benzilan;
Day 8: Driver to visit Mount Meili;
Day 9: Drive to Shangrila and end the travel.
Tour 3: 6 Day Tibetan villages and nomad homestay experience
Day 1: Drive to Mount Siguniang, afternoon sightseeing at Changping valley, then head to Danba Zhonglu Tibetan village;
Day 2: Explore Danba Tibetan villages (Zhonglu / Suopo / Jiaju);
Day 3: Danba – Bamie – Tagong grassland (nomad family tent stay);
Day 4: Tagong – Kangding – Moxi town;
Day 5: Hailuogou Glacier Park – Ya'an;
Day 6: Ya'an – Chengdu.
Best time to travel to Sichuan Tibetan Kham
Generally speaking, the best time to travel here depends on what you want to see. Spring (from the mid of March to mid of April) is the best time to see the flowers blooming in the villages of Danba and Jinchuan valley, but the rest of Kham region could still be covered by snow.
Summer (June, July, August) is the warmest time of the year across the Tibetan plateau and is the best time to enjoy the monks mask dance, and religious rituals. However summer also brings rain and clouds, especially the months of July and August. It won't rain as much as in the South side of the Himalaya, but it rains more than the other months, so it may cause some inconvenience during the trekking.
Autumn is a pleasant time to travel on Tibetan plateau, the raining season normally stops in middle September. From then on you will enjoy the best autumn views in some parts of Kham such as the road along the Xinduqiao, Yading Nature Reserve, Xinlong nature reserve, and so on, when the trees' leaves turn yellow and red.
Normally we don't recommend you travel to Sichuan Kham region during the winter as it could get really cold, but Hailuogou Glacier park is an exception as you can enjoy the best hot spring there.
How to reach the Western Sichuan Kham region
When you plan your tour to Western Sichuan Kham region,normally we suggest you to start from Chengdu, the capital city of Sichuan province. There other options are to start from Xining in Qinghai or Shangri-la in Yunnan.
Land travel is the only way to travel around Kham. The roads generally well paved, just some small portion of the road to some of the monasteries are not in a good condition. For those backpackers seeking for adventurous travel, public bus could be an option, but normally we would suggest you travel with several people and rent a vehicle with/without guide, which could save you a lot of time and have a smoother trip.
There are two airports in Sichuan Kham region, one is at Kangding, the other one is at Daocheng, for those who only have limited time to travel, then you could arrive by air.
Lodging and food in Sichuan Tibetan Kham
There are at least 3 or 4 star hotels available in most of the main towns and attractions such as Kangding, Danba, Xinduqiao, Daocheng and Ganzi. The hotels provide rooms with private bathroom and hot shower.
In smaller towns, there are only basic hotels available. The accommodation in the monasteries are normally guest houses with dorm bed and outhouse toilet that may be the squatting pot. Sometimes you can choose to spend the night with local family.
As for food, you will mainly find Chinese food (Sichuan cuisine) and Tibetan food.
Travel Regulations to Sichuan Tibetan Kham
You don't need any special travel permit to travel to Sichuan Tibetan Khan region. These areas can be visited with a regular, valid Chinese visa. Just some certain places are subject to closure such as the Sertar Larung Gar.
Are you looking for a travel agency?
If you're interested on booking a Sichuan tour (or a China tour) but you aren't sure what travel agency to choose, we can suggest a reliable agency to you. Just contact us using the form below:
p.s. Notice that we receive hundreds of emails every day and, sometimes, we can't reply fast. At the same time, we assume that you want to get this info ASAP, so we'll also forward your message to the agency we recommend. In this way they can get in touch with you much faster!
Photo Credits:

I'm Back 我回來了 by Cindy