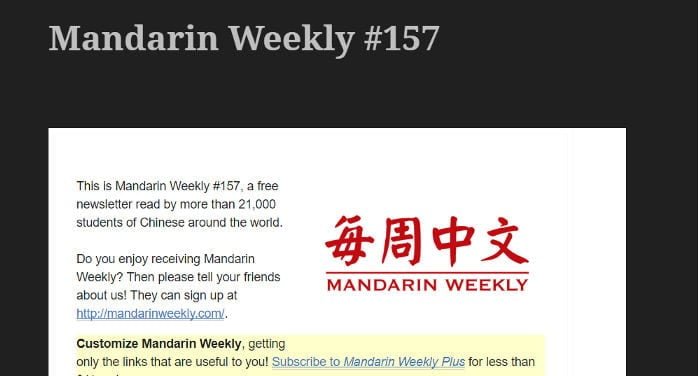 Today we interview Reuven Lerner, founder of Mandarin Weekly, a website (and weekly newsletter) that provides you the last news and tools for learning Chinese online.
I discovered Mandarin Weekly years ago, while I was researching new Chinese learning tools for updating our articles on "Free Resources to Learn Chinese Online". I'm a subscriber since then.
But let's get started!
About Mandarin Weekly
Reuven, thank you for accepting this interview. Can you tell us something about your background and how you got into Chinese language?
I have been a software consultant with my own business since 1995. Over the last decade, most of my work has been as a trainer, going to high-tech companies and teaching their programmers the tools and technologies that I know well – Python, Git, and data science. (If you don't know what those are, that's fine!).
About five years ago, a training company based in China asked me to come and teach some courses at their clients' offices. The courses went well, and I've been traveling to China 3-5 times each year ever since. I mostly go to Beijing and Shanghai, but was fortunate enough to go to Nanjing about two years ago, too.
Before my first trip, I asked several friends what I should expect. Two of them said that I should learn some Chinese. That, of course, sounded like crazy talk – after all, we know that Chinese is impossible to learn, right? The friends told me that the language isn't so bad, and that learning at least a few words would be useful.
So before that first trip, I listened to a bunch of episodes of ChinesePod. And I was astonished to discover that yes, it's possible to learn some Chinese! Moreover, as anyone who has been to China knows, you quickly discover that people there tend not to know English. And they're extremely encouraging of anyone who speaks Chinese and wants to learn the language. So on that first trip, I couldn't say much, but the little I could say was useful.
Before each subsequent trip, I then tried to improve my Chinese a bit. But it was clear that I could only get so far on my own. So after finishing my PhD in the summer of 2014, I decided to start a new hobby, which would become an obsession: Learning Chinese. I found a teacher on eChineseLearning.com, and we have been together ever since.
I take about five hours of live instruction every week, and practice reading and listening during my lunch break and at other times. I use Waze in Chinese, and read the headlines and first paragraphs of several stories in the Chinese edition of the Times of Israel, an online Israeli newspaper. And my teacher and I regularly send each other messages on WeChat.
The change has been dramatic and extremely satisfying. I was in Shanghai about a month ago, and all of my communication outside of the classroom (where I teach in English) was in Chinese – taxis, restaurants, hotels, people on the street, etc. I was able to read the street signs in Chinese characters before the pinyin, often because the Chinese characters are written in a larger font!
I even overheard the training manager where I was working say to his employees, "This teacher is expensive," and had the distinct pleasure of saying to them, "You should know, I can understand what you're saying." The look on their faces, and the stunned silence that followed, was priceless.
I can currently have conversations without too much trouble; my pronunciation definitely needs work, but people tend to know what I'm saying. And if they speak slowly and/or repeat themselves, then I can pretty much understand what they're saying, too.
My favorite conversations are often with shop owners and street vendors who ask me where I'm from, and after I tell them that I'm Jewish and from Israel, that tends to start a long conversation with them. It's great fun for me, and good practice, as well – I come out of nearly every conversation with a few new vocabulary words.
People in China are unusually kind and encouraging of anyone learning Chinese; even ignoring the "your Chinese is so amazing" comments that you inevitably get from native speakers, I feel like I can connect with locals in a way that most Western tourists and business people cannot.
When I meet other business people from the US and Israel, they're often surprised to hear that I haven't ever had a guide, driver, or translator on any of my trips – I just get around myself. But I wouldn't have it any other way, and knowing the language has been a huge help in giving me that independence.
I hope that within another 2-3 years, my Chinese will be good enough to lecture, at least partly, in that language. I also want to let my students ask me questions in Chinese, since some of them are embarrassed to speak out loud in English.
I always open my classes in China in Chinese, both because it's fun to see the looks on the participants' faces, and also because I want them to know that I can completely understand the difficulty and embarrassment of speaking your non-native language, and that they shouldn't be embarrassed to try to ask questions, despite the difficulty.
What is Mandarin Weekly? When did you start it?
The computer industry has a number of weekly newsletters for different programming languages and technologies: There's Ruby Weekly, JavaScript Weekly, Database Weekly, and so forth. I have subscribed to such newsletters, with their collections of links, for many years, and thought that there could be a similar resource for people learning Chinese. So I decided to start it, and wasn't quite sure where it would go.
I also decided that because I'm learning Chinese, I am probably more in touch with what learners want and need than a professional – if something looks like a great resource to me, then I'll recommend it. That said, I'm not in a position to judge whether the pronunciation is truly great, or if the grammar isn't quite right. But I figured that I could give it a shot, and that I would undoubtedly learn a lot in the process.
The first issue came out on January 19th, 2015, and I've published an issue just about every Monday since then. Sometimes issues are delayed a bit because I'm traveling, and I finally decided to take 1-2 weeks of vacation a year.
But I have written software that does a lot of the work for me; I put the links for each week into an Excel spreadsheet, and then have a Python program that transforms it into HTML with the level markings, links, and Twitter feeds. I then copy the HTML into a template provided by my mailing-list service (Drip), and off it goes!
I recently started posting individual links from Mandarin Weekly's past issues to Twitter and Facebook. Those are managed by a third-party service, which means that every few weeks, I need to upload the latest links to that service. Then, once an hour, a new link is posted to each of those social media platforms. I just started to do this recently,and the response has been very positive.
What's the main challenge on running a website like Mandarin Weekly?
There are two challenges: One is finding time to put the issue together, although the software that I've written really keeps that down to a minimum. I probably only need 2-3 hours to produce each week's issue, and I tend to travel enough on trains to/from clients' offices that I can find that time during the week.
The other challenge is the business part of things: I'd like to think that I'm providing value to many people learning Chinese around the world, and want to keep it free (or as free as possible). That said, I'm a very busy consultant – my schedule is typically full 6-8 months in advance – and I'm trying to turn Mandarin Weekly into a business, even if it's a small and not-very-profitable one.
I've thus been experimenting with ways to generate revenue for Mandarin Weekly. Advertisers can sponsor entire issues or insert individual links, and I have affiliate links for some of the companies with Chinese-learning materials. I also launched "Mandarin Weekly Plus" about six months ago, giving people the option of paying about $1/week for the ability to receive just those topics and levels that are of interest to them.
I'm going to keep experimenting with revenue-generating ideas. My aim is for people reading and enjoying Mandarin Weekly to be able to pay a fairly small and painless amount, and to get something in return – with the ultimate goal of paying for my time and the infrastructure I need to keep Mandarin Weekly going.
I currently have 21,000 subscribers, which is really exciting. I'm sure that with some effort (and perhaps even money put into advertising), I could make that number much, much larger – after all, I've heard that 40 million people around the world are learning Chinese, so there's lots of potential there!
How do you find new resources for your website and newsletter, in a weekly basis?
I use the feed reader at Feedly.com to follow blogs and YouTube channels for me. Every week, I go through about 400 links, choose about 60 that seem potentially interesting, and then whittle that down to 20 or so that I think are particularly beneficial.
If I see a resource mentioned online, I will almost immediately add it to my Feedly list of feeds. On some occasions, companies and bloggers have turned to me, asking if I can add them. If I can put them into my Feedly list, then I do. If they don't have a feed, then I tell them that I cannot add them until they do. On many occasions, I get a message saying, "OK, we've fixed that – now would you please add us?"
What are your favorite free resources to learn Chinese?
It's a good time to be learning Chinese. There are tons of amazing resources out there. There are some great blogs, as well. I'm sure that I'm going to miss a few good ones here:
ChinesePod has great premium content, for sure! But their free videos, published regularly on YouTube, are also some of my favorites.
eChineseLearning.com, which is the online school I use for my own learning, puts out regular videos on YouTube, also. They tend to be much more kitchy than the ones from ChinesePod, but they teach interesting lessons.
The Chinese Grammar Wiki is a must for anyone learning.
Written Chinese, whose app I don't use, has a terrific blog that explores many useful grammar patterns and reading tips. I know that when a blog post from them comes up in my Feedly page, it'll be a good one.
My listening comprehension could still use some work, and while it's (obviously) not at native speeds, I've found that Slow Chinese is a good place for me to improve my listening on fairly interesting topics.
Finally, I joined a few WeChat groups having to do with programming. I don't intend to participate much, but it's useful for my technical knowledge (and my reading comprehension) to read messages having to do with the computer industry. I definitely encourage people to do this!
Did you also use some Chinese learning Premium software / tools? Any that you would recommend?
Oh, yes, for sure! Here are a few of the software and apps I use on a regular basis:
Pleco. I know, I know. Everyone uses Pleco. But that's for a good reason, it's great! I mostly use it for their flashcard tests, which I try to do every day or two to improve my reading comprehension. But their OCR is excellent, as well.
Hanping Pro: I like the interface and the definitions, as well as the way that translations are presented — word by word. So if I encounter text I don't understand (which is often!), I'll pop it into Hanping.
Du Chinese: I love their short stories and levels. I read a few Du Chinese stories every week, and am particualrly satisfied when the subject makes me laugh.
I'm a news junkie, and so The Chairman's Bao, which isn't exactly hard news, fits the bill very well. I push myself to read at a higher level than I am really at (about HSK4), and enjoy the variety and off-beat stories they find.
Finally, one of the best things I've ever done for my reading is the Mandarin Companion book series. (And yes, I've met with the publishers, John and Jared, in Shanghai, and they are wonderful people as well as gifted publishers.) It's an incredible pleasure to read their books, and everyone who is learning Chinese, and at a high enough level to use them, should do so.
If you could give a single suggestion to somebody that is starting to learning Chinese today, what would it be?
Jump in. Don't be embarrassed. The only way that you're going to learn is by trying, making mistakes, analyzing those mistakes, and then improving based on them. If you are too cautious, you'll never make any progress at all.
That said, you also need to put time into it. Chinese is incredibly rewarding; I feel like I've gained access to a totally different way of thinking. But there's no doubt that it's a language that requires practice and attention. Chinese is the fourth language I've learned (after English, Hebrew, and Spanish), and it's the most challenging.
About Reuven and China
Have you lived in China? If ye , where and for how long?
No, never! I grew up in the US, moved to Israel at the age of 25 (in 1995), and have lived here ever since, except for four years in Chicago when I was in graduate school. However, I've been to China more than 20 times, and since each trip was 5-15 days long, that adds up to quite a bit of time, that's for sure.
I've heard that if I want to get my Chinese truly fluent, I'll have to spend some time – maybe a summer – in China, really making getting my pronunciation and comprehension up to where I want them to be. But I'm married and have three children, so we'll see if and when that can happen.
Your favorite Chinese city and why.
Most of my time has been spent in Beijing and Shanghai. I prefer Beijing – it's dirty and old, but it also has history. Shanghai might be fun and exciting, but the history that's there is very limited and not that old. I love going to the Temple of Heaven and Confucius Temple in Beijing, and seeing this ancient culture.
Actually, even more than the Temple of Heaven, I like the park surrounding it, where you can see people folk dancing and singing. That's one of my favorite things to see when I'm in China, people just enjoying themselves in this way.
I also spent a few days in Nanjing a few years ago, and had the opportunity to explore it for a day. It's a smaller city – which means it has roughly the same population as my entire country! – but I really enjoyed walking along the hills and large mountaintop natural park. I'm definitely hoping that I can return to Nanjing one of these days.
Classic question here at SDC: What's your favorite Chinese food? Don't say dumplings : P
Ha! How did you know? I'll just note that I'm vegetarian, which horrifies many people in China, who are convinced that I must starve when I'm there. But there are a ton of amazing vegetarian restaurants, and I love going to them. I even have a discount/membership card at one such restaurant in Beijing (Vege Tiger, in Haidian), right next to the hotel I stay at when I'm there.
My favorite has got to be hot pot. There are a number of vegetarian hot pot places in both Beijing and Shanghai, and I cannot get enough of it. On my most recent trip, I got to a hot pot place just after they had closed, and then didn't have an opportunity to return there for the rest of my trip – which was probably my biggest disappointment of my entire 10-day trip.
There's a tiny vegan place in Shanghai that I enjoy going to that has a variety of unusual dishes I haven't seen anywhere else (along with Chinese staples). Every time I go there, I basically tell them that they should choose something good for me, and so far every one of their choices has been both unusual and fantastic.
And I know that I can't say that dumplings are my favorite, so I'll just say that while you might not believe this is true or possible, I buy several orders of dumplings just before leaving China, and put them in my luggage (which is typically fairly cold, under the airplane). When I get home, my wife and children pounce on them, and are delighted to get authentic Chinese food, from China!
Oh, I didn't know, but dumplings seem to be the favorite Chinese food for many, many foreigners. Reuven, thank you for your time and good luck with your projects!