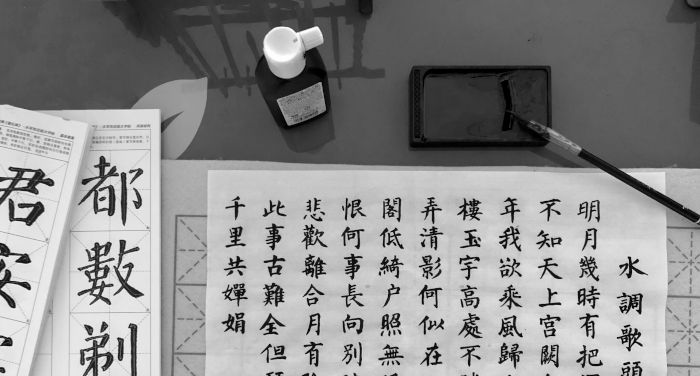 This post is a review of the method invented by James Heisig, the master of Kanji (the alphabet that Japanese people borrowed from China) and Hanzi, that is the Chinese characters.
The introduction of Remember Simplified Hanzi by J. Heisig and T. Richardson starts with the following sentence:
The aim of this course is to help you teach yourself, as quickly and efficiently as possible, the meaning and writing of the 3,000 most commonly used Chinese characters.
I only went through the first one hundred pages (you will discover later why I didn't finish it).
And I believe the book delivers what it promises.
The problem is to understand what you really want.
You want be the master of Chinese characters? Cool! Go for this book right now.
Or you want to learn how to speak Mandarin as quickly and painlessly as possible?
Because if your answer to the last question is "yes," I'm afraid Remember the Hanzi is going to disappoint you.
I think this is the reason why this book is so controversial: many people buy Remember the Hanzi for the wrong reasons, that is they believe Heisig's system is a shortcut to learn Mandarin.
They follow the book's instructions for a while but, after they arrive to page eighty nine and are still unable to order a coffee without sugar at the bar, they start to blame Heisig.
"Remember the Hanzi is useless!" they scream with absolute certainty.
Well, it is not. But is not magic neither!
Remember the Hanzi: what is it?
First at all, there are two versions of the book. Remember Simplified Hanzi deals with the Chinese characters used in Mainland China while Remember Traditional Hanzi is concerned with the ancient characters still used in Taiwan, Hong Kong, Macau and Singapore.
Even if they are quite similar, in the sequel I will refer to Remember Simplified Hanzi, the one I read.
The book is divided into two volumes, each one containing 1,500 Chinese characters for a total of 3,000 characters that cover about the 99,2% of the characters that you can find in a Chinese newspaper.
Remember the Hanzi will teach you a systematic method to deconstruct each character into its basic elements (for instance the character 意 can be seen as 立+日+心), assign a meaning to each of these elements and invent a story to re-assemble the character so that you will remember it forever.
Basically we are talking about mnemonics and reverse engineering.
Ancient Greeks and Romans were already aware of the power of mnemonics. For instance, Cicero used to resort to mnemonics for remembering his long harangues.
Using stories to remember any sort of things works. Period.
But instead of trying to describe Heisig's method with words, I prefer to show you a page of Remember the Hanzi so that you can figure it out by yourself: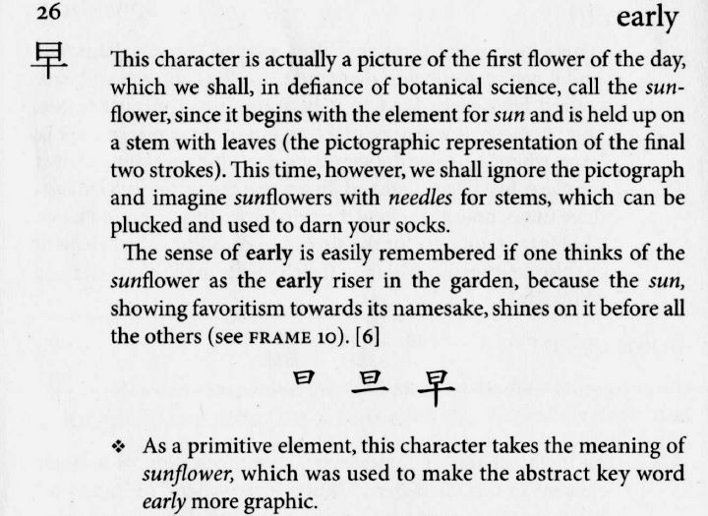 If you want to know more about mnemonics, I recommend Quantum Memory Power, the work of the eight time memory world champion Dominic O'Brien.
Coming back to Remember the Hanzi. in the first part of the book Heisig makes up the story for you. Then you are forced to invent your own stories.
This is positive as mnemonics work better when you mix elements of your personal experience in your stories (people you know, places you have been and so on).
Remember the Hanzi: what is not.
I quote again from the introduction of the book:
What you will not learn here is how to pronounce any of these characters or how to combine them to form new words.
And then it goes on to explain why in Heisig's opinion it is better to firstly learn the basic components of Chinese language, that is the 3,000 most common characters, and ONLY after to learn how to pronounce them, put them together to make up words and, finally, speak.
Even if he admits Chinese people learn the opposite way (that is a natural top-down approach to the language), Heisig argues this is not good for you.
Now I'm not a linguist and I don't wanna dig too much into it as I feel that the diatribe "you should learn Mandarin using a top-down approach or not?" is a bit as asking:
What was first: the chicken or the egg?
I believe that the "best" method to learn a language doesn't exist and that different things work for different people.
However if you live in China and you need to communicate with the butcher or the doctor, I want to wish you good luck if you are going to attempt to learn 3,000 characters before trying to speak ; )
Why Remember the Hanzi is so popular? The myth of the 3,000 characters
When you start to study Mandarin there will always be some smart-ass telling you:
"Oh don't worry, all you need to know is the 3,000 most common characters that represent more than the 99% of characters that appear on newspapers and tv shows. Once you got them, you are done with Mandarin."
Hence you start to rationalize that, even if at the moment you are lost among tones, stroke orders, primitives and merciless waitresses that keep coming back with a straw (xīguǎn) every time you ask for some watermelon (xīguā), you ONLY need to know the 3,000 most common characters!
How tricky and misleading can be the human mind.
If this was true you should already be able to speak Romanian, Portuguese, Catalan and any other language based on the Latin alphabet. Are you?
Of course not everybody falls on this trap. I didn't do any surveys but my guess is that the more you have an analytic mind the more you are exposed to this mistake. That is German people, engineers and few others are in a great risk (I know, bad joke).
Anyway, after you hypnotize yourself with the belief that learning these 3,000 holy characters is all you need, you write down a plan that goes more or less like that (this at least is what I did):
"OK, there are 365,25 days in a year. Let's exclude the Sundays because I'm always in hangover. I still got about 310 days. Oh my God, that's awesome! All I have to do is to learn ten new characters per day, six days per week, and I will master Mandarin in a year!"
More ambitious people will opt for twenty or forty characters per day so that they can master Chinese language in six or three months, respectively.
If you don't believe there are people able to write down such a plans, it's because you are not an engineer : P
Experimenting the method on your skin
Then you open Remember the Hanzi and start to learn characters. The first days everything goes well. Using mnemonics is great fun, Heisig made up the stories for you and you are able to learn much more than ten characters per day.
And then you start to fantasize you could master Chinese language in three months, no need to wait a whole year!
"A whole year in order to master Mandarin? Tzzz, this is for losers!" you will reckon.
But after a couple of weeks you realize that all these stories you are learning are not really helping you with your main goal, that is being able to understand and speak Chinese.
Sure, they are helping you to remember the meaning of SOME characters, but this is not what you need right now.
You want to speak Chinese after all, don't you?
You need to understand what the waitress or the hairdresser is asking to you so that you don't end up eating chicken feet or with Jacky Chan hair style (I've been there).
And then you start to blame Heisig and give up with mnemonics, stories and maybe even characters whatsoever.
Remember the Hanzi is not a black magic book nor a shortcut for learning Mandarin. It is merely a tool that will help you to remember and writing Chinese characters if you will be persistent enough to go through all the 3,000 stories you will need.
Learn Chinese: My lazy way (Month five)
If you are new to this blog and you want to know how I'm trying to learn Chinese, check this post.
Here what I did this month:
At the beginning of July I purchased a Chinesepod subscription. Currently I'm listening to a podcast per day.
I kept doing my Anki flashcards (ten new cards per day more the daily review of old cards).
I kept watching a Chinese movie per week and listening 100% of Chinese music on my iPod for the first twenty days of July while I didn't watch any movie the last ten days because I'm traveling.
In August I intend to:
Keep my daily SRS revision sessions and continue the fourth deck of Anki cards (ten new cards per day).
Keep listening to ChinesePod (at least ten new podcasts per week) and watch a Chinese movie per week.
Build an Anki's deck with all the interesting sentences I find on the Rocket Chinese course and on Chinese Pod. The goal is to end up with a deck of three hundred cards at the end of the month. One of the objectives of July was to start this deck (one hundred fifty cards) but I kept procrastinating till it was time to leave for Vietnam and I ended up failing this goal on July. This is not a big deal as long as I catch up in August.
Photo Credits: Photo by Cherry Lin on Unsplash