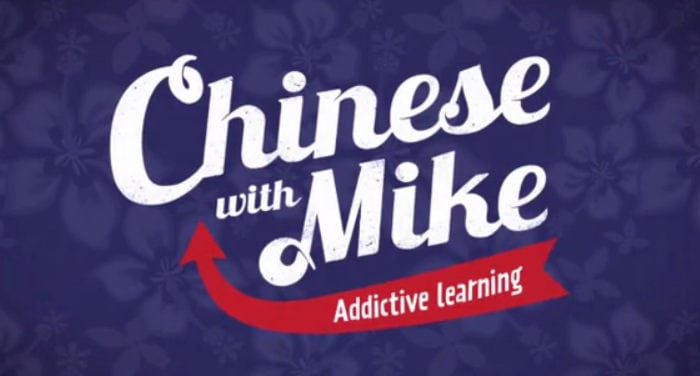 I "discovered" the videos of Mike Laoshi, at the time Mike Hainzinger, in 2012, a few months after I began writing here on SDC. I spoke well of him on various occasions and a few months ago, John Murray Learning, the English publishing house that has published the course, has asked me if I was willing to review "Chinese with Mike". I said yes.
So they sent me a copy of the DVDs and textbook that goes along with the video course. If you want I send it to you… just joking, if you're interested the course is available on Amazon.com, you'll find it here.
Why is "Chinese with Mike" not just another video course?
If you watch the above trailer (it only lasts 30 seconds) you'll see that Mike Laoshi is an unconventional teacher to say the least. In fact it was just that which struck me about his lessons: he manages to explain Chinese grammar without boring you. Since I believe boredom is the greatest danger when one takes on learning Chinese, this is not a minor detail. Below you'll find one of the few lessons available on the Youtube channel Chinese with Mike:
Who is Mike Laoshi?
Mike is a young American man who, after college, moved to China to teach English. When he returned to Chicago, he began to teach English and Chinese. So one day, he found himself wearing a Hawaiian shirt in his garage, filming his lessons and uploading them to Youtube. The rest is history.
How is the course structured?
"Chinese with Mike" is a Chinese course for beginners that focuses on the study of tones (and therefore, pronunciation), on grammar and basic vocabulary.
The course contains 3 DVDs for a total of 60 lessons of about 10-15 minutes apiece, along with a textbook that supports the videos. There is also an "Activity Book", with grammar, vocabulary and conversation exercises.
What are the strengths of the course?
Besides the presentation method that I already mentioned, I was struck by the clarity with which Mike articulates the tones and the emphasis that is immediately placed on pronunciation. The other great advantage is, to me, the lesson structure.
Mike doesn't bombard you with vocabulary words and grammatical rules every lesson, nor does he try to inculcate immediately long, complicated phrases that  – I speak from experience – would only make you feel inadequate and bring you to hate such a "complicated" language.
On the contrary, he introduces only a few vocabulary words at a time and uses them to compose simple phrases that accomplish the desired result: explain in the clearest way possible the workings of Chinese grammar.
What are the weak points?
Both in the video lessons and book exercises, they are often only presented in pinyin; while the characters go neglected.
Even if I share in part this decision (if you try to put too much in a basic course you risk spending months yapping about the "theory" without getting to the point – namely, communicating), over the years I've become convinced that the study of characters is essential not only to read Chinese, but also to fix in your memory various terms and grasp the sense of a language that, to a beginner might seem to make no sense but with time reveals, in my opinion, a logic superior to all western languages. In order to understand this form of logic, you need to understand the characters.
As anyone who reads SDC for some time knows, for the study of characters we recommend Skritter, software that I consider complimentary to a course like "Chinese with Mike", which as I already mentioned is excellent for learning pronunciation, grammar and basic vocabulary.
For whom would you recommend this course?
I would recommend "Chinese with Mike" only to beginners (it's a basic course, one for intermediate students still in that stage) that, instead of risking getting lost in the myriad of free resources on the web, prefer to invest 40 bucks in a quality product that offers all the necessary tools for someone taking up Chinese for the first time.