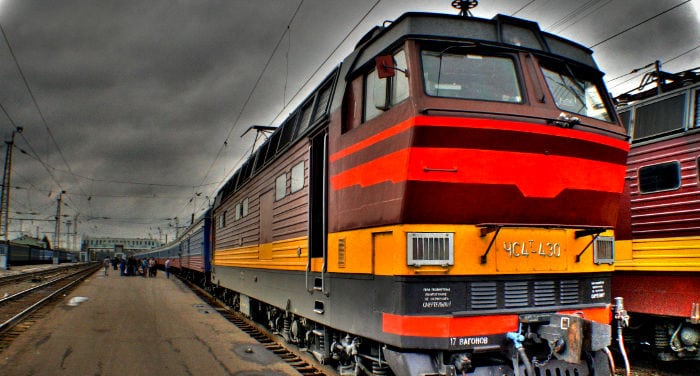 Before we get started with our guide…
Are you looking for a Transsiberian Tour?
If you are looking for specific information about Transsiberian tours click here and read our guide. You can also click here to send a message to us and we'll be happy to suggest a honest and reliable agency to you.
Do you want to check the price for a train train ticket for the Transsiberian? Just enter your data on this form
Notice: Some of the trains don't have daily service, for instance the direct train Moscow-Beijing and the train Ulan Bator-Beijing, if you want to check the price of these trains be sure to select the option "If exact date not available: +/- 2 days"
Ok, let's go!
The aim of this article is to share my experience and provide all the practical information that you may need to enjoy an unforgettable trip along the Transsiberian or Trans Mongolian railway.
Here a short outline of the article:
Transsiberian myths and wrong beliefs
The Transsiberian is a single train
What is commonly called Transsiberian is in fact a railway network used by many different trains. For instance, along the route Moscow-Beijing there are at least two rail lines: the Trans Mongolian (the most popular) and the Trans Manchurian.
The first one is the line that connects Moscow to Ulan Ude (Russia) and then reaches Beijing across Mongolia (the trip lasts approximately five days and a half, if you never get off the train).
Conversely, the Trans Manchurian goes through the line Moscow-Vladivostok but, before reaching Vladivostok, is diverted to the Chinese border, crosses the Manchuria region and ends in Beijing (this route takes more than six days).
Hence, if we want to be precise the Transsiberian is the Moscow-Vladivostok line.
The Transsiberian is a drop-off ticket
Although for some people it may seem obvious, there are still many people that believe that the Transsiberian is something similar to the InterRail in Europe (that is you buy a ticket and you get on and off the train as many times as you like).
The reality is that Transsiberian railway is only a rail line so you have to buy separate tickets for each journey you want to do.
The Transsiberian is expensive
Probably the Transsiberian offers the most economic train tickets per kilometer in the world. The price of the journey varies greatly depending on the stops you make (the more you stop the more you pay), the class of the train (fast trains are more expensive) and the railcar class that you choose.
For example, the Moscow-Beijing route in second class (that is one of the most expensive trains) with a stop in Irkutsk is around 900 USD. You can use the above widget to know how much is going to cost your train tickets. Just select the starting date, the starting city and the final destination, then introduce your journey plan with all the stopovers (Notice that some trains as the Moscow-Beijing and Ulan Bator-Beijing don't have daily service) and follow the steps, you'll get the final price.
The Transsiberian is a luxury train
I don't know what image you have about the Transsiberian, but before to take it I always supposed that the Transsiberian was a luxury train. I guess it's because of the movies! The truth is that the Transsiberian is far from being a luxury train; most trains are quite old and have lost all the possible glamor they may had once. To be honest I haven't seen the top-class trains, so I will leave it as something not entirely true.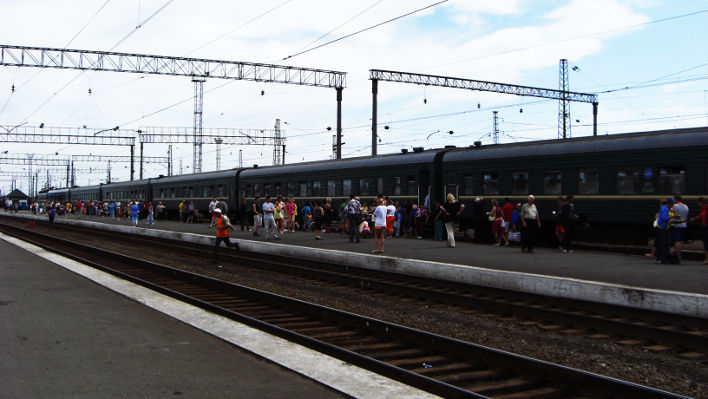 One of the daily long stops: a perfect time to purchase some food!
Why should you take the Transsiberian Express?
When I tell people that I took the Transsiberian, they first claim they envy me, but then add:
"I couldn't spend all that time locked in a train!"
When I think about the summer of 2009, one of the priceless memories I have is the three days I spent "locked" on the train from Moscow to Irkutz.
In my opinion the train journey is a unique experience for the following reasons:
Landscapes: The Transsiberian is a sight to behold, you have to experience it for yourself!
People: Despite the (bad) reputation that Russian people may have and the language barrier (most people only speak Russian), it happens something similar to what you can experience in China: many Russian people never had the opportunity to meet foreigners. Thus they are quite curious and you will have plenty of opportunities to chat, share some drinks or just play cards with locals. It's quite an experience!
Time zones: The Transsiberian crosses eight time zones. It may seem silly but going across so many time zones by land was pretty interesting on itself.
Where to buy the tickets for the Transsiberian?
Online
The Transiberian tickets can be purchased online on the Russian Railways' official website. The problem is that you have to register first. Moreover the instructions are only in Russian language. With a bit of patience, you can use Google Translator or follow these instructions. However there are other two problems: you won't be able to purchase international tickets (for instance from Irkutz to Ulan Bator)nor to purchase tickets more than 45 days in advance.
In order to avoid all these problems, you can resort to one of the many online agencies that will purchase for you any kind of tickets and more than 45 days in advance. However most of the agencies charge you with abusive commissions and don't offer all the wagon classes and train types (only the most expensive).
I suggest you to purchase your tickets with Real Russia (you can use the widget on the right to get your ticket or just check the prices), as in my experience they are one of the cheapest agencies, they can get you good discounts if you book in advance, they offer an excellent service and can help you to purchase any ticket you need all along the Transsiberian route (also international trains).
After booking your train tickets, you can collect them at Real Russia's office in Moscow or ask to get them by mail (they can be sent the ticket to your home, hotel or wherever you want). Also, you can get an online reservation that you should exchange for the real ticket at the train station in Moscow.
At the train station
I recommend this option to all those people that, as me, don't like to plan their trip too much in advance. However it does present some drawbacks.
First of all, the ticket sellers almost never speak English. So if you don't speak Russian it will be a hard mission. Also, it's probable that if you don't book at least a few days in advance you won't find any tickets.
Another option – and this is what I did – is to ask help to the receptionist of your hotel (or hostel). They will usually buy your tickets in exchange of a small commission. It's quite convenient and affordable.
However, you should notice that if you book the tickets at least 15 days in advance you can get a discount.
Through a travel agency
If you are traveling in a budget you should avoid this option as the prices offered by travel agencies are much more expensive and usually you can't get the cheapest tickets (normally agencies only offer fast trains tickets in first or second class). However, if you decide to get a full tour package with a reliable travel agency, the agency will get a good deal for you.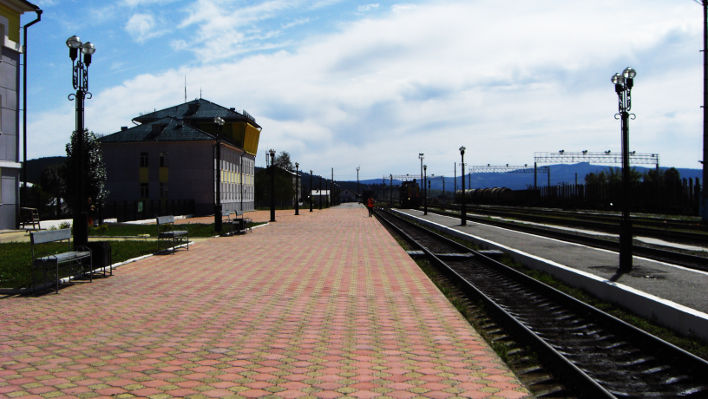 Crossing the Russian-Mongolian border
Railcar and train's classes
Russian railcar classes
Platzkart (P, third class, плацкарт): It's by far the cheapest way to travel and probably the most fun, if you don't mind to socialize a bit with locals. The railcar doesn't have any compartments and beds are both perpendicular and parallel to the corridor.
Kupe (K, second class, купе): The railcar is divided into compartments of four beds each. It's your best bet if you want to have a good rest at night without having to pay too much.
Spalny Vagon (SV, first class, cпальный вагон): The railcar is divided into compartments with two beds each. It's the most comfortable way to travel. However the tickets are way more expensive than the second class's tickets and you'll lose one the Transsiberian's main attractions, that learn some Russian language and culture by interacting with locals.
Russian train classes
Top-class trains (firmenny, фирменный): the fastest and most comfortable trains (they only offer first and second class). Their prices exceed airline tickets and are usually used by tourists because for most of Russian people the price is unacceptable. Identify these trains is fairly easy as they have their own name. The most famous is the No. 1/2 "Rossiya," which runs from Moscow to Vladivostok.
Fast trains (skory, скорый): These trains only stop at major cities and are the most used for long distances trips. They are identified by the numbers from 1 to 170. This class also includes the international trains Moscow-Beijing and Moscow-Ulan Bator.
Passengers trains (passazhirsky, пассажирский): These are the slowest and cheapest trains. They aren't too convenient for long distances routes (from Moscow to Irkutz instead of three days it will take five days) unless you really need to save money. They can be recognized by their number, which is always over 170.
Chinese trains
You can find all the information you need about Chinese trains in a previous article called Travel by train in China
Mongolian trains
In Mongolia the main railway line crosses the country from North to South. It goes through the capital Ulan Bator and connects the Russian and Chinese borders. Although there is also a line that goes to the East (only part of the line carries passengers), in my experience the trains that reach Ulan Bator are either Russian (on the North side) or Chinese (in the South side). So I don't have much to add.
Get a tour or travel by myself?
Organize the Transsiberian trip is time consuming and, if you make some mistakes, a bit expensive. In my opinion if you aren't an experienced traveler you should consider to get a tour because Russia, Mongolia and China aren't the easiest countries to travel, mainly because most people are unable to speak English language. A good agency should help you to arrange your trip, stay away from problems and, at the same time, allow you a certain degree of freedom.
Conversely, if you are an experienced traveler with a limited budget and you don't care to spend the necessary time to organize a cheap trip, then traveling by your own will be your best option.
If you need more information on this topic you can click here to read our guide to Transsiberian tours, where we discuss travel agencies, popular routes and tour prices.
Which route should you choose?
This is the big question, depends on many factors like how much time you have, which are your interests (nature, cities, culture …), where to start (Moscow, St. Petersburg, your home). If you need some inspiration you may be interested to read the series of three post where I share my experience in Rusia, Mongolia and China. Also, you can read our Transsiberian tours guide, where you'll find the most popular routes.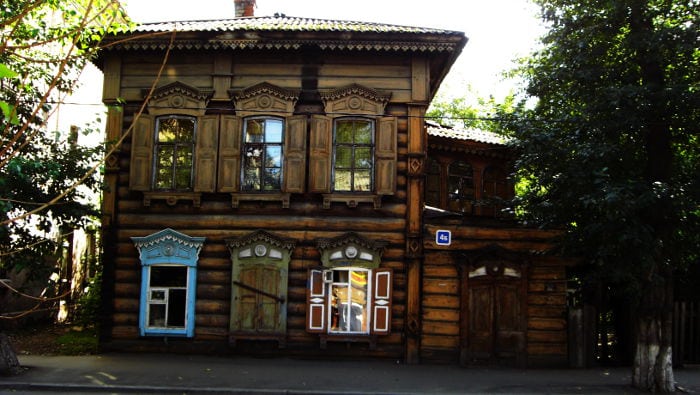 A house in Irkutz
Where to stay? Our suggestions for the hotels in Moscow, Irkutz, Ulan Bator and Beijing
Hotels in Moscow
Fabrika Hostel and Gallery: This hostel has an excellent location, is clean and offers good prices both for private and shared rooms. Probably the best option if you're traveling in a budget.
Souvenir Hostel: This hotel is also close to the city center and, even if it's a bit more expensive than the previous one, it does offer better facilities and it's a perfect place for travelers.
Maxima Panorama: If you're looking for a comfortable hotel to stay in Moscow this is a good option: it's conveniently located to get anywhere in the city, offers excellent services, nice rooms and reasonable prices.
Hotels in Irkutz
Hostel 490: A clean hostel located near the tourist attractions that offers cheap shared and private rooms.
Dobriy Kot Bed & Breakfast: This bed & breakfast is probably one of the best choices in Irkutsk: excellent location, fare prices and helpful staff.
Angara Hotel: After the long train trip you may want to stay in a nice place for a few days. In this case you should check this hotel: the rooms are a bit small but they are clean and comfortable. Also, it's located near the tourist attractions.
Hotels in Ulan Bator
Golden Gobi: One of the few hostels in Ulan Bator. The Golden Gobi isn't the most comfortable place but it's probably the best places to get a tour. Keep in mind that you can book a tour even if you don't spend the night here.
Kaiser Hotel: Middle range hotel ideal if you want to have a good rest and a hot shower (not so easy to find in Ulan Bator). The hotel is located in the city center and the rooms are big, clean and reasonable priced.
Hotels in Beijing
Leo Hostel: Every time I've been in Beijing as a tourist I stayed in this hostel. It's cheap, clean, has decent rooms, a beautiful courtyard and a really friendly staff. Also, it's located in a interesting hutong quite close to the Forbidden City (that is in the heart of Beijing).
Peking International Youth Hostel: This beautiful hostel is located in the heart of one of the most vibrant areas of Beijing. It offers clean and comfortable rooms and an impressive terrace. Its location, one of the most famous streets of Beijing, may represent a problem during the high season as you'll have to fight with thousands of Chinese tourists to reach your destination.
Courtyard 7 Hotel: This wonderful hotel located in a calm and central area is designed according the old Beijing architecture. The rooms are big, clean and well decorated. The rooms aren't cheap but it's still a good deal if you consider the facilities and the location.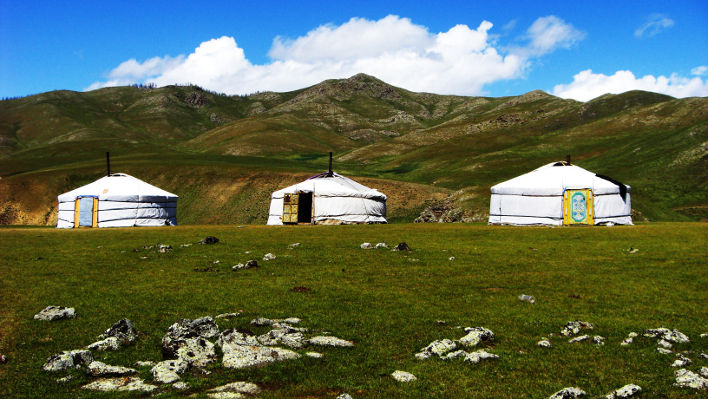 Typical Gers in Mongolia, cool isn't it
VISAs requirements
Yes, you need a VISA in order to enter Russia, China and Mongolia.
Russian VISA
Probably the most complicated of the three VISAs. To get the tourist visa you'll need an invitation letter from a hotel or a travel agency, in our case we did pay for it. So plan it early enough. If you don't know where to get your invitation letter or you need help to apply for the Russian VISA, you can click on the previous links to contact a reliable and experienced travel agency that will assist you during this complicated process.
You can get more information about the Russian VISA in the official webpage.
Chinese VISA
Getting a Chinese tourist VISA can also be a difficult task as recently they're asking you to provide a round trip flight ticket reservation (that you won't have because you'll travel by train). You can book a flight – and then cancel it – or ask the help of an agency. Click here to find out the details about the Chinese VISA application.
Mongolian VISA
To apply for the Mongolia VISA you will also need an invitation letter. In our case was provided from a hostel in Ulan Bator without prior reservation or payment. So you can get easily. For more detailed information you can visit the official webpage.
Things you should bring with you
Personal hygiene products: unless you chose to travel on first class trains, there will be no showers. Also, if you get off the train in Mongolia, don't expect to find too many showers outside the capital.
Warm clothes: Siberia is cold even on summer, especially during the night. Moreover, if you decide to go through Mongolia warm clothes are a must because you'll be in a vast plain with 1,500 meters of average altitude where you may find the snow even on summer. I really froze my ass in Mongolia.
A knife or a pocket knife: useful for the meals on the train.
Cards or games: they are going to be your greatest allies on the train, also for socializing with locals. Chinese people love card games and Russians follow them at close distance.
An app or phrasebook in Russian, Chinese and even Mongolian: it will be essential to communicate with locals as most don't speak a word of English. Howevert the international language of signs never fails (except in China if you try with the numbers).
If you carry an electronic device such a smart phone or a laptop, then also bring a multiple socket. The train cars normally have few outlets (one per compartment) so you'll have to fight to charge your cell phone, camera or whatever.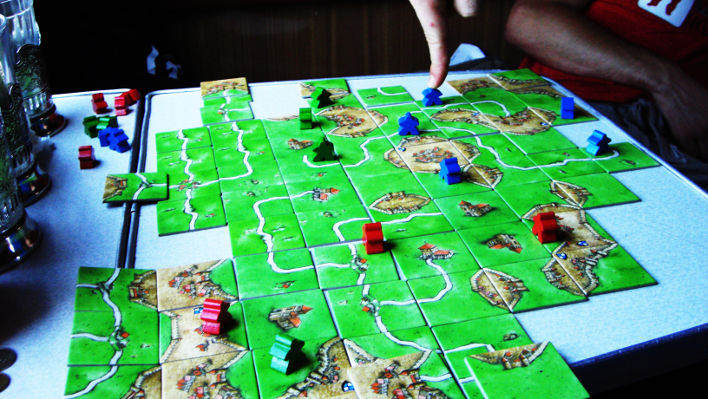 Playing Carcassonne on the train
Essential information and tips
Obtain your VISAs well in advance, especially if you want to take Trans Mongolian. Since you have to apply for a VISA at the time, it takes almost a month to get all of them. I suggest you to start with the Russian VISA as it will be the most difficult to obtain.
The timetables of the Russian trains are all in the time zone of Moscow as well as the departure time printed on the tickets. So be very careful with that, because the Transsiberian crosses eight time zones. In most stations they have both the Moscow and local time. Mongolia also has different time zones, but the Trans Mongolian line doesn't cross any of them so the time is ruled by Ulan Bator time zone. In China you don't have to worry because there is only a time zone.
The railcars of the Russian, Mongolian and Chinese trains have a hot water dispenser. This will be essential to cook the soups and instant noodles that are probably going to represent your main source of calories during the Transsiberian.
The Russian railcars have a table with the scheduling of all the stops during the journey and the duration of each of them. Usually there are two long stops (20 minutes or more) per day. You can exploit them to get off the train and buy groceries and some fresh food (usually there will be a lot of sellers waiting on the platforms, as you can see on the photo below). This is also a good time to meet other foreigners on the train (I assure you will recognize them quickly) and exchange impressions.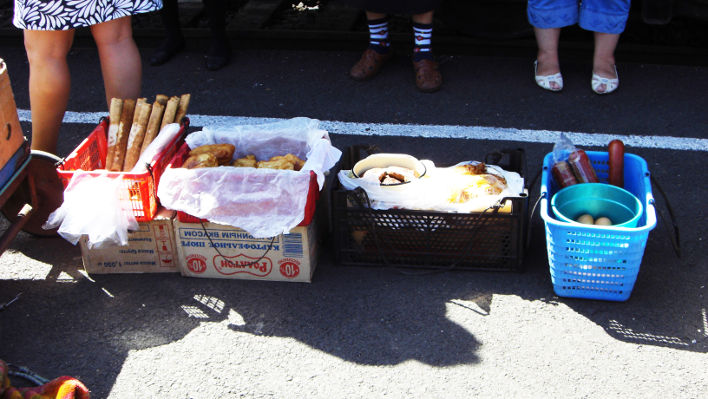 Some Siberian food to continue the trip ; )
Each Russian railcar has a responsible called provodnitsa (Проводница). They are usually women that don't speak English and take care of everything concerning the railcar. Be nice to them and you'll get everything you need.
Along the route Ulan Bator-Beijing there are only 2-3 trains per week (depending on the season). However you always have the possibility to take a train till the border, cross it "walking" and then take another train on the other side.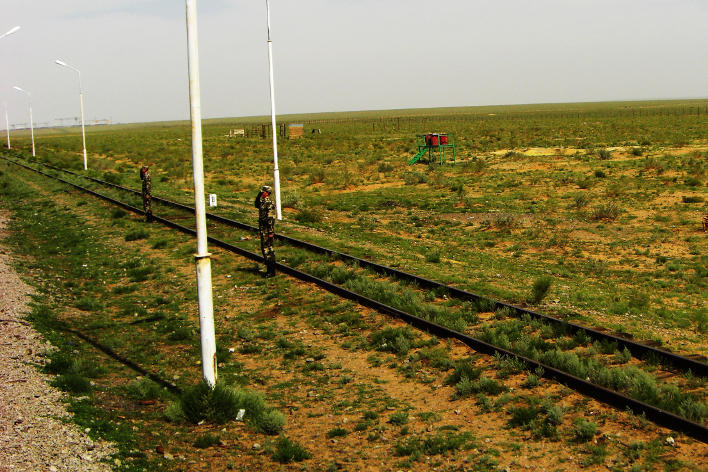 Say goodbye to the Mongolian soldiers before you get into China ; )
If you still have some Mongolian Tugrik (the Mongolian currency), change them at the border. It won't be difficult to find someone willing to take them at the Chinese border. Even if they will cheat you with the change (they have to eat too!) this is your last chance to get rid of the Tugrik as nobody else will accept them (I still have a lot of them at home).
By now you should know everything you need to start this great journey. Don't be shy to ask an advice or share your experience on the comments below : )
Buy easly all your Transsiberian tickets right now
[Photo Credits(Creative Commons) First Photo www.flickr.com/photos/fakeplasticgirl/]
Related Articles:
Sign up to get our free e-books ; )
Sign up to get the "Find a Job and Live in China e-Book" and the "Chinese/English Travel Phrasebook." Your email address will never be shared.
Enjoy this post? Please share a bit of love...