Want to know the best way to learn how to write Chinese characters? Click Here!
This article features a list of free resources for learning Chinese online. It covers dictionaries, grammar, videos, podcasts, blogs, flashcards and forums.
I provide a short review and a link to the website of each resource on the list.
[Last Update: 3 April 2013].
Dictionaries
Nciku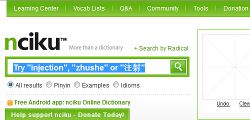 Nciku is probably the most popular Chinese-English dictionary out there. I especially like it because when you look for a character (or a word), Nciku provides a lot of examples for each meaning of that specific character. Other features you may want to check out are the Character Recognizer Tool (you draw a character with your mouse and Nciku will tell you its meaning and pronunciation), the learning community (Nciku has more than 20,000 members interested in learning and teaching Chinese) and the exercises. Another popular Chinese-English dictionary is MDBG.
Pera Pera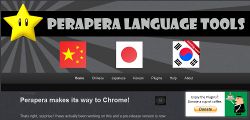 Pera Pera is a pop-up dictionary and study tool available as free add-on for both Mozilla Firefox and Google Chrome. After you install it (if you follow the link, it will take you less than a minute), activate it by clicking on the star that will appear on your browser, go to a webpage in Mandarin and point at a character you don't know with your mouse. A small grey window will appear with the pronunciation and meaning of the character.
Pleco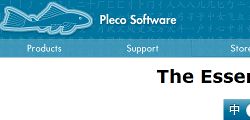 The dictionaries I have listed are, in my opinion, enough for any student (unless you are attempting to become a Professor of Chinese language at BeiWai University, I guess). However, you are not always connected to the Internet, are you? This is when an app like Pleco is the most useful.
You can download Pleco's dictionary on your smartphone so that you can check it even if you are offline. Pleco is much more than a dictionary, but to use the most advanced features, you have to pay. I'm tempted by the Optical Character Recognizer for Android (14.95USD at the moment), which allows you to look up words simply by pointing your phone's camera at them or scrolling to them in an image file.
HanziCraft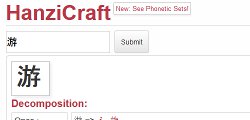 HanziCraft is a software developed by Niel de la Rouviere. I find it especially useful for people who are learning how to write Chinese characters, as it breaks down a character into its main components. For each character, it also provides the pronunciation, the meaning and a list of words that use that character (in combination with other characters).
For example, take the character 游. You will learn that 游 is made up of 氵 (water), 方 (square/raft), 丿 (bend), 一 (one) and 子 (child); it's pronounced you2; it means "to walk/to tour/to roam/to travel" and it's used to create two high frequency words (旅游, which  means "trip" and 游戏, which means "game") and a bunch of medium frequency words.
Grammar
Chinese Grammar Wiki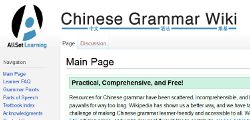 Chinese Grammar Wiki was launched by AllSet Learning in early 2012 and despite is young age, has become my main reference when it comes to Chinese grammar, as the explanations are pretty impressive. You don't believe me?
Check out the page dedicated to the particle "了". What I also like is that the resource was released under a Creative Commons License and everybody can contribute to improve it (like a true "wiki" should be).
MIT OpenCourseWare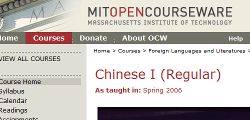 If you are looking for a more traditional course, the Massachusetts Institute of Technology has released their Chinese courses for free through the MIT OpenCourseWare platform. I didn't test the course myself as I prefer to follow a more unstructured path. However, MIT is quite well known, so I don't doubt the quality of the course ; ) Digging within the platform, I also discovered that they offer a course on Classic Chinese Literature for really hardcore students…
Chinese with Mike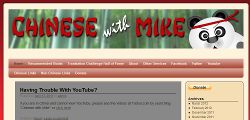 I wish I had discovered Chinese with Mike when I was just starting out with Mandarin, as Mike seems like a better teacher than the ones I had. He delivers his lessons through YouTube videos (a Tudou version is also available if you live in China and can't access YouTube). So far, Mike has released sixty videos of about ten minutes each.
Jukuu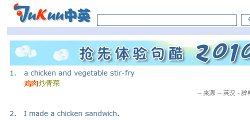 Jukuu is a database of sentences in English and Chinese. Its interface is very simple and very similar to Google's.
Once you enter a word into Jukuu and click on the search button (called 句酷一下) you get a list of sentences in English and Chinese that contain the word you entered. It can then be quite useful to understand the context in which you can use a given word. The database seems quite complete. For instance, if you enter the word 鸡肉 (chicken), you get one hundred sentences.
Pinyin
Pinyin.info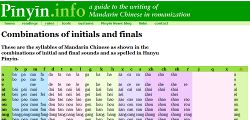 Pinyin.info is a guide to writing pinyin, that is, the official transliteration of Mandarin characters to the Latin alphabet. You will find a chart containing all the possible combinations of initials and finals, the basic rules for writing pinyin, where to place tone marks, information about the history of pinyin and other romanization systems (MPS2, Wade-Giles, Yale) and so on. Also, the website is home to a funny article, Why Chinese is so damn hard, by David Moser.
Podcasts
Popup Chinese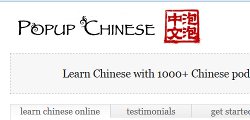 Popup Chinese offers podcasts and tools for learning Mandarin.
It's the most highly rated Chinese teaching series on iTunes and it's recommended by the heads of all four major Chinese immersion programs in Beijing.
You can easily create a free account to check the entire archive, which doesn't only contain  podcasts in mp3 format but also mobile apps, HSK tests and other study tools.
Read original Chinese articles with their English translation
Marco Polo Project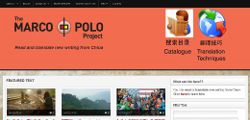 The Marco Polo Project is a website that offers a selection of new literature from China (short fiction, opinion pieces and social commentary by intellectuals and popular bloggers). It's open to language students and enthusiasts who want to collaborate on the translation of the texts.
Through the Marco Polo Project, Chinese learners can practice their language skills, read new Chinese texts and join a community that actively promotes cross-cultural dialogue. Also, non-Mandarin readers can discover the voices of Chinese writers.
Even if you decide to not actively participate, you can still go there to read "real" Chinese material with translations into English, French and Spanish.
Flashcards and mnemonics
Anki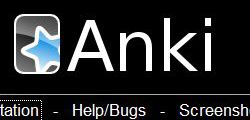 Anki is the most popular spaced repetition software (SRS), which allows you to review flashcards with a clever scheduling. Its code has been released under a GPL v3 license and it can be downloaded for all the most popular platforms (Windows, Mac OSX, Linux, Android and iPhone).
You can use it to review your lessons by inputting your own flashcards or to study new vocabulary by choosing among the hundreds of free decks already present in Anki's database. Another feature I like about Anki is the opportunity to open a free account on the Ankiweb platform so that you can synchronize all your devices (laptop, smartphone, whatever you have) and won't lose any information in the event your hardware stops working or gets stolen.
All Japanese all the time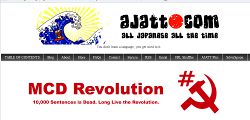 All Japanese all the time is a blog written by Khatzumoto, who learned Japanese by himself until reaching such a level that he could get a job as a software engineer in Tokyo through a phone interview. I believe that SRS is great but at the beginning it's easy to make mistakes, get bored and give up. So, you should read about what other people are doing before attempting to memorize 2,000 cards in a row : P Even if Khatzumoto talks about Japanese, his blog is so far the most comprehensive resource I found for people getting into SRS. The above link, for instance, underlines a common mistake almost everybody starting with SRS makes.
Hacking Chinese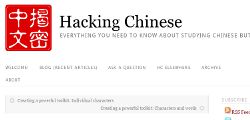 Hacking Chinese is the website of Olle Linge, a passionate language learner. I quote Olle: "In my language learning life so far, I have been taught a lot about grammar, words and culture, but I have seldom been taught the most important thing of all: how to learn these things. Most textbooks and teachers focus on the language itself and present material for students to learn, but forget that there are lots of things to say about how one should go about to learn that material in an efficient way." Efficient language learning is indeed the core of Hacking Chinese.
Just like Khatzumoto, Olle has plenty of good tips on SRS, and this is why I preferred to add his website to this section.
Memrise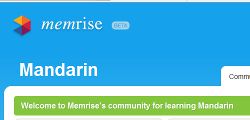 Memrise, which I discovered thanks to Nrupesh (a reader of this blog), is a community of language learners that share mnemonics, pictures, videos and audio material. Most of the site is freely editable. Anyone can make and share sets of flashcards, add words or create mems.
As a big fan of mnemonics (and especially of the ideas described in Quantum Memory Power by Dominic O'Brien), what I like about Memrise is the fact that people can vote up and down the "mem cards" so that the best ones will gain precedence (at least this is what I have understood so far). Just like with Anki, you can find a lot of already made decks (HSK, most common words and so on).
Motivation and tips on Chinese learning
Sinosplice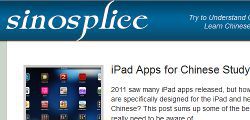 Sinosplice is the blog of John Pasden, the founder of AllSet Learning. John arrived in China twelve years ago and, since 2002, has been sharing his tips on learning Chinese. The blog has a huge archive, so I suggest that you start with the entry "How I learned Chinese." If we could develop (yeah, "we" because I'm still battling with myself over Mandarin…) even a small fraction of John's motivation, I'm sure we would be half way along the path of mastering the Chinese language. John is a linguist, so his explanations tend to be technical and precise.
Laowai Chinese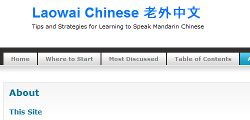 Laowai Chinese is the blog of Albert Wolfe, another long-term Chinese learner and blogger (he started Laowai Chinese in 2006). Albert arrived in China as an English teacher and, without ever taking a formal class, he learned Mandarin to the extent of becoming a translator in many capacities, hosting a televised English speech contest and appearing on a Chinese-language radio talk show. He is also the author of Chinese 24/7: Everyday Strategies for Speaking and Understanding Mandarin.
Confused Laowai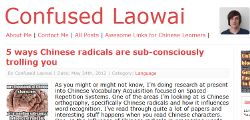 Confused Laowai is the blog of Niel de la Rouviere. Niel's approach differs from the previous bloggers for two main reasons. First, he lives and studies Chinese in South Africa. Therefore, he faces different problems than those of us learning Mandarin in China. Second, he has a very "geeky" approach to Chinese and linguistics in general. I like to read his blog because he keeps me updated on all the latest technological advancements.
Chinese Hacks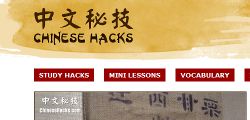 Quoting from their "About" page, Chinese Hacks started with the idea of providing a set of tips to effectively learn Chinese. Now it mostly provides examples of real-world Chinese in the form of news, advertising, signs, posters and anything that shows how Chinese is actually used. It also reviews lots of software, websites and mobile apps related to Chinese language and culture.
Living a dream in China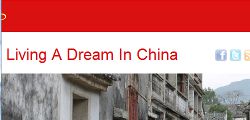 Living a dream in China is the blog of Sara Jaaksola, who is studying Mandarin at Sun Yat-Sen University in Guangzhou. What I especially like about Sara's blog is her enthusiasm for the Chinese language and China in general and the idea of sharing her goals and achievements monthly in order to keep her focus and motivation.
East Asia Student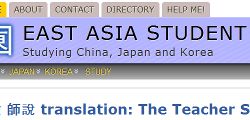 East Asia Student is the blog of Hugh Grigg, who is currently pursuing a degree in East Asian Studies at the University of Cambridge, U.K. I especially enjoy his posts on how to handle Anki decks and his list on similar characters. An example? 贝 (bèi) means shellfish and 见 (jiàn) means to see.
Fluent in 3 Months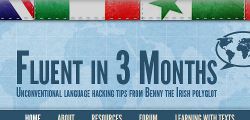 Fluent in 3 Months is the blog of Benny Lewis, who can speak eight languages and is in the process of learning Mandarin. You may like or dislike his approach (Here is a video from TedX where he tells his story and shares some tips). However, I speak a fair amount of languages myself (Mandarin will be the sixth) without having really studied any of them, and many of the things Benny suggests make perfect sense to me (especially "speak from day one" and "aim at making mistakes").
The Polyglot Dream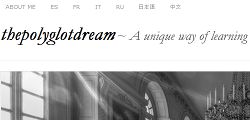 The Polyglot Dream is the blog of Luca Lampariello, an Italian guy that speaks eleven languages. I still have to finish exploring his blog but up until now, my favorite article is Tips on how to learn Chinese tones, where Luca explains why a top-down approach is more effective than a bottom-up approach (that is, the way you learn in any traditional Chinese language school), when it comes to learning Chinese tones.
Just Learn Chinese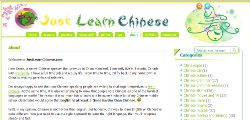 Didn't notice anything weird? I've listed seven blogs about Mandarin learning but all of them are run by… foreigners. Just Learn Chinese is different because the host, Grace, is a Chinese girl. She posts quite frequently and, being Chinese herself, she mostly talks about Mandarin instead of wasting half of her words on China rants like I do!
I could keep going but I don't want to overwhelm you with an endless list!
For an exhaustive list of blogs devoted to learning Chinese, check out the website of the language learning company Lingomi or the iGoogle page by Albert Wolfe.
Videos
FluentU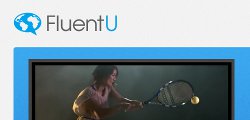 FluentU is a database of YouTube videos in Mandarin.
The videos are sorted by level of language proficiency (Newbie, Beginner, Intermediate and Advanced), topics (everyday life, science and technology and so on) and format (movie clips, commercials and so on).
The main feature of FluentU's database is the well synchronized and readable subtitles provided with each video (Chinese characters, pinyin AND English subtitles).
Here you can read my full review of the website.
Tudou and Youku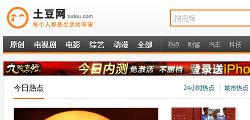 Tudou and Youku are the two Chinese clones of YouTube where you can find virtually any kind of videos you want in Mandarin, and they often come with subtitles. Even if you have a VPN and can access YouTube, the same video in Tudou or Yukou will often load ten times faster (I guess we should thank the Great F.i.r.e.w.a.l.l for that).
CNTV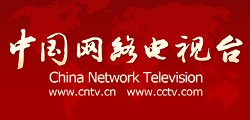 CNTV is the website of the national Chinese television network, where you can find a ton of Chinese news and TV shows.
The only "drawback" is that the website is in Chinese so, unless you can already read Mandarin, it becomes difficult to find the kind of programs you want to watch. Well, get some help if you don't want to miss your favorite Chinese drama!
Cultural interviews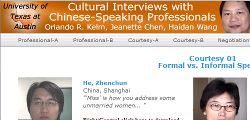 Cultural interviews with Chinese-Speaking Professionals is a compilation of brief video clips in which Chinese-speaking professionals discuss practical cultural information about business topics, providing vocabulary in areas within a professional setting and offering non-native speakers of Chinese multiple examples of natural speech. You can choose to watch the videos via streaming or by downloading the mp4 files. You also get a transcription in both traditional and simplified Chinese as well as the English translation. Cultural Interviews with Chinese-Speaking Professionals is a project of the University of Texas.
Chinese Forums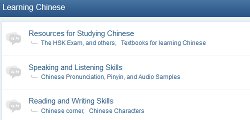 The Chinese Forums are, as far as I know, the most popular forums that specialize in the Chinese language. They have almost 300,000 posts and 50,000 members.
The main sections are "Learning Chinese," "Studying, working and living in China," and "Chinese culture." They seem especially useful when it comes to asking for advice.
Lang-8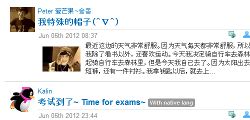 Lang-8 is a website where you can post a text in the language you are learning and get feedback from native speakers and other students of the same language. There are several communities that offer more or less the same service, however the Lang-8 crew seems quite active and you get fast answers even if you post relatively long essays.
If you are looking for more, start here…
I'm sure there are many great resources out there that I don't know about or have never had the time to check out (like Weibo, the Chinese Twitter). If you are looking for something more specific, you might have more luck with one of the following websites than with Google:
Learning Chinese Online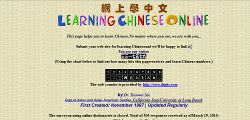 Learning Chinese Online was founded by Dr. Tianwei Xie in 1997 and is the oldest resource listed here. The website is a directory that contains an impressive number of links regarding online Chinese schools, pronunciation, conversations, characters, grammar, reading, listening, dictionaries, translation and other learning materials. The problem – common to almost all directories – is that there is no way to evaluate which is the best resource on a given topic without exploring all of them.
Hao Hao Report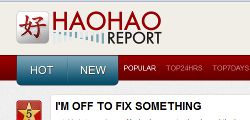 Have you ever heard about Digg.com? Well, the Hao Hao Report works the same way except for the fact that it only features articles talking about China, with an entire section dedicated to the Chinese language. The website was created and is managed by Ryan McLaughlin and, in my opinion, his best achievement was keeping it 100% spam free despite the large amount of traffic and number of daily submissions.
Final thoughts
Because of a series of random facts, Mandarin is not exactly the first foreign language I have learned.
Even if technological progress is facilitating language learning (if nothing else, it allows you to get in touch with native speakers without leaving your country), I still believe that the "secrets" to mastering a foreign language are (and always will be) the same:
Find the right motivation. If you start to learn Mandarin only because "it will be the most spoken language in the world," the chances are you will fail.
Have ambitious long term projects and, at the same time, focus on measurable short term goals.
Work steadily at a sustainable pace so that you don't burn out after the initial enthusiasm is gone (and the initial boost of adrenaline tends to disappear quite quickly with Mandarin, believe me).
Get as much exposure to the language as you can. If you have no possibility of interacting with native speakers, watch movies (this is how I learned English… well, more or less), get a QQ account or sign up for a language community like Nciku or Lang-8.
Don't be afraid (or too LAZY) to speak even if you think your grammar and pronunciation are still terrible!
加油!
Click here to read a review of the most popular Chinese courses!
Related Articles:
Sign up to get our free e-books ; )
Sign up to get the "Find a Job and Live in China e-Book" and the "Chinese/English Travel Phrasebook." Your email address will never be shared.
Enjoy this post? Please share a bit of love...