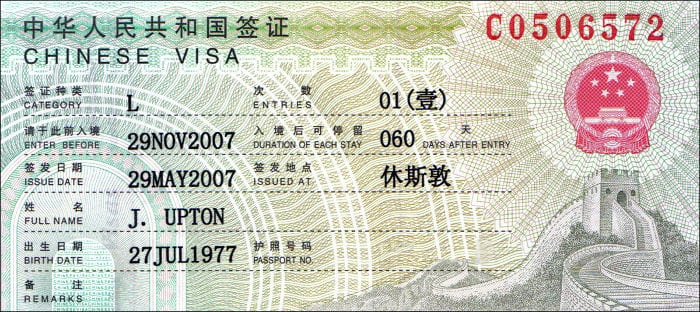 This article is a complete guide – updated to November 2013 for getting a Chinese VISA. You'll discover:
The requirements and how long it takes for obtaining any type of Chinese VISA.
Where to get a Chinese VISA (either in your country or abroad).
The different kind of Chinese VISAs (Tourist, Business, Student and Work VISA) and the changes that took places on July 2013.
How much it costs to obtain a Chinese VISA.
Do I need a Chinese VISA?
Yes, you do. The only exceptions are represented by people that own a passport from Singapore, Brunei or Japan (they can stay in China 15 days without VISA) and people that are on transit for less than 72 at Beijing, Shanghai, Guangzhou, or Chengdu's airport within 72 hours.
How long does it takes to get a VISA?
If you have all the required documents and own a passport with at least six months validity and two blank pages, it should take between one (if you can apply for the express service) and four working days to get a Chinese VISA.
The best time to apply for a Chinese VISA is within two months and fifteen days before departure. You can't ask your VISA too early because, if you don't use it, the VISA will expire after 90 days starting from the day you obtained it.
How much does it costs?
The price may vary from 30 to 140 USD according to your nationality, the type of VISA and the number of entries.
Usually for European people it's cheaper while American people are often required to pay more than 100 USD.
Where to get a VISA?
Generally speaking, you should apply at the Chinese Embassy or Consulate in your country (here you find a complete list), especially when it comes down to work and student VISAs.
However the people that are already traveling or working in Asia may also apply in Hong Kong (at the moment only through an agency as VISA application at the consular office are allowed only to Hong Kong's residents).
Click here to read our guide for getting a Chinese VISA in Hong Kong.

Keep in mind that the government may abruptly decide to restrict VISA requirements as they did in 2008 (before the Olympics game in Beijing any days). I don't want to scare you, just be prepared to deal with the unforeseen.
In practice you can also apply in other countries but do it at your own risk as it's possible (probable?) that your application will be rejected. It also depends on your passport: Italian and German people, for instance, seem to experiment much less problems than French and American people. It usually depends on how good (or bad) are the relationships between China and your country. Since July 2013 even in Hong Kong they started to reject a lot of applications. Click here for the details.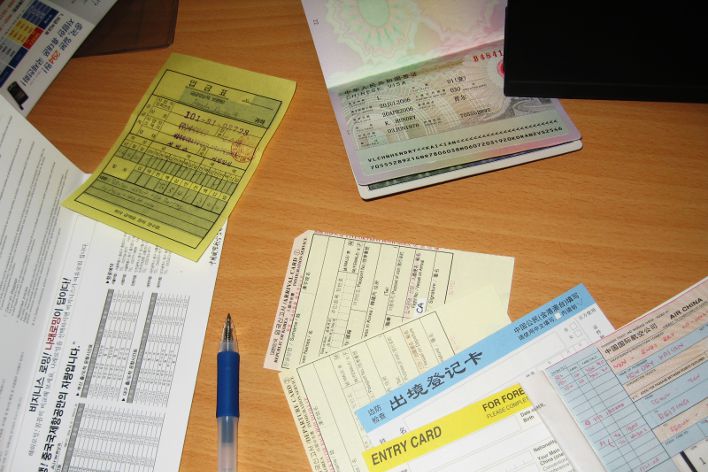 The different types of Chinese VISA (and the requirements to get it)
The basic requirements to get a Chinese VISA are a passport with at least six months validity and two blank pages, a recent photo of 2×2 square inches and an application form.
You can download the application form here, just choose the one that corresponds to the country where you are planning to apply because it may be slightly different.
Tourist VISA (or L VISA)
Tourist VISAs are issued to people that want to travel around China or visit their Chinese related.
The basic requirements listed above were usually enough. However since July 2013 some Chinese Embassies or Consulates started to ask you a copy of your return flight ticket to China and a copy of your Chinese hotel booking for at least 30% of your stay (p.s. for booking an hotel I recommend Agoda because often has the cheapest offers).
Let's see an example. If you have a flight ticket Los Angeles – Beijing for the 3 December and a return ticket Beijing – Los Angeles for the 12 December you'll have to show an hotel invoice for at least the first three night in China (3, 4 and 5 December).
If you intend to stay at your (foreign) friend's house you won't need an hotel invoice. However your friend will have to send you an invitation letter that contains his full name, his address in China, his passport and resident permit's number and his signature. I also recommend to get a copy of his passport and resident permit (just to be sure). If you friend is Chinese you'll need the invitation letter and a copy of his ID card.
Sometimes the consular office employee may even ask you a financial proof before accepting your VISA application. Hence, before going to the VISA office, be sure to send an enquiry by email or call them to know the documents that you need to bring.
The most common tourist VISA is the Single Entry Tourist VISA (that is you can't go out China and then enter again with the same VISA) and lasts between 30 and 90 days.
Sometimes, depending on your passport and on the mood of the immigration officers, you can also get a Double or Multiple Entry Tourist VISA. It means that you are allowed to go in and out the country twice with the same VISA (for double entry) and you can go in and out all the times you want (for multiple entry).
If you are planning to go to Tibet be aware that, beside your VISA, you need a special entry permit issued by the Tibetan Tourist Bureau. Actually at the moment you can only enter Tibet with a travel agency so just ask it to your favorite travel agency.
Business VISA (or M VISA)
It's the new business VISA and it's issued to people that come to China for business and trade activities.
You are required to provide an "Invitation Letter of Duly Authorized Unit" issued by a registered Chinese company or organization.
Even if many people use a Business VISA to work in China, this is illegal. If you want to legally work in China, you need a Work VISA.
F VISA
The new F VISA is issued to people that come to China for non-business purposes such a educational, scientific, cultural, health or sport reasons. Before July 2013 the "F VISA" corresponded to the business VISA.
R VISA
It's issued to foreigner professionals whose skills are urgently needed in China (R1 for long-term staying and R2 for short-term staying).
Student VISA (or X VISA)
If you want to study in China for less than 180 days you'll have to apply for X2 VISA. However if you want to stay more you'll need an X1 VISA.
You are required to provide an healthy certificate (check the details with the Chinese Embassy on your country), the JW201 (or JW202) form issued by the Chinese Ministry of Education and the Admission Notice from your school. Your school should get these documents and send them to you.
A Student VISA is only valid for 30 days starting from the day that you enter in China. Then you should transform it in a Temporary Resident Permit (Check below to learn how to transform your Student VISA in a Temporary Resident Permit).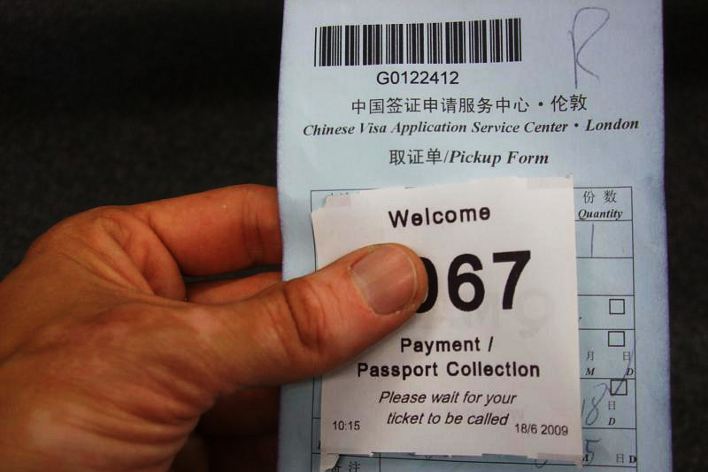 Work VISA (or Z VISA)
Holding a Z VISA is the only way to work legally in China.
Be aware that not all employers can get you a Work VISA. For instance, small private English schools often can't. This is the main reason for which they often try to convince you to come to China and work under a Tourist or Business VISA.
Do it at your own risk because it's illegal. If you get caught working on the wrong VISA you risk to pay a fine that ranges between 5,000 and 20,000 and you any even end up in prison (from five to fifteen days). Afterwards you'll be asked do living the country or, according to the conditions, being deported (at your expense. If you're deported you'll not be able to get a new Chinese VISA from a period that goes from one to ten years.
Having said that, many firms and public organizations (universities for instance) are accredited to employ foreign and can help you to get a work VISA as long as you qualify as a "foreign expert."
Depending on the field, you may just need to prove to have English as first language and own a Bachelor degree (if you want to teach English) or you may provide a Ph.D. degree (if, for instance, you want to become a professor at the university).
The logic behind this rule is the following: you have to prove that you are useful to China by bringing some skills and expertise that the country needs. If you can't do anything why a Chinese company should hire you instead of hiring a Chinese person?
So, if your employer is accredited to employ foreigners and you qualify as a foreign expert, your employer can apply for your Work Permit (also called Foreign expert certificate or in other ways according to your field of expertise).
Beside the Work Permit, in order to apply for the VISA you should also provide an healthy certificate (check the details with the Chinese Embassy on your country), "Invitation Letter of Duly Authorized Unit" or "Confirmation Letter of Invitation" (your employer should get the letter for you), and a non-criminal record issued by your country (novelty from July 2013).
The Chinese law states that you can only get a Work VISA in your country. Then again, if you surf the internet you will find a lot of stories from people saying that you can also get it in Hong Kong (but I doubt this is still a possibility after the new rules from July 2013).
The work VISA will also allows you to bring your wife, husband or children to China. They will only need to provide a marriage or birth certification.
A Work VISA is only valid for 30 days starting from the day you entered in China. Then you should transform it in a Temporary Resident Permit (your employer should help you to do so).
How to transform your Student or Work VISA in a Temporary Resident Permit
In order to get the Resident Permit, which must be renewed each year, you will have to provide a bunch of documents and an Health Certificate issued by China Entry-Exit Inspection and Quarantine Bureau or HK public hospitals.
I've covered this topic in detail on our free e-Book "Find a Job and Live in China."
You can read it by suscribing to our newsletter (you'll get the password within minutes):
[Photo Credits (Flickr Commons): https://www.flickr.com/photos/upton/,
http://www.flickr.com/photos/cucchiaio/, http://www.flickr.com/photos/hendry/].
Related Articles: