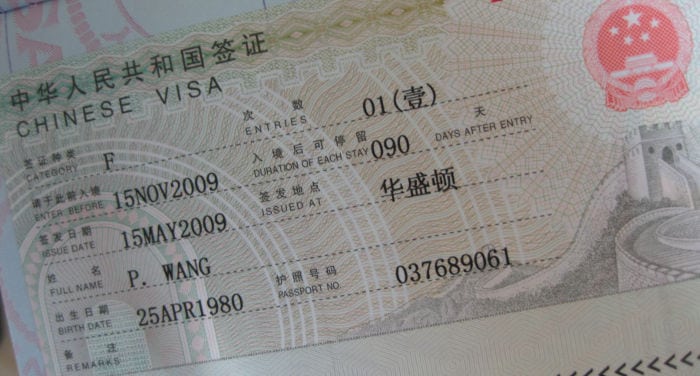 The old commercial visa (F visa), now called M visa
The business visa (or M visa) is issued to those coming to China Mainland for commercial activity.
Get your Business eVisa for Shanghai now and enjoy a 5% exclusive discount!
If you are interested in another type of visa, below you will find a list of our guides:
What is required to obtain an M visa?
To obtain an M visa you will need:
Original passport valid for at least six months
Two photos 4.5cm*3.5cm
Invitation letter from a trade fair such as Canton Fair or from a Chinese firm (in the event that you get your visa through a Chinese agency, it's possible that they will be the ones to procure the letter for you)
A copy of the Chinese firm's business license
A business card with your company's name and contact information (telephone, email, etc)
The invitation letter should contain your information:
Your personal data: Name, birthdate, etc.
Details about your trip: Purpose of your visit, dates of arrival and departure, where you will be visiting, etc.
Information about the Chinese firm that granted you the invitation letter
Signature of legal representative of the Chinese entity and official seal.
If you intend to apply for a visa in Hong Kong that permits you to stay in China for six months or more, you will also need to meet the following criteria:
Your passport must contain at least two Chinese visas issued outside of Chinese territory (those visas have a green background instead of blue or gray)
Among your last three Chinese visas, one of them must have been issued in your country
What are the requirements to obtain an electronic visa (business e-visa)?
The electronic visa or e-business visa
can only be applied for if you are entering China through Shanghai
.
To apply for it, you will need the following documentation:
Passport (copies of all pages, including the blank page and the cover)
Hotel reservation for all the nights you will spend in China
Passport photo
Invitation letter
The e-business visa, once issued, must be used within a maximum period of 30 days.
Where can I apply for an M visa?
How long is an M visa good for, and how many entries can I get?
The M visa has a duration of a year maximum and can be extended another 180 days in China. Moreover, the M visa allows for 1, 2 or multiple entries. In the latter scenario, you can enter and exit China as much as you please for the length of your visa. Last we heard, at the moment the M visa with a validity of more than 90 days can only be applied for in
Hong Kong
(and there's no guarantee that you'll actually get it as visas are decided upon on a case by case basis).
American citizens can also apply for a 10 years multi entry M visa (maximum 60 day for each stay).
Can I renew my M visa in China?
Yes, you can renew your M visa up to a maximum of 180 days without leaving China. In this case you should turn to an agency such as 
Meshing Consultancy Services Co., Ltd.
, located in Shanghai, on Shan Road 101, room 410.
How much does an M visa cost?
The price may vary from 30 to almost 200 USD according to your nationality, the type of visa and the number of entries.
For Europeans, it's usually cheaper, while Americans are often required to pay more than 100 USD.
If instead, you apply for the visa in Hong Kong the cost depends on the length of stay (from 450 to 1,550 Hong Kong Dollars). Click here to find out the details.
The cost of the Business eVisa is around 250 USD (240 USD through this link)
How do I read an M visa?
Category: M
Entries: 1, 2 or M ( "M" multiple entries)
Enter Before: XX-XX-XXXX (the visa's expiration date)
Duration of each stay: XX days after entry
Issue date: XX-XX-XXXX (date the visa was issued)
How can one get an M visa on arrival at Shanghai Airport?
IMPORTANT: The issuance of this type of visa is temporarily suspended
This type of visa, which is good for 30 days, is for those who are forced to enter China due to an emergency situation but, for some reason, do not possess a visa. Here are the most common "emergency situations": needing to sign a business contract, needing to carry out an inspection regarding merchandise acquired from China, needing to repair a machine, or participate in a trade fair.
Even in this case you should have an invitation letter that serves to confirm the emergency situation that justifies your entry into China. In order to issue an invitation letter with the purpose of obtaining an M visa on arrival, the company doing the inviting must have at least a million Yuan in capital and be registered in one of the following provinces: Shanghai, Beijing, Jiangsu, Zhejiang, Anhui or Guangdong.
In addition, you can only obtain this type of visa if you land at either Shanghai Pudong or Shanghai Hongqiao airport. To conclude, if you hold a French or American passport you cannot apply for this type of visa.
How can one get a 5 day visa on arrival at the border between Hong Kong and Shenzhen?
IMPORTANT: The issuance of this type of visa is temporarily suspended
If you land in Hong Kong and have a European, American, Canadian, Australian or New Zealand passport, you can immediately head to the Chinese border and apply for a 5 day visa which will be issued right then and there (to apply all you'll need is your passport and 150 HKD).
This visa is only valid for the special economic zone of  Shenzhen, namely the cities of  Shenzhen, Shekou and the factories dispersed throughout the surrounding countryside.
The visa is called "Tourist visa to Shenzhen Special Economic Zone" so, technically, it's a tourist visa. However it is also convenient for those who come to Shenzhen, the world capital of electronics, for business purposes.
If instead you're in Macau you can apply for a similar visa for the Zhuhai area (in this case for a length of three days).
Can I work in China with an M visa?
Photo Credits:

china visa -it's here! by HI TRICIA! 王 圣 捷