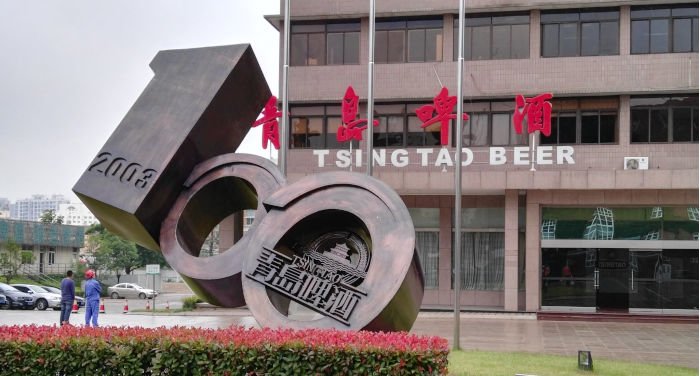 Pros of studying Chinese in Qingdao
It's cheaper than the bigger cities
Everything from rents, groceries, transportation and entertainment are cheaper in Qingdao compared to Beijing and Shanghai. The biggest difference can be seen for rents that are -60% cheaper on average than in Shanghai, according to Expatistan.
Similar results you can get with Numbeo with rents 2-3 times higher in Shanghai compared to Qingado.
Not to forget, tuition fees are way lower too (more about that later in this article).
As such, if you're on a restrained budget, then Qingdao is probably a better option than bigger cities like Beijing, Shanghai and Shenzhen.
Qingdao is famous for its beer and seafood
If you've been to China, you've probably come across the biggest domestic beer brand called Tsingtao beer (Qingdao Pijiu, 青岛啤酒). Being founded by German settlers in 1903, the brewery has left a noticeable heritage and people even travel to Qingdao to visit the brewery and to try its fresh beer.
It's not by chance that the city is called "City of Beer" and "the City of Sailing". Simply walk down the streets a sunny summer day and enjoy Tsingtao beer served in plastic bags with straws, it won't set you back more than 15 RMB or so.
Not to forget, being located along the shoreline on the East coast, Qingdao has an abundance of seafood and is well-known for its many seafood restaurants. One of China's biggest expos, the so called Fisheries & Seafood Expo is held here annually, which kind of speaks for itself.
The weather is cool and the nature is great in Qingdao
Qingdao is cooler than Beijing and Shanghai during the summers, with nice summer breezes along the shore. Temperatures don't go up as much as in Beijing and Shanghai, where it can become as hot as 40 degrees Celsius during peak hours in the summer months. In Qingdao, the temperatures rarely go above 25-27 degrees Celsius.
The nature in the city and its surroundings are very beautiful too, as you can find mountains, beaches and many national parks here. Some beaches and parks that you should visit when going to Qingdao are:
Laoshan Scenic Area
Beijiushui River Laoshan
Qingdao XiaoYushan Park
Signal Hill Park
Qingdao Beach, Second Beach and Third Beach
Golden Beach
Qingdao offers a relaxed lifestyle
I wasn't sure if I should put this as a pro or a con, it's up to you to decide. Even if Qingdao has become more industrialized and congested in the past years, it has a more relaxed atmosphere compared to Shanghai and Beijing, for example.
If you prefer to be in the hustle and bustle with many bars, clubs and entertainment, then one of the bigger cities might be a better option. Having said that, Qingdao is located right in between Shanghai and Beijing and very close to Korea. If your budget allows, there will be plenty of time for weekend trips.
Abundant history and beautiful architecture
Qingdao has much architecture and history. From 1898-1914, it was colonized by the Germans, which left a big footprint in the city. Even if the city was only colonized for 16 years, you'll see many buildings with a German architecture and that are surprisingly well preserved.
If you go for a one-day tour, you'll most likely start from the Qingdao Railway Station, which was built by the Germans. On this journey, you'll not miss streets like Zhongshan Road, Hengshan Road Feicheng Road that have colonial style buildings, churches and villas.
Both the Germans and Japanese occupied the city during World War 1 and World War 2, which we can see traces from up until today's date.
Cons of studying Chinese in Qingdao
Less job opportunities than the bigger cities
Qingdao has developed much in the past years and will undoubtedly benefit from the One Belt, One Road initiative. It has its own Free Trade Zone, industrial zones and foreign companies have poured in the past decade.
Yet Qingdao might not be your best place if you plan to work in China after your studies. The city has received a big chunk of the investments in Shandong Province, for sure, but cities like Beijing and Shanghai generally have more job opportunities.
It can be beneficial to study Chinese in Qingdao as there are less foreigners. But you also need to take into consideration that you need to set root in China and network with people.
Most major corporations are located in Beijing or Shanghai and the biggest career fairs are held here. These cities are simply better for business networking and if you want to attend events with a local Chamber of Commerce, Meetups and business groups.
The price to income ratio is comparably high in Qingdao
It's cheaper to live in Qingdao compared to the bigger cities. However, the salaries are also comparably low and it's not optimal to live in Qingdao if you want to work on a local contract. As the title says, the price to income ratio is higher than in the bigger cities.
The summer months are enjoyable, but winters not so much
With a comfortable climate during the summers, having many parks and beaches, Qingdao definitely excels during the spring and summer. During the winter, temperatures can drop to around 0 degrees Celsius and you'll notice that there's less activity.
Less hustle and bustle than in the bigger cities
Even if the cost of living is higher and it's more congested in bigger cities, it has some charm. With an abundant nightlife, plenty of markets, a wide selection of restaurants and bars, many students and professionals tend to prefer cities like Shanghai and Beijing, where the networking and business opportunities are better too.
They don't speak pure Mandarin in Qingdao
People in Qingdao have their own dialect (like in most other places). Sometimes referred to as "fat tongue", the tones even tend to be different when talking. In any case, the Qingdao dialect is still quite close to the standard Mandarin and is a much better option than southern china where the dialects are intelligible.
Private schools in Qingdao
Note: Although we only accept schools that have a good reputation, this list of private schools is a sponsored listing:
XMandarin

XMandarin is located in Qingdao, which is the kind of city where you want to study, work, live and spend relaxing time. At this school, you will learn Chinese from highly qualified native teachers With a wide range of study programs. XMandarin is one of the top Mandarin Chinese language schools in Shandong province and offers both one-on-one immersion Mandarin courses and small group Chinese classes.
Over 12 years XMandarin has been dedicated to providing more than 3000 overseas students with excellent courses and services, helping them grow up and have fun in Qingdao.
Compared to universities, the classes are more adapted to your expectations and your schedule, making the courses more efficient and enjoyable. Also, the school has an excellent location in the heart of Qingdao, where you can find shopping malls, gyms, bakeries, excellent Western, Korean, and Japanese food, bars and clubs, the ocean, and movie theaters.
The best universities for studying Chinese in Qingdao
If you study Chinese in Qingdao, you can opt-in for one of its local public universities. Studying Chinese requires that you spend much of your free time to interact with the Chinese people and to speak and listen as much as you can.
My point is that you don't necessarily need to study Chinese at some of the most expensive and competitive top schools in Beijing. That's more important if you plan to do a Bachelor program or a Master program.
Below I've listed the biggest and most reputable public universities in Qingdao that all offer Chinese language programs.
Qingdao University (青岛大学)
Qingdao University traces back to 1909 when the German-Chinese College (Deutsch-Chinesische Hochschule) was founded by the German and Chinese governments in the city. It's currently one of the key universities in Shandong Province and considered to be the 78th – 107th best university in China (according to different rankings).
The school has around 46,000 students with a surprisingly high number of international students at 1,600.
The university offers the following studies in addition to its Chinese language program: Natural Sciences, Engineering, Management, Medicine, Education, Philosophy, Economics, Law, Literature, History and Military sciences.
You can apply for a full year program of Chinese studies, starting from September 1st and with an application deadline of June 10th. The tuition fee is 14,000 RMB and an application and service fee of totally 125 US dollars apply.
By comparison, the tuition fee at Fudan University in Shanghai is 21,000 RMB.
If you don't want to opt-in for a whole year, you can also opt-in for their Chinese Language and Culture Intensive Summer Immersion Program. Here, studies proceed from May 27th until July 27th (9 weeks). You'll also have the opportunity to go to Beijing or Shanghai for a week for cultural excursions.
Ocean University of China (中国海洋大学)
Ocean University of China, sometimes referred to as Hai Da (海大) is one of the most prominent universities in Shandong that focuses much on engineering studies. It's famous for its fishery sciences and marine sciences.
Founded in 1924, the university is located in an old German Concession part of Shinan District. From here, you can enjoy a great seaview and the university draws much attention thanks to its beautiful sceneries.
Ocean University is not as big as Qingdao University, currently having around 25,000 students, which is quite small by Chinese standards. Yet it's been ranked as the best university in Qingdao, even outperforming Qingdao University.
To study Chinese here, you need to be aged between 18 – 60 and be in good health (universities usually require that you get a health report upon enrollment).
The starting date for the spring semester is the first Monday of March each year and where the application should be submitted latest by the end of February. The fall semester starts the first Monday of September and with an application deadline at the end of August.
The tuition fee for one semester is 7,000 RMB, so it's a bit higher than Qingdao University's tuition fees. An application fee of 400 RMB also applies.
Here, you can also choose a summer program which lasts for four weeks, starting in the middle of July. The cost is 4,000 RMB for four weeks.
Qingdao University of Science and Technology (青岛科技大学)
Qingdao University of Science and Technology is another reputable university in Qingdao that was founded in 1950. It has grown much over the years, previously focusing on Chemical studies, it now offers a wide range of programs in the fields of Business, Management, Law, Arts, Medicine, Science, Technology and Humanities.
You're able to enroll in the Chinese language program starting twice a year, in the spring (March) and in the fall (September). The tuition fee is the same as Ocean University with 7,000 RMB / semester and including an admission fee of 400 RMB.
There are also short term programs available, stretching from 2 – 6 weeks that cost 1,600 RMB – 3,350 RMB. They commence in January and July each year.
Qingdao Technological University (青岛理工大学)
Qingdao University of Technology, previously known as Qingdao Technological University, is located in Sifang district. It specializes in engineering studies such as civil, mechanical and environmental engineering. Yet students are able to enroll in a number of different programs covering the fields of Economics, Law, Arts, Business management and other Engineering subjects.
The university was founded in 1953, has around 29,000 students, thus having an equal size as the above mentioned universities. It collaborates with many other universities worldwide, including Paderborn University (Germany), British Columbia Institute of Technology (Canada), Illinois Institute of Technology (US) and Greenwich University (UK).
At the moment, the university offers a short term Chinese Language & Culture Program and has trips and cultural activities included.
You need to be at least 17 years old to get admitted and the tuition fee during 4 weeks is 1,395 US dollars (around 9,360 RMB).
Get a free quote to study Chinese in Qingdao
Do you want to study Mandarin in Qingdao? Request a free quotation using the form below.
We will send your request to up to five reputable schools that offer courses in Qingdao.
Photo Credits:

Hall Leadership Trip 2016: Ocean University of China, Qingdao by CityU_SRO