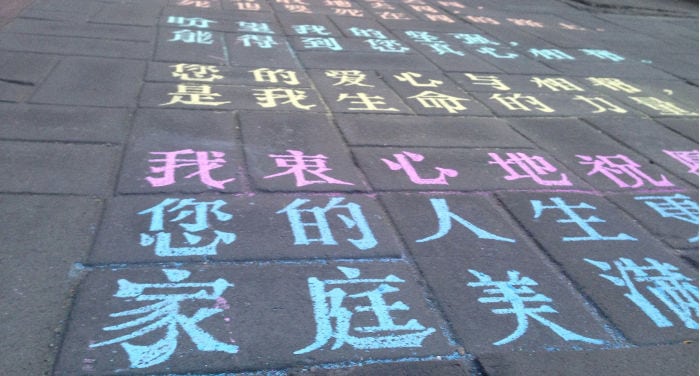 In this article, after a brief introduction, you'll find a table with 150 characters that will help you begin learning Chinese on the right foot.
Stephen Krashen, an American language teacher appreciated throughout the world and also in China (Chinese name: 史蒂芬·克拉申), famous mainly for the affective filter theory and for the hypothesis on acquisition and learning, is also known for being one of the biggest supporters of the importance of vocabulary in place of syntax.
One of his famous phrases says: "when one travels they don't carry grammar books with them; rather they bring a dictionary".
The abovementioned quote is emblematic of the importance that Krashen attributes to vocabulary and acquiring it. Acquiring vocabulary means perceiving a word and placing it in our semantic memory to be able to recall it in a few milliseconds when it is needed.
The purpose of this article is to provide the most commonly used characters that you will need for making your very own vocabulary book, that is to be able to form words from characters that are already known: using as a suffix the character 店 (which indicates a place where an activity is done), for example, I know that I can make many words like 鱼店 (fish market),水果店 (grocery),商店 (shop),饭店 (restaurant),书店 (bookstore) and so on.
Mastering the following list, we can also develop a very important ability: the ability of circumlocution or glossary. These abilities allow us to illustrate the meaning of a word that we don't know or for various reasons we don't remember (the famous lapses): if I don't remember how to say "bathing suit", I can just as well say "the suit that we wear to swim in the sea", just to give an example.
It is clear that no student/teacher of Chinese can ever be a moving dictionary, so perhaps the most appropriate choice is to adopt the view of forming Chinese words on your own (an article is coming shortly!) by using a list of characters chosen on the basis of their frequency of use.
This is a list of 150 characters that are not chosen on the basis of HSK levels. Alternatively, you can check this list of 100 characters collected by the linguist Ju Da.
I ask you to write in the comments section which other characters would be good for you!
| Character | Pinyin | Translation | HSK level | Frequency |
| --- | --- | --- | --- | --- |
| 的 | de | particle | 1 | 1 |
| 一 | yī | one | 1 | 2 |
| 是 | shì | to be | 1 | 3 |
| 不 | bù | no, not | 1 | 4 |
| 了 | le | particle | 2 | 5 |
| 在 | zài | be at, in, on | 1 | 6 |
| 人 | rén | person, people | 1 | 7 |
| 有 | yǒu | to have, to be here | 1 | 8 |
| 我 | wǒ | I | 1 | 9 |
| 他/她 | tā | he/she | 1 | 10 |
| 这 | zhè | this | 1 | 11 |
| 个 | ge | generic classifier | 1 | 12 |
| 们 | men | suffix of plurality | 1 | 13 |
| 中 | zhōng | at the center of, center | 1 | 14 |
| 来 | lái | to arrive at, to reach, to come | 1 | 15 |
| 上 | shàng | above, to rise over, to begin | 1 | 16 |
| 大 | dà | large | 1 | 17 |
| 为 | wèi | for | 2 | 18 |
| 和 | hé | and, with | 1 | 19 |
| 国 | guó | country, nation, state | 1 | 20 |
| 地 | de | adverb | 3 | 21 |
| 到 | dào | to arrive at, to reach, at | 2 | 22 |
| 说 | shuō | to speak, to stay | 1 | 23 |
| 时 | shí | when | 2 | 24 |
| 的时候 | de shíhou | when | 2 | 25 |
| 要 | yào | to want, to have to | 1 | 26 |
| 就 | jiù | just, right, really, truly, simply | 2 | 27 |
| 出 | chū | to go out | 2 | 28 |
| 会 | huì | to know (to make), probability that something will happen in the future, reunion | 1 | 29 |
| 可以 | kěyǐ | can, may | 1 | 30 |
| 也 | yě | even | 2 | 31 |
| 你 | nǐ | you | 1 | 32 |
| 对 | duì | regarding, toward, about | 1 | 33 |
| 生 | shēng | life, to be alive, to be born | 1 | 34 |
| 能 | néng | to be able to, to be capable of | 1 | 35 |
| 而 | ér | moreover, but, nevertheless | 3 | 36 |
| 那 | nà | that | 1 | 37 |
| 得 | dé | to obtain, to earn (with a neutral tone it introduces the level of completion | 2 | 38 |
| 下 | xià | under, to descend | 1 | 39 |
| 年 | nián | year | 1 | 40 |
| 过 | guò | to pass, to overcome | 2 | 41 |
| 发 | fā | to release, to emit, to send | 3 | 42 |
| 后 | hòu | after (it is put after whatever is being referred to) | 1 | 43 |
| 作 | zuò | to do | 1 | 44 |
| 里 | lǐ | inside | 1 | 45 |
| 用 | yòng | to use | 3 | 46 |
| 家 | jiā | house, family, expert in something | 1 | 47 |
| 种 | zhǒng | a type of | 3 | 48 |
| 事 | shì | thing, affair, question | 2 | 49 |
| 成 | chéng | to become | 3 | 50 |
| 多 | duō | to be numerous | 1 | 51 |
| 去 | qù | to go to | 1 | 52 |
| 法 | fǎ | method, way, manner | 3 | 53 |
| 学 | xué | to study | 1 | 54 |
| 都 | dōu | everyone, all, already, by now, even | 1 | 55 |
| 当 | dāng | when, to do (a trade) | 3 | 56 |
| 没 | méi | no, not (in the past), negating adverb for 有 | 1 | 57 |
| 动 | dòng | to move, to touch | 2 | 58 |
| 看 | kàn | to look, to read | 1 | 59 |
| 天 | tiān | sky, day | 1 | 60 |
| 分 | fēn | minute, to divide | 1 | 61 |
| 还 | hái | even, still | 1 | 62 |
| 进 | jìn | to enter, to make progress, to advance | 2 | 63 |
| 好 | hǎo | to be good | 1 | 64 |
| 小 | xiǎo | to be small | 1 | 65 |
| 部 | bù | part, section, department | 4 | 66 |
| 心 | xīn | heart (indicating feeling) | 3 | 67 |
| 少 | shǎo | less | 1 | 68 |
| 本 | běn | root, origin, class. unflappable objects | 1 | 69 |
| 前 | qián | in front of, before | 1 | 70 |
| 开 | kāi | to open, to light, to start | 1 | 71 |
| 但 | dàn | but, however, yet | 2 | 72 |
| 只 | zhǐ | only, just | 3 | 73 |
| 日 | rì | day, sun | 2 | 74 |
| 者 | zhě | the person that, the one who | 3 | 75 |
| 力 | lì | force, energy | 3 | 76 |
| 它 | tā | it, him | 1 | 77 |
| 与 | yǔ | with, and, together with | 4 | 78 |
| 长 | zhǎng | to grow, leader | 2 | 79 |
| 机 | jī | machinery, machine | 1 | 80 |
| 民 | mín | people, citizens | 4 | 81 |
| 第 | dì | transforms cardinal numbers into ordinal ones | 2 | 82 |
| 公 | gōng | public | 2 | 83 |
| 工 | gōng | work, to work, industry | 1 | 84 |
| 使 | shǐ | to make sure, to allow | 4 | 85 |
| 情 | qíng | feelings, sensations | 2 | 86 |
| 性 | xìng | nature, character, sex | 4 | 87 |
| 知 | zhī | to know | 2 | 88 |
| 全 | quán | all, entire, whole | 4 | 89 |
| 又 | yòu | in addition, again, moreover | 3 | 90 |
| 关 | guān | relations, to pass, border, to put out | 1 | 91 |
| 点 | diǎn | drop, point | 1 | 92 |
| 正 | zhèng | correct, appropriate, right | 2 | 93 |
| 业 | yè | activity, profession, business | 3 | 94 |
| 外 | wài | outside, external, foreign | 2 | 95 |
| 由 | yóu | cause, reason, from | 4 | 96 |
| 问 | wèn | to ask, to question | 2 | 97 |
| 最 | zuì | the most | 2 | 98 |
| 向 | xiàng | toward, direction | 3 | 99 |
| 相 | xiāng | mutual, reciprocal, one with another | 3 | 100 |
| 重 | zhòng | heavy, important | 3 | 101 |
| 并 | bìng | moreover | 4 | 102 |
| 物 | wù | thing, substance, creature, to be alive | 3 | 103 |
| 手 | shǒu | hand, hands | 2 | 104 |
| 应 | yīng | one must | 3 | 105 |
| 什么 | shénme | what, which | 1 | 106 |
| 等 | děng | to wait, etcetera | 2 | 107 |
| 产 | chǎn | to give life to, to produce | 5 | 108 |
| 或 | huò | or | 3 | 109 |
| 新 | xīn | new, recent, fresh | 2 | 110 |
| 制 | zhì | system, to establish, to produce | 5 | 111 |
| 身 | shēn | body, health | 2 | 112 |
| 果 | guǒ | fruit, result | 1 | 113 |
| 加 | jiā | to add, to increase | 3 | 114 |
| 月 | yuè | moon, month | 1 | 115 |
| 合 | hé | to unite, to combine, to gather | 4 | 116 |
| 回 | huí | to return | 1 | 117 |
| 表 | biǎo | to show, outline | 2 | 118 |
| 化 | huà | to change, to convert, to reform | 3 | 119 |
| 给 | gěi | to give to, at, for, from | 2 | 120 |
| 走 | zǒu | to walk, to go away | 2 | 121 |
| 各 | gè | each, everyone | 4 | 122 |
| 入 | rù | to enter, to join | 4 | 123 |
| 几 | jǐ | how many, some | 1 | 124 |
| 口 | kǒu | mouth, entrance | 1 | 125 |
| 认 | rèn | to recognize, to know | 1 | 126 |
| 系 | xì | system, line, connection | 1 | 127 |
| 题 | tí | question, issue, problem, title | 2 | 128 |
| 打 | dǎ | to strike, to play, to attack | 1 | 129 |
| 女 | nǚ | woman | 1 | 130 |
| 变 | biàn | to change, a change | 3 | 131 |
| 电 | diàn | electricity, light | 1 | 132 |
| 报 | bào | to bring back | 2 | 133 |
| 受 | shòu | to undergo, to accept, to receive, to support | 4 | 134 |
| 再 | zài | again, once again | 1 | 135 |
| 感 | gǎn | to feel, to sense | 3 | 136 |
| 完 | wán | to finish, to complete | 2 | 137 |
| 路 | lù | street | 2 | 138 |
| 品 | pǐn | article, product, consumer good | 5 | 139 |
| 类 | lèi | class, group, type, category | 5 | 140 |
| 共 | gòng | total, in total | 2 | 141 |
| 觉 | jué | to keep, to have knowledge of | 1 | 142 |
| 拉 | lā | to pull, to lengthen | 4 | 143 |
| 格 | gé | model, outline, format | 4 | 144 |
| 取 | qǔ | to take, to receive, to obtain, to choose | 4 | 145 |
| 规 | guī | rule, regulation, laws | 4 | 146 |
| 交 | jiāo | to exchange, to communicate, to turn in | 4 | 147 |
| 程 | chéng | trip, schedule | 4 | 148 |
| 告 | gào | to inform, to announce | 2 | 149 |
| 式 | shì | style, system, formula | 4 | 150 |
Photo Credits:

Amazing Chinese Calligraphy in Chalk by John Pasden