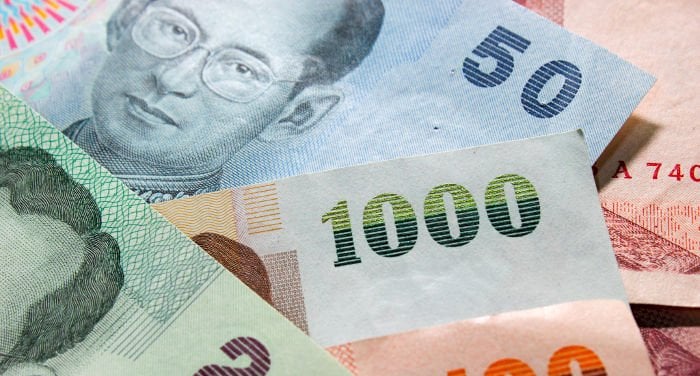 Opening a bank account in Thailand can be a quick and simple operation if you know how to do it, but it could also be a real nightmare due to local bureaucracy and the decisions that are often left to the discretion of the employee standing in front of you.
The two most curious things about opening a bank account in Thailand are:
The legend of people being able to open a bank account with just a tourist visa;
The mystery as to how it's possible that certain branches (even of the same bank!) ask for certain documents while others require different ones.
In this guide I will try to clarify these points and explain what you'll need to do in order to open a bank account in Thailand.
Why open a bank account in Thailand
Whether you're traveling for work or live in Thailand, opening a bank account could make your life easier for various reasons:
Considering that the highest value bank note is 1,000 THB (which is worth about 27.66 Euros today), having a bank account and being able to withdraw both cash and use credit cards, you won't have to carry around notes that are too big;
With access to e-banking you could handle your monthly expenses like rent for example, right from your sofa, without going to the bank;
Thailand is considered by European banks as a high risk country when it comes to cloning bank cards. For this reason many foreign banks have imposed daily withdrawal limits when traveling in Thailand. Making withdrawals with a foreign card is also rather expensive, since local ATMs apply a commission that varies from 200 to 250 THB per withdrawal, regardless of the amount. It's therefore more convenient to have a local bank account so as to freely make withdrawals;
If you want to buy a house or apartment on Thai soil, United Overseas Bank offers the option of getting a mortgage. This offer is quite rare since Thai banks usually don't give loans to foreigners. There is though a small detail that UOB requires as a guarantee for the loan: you must demonstrate that you have an annual income of almost 66,000 Euros, compared to the just 67.00 Euros annually required of Thai citizens.

In recent years other banks have also opened up to foreigners, offering loans for buying real estate. Among the most famous are the Bank of China, Krungsri, ICBC, and the firm MBK Guarantee, a subsidiary of MBK Group.
Which documents do you need to open a bank account in Thailand
Depending on the type of account you want to open and the Thai visa you have, you'll be required to provide different documents.
The type of bank accounts available for foreigners are: the standard bank account, a business checking account, and savings account.
You also need to consider the type of visa category you have, so that you could pick one bank account over another. According to the Thai consulate in Geneva, visas are divided into 4 categories:
diplomatic;
transit;
non-immigrant (workers, students, volunteers, pensioners, those in Thailand to visit family);
touristic (single or multiple).
The standard bank account is for those who receive a salary. Besides a valid passport, you'll also have to provide a copy of your visa and work permit. Once you open an account, you'll be given a card that you can use to withdraw cash from ATMs.
You can also have this type of account in foreign currency. Depending on your bank, you can open a checking account in American dollars, Euros or Sterling.
The savings account can be opened by showing your passport, visa and a letter of recommendation from your embassy, or for students a letter of the Thai language school or university you are attending in Thailand.
When you ask your school or embassy to write you a letter of recommendation, remember to ask them to write the address and branch of the bank where you wish to open an account in the heading.
If you decide to go to the Central World shopping mall, on the letter to present to the bank it should have the address of this branch and not the one on Phaholyothin Road for example, since in that case the letter of recommendation won't be accepted.
As with standard bank accounts, when opening a savings account you'll be asked for a minimum amount to deposit, usually 500 THB. You then have to decide if you just want to have a bank book (called a Passbook) which you could use to withdraw directly from the bank counter, or if you want to also get a card for withdrawing from ATM's around the country.
Even though opening a savings account requires a non-immigrant visa, there are personal experiences that recount some getting one just by showing their passport and a tourist visa. Apparently Bangkok Bank is the easiest bank for opening a bank account with a tourist visa.
Some people have been asked to show a copy of their lease, others an official letter from their embassy, where they verify that your passport is real and truly corresponds with the person specified.
Unfortunately we can't confirm that you can open a bank account with a tourist visa.
The last type of checking account is for those who do business in Thailand. In this case, besides your visa and work permit you have to present paperwork from your firm that demonstrates that you're the head of a firm or that you have a share as a partner.
While you're in the process of opening a bank account, I recommend that you also ask for information about filling out the forms for e-banking. You'll then be given a username and password that will be tied to your Thai telephone number, which you could use to access your account online.
As was mentioned in the beginning of this guide, when opening a bank account in Thailand you might be asked for other documents besides the standard ones mentioned up to this point, like a Thai drivers license or a lease contract of at least one year.
Unfortunately there's no specific standard for foreigners to open a bank account and it's often at the will and discretion of the employee you're dealing with at the moment.
Which bank you should choose
Besides the aforementioned Union Overseas Bank, there are many other Thai and international banks to choose from. Some examples are: Bangkok Bank, Bank of Ayudhya (Krungsri), Bank of Thailand, Bank of America, Bank of China, Deutsche Bank, HSBC Bank, Kasikorn Bank, Siam Commercial Bank.
There's no great difference between one bank and another, as they all offer more or less the same services.
All the banks impose annual costs for maintaining a checking account which are very low;
Withdrawals are free if done at one of the ATMs of the bank you have an account with within the same region;
You can make and receive both local and international wire transfers;
With all bank accounts you can have e-banking credentials;
Today practically all banks, especially in Bangkok, have employees that speak English and can handle foreign clients.
If your main intention is to transfer money abroad because you're a student or need to provide for yourself during your stay in Thailand, or if the salary you receive is in a currency other than the local one, I recommend you take a look at the exchange rates offered by different banks.
Often between one bank and another the exchange rate is rather high and you can win or lose a substantial sum. Siam Commercial Bank is considered to be the bank with the best and most stable exchange rate in the last few years.
All accounts are tied to a debit card that serves as a cash machine with which you can withdraw cash and pay for purchases online. This type of card requires that you have the money available in your account, without which your transaction would be denied.
If instead you want a credit card you have to have a work visa and work permit. Depending on your bank, you'll be asked to meet certain criteria, such as:
A minimum monthly salary, which depending on your financial institution could vary from a minimum of 15,000 up to a maximum of 120,000 THB a month;

A copy of your bank statements for the last 6 months. This chronology of deposits and withdrawals obviously has to be with the bank where you're applying for the credit card;

You might be asked to demonstrate that you've been working in Thailand for a minimum of a year.

How to transfer money to Thailand

Once you open your Thai bank account, transferring money from your country is very simple. It also becomes convenient when you decide to use peer-to-peer services like Wise (formerly Transferwise).

Wise's fees are very low since the bank transfer is carried out from an account in your home country and is sent to a Wise account in the same country (or in a country that uses the same currency in the case of countries that make up the European Union), at which point a corresponding sum will be sent from a Thai Wise account to your Thai account.

There are also other ways to transfer money to Thailand:

Exchange Euros into THB and bring it with you in cash. This solution is probably the most expensive as well as the least convenient, since you'll have a lot of money on you and that could put you at risk;

Bring Euros with you and exchange them once you arrive in Thailand. In this case too it it's not a convenient or safe practice. Exchanges are better for clients of the bank than for non-clients. But if you do choose this option, I strongly recommend that you don't exchange money at the airport, where the rates are not favorable. It would be better to go to one of the various locations of Super Rich, which has better rates at various points across Bangkok. Today, April 26, for 1 Euro at SCB they'll give you 35.23 THB, while at Super Rich you'll get 35.60 THB;

Withdraw cash with your foreign credit card. This option will cause you to incur rather high commissions, up to 7 Euros per withdrawal.

How to transfer money from Thailand

Just as with transferring money from your country to Thailand, the converse operation offers various options. The most convenient is to send money through peer-to-peer services like Wise (formerly Transferwise), or something similar.

You can also bring cash with you and exchange it when your return to your country. This is not the greatest option due to the exchange rates and limits imposed by the Thai authorities. In fact, when you leave Thailand, the maximum amount of THB that you can bring with you is 50,000 per person, which corresponds to 1,345 Euro unless your destination is one of the countries that border Thailand, like Laos. In this case the maximum sum is 500,000 THB (13,450 Euros).

If instead you want to import or export foreign currency in cash, the amount cannot be more than or equal to 20,000 American Dollars. If it is you'll have to declare the cash at customs.

When it comes to entering your home country, the rules can vary. In many European countries, for example, there's no need to declare amounts less than or equal to 9,999 Euros.

Online and mobile banking

All banks in Thailand have web sites in both Thai and English. The most well-known also have translations in Chinese and Japanese.

Each has a web page where you can access your account online. In order to log-in you need a user name and password that will be given to you at the bank, which you can change as you wish. You'll also need a Thai phone number, where each time you try to access it, you'll be sent a code to insert online.

In recent years apps have been developed, available in both Thai and English. All the major banks have an app that will allow you to pay your expenses, like recharging your phone account or having a complete visual of all bank transactions.

Some institutions, like Siam Commercial Bank, have developed supplementary services into their apps, such as making withdrawals at ATMs without a card by simply scanning a QR code, or buying discounted movie tickets.

Photo Credits: Thai Bank Notes by Karn Bulsuk