Chiang Rai is the last city in the north of Thailand and one of the top touristic destinations in the famous Golden Triangle. The city offers a large number of accommodation and finding a good hotel can be difficult. In this article you'll find the review of some of the best hotels in Chiang Rai whatever your budget may be.
If your looking for general tips on booking hotels in Thailand click here to read our guide.
Reviews of Luxury (5 star) hotels in Chiang Rai
The Legend Chiang Rai Hotel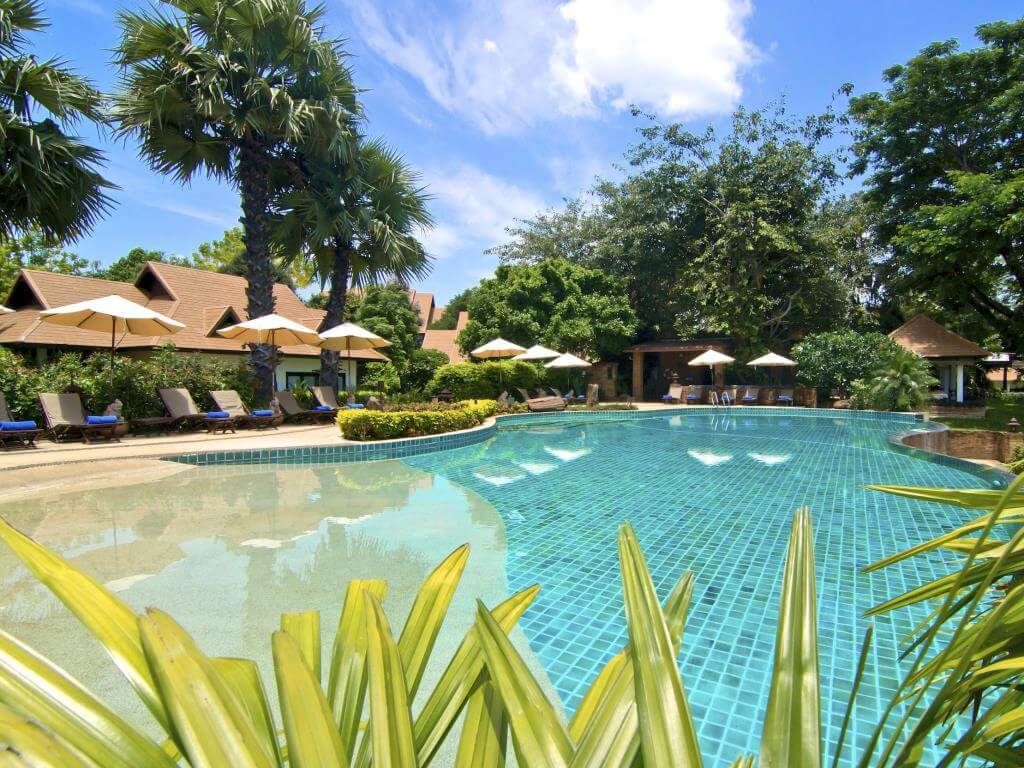 With 78 guestrooms, equipped with free Wifi and great location, the The Legend Chiang Rai Hotel is a lovely accommodation option for travellers. It features spacious and airy rooms, beautifully decorated with modern amenities. The pool villas offer lovely pool views. This hotel is a great option if guests want to bring along their fuzzy pals as the hotel warmly welcomes pets. For children, the hotel offers childcare services and facilities to make the families feel at home and as comfy as possible. The hotel is only 5.71 km away from the Chiang Rai Airport and only 1.61 km away from the Chiang Rai Bus Terminal1. Tourists Points of Interest like Statue of King Mengrai and King Meng Rai the Great Monument are within 9 minutes walk. The wats like Wat Pra Singh and Wat Phra Kaew can be reached within 14 minutes on foot. The staff is courteous and speaks fluent English for easy conversation with non-Thai guests.
Le Meridien Chiang Rai Resort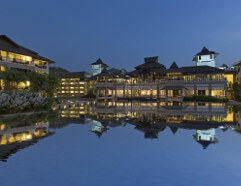 One of the popular hotel chains, Le Meridien offers excellent modern facilities with English and Chinese speaking staff. The hotel offers huge rooms with contemporary and minimal décor with lovely garden views. The hotel features two restaurants, a poolside bar, coffee shop, fitness center, spa, garden, library and yoga room. Some of the convenient services include express check-in/check-out, facilities for disabled, currency exchange, concierge, luggage storage, valet parking, and bicycle rental. The only low is that the guests do not get Wi-Fi in rooms for free; however, it is free in the public areas. Khun Korn Waterfall is only a 9 minute walk away while other popular attractions like Wat Pra Singh, Wat Phra Kaew, and King Meng Rai are reachable within 30 minutes on foot. It is 1 hour away from the city center and 4.38 km from the Chiang Rai Airport.
Dusit Island Resort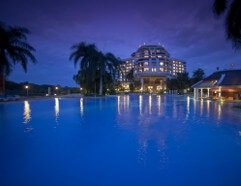 The high points of the Dusit Island Resort are free Wi-Fi across the property, three restaurants, and free parking. The hotel houses 69 guestrooms with modern facilities and amenities like a desk, mini bar, coffee tea maker, TV, telephone, with well-fitted ensuite bathrooms. The rooms offer gorgeous views of the Mae Kok River, offering peaceful feel to the guests. The hotel ensures guests enjoy the most with its entertainment facilities like a tennis court, table tennis, swimming pool for kids and adults, and a fully serviced spa. It's location makes getting to popular attractions easy as Wat Phra Kaew, Wat Pra Singh, Wat Phra That Doi Chom Thong are only 6 minute walk away. The Chiang Rai International Airport is 6.82 km away. The hotel offers a lovely experience to guests because of its location close to the river and having breakfast outdoor; next to the river is a cherry on the cake.
Le Patta Chiang Rai Hotel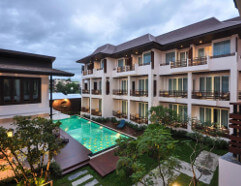 Located only a few steps away from the Chiang Rai's Night Market, Le Patta Chiang Rai Hotel is a lovely downtown hotel with 40 guestrooms. The well-appointed and clean rooms are beautifully done up in colorful and bright furnishings. The hotel offers free Wi-Fi; free parking, free cribs/infant beds, and free bike lending services. Its restaurant serves fusion and international food to cater to different tastes. The hotel is 7.03 km away from the Chiang Rai International Airport and 0.19 km from the Chiang Rai Bus Terminal 1. It's a popular hotel among guests who like to explore the downtown and city easily on foot as most of the attractions, restaurants, night market are located quite close by. It is also a great pick for guests with kids as the hotel offers connecting rooms, babysitting service, family room, and kids swimming pool for families with kids. The English speaking staff is extremely friendly and courteous to make the stay convenient and even more enjoyable for guests.
Reviews of mid-range hotels in Chiang Rai
Nak Nakara Hotel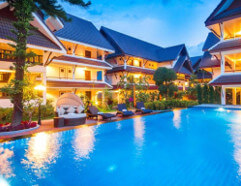 The Nak Nakara Hotel is a strategically located hotel close to Wats and other popular attractions, only few minutes' walk away. It features 70 brightly colored bedrooms, high on cleanliness and space to provide utmost comfort to the guests. Guests here enjoy free Wi-Fi in all rooms, free breakfast and free use of bicycles to explore the city at their own convenience. The hotel also provides free bus service to the airport, which is 6.64 km away from the hotel. Some of the facilities at the hotel include swimming pools for adults and kids, facilities for disabled, restaurants, coffee shop, a fitness center, spa, and garden. The hotel staff is courteous, friendly and speaks English, Japanese, and Chinese. At the hotel, be assured to get every help from the ever smiling staff, always up to delight the guests. The hotel is popular for providing free breakfast spread with wide choice of delicacies from western and Thai cuisine.
Grand Vista Hotel Chiangrai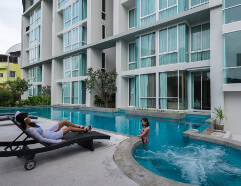 Located close to Central Plaza Chiang Rai, the Grand Vista Hotel Chiangrai features 80 guestrooms and easy access to most attractions. It is 8.56 km away from the International Airport while only 1.87 km away from the Chiang Rai Bus Terminal 1. The two great benefits of staying at the hotel are that it provides free Wi-Fi access in all rooms and is located opposite to Central Plaza, the biggest shopping mall with a supermarket and food court. Also, it is a good option for guests with kids as the hotel provides extra rollaway beds, free cribs, babysitting service, and kids' swimming pool. The staff is friendly and cordial but do not speak fluent English which may be an issue for non-Thai guests.
Rasa Boutique Hotel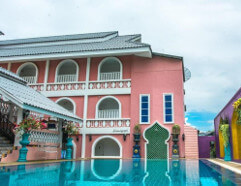 Rasa Boutique Hotel is located in the Amphur Muang area of Chiang Rai, which is the core of the city, offering easy access to popular attractions. The hotel is old style with clean rooms, equipped with free Wi-Fi and all necessary amenities. It features 30 guestrooms, traditionally decked up with bright furnishings offering cozy and home-like feel. The hotel is good for travelers as it houses leisure facilities like an outdoor swimming pool, terrace, garden, and poolside bar. The staff speaks English and is kind and courteous to help guests and make their stay memorable with exceptional service. Attractions like King Meng Rai the Great Monument, Statue of King Mengrai and Hilltribe Museum and Education Center are only two to five minute walk away. The Chiang Rai International Airport is located at a distance of 6.14 km from the hotel.
De Hug Hotel and Residence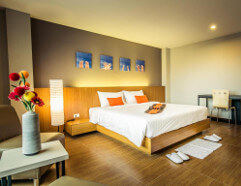 Located in Muang, De Hug Hotel and Residence is a 60 guestroom hotel with clean and contemporary décor. All the rooms are smoke-free and provide free Wi-Fi access to guests. Because it is a suburban hotel, the popular attractions are a bit far than other hotels that are in the city center. However, guests will still be able to reach Wat Phra Kaew, Wat Pra Singh, Mae Fah Luang Art and Cultural Park and Tham Tu Pu and Buddha Cave within 20 minutes on foot. The hotel is high on cleanliness and service with English speaking staff. It is a great accommodation option if the guests are looking for a comfy stay and excellent customer service at economical prices. The few lows of the hotels are that it does not have a pool and fitness center which may be available in other hotels with similar standards.
Reviews of budget hotels in Chiang Rai
Huen Chan Thip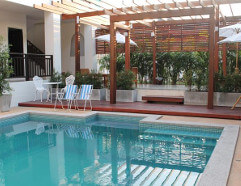 Huen Chan Thip offers warm accommodation to travelers with an array of facilities. This hotel is set in a quiet area in the city away from hustle and bustle. Offering an outdoor pool, restaurant and free parking facility, guests can have a comfy stay at the hotel. It offers free Wi-Fi across public areas and rooms. Mae Fah Luang – Chiang Rai International Airport is around 8 kilometers away from this hotel. Some of the popular attractions like Wat Pra Sing and Chiang Rai Saturday Night Walking Street are within 1 kilometer from the hotel. The friendly staff can speak English in addition to arranging tours to the city and providing them with facilities like bicycle and car rental.
Banlomnow Hotel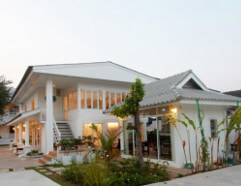 Banlomnow is a beautiful and small Hotel in Chiang Rai set in a white colonial building with friendly staff. Guests here enjoy matchless service and warm hospitality. The staff speaks English, making it easier for non-Thai guests to converse with them easily. Additionally, guests here will enjoy free Wi-Fi access, free public parking facility and strategic location close to popular tourist attractions. Located almost 9 kilometers away from Chiang Rai Airport, the hotel arranges vehicle for the airport pick up of their guests. The hotel is about 500 meters away from Central Plaza Chiang Rai while Old Bus Station is around 1.7 kilometers away. The Clock Tower Chiang Rai is nearly 1.9 kilometers from this property.
Mercy Hostel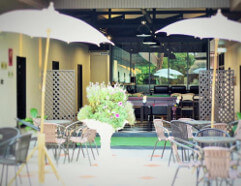 Mercy Hostel is a good option for travelers who search for affordable and cozy stay in the city center of Chiang Rai. The staff of this property is super-friendly and speaks fluent English and Spanish to communicate easily with non-Thai guests. The hostel offers a snooker table where guests can spend their leisure time and free Wi-Fi access throughout the hostel also adds to the positive experience. Located around 8 kilometers away from Chiang Rai International Airport, this property features a 24-hour front desk, a shared lounge, a tour desk and a kitchen. Chiang Rai Clock Tower is only 300 meters from this hostel while the Old Bus Station is nearly 400 meters away. This is a good option when guests are mainly looking at convenient location close to most attractions, free Wi-Fi, clean and comfy rooms with friendly staff.
Baan Malai Guest House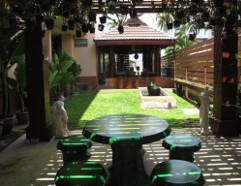 Located close to the City Center, Baan Malai Guest House offers good staying facilities at economical rates to guests. This small hotel is only 5 minute walk away from Chiang Rai Bus Station and the renowned Night Bazaar. The famous Clock Tower is only 1 kilometer away from this property while the well known Wat Jed Yod is only 300 meters away. With well appointed rooms, friendly and English speaking staff and modern amenities, guests can enjoy comfortable stay in this guesthouse. It also offers free Wi-Fi throughout the hotel, making it easier for the guests to stay connected to the world all the time. It has a 24-hour front desk and complimentary tea and coffee in the lobby area that provides their service round the clock.
Hotel Photos on Agoda.com