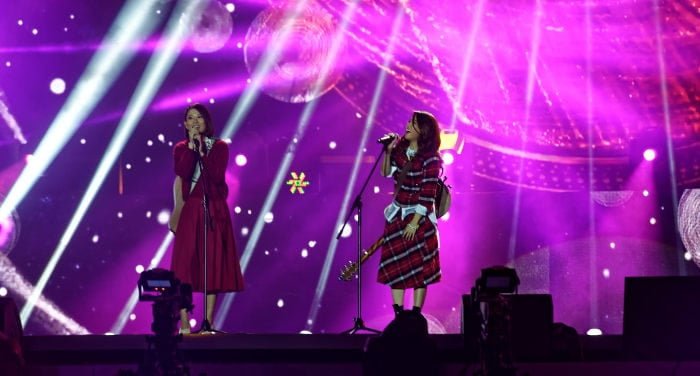 As we've often said, to learn a foreign language it's important to watch lots of films and listen to many songs in the original language, rather it would be better to memorize and sing them.
Unfortunately, many don't like Chinese language songs because they're quite different than Western tastes. Fortunately for those learning Chinese, now Chinese singers (especially the Taiwanese) tend to compose songs that are somewhat "Westernized".
In this article I will try to put together a list of singers and songs that I love the most, in the hopes of being able to incline you to listen to more Chinese music! For each singer I chose several songs that I know, so if you like them you can look for more of their work!
All songs that I will list are easily found on Youtube, and some, also on Amazon.
Deng Lijun 邓丽君 (Teresa Teng)
Yueliang daibiao wo de xin 月亮代表我的心 (The moon represents my heart)
Wo zhi zaihu ni 我只在乎你 (Only you are in my heart)
Tian mimi 甜密密 (Sweet as honey)
Qian yan wan yu 千言万语 (Thousands of words)
Wang Fei 王菲
Congcong na nian 匆匆那年 (Quickly that year)
Hong dou 红豆 (Red beans)
Renjian 人间 (The world)
Liu nian 流年 (Time passes)
Wo ye bu xiang zheyang 我也不想这样 (I wish it weren't that way either)
Wang Lihong 王力宏 (Wang Leehom)
Ni de ai 你的爱 (Your love)
Dacheng xiao ai 大城小爱 (Big city, little love)
Ni bu zhidao de shi 你不知道的事 (The things you don't know)
Wei yi 唯一 (Only)
Ai de jiushi ni 爱的就是你 (You're the one that I love)
Gaibian ziji 改变自己 (Change yourself)
Women de ge 我们的歌 (Our song)
Xintiao 心跳 (Heartbeat)
Piao xiang beifang 漂向北方 (Floating towards the north)
Wen Huiru 文慧如 (Boon Hui Lu)
Guangnian zhi wai 光年之外 (Light Years Away)
Rang wo liuzai ni shenbian 让我留在你身边 (Let me stay by your side)
Li Rongrao 李榮浩
Bu jiangjiu 不将就 (Stubborn Love)
Xiju zhi wang 喜剧之王 (The King of comedy)
Libai 李白 (Libai)
Guangliang 光亮 (Michael Wong)
Tonghua 童话 (Fable)
Di yi ci 第一次 (The first time)
Yueding 约定 (Okay)
Dou shi ni 都是你 (You're everything)
Tiantang 天堂 (The Paradise)
Chen Yixun 陈奕迅 (Eason Chan)
Rang wo liuzai ni shenbian 让我留在你身边 (Let me stay by your side)
Shi nian 十年 (Ten years)
Aiqing zhuanyi 爱情转移 (Love moves)
Yao Beina 姚贝娜
Zhanzheng shijie 战争世界 (World of wars)
Zhang Hanyun 张含韵 (Baby Zhang)
Baby Baby
Yi Ren Yi Meng 一人一梦 (A person, a dream)
Fangjia le 放假了 (The vacations have arrived)
Zhaogu ziji 照顾自己 (Take care of yourself)
Mama wo ai ni 妈妈我爱你 (Mamma, I love you)
Chinese Girl
Zhang Yixing 张艺兴 (Lay)
What U need?
Shikong 失控 (Lose Control)
Ca Yilin 蔡依林 (Jolin Tsai)
Dianhua huanghou 电话皇后 (The telephone empress)
Shuo ai ni 说爱你 (Say "I love you")
Jiushi ai 就是爱 (It's really love)
Madeli bu siyi 马德里不思议 (Madrid is inconceivable)
Ribuluo 日不落 (The sun doesn't set)
S.H.E.
Zhongguo hua 中国话 (The Chinese word)
Yang Chengang 杨臣刚 Wang Qiwen 王启文
Laoshu ai dami 老鼠爱大米 (Mice love rice)
Zhou Huajian 周华健 (Emil Chau)
Pengyou 朋友 (Friends)
Xiao Yaxuan 萧亚轩 (Elva Hsiao)
Cappuccino
Bu jieshi qinwen 不解释亲吻 (Shut up and kiss me)
Langman lai xi 浪漫来袭 (Romance strikes)
Yang Chenglin 杨丞琳 (Rainie Yang)
Lixiang qing ren 理想情人 (The ideal lover)
Yu ai 雨爱 (Love and rain)
Wang jian Wang 王见王 (When the king meets the queen)
In your eyes
Luo Zhixiang 罗志祥 (Show Lo)
Bu juming de beishang 不具名的悲伤 (Anonymous Sadness)
Wei wan de chengnuo 未完的承诺 (Unfinished Promises)
Ai bu danxing 爱不单行 (You won't be alone)
Wang Xinling 王心凌 (Cindy Wang)
Ai ni 爱你 (To love you)
Dang ni 当你 (When you)
Di yi ci ai de ren 第一次爱的人 (First love)
Pei wo dao zui hou 陪我到最后 (Stay with me until the end)
Nian Nian Nian Nian 黏黏黏黏 (Sticky Sticky Sticky Sticky)
Transition
Duibuqi 对不起 (Excuse me)
Stay in the moment
Ni shi wo de huaduo 你是我的花朵 (You are my flower)
Milu de niuzai 迷路的牛仔 (Lost Cowboy)
Mei you shenme bu keneng 没有什么不可能 (Nothing is impossible)
Wo ai ni 我爱你 (I love you)
Ruo ni pengdao ta 若你碰到她 (If I met you)
Ni zenme shuo 你怎么说 (How you say)
Shi wan ba qian li 十万八千里 (At 10800 li)
Feichang Fresh
FFBB
Wo ai Zhongguo cai 我爱中国菜 (I love Chinese food)
Aishang xiatian 爱上夏天 (Summertime)
You ge laowai zai Beijing 有个老外在北京 (A foreigner in Beijing)
Ni hao shijie 你好世界 (Hello the world)
Ying shan hong 映山红 (Azalea)
Xiao ke ai 小可爱 (Cute)
A Beijing love song
Happy Chinese New Year
Mei Nv Guolai 美女过来 (Come, beautiful)
I Love Luban
Perfect World
Zhou Jielun 周杰伦 (Jay Chou)
Gaobai qiqiu 告白气球 (Love Confession)
Ting mama de hua 听妈妈的话 (Listen to what your mamma said)
Qili xiang 七里香 (Scented Osmanthus)
Tao Zhe 陶喆 (David Tao)
Putong pengyou 普通朋友 (Just friends)
Jiu shi ai ni 就是爱你 (I just love you)
Ai hen jiandan 爱很简单 (To love is easy)
Susan shuo Susan说 (Susan says)
Huang Xiaofeng 黄晓凤
Yangguang zong zai fengyu hou 阳光总在风雨后 (The sun always follows the storm)
Weixiao 微笑 (Smile)
Yi jian zhongqing 一见钟情 (Love at first sight)
Wo rang ni zou 我让你走 (I let you go)
Fang Datong 方大同 (Khalil Fong)
Haobu rongyi 好不容易 (It's really hard)
Yinwei ni 因为你 (Because of you)
Hong dou 红豆 (Red beans)
Xiao xiao chong 小小虫 (A small, small worm)
Nan quan mama 南拳妈妈
Juzi qishui 橘子汽水 (The Mandarin drink)
Xiayu tian 下雨天 (Rainy day)
Yen-j严爵
Zanshi de nan pengyou 暂时的男朋友 (Temporary fiance)
Kuaizi xiongdi 筷子兄弟
Xiao Pingguo 小苹果 (Melina)
Yu Chengqing 庾澄庆 (Harlem Yu)
Qing fei de yi 情非得已 (Love can never end)
Xu Wei 许巍
Shenghuo bu zhi yanqian de gouqie 生活不止眼前的苟且 (Life is more than just settling for what is in front of our eyes)
Wang Dawen 王大文 (Dawen)
Nihao 你好 (Hi)
All for you
Chao haomai 超好买 (Super easy to buy)
Bu xihuan buxiban 不喜欢补习班 (I don't like make-up classes)
Disney songs in Chinese:
Yongbao lantian 拥抱蓝天 (Embrace the blue sky, by Hu Weina 胡维纳 from the Disney animated cartoon Rebel)
Rensheng heshi gaibian 人生何时改变 (When will people change, from the Disney animated cartoon Rapunzel)
Nanzi han 男子汉 (A real man, from the Disney animated cartoon Mulan)
Wo yijing ai shang ta 我已经爱上他 (I've already fallen in love with him, from the Disney animated cartoon Hercules)
For Disney songs just search on youtube for the name of the song or cartoon in English then select the Mandarin Version. If you want the script, write it in the comments!
To conclude, two very famous songs:
Beijing huanying ni 北京欢迎你 (Beijing welcomes you)
Beijing zhufu ni 北京祝福你 (Best Wishes From Beijing)
Photo Credits: Cover Photo by Sapore di Cina