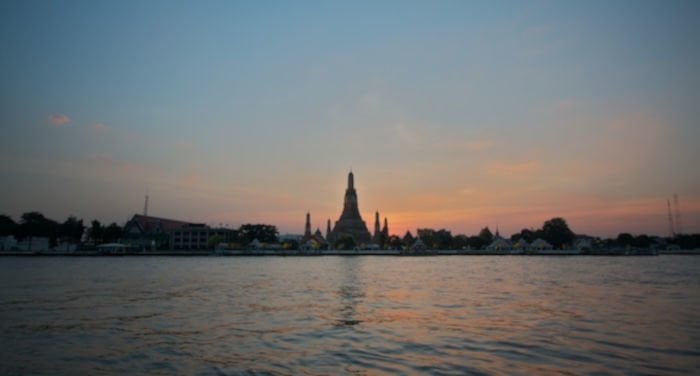 Where to live in Thailand – Index
Deciding on the place that would become your new home in Thailand is an important and personal choice that can vary widely depending on many aspects such as age, the reason for moving, your budget, your monthly income and so on.
Nevertheless, to decide on a final destination, there are some questions that anyone who is planning on living in Thailand should consider before leaving:
What is the reason for your move? Are you looking to establish Thailand as your base of operations for traveling through Southeast Asia, or are you looking to work in the Land of Smiles?

Another still is: have you chosen this country as a retirement destination or do you still not have a well-defined plan and in the meantime are enrolling in a school to learn Thai?
Would you rather live in a city, like Bangkok or Pattaya, or in a smaller place in the countryside like the province of Kanchanaburi? If you're a fan of the mountains and want to settle in a cool and peaceful place like Chiang Mai, Chiang Rai, Pai, or would you prefer a life of sun and sea that you can find on the islands?
What type of climate do you like? Are you a fan of constant heat, or do you prefer mild temperatures that can go down as far as 15 degrees in the winter?
How do you plan on supporting yourself during the time you'll be living in Thailand? Do you have savings or a fixed income, or do you intend to look for work?
An increasing number of people of all ages dream of going to live in a tropical paradise like Thailand. The Kingdom of Siam offers so much in human and landscape terms, as well as completely overturning your life (in a positive way).
But moving to Thailand isn't for everyone; initially you'll face the language barrier, different eating habits, customs that are far different than Western ones, and a torrid, constant heat that rarely drops below 25 degrees (with the exception of the northern part of the country).
Thailand is a world apart; a place where you'll initially try to understand some contradictory behavior on the part of the locals, to then end up loving them unconditionally due to a certain dynamic sense that in the eyes of Westerners may seem incomprehensible.
At the same time, the advantages of living in Thailand are many: the variety of amazing landscapes that you can admire in the mountains, in the cities, and on the islands; the fascinating local culture and its intrinsic Zen aspects such as Buddhism and its magnificent temples; the safety and tranquility of the local people despite a few cases in the news of late; the low cost of living; and even a tax rate that favors investment.
In each of the next sections, I will go deeper into the themes listed above, so as to give you a wider vision of the aspects that could determine your final choice.
The purpose for moving
There are many possible reasons for moving to Thailand; among the most popular are: for work, study, retirement, or a sabbatical period.
Reasons of work: if you've been offered a job, or decided to volunteer in Thailand, the place where you'll live has already been chosen and you can enjoy the rest of the country on visits.
If instead you intend on looking for a job when you arrive, know that finding work in Thailand is extremely difficult, but not impossible! In our guide you can find some useful advice on how to find a job in Thailand.
In the event that you'd rather open a business, I recommend that you do some deep market research and look to see what the real opportunities are. While places like Bangkok, Pattaya, Chiang Mai, Phuket, and Koh Samui offer tons on a tourism level, they also have a higher level of competition.
Moreover, having knowledge about local laws is a factor not to be underestimated, since in Thailand there's a law where 51% of the shares of a foreign firm have to be owned by a Thai citizen. In addition you have to keep in mind that for every foreigner hired, you are obligated to provide work for 4 Thais.
If you're a digital nomad and want to settle in Thailand for a mid to long-range period yet don't want to live in a tiny town without a WiFi connection, I recommend a destination like Chiang Mai, the homeland for digital nomads. A small note: working online in Thailand for money without a work visa and work permit is illegal.
Since the beginning of 2018 they introduced a visa called "Smart Visa", meant to regulate those who work online. Unfortunately though, the conditions for this type of permit are rather prohibitive.
One example is the need to demonstrate that you have a minimum income of 200,000 THB a month (about 5,600 Euros), besides working in specific sectors such as health, technology and robotics.
For those who satisfy all the requirements, this visa offers various advantages: it's good for 4 years, the option of bringing your family with you, and not having to request a work permit.
In Thailand you'll find some of the best universities in Southeast Asia. So if you'd like an experience studying abroad, I suggest that you choose Bangkok, where there's a good 30 universities that offer three year academic courses and specialties, even in the English language.
If you don't like chaos and prefer to live somewhere on a more human scale, then take a look at the graduate courses offered from Chiang Mai University, which is considered to be among one of the best public universities in the country.
In recent years a growing number of pensioners have chosen Thailand as a place to settle. Phuket, and in particular the area around Patong, is a very popular place for those over 60.
More relaxing compared to chaotic Bangkok, on the Pearl of the Andaman you can have a little bit of city life and still take walks on the beach. Costs in Phuket are less than those of Bangkok and there's a better chance of socializing with other people of your age.
Also Pattaya, Hua Hin, Chiang Mai and some islands like Koh Tao and Koh Samui are particularly loved by retirees. Much calmer compared to Phuket, these places can offer a relaxing lifestyle at lower prices.
With the majority being located near the water, you can also participate in water sports. For mountain lovers, Chiang Mai and Chiang Rai are a good alternative to the chaotic capital, since they are medium sized cities where peace and tranquility reign, which is ideal for those who love excursions based in nature.
If you have the good fortune to have a year sabbatical and want to visit Southeast Asia from a fixed base, Thailand is a great choice.
Depending on the frequency, duration and places that you travel to, I recommend that you use either Bangkok or Chiang Mai as a base so as to stay close to international airports and travel without spending too much time moving around.
City, mountain, or sea?
There are many foreigners from around the world who emigrate to Thailand each year. The most common destination is the capital Bangkok.
Today the population of Bangkok is estimated to be over 10 million inhabitants. The rapid expansion and important economic and touristic growth that has characterized Thailand in recent decades has made Bangkok one of the most cutting-edge and livable cities in the world.
The convenience of transportation, professionalism of the hospitals, high standard of living (in some cases even better than in the West), mixed with ancient buildings and modern construction, makes Bangkok one of the most fascinating cities in the world.
As a vast city furnished with everything a person can imagine, Bangkok is a destination particularly suited for:
those looking for work and entrepreneurs looking for business opportunities;
students hoping to have a formative experience in Asia;
people interested in learning Thai, or why not, even English. Bangkok is the home of many prestigious international schools, such as for example the International House, where languages such as English are taught by native speakers.

Adding the fact that the cost of living in the Thai capital is certainly less than cities such as London or New York, Bangkok is easily considered among the most appealing options;
avid travelers who want to have a fixed base in Southeast Asia.
When I think of the Thai mountains I can't help but mention the capital of the north: Chiang Mai. I recommend this place for those who:
are fans of mild temperatures;
prefer peace and relaxation as opposed to chaos and a frenetic life. Living in less-touristy and crowded areas, you can get around on foot, with a scooter or by bicycle;
have a medium to low budget or those who prefer to spend their monthly income on activities and travel, which are rather expensive luxuries in Bangkok, where the majority of your salary will be used to pay rent and cover expenses at the supermarket;
work as a digital nomads. For example in Chiang Mai, there are tons of coworking spaces and events where you can network.
If instead you'd like to live by the water you have a ton of choices. There are hundreds of Thai islands, located both in the Andaman Sea as well as the Gulf of Siam. Some are uninhabited while others are more famous and developed.
I recommend that you choose a mid-to-large size island so that you could have all necessary services available, such as banks, and especially hospitals.
Obviously in addition to these more famous locations there are lots of other options. The central part of Thailand, without an outlet to the sea and basically without mountainous areas, could be a destination for pensioners who have homes and properties, or whose Thai wives have family that live in the area.
In these places the cost of living is really low even by Thai standards. Nevertheless, work opportunities are practically inexistent for foreigners, road connections with the rest of the country are long and little social development has left these areas mainly inhabited by local people who dedicate the majority of their lives to agriculture.
The weather
One of the biggest obstacles that I've encountered living in Bangkok are the extremely high temperatures and constant humidity that makes you think that you can't live without air conditioning.
The lowest temperatures that I've experienced in the City of Angels were two days in January, where it was 15 degrees and the roads were completely empty, where even the street merchants disappeared because it was too cold!
The weather is more or less the same throughout the country, including the islands. The average temperatures I've experienced have always hovered around 30 degrees, with peaks up to 35 during the more humid season.
Obviously the heat will be more bearable if you live along the water compared to being stuck in traffic in Bangkok.
The only exception is in Thailand's north where the climate is milder and temperatures can even go down to a low of 13 degrees in winter.
Alone or accompanied?
Moving to Thailand with your family requires various months of planning, especially if you have young school age children.
The biggest cities like Bangkok, Pattaya and Chiang Mai, offer various private school options where lessons are given in English. The advantages of living in larger, more populated places are many:
Both you and your children will have more opportunities to socialize at school and other activities in places such as parks;
You'll get your children used to being in contact with people from around the world and from different cultures;
Living in a big city with lots of opportunities, your husband or wife will find it easier to find a job and fit into the local social fabric.
Budget and cost of living
Thailand is often seen as a tropical paradise with a low cost of living. This is certainly true when compared with many European cities; but we have to completely debunk the myth that you can live in Thailand on just 500 Euros a month.
If you want to learn more about the actual costs of living in Thailand, take a look at our guide.
For those on a medium to high budget I recommend Bangkok. As the capital and a large city with everything you're looking for available, Bangkok has prices that vary a lot depending on the choice you make. In general I would figure on a monthly cost of between 1,000 and 1,200 Euros a person.
Keep in mind that if you decide to enroll in a university, eat often in foreign restaurants, shop in supermarkets like Villa Market, frequently use the BTS or taxis, your monthly expenses will be higher than those you would spend in a place like Pai, but also keep in mind that in Bangkok you'll have many more options.
Bangkok is therefore a place suited for:
people who have a job or intend on looking for one upon arriving in Thailand;
long term travelers with a mid-to-high monthly budget.
Pattaya, Phuket, Krabi, and the bigger islands have a cost of living that's slightly less than those in Bangkok. If you look at the price of rent for example, in Pattaya for 15,000 THB you can rent a 60 square meter apartment, with a sea view, while in Bangkok you can rent an apartment half the size far from the SkyTrain for the same price.
However, the cost of activities and going out to restaurants don't vary a lot, unless you decide to eat Thai food every day. In this case the street merchants of Bangkok have lower prices than those on the islands.
The lowest cost of living is found in the north, in places like Chiang Mai and Chiang Rai, where a one-room apartment starts at 8,000 THB a month.
In lesser-known places like the Khorat Plateau (also called Isaan), which is considered to be the poorest part of the country, for 8,000 THB you can rent an entire 4 bedroom house.
Obviously the cost of living can rise or fall excessively depending on your lifestyle. There are people in Bangkok pay 100,000 THB for an apartment in the center, and others who pay just 7,000 for a shared room.
The numbers considered in this guide are based on a single person with a mid-range budget living a normal lifestyle.
Final considerations
With its almost 70 million inhabitants, Thailand covers a surface area of other square 500,000 kilometers.
The majority of the population lives in Bangkok, considered to be the richest and most developed area of the country. Even though Thailand can be divided into 11 regions, the majority of foreigners live:
in Bangkok: the capital is so big and extensive that it forms its own region;
on the west coast of the southern region: including places such as Hua Hin, and the islands of Koh Samui, Koh Tao, and Koh Phangan;
on the southern coast facing the Andaman Sea: places like Phuket, Phi Phi Island, and Krabi;
on the east coast facing the Gulf of Siam, made up of Pattaya, Koh Chang and Koh Mak;
in the north bordering Myanmar, in cities like Chiang Mai and Chiang Rai.
The other areas of the country, such as the central-south with historic places to visit like the ancient capital of Ayutthaya; or the area called the Valley of the Mekong, because it surrounds the entire area bordering Laos marked by the Mekong River, are touristy places with very small or almost inexistent expat communities.
Photo Credits:

Thailand by Andreas Hunziker