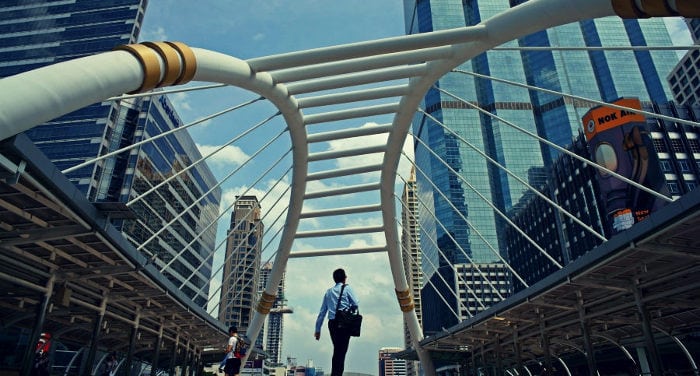 The dream of moving to a tropical paradise like Thailand is common to many people, especially in recent years. Living and working in Thailand is however not an easy thing, especially if we take a look at the new visa regulations put in place by the military junta during the last three years.
But let's start in order: in this article I will speak about:
The main difficulties a foreigner faces when looking for work in Thailand;
The necessary documents and visas to be able to legally work in the country;
The types of jobs that are illegal according to the Thai government and the consequences you can face if you work illegally;
The steps to take for effectively looking for a job in the Land of Smiles;
The reason why many expatriates in Thailand teach English.
Main difficulties
The main problem that a foreigner will face in looking for a job, whether they're already a resident in Thailand, or still abroad is the following: not being a Thai citizen.
This "banal" shortcoming is the cause of all problems foreigners have in finding a job, both in Bangkok or a deserted island.
In the first place, not having Thai citizenship (which no foreigner can ever get unless one of their parents are Thai) you can't get access to the majority of available jobs.
That said, according to a law instituted 40 years ago, the "Alien Occupation Act. B.E. 2521", a foreign person looking to work in Thailand must have a work visa.
The visa issue is the trickiest part. For a deeper explanation of the various types of permission necessary to stay for a mid-to- long term stay in Thailand, I refer you to this, our article.
In short, I can tell you that a work visa costs a bunch of money, all at the expense of your employer. For this reason the majority of firms don't hire foreigners, unless they're schools that are looking for English teachers.
The law also regulates the jobs that a foreigner cannot do, among which are as a driver, mason, hairdresser, umbrella-maker and many more. For a more complete list you can check the official site of the Thai Government.
It only pays to work in Thailand if the job you intend to do isn't on this list, otherwise you'll only be facing closed doors.
Jobs that aren't on this list which can therefore be done by foreigners, are few. Besides embassy employees and those of international organizations, which have diplomatic visas, the available professions are:
English teacher (the most popular by far);
Restaurant owner (especially international restaurants);
Information engineer (a highly-sought profession in Thailand, where many foreigners work).
These are the three main professions (legal ones!) that foreigners do in Thailand. Obviously there are lots of exceptions, such as for example managers with many years of experience, who work in the most important firms or banks in the capital, as well as diving instructors on the islands and so on.
What you need to have clear from the beginning of a job search is:
There are professions prohibited to foreigners, clearly regulated by local laws;
Those that remain aren't necessarily done by foreigners, and your employer will not necessarily get you a work visa. There are in fact many English teachers that work illegally in Thailand, because they don't have the necessary requirements (which we'll see later on) to obtain a visa and work permit.
Another problem is that foreigners often don't speak the local language.
The majority of jobs offered (except that of English teacher), are in fact positions for Thai citizens, so even if you have 20yaers experience as a manager but don't speak Thai fluently, your application will immediately be thrown away.
If you want to become an entrepreneur and decide to open a restaurant, know that your business won't ever completely be your own, since 51% must be owned by a Thai citizen.
So you'll have the initial difficulty (especially if you've never lived in Thailand and don't have any contacts) of finding a trusted Thai partner with whom to share your company.
The government has also decided that for every foreigner that works in your company, you'll be obligated to hire 4 Thai nationals.
So imagine a small tavern with two foreigners as owners who have to employ a good 8 people and pay their monthly contributions, such as for health care in addition to their salaries.
The last obstacle for some, could be that they don't speak English. Even though Thailand was decreed as one of the worst countries in the world for speaking English, it is still important even if you just want to send your resume to a school or company.
You can come to Thailand without speaking a word of English, but this won't open up any work opportunities. My advice is to take an intensive English course before leaving, or take one in Thailand, where local schools offer monthly and yearly English courses with the opportunity to get a student visa.
All these obstacles add up to the fact that an employer will hire you only if you can demonstrate an ability that a local person doesn't have (such as being a native English speaker and therefore becoming a teacher), making finding legal work in Thailand a very difficult but not impossible undertaking!
Visas and necessary documents
To apply for a work permit you have to first request a work visa called "Non-Immigrant Visa – B". This document is issued by Thai embassies abroad, and all immigration offices in Thailand.
Together with your work visa, you'll also be given a work book where it will clearly describe the type of work you do and where you work. So the visa will only give you the chance to work at that company, in that specific position which must be full-time; visas are not issued for part-time work.
To get a work permit you'll have to present several documents (whether you're an employee or entrepreneur), among which is your CV; an official transcription in Thai of your degree and letters of recommendation by your ex-employers; a map of the geographic position of the company and a photo of it; a copy of all your passport's pages; a Thai medical certificate that certifies that you're in good health, and many other documents.
Besides these documents, you must first bring to the embassy all those necessary for getting a visa. Once you get the visa you'll have to get other documents from your employer, such as the company's certificate of incorporation, for example.
There are lots of papers you'll need, and it often takes a bit of time to get them. For a complete and updated list of what you need to apply for a work visa and permit, consult the official page of the Thai immigration office.
The requirements and documents are officially requested by the Thai government, don't trust those that promise you a job as a teacher without your having a degree.
Illegal jobs
The following is considered illegal work:
Jobs done by people in fields prohibited by law (such as a carpenter for example);
Jobs done without a work visa and permit;
For those discovered to be working illegally in Thailand, there are some hefty fines. You could also be deported from the country and be barred from entering the country for many years. The worst eventuality is prison!
There are many foreigners that work illegally, especially in sectors like IT, and real estate agencies, where local companies need people who speak English well, but also when they find those who aren't willing to sponsor their work visa.
Many foreigners in fact work with 60 day tourist visas, after which they are obligated to leave the country (or request a 30 day extension) to then re-enter and repeat the process after two months.
How and where to find work in Thailand
Looking for work abroad is certainly possible, even if it's more difficult since your resume will show that you don't have an address or local phone number. However it won't be too hard to get a job interview; many companies in fact are willing to conduct interviews via Skype.
There are various web sites for looking for work in Thailand, and some are even field specific:
ThaiNGO: is an excellent site for those looking to work in international development. This portal is constantly updated with offers from simple unpaid internships, up to particularly important positions. Personally I used this site to find a job at the International Federation of Red Cross and Red Crescent Societies in Bangkok, and I can confirm that they put you in direct contact with the employer. I don't recommend sites like CraigsList, where there's a lot of scams posted;
There are then sites known worldwide like Monster, Jobsdb, Nationejobs, Jobtogun, and Careerjet, where by selecting the nation "Thailand", you can have access to all job postings available in Thailand;
Some pages like Jobs4farangs, publish job offers specifically for foreigners. The word "farang" in Thai actually means foreigner;
Those looking for a career in the scholastic field can go to Ajarn.com, the site where the majority of announcements for future teachers are posted;
I also recommend that you use social networks like Linkedin or Facebook for example, where groups like "Expats in Bangkok", "Farangs in Thailand", and many more often post specific job offerings for the foreign community.
If you're already living in Thailand, it's a great idea to show up in person, CV in hand, at places where you'd like to work. Remember that for schools, and the Thai culture in general, appearance is very important.
Teachers too have a uniform and a "code" to follow (in general): a skirt below the knee for women (either black or blue), and shirt. For men, long pants and a shirt.
Teaching English in Thailand
The majority of foreigners that I met in Bangkok taught English. Why is this profession so popular among the so-called Farang?
The main reason is that the education sector, particularly that of English, is what offers the majority of job opportunities, and is the easiest to get.
The level of English of the Thai population is very low, and to remedy this situation that is more than just a little embarrassing, the government has decided to raise the level of foreign language, hiring foreigners (considered by the Thais as the only ones who can effectively speak English well), mainly because of their mother tongue.
There's certainly no lack in this sector, the schools are very willing to pay for a work visa and permit to qualified foreign teachers.
Moreover, the schools really look for foreign Western teachers (those of Asian ethnicity are far less sought after), to attract new enrollment, given that there's the popular belief that all you need is to be white to speak "perfect" English.
In recent years the Thai government has also introduced a new criteria for being allowed to teach English in their schools: possession of a three year degree, the so-called Bachelors.
Many schools though are willing to hire foreigners that don't meet this requirement, and since work visas aren't issued to those who don't have a first level degree, the schools pass off these people as volunteers, offering them a different type of visa and also paying them less (even just 15,000-18,000 THB a month).
Final considerations
Salaries obviously depend on the job position you're applying for. In the teaching field for example, if you have a specialized degree and even are lucky enough to be a native English speaker, in private schools you can earn up to 100,000 THB a month (a little less than 3,000 Euro). Usually though in this field earnings are around 25,000-30,000 THB, which corresponds to 800-900 Euro.
The situation is different for those who intend on starting their own business, such as a restaurant. Keep in mind that to get a "Business" visa you'll have to demonstrate that you have a certain amount of capital in a Thai bank as a guarantee that you can survive in the months following the opening of your business.
So the chance of finding a job is there! But be sure to weigh carefully the requirements for the field you're interested in, especially since the unstable political situation in Thailand is changing very rapidly, and with it the rules for getting a visa.
The latest news introduced a few months ago is that it is no longer possible to get a visa by correspondence, sending all the necessary documentation at your country's embassy; you'll have to show up in person instead.
[Photo Credits (Creative Commons License): www.flickr.com/photos/massimo_riserbo/]