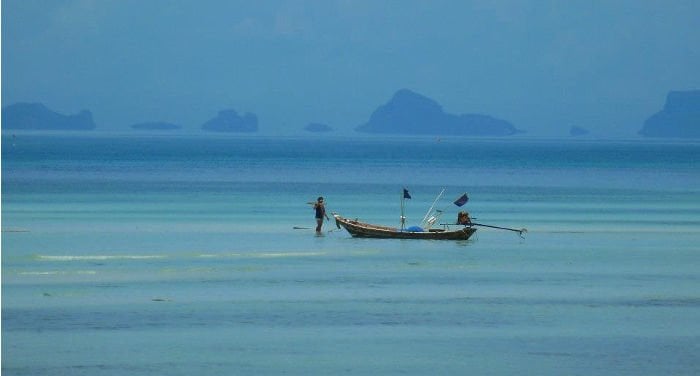 Located 700 kilometers from Bangkok, in the Gulf of Thailand, the island of Koh Samui is the country's second largest in size after Phuket.
Koh Samui was "discovered" around 1850, when various Chinese merchants disembarked in search of business in the coconut and cotton sectors.
Up until the 70's Koh Samui was sort of a backpacker paradise from around the world. With urban expansion and the construction of various resorts, tourism has become one of the island's economic pillars along with the export of coconuts.
Koh Samui is in fact called "Coconut Island", in view of the enormous number of coconuts that are transported and sold throughout Thailand each month.
In recent years, Koh Samui has also become a very interesting place for investors from Singapore, Hong Kong, and Taiwan. Thanks to tourism, more and more Asian businessmen have decided to invest in the construction of luxury resorts for foreign tourists.
Today the island has about 63,000 inhabitants, and is part of the province of Surat Thani. The district of Koh Samui is divided into 7 sub-districts: Angthong, Bophut, Lipa Noi, Mae Nam, Maret, Namuang, and Taling Ngam.
The capital of Koh Samui is Nathon, where the island's largest port is located and where ferries for Ko Phangan, Angthong, and Surat Thani depart. Nathon was chosen as the capital in 1905, when several administrative offices were installed.
Its characteristic little villages, dense tropical vegetation that's mostly made up of coconut plantations, and white sand beaches make Koh Samui a tropical paradise for all types of travelers.
Thanks to its proximity to the Angh Tong Marine National Park and other popular places such as Koh Tao and Koh Phangan, the island of Samui is a sought-after destination for both international and Thai tourists.
In recent years it has also become one of the preferred islands for expats, where they can work and even open their own business like restaurants and diving schools.

Koh Samui has a tropical climate, but it has a very long rainy season that goes from May to December. The best period to visit is the months between January and May. During this period the weather is dry and there are few rainy days.
How to get to Koh Samui
By air
The quickest way to get to Koh Samui is to take a flight from Bangkok.
The airline Bangkok Airways offers a good 21 daily connections at the moment from Suvarnabhumi Airport, from 6 in the morning until 8:30 in the evening for a cost of about 10,000 THB a person (round trip). Flight times vary from an hour and 10 minutes to an hour and a half depending on the route.
Similar prices are offered by Thai Airways for 11,000 THB a person, with 30 kilograms of baggage included.
Much lower prices are available on the two best Asian low cost carriers: Air Asia and Nok Air. For the first one, all you need is 3,500 THB to fly from Bangkok to Surat Thani.
From here you can then take the direct ferry to the port of Lipa Noi on Koh Samui. The same option with a stop at Nakhon Si Thammarat is also offered on Nok Air, with arrival at the port of Tapee for a price of 4,000 THB (round trip).
Obviously, compared to direct flights choosing an option with a ferry the amount of travel time goes up a lot! It could even take between 6 and a half to 7 hours to get from Bangkok a Koh Samui. If however you want to bring carry on luggage with a maximum weight of 20 kg, the ticket price goes up to 5,000 THB (round trip).
Thanks to Bangkok Airlines, Koh Samui can also be reached with direct flights from Chiang Mai, Krabi, Phuket, Pattaya, Singapore, and Hong Kong.
By train
Traveling Thailand by train is an experience I recommend, even just to see how the locals handle this adventure and admire close-up the beauty of the landscape. Two particularly interesting train itineraries are:
From the central station of Hualamphong you can get to Surat Thani in 12 hours. My advice is to take the night train so that your trip doesn't seem to take forever. The first train leaves at 17:05, the second at 18:30, while the third leaves and hour later and arrives at 7:16 in the morning the next day. If you prefer to travel by day, there's the 8:05 departure arriving at 16:45.
Once you get to the city of Surat Thani, you'll have to take a shuttle bus up to the port of Don Sak, and from there take the ferry for Koh Samui. If you arrive by night train, the first available ferry is at 10:10, arriving at the island at 10:55. The company Raja Ferries offers connections at 8:00, 9:00, and 19:00. In all three cases, the time at sea will be an hour and a half.
You can buy tickets on 12go.asia, one of the most trustworthy sites for planning your trip in Thailand. Click here to discover the most useful apps to download before your trip to Thailand.
Ticket prices that include second class on a night train, transportation from the Surat Thani train station to the port, and the ferry trip is about 1,500 THB a person.
Once you've bought a ticket online, you can pick it up in person at the 12go office in Bangkok. The office is located in front of the Hua Lamphong railway station, at the following address: 318 DOB Building, Mahapreuttharam. It's open from Monday to Sunday from 10:00 to 20:00.
By the beginning of 2021, the Thai minister of transport has planned to move all long distance trains to the new terminal at the Bang Sue Station (in Thai: สถานีกลางบางซื่อa), about 7 kilometers from Hua Lamphong. Among these will probably be those going to the south of the country.
Getting to the station will be easy:
buses 50, 52, 65, 67, 70, and 97 stop at all the stations or neighborhoods;
the extension of the metro blue line will have a stop under the station by the name of Bang Sue;
there will also be the possibility of getting to the train station thanks to the new pink SkyTrain line going to the Pathum Thani province for a total of 26 kilometers and 10 stations.
By bus
The cheapest way to get to Koh Samui is by bus. From Bangkok you can take buses to the city of Surat Thani from two places:
close to the famous backpacker street, Khao San Road, every afternoon at 16:30 three different buses leave. Prices vary depending on the services offered (express, VIP, VIP 24). The highest price ticket is 949 THB, defined VIP 24, which allows you the chance to have food and television included in the price for a total of almost 15 hours of travel;
another possibility is to go to the Southern Bus Terminal station, on Boromrat Chonnai Road, and choose from one of the many companies that offer this route. The first bus leaves the station at 9:15 and arrives at its destination at 20:15. The price is 527 THB a person. All other routes are scheduled between 17:20 and 20:20, with prices between 527 to 781 THB a person.
In both cases you can buy a bus and ferry ticket right at the station, or by using the site 12go.asia. In this case the price varies between 800 and 1,600 THB, depending on the company's departure site.
You can also get to Koh Samui from cities in the south, like Krabi or Phuket, at a low price. For example, from the first one there are buses that depart from 6:00 in the morning until 12:30, which combined with a catamaran or fast ferry option for 500-750 THB will allow you to get to the island in a maximum of 5 hours of travel.
From the island of Phuket (both the airport and terminal 2 from the bus station) you can buy combination tickets with departures from 7:30 to 10:00, that arrive in Koh Samui by 6:15 in the evening at the latest.
If you're staying on one of the nearby islands of Koh Phangan or Koh Tao, with a ferry ride of 30 minutes to 2 hours you can easily get to Koh Samui, even just to spend a day in a different place.
The island beaches and where to stay on Koh Samui
First of all, click here to read reviews of the best hotels on Koh Samui.
In order to choose where to rent a room on Koh Samui, besides having a general idea of the various beaches, it's important to have clear in mind what type of vacation you're looking for. Below you'll find a brief description of every beach, divided into cost and type, and the type of hotels you'll find in the area.
On the northern cost
Choeng Mon Beach: is a beach with calm seas and white sand, ideal for families with children or those looking for peace and tranquility;
close to Fisherman Village is Bophut Beach. This too is a beach for relaxation lovers and families with small children. The water isn't the best but its proximity to the fisherman village makes it an ideal destination for those looking to fully immerse themselves in the local culture;
Mae Nam Beach is a cute beach, but like almost all the beaches on the north side of Koh Samui, the water certainly couldn't be considered some of the best;
as the name suggests, Big Buddha Beach is a beach located near an enormous Buddha statue in the northeast of the island. It's good both for families and those looking for fun; in fact it's a rather animated place in the evenings, but not at the level of the more famous Chaweng Beach.
Starting with hostels, near Big Buddha Beach (in Thai: Bang Rak Beach), you'll find Casa Luna Hostel. This building offers double rooms with a shared bathroom for 250 THB a night per person. If you're traveling alone and would like to get to know new people, you can also book a bed in a ten-person dormitory for just 180 THB a night.
Still in the low cost category, there's Eddy's Place. Just 2.5 kilometers from the Fisherman Village, this guest house is located in the Bophut area, near Mae Nam Beach. Rooms for rent cost less than 250 THB a person per night.
As the name suggests, the Backpackers Hotel is a place where backpacking travelers from all over the world relax and exchange thoughts on travel. The price per person in a mixed dormitory is 250 THB.
A lodging option that offers more comfort is the Escape Beach Resort. This 3 star hotel is just 30 meters from Mae Nam Beach and offers both typical rooms and bungalows. A double room costs a little less than 1,000 THB a night; it will take 3,000 THB for a sea view bungalow.
With 4 stars and a marvelous villas with private pools there's the Samui Boat Lagoon Resort, at Choeng Mon Beach. Prices range from a minimum of 3,500 THB for a single room villa, to a maximum of 5,800 THB a night for a two bedroom villa.
In this luxury hotel you'll have all possible comforts imaginable such as a massage center, excursion desk, a private beach, and the option of booking a free airport shuttle.
On the east coast
the most famous beach on the island is Chaweng Beach. Besides hosting lots of restaurants, this beach offers several clubs where you can enjoy yourself in the evening. The area is particularly suited for those who want to fully enjoy the nightlife. The prettiest area of the beach is in the center and southern areas (Chaweng Noi);
Lamai is an area good for families with children. There are different things to do here, but don't expect the nightlife that there is in Chaweng;
Coral Cove Bay, located between Chaweng and Lamai, is a very beautiful beach, ideal for tourists looking for fun since it's close to the more happening areas of Chaweng and Lamai, but also for those looking for a little peach and tranquility.
In Chaweng there's a wide choice of accommodations: from hostels up to resorts for thousands a night. For a budget of 270 THB a night, you can have a bed in a mixed dorm at the hostel Little Boat.
For a higher price there's the P168 Hostel Samui, located just a minute from the walking street. Beds are called capsules, because they were built in a way that you can close a door and create an actual private room. The price for a capsule without a window is 335 THB; 380 for those who want a window.
Among the midrange hotels is the Garden Home. Just 5 minutes from the beach, this accommodation offers both rooms and little apartments. Prices start at 1,000 THB a night.
The 5 star hotel The Library besides having a gorgeous view of the water, has a library with more than 1,400 books. The minimum price for a studio is 11,400 THB a night. If you're a group of friends and want to rent a village with a secret pool, The Library offers villas with two bedrooms for 55,000 THB a night.
Near Lamai Beach, is the Fullmoon House Samui. This building gives you the chance to rent little private homes starting at 855 THB a night. You can also use the public pool and get to the beach in just a few minutes.
Situated more inland is the Happy House. The bungalows are very spacious and the cost per night is 1,500 THB. This place is just a little more than a kilometer from the city center of Lamai.
On the southern coast
Hua Thanon Beach is a beach mainly suited for children and those looking for cheap accommodations. The surrounding panorama is made up of a fisherman village where you can find excellent seafood restaurants;
for couples and families looking for privacy and tranquility, I recommend Bang Kao Beach, a beach in a rather isolated spot with crystal clear water;
Thong Krut Bay isn't a particularly interesting place as the tide is rather low and every day tour boats depart for nearby islands.
Surrounded by a dense coconut plantation a little less than 3 kilometers from Hua Thanon Beach, you can stay at Coconutspalm Resort. You can rent both bungalows and actual villas with a private pool. The cheapest price is 1,600 THB, while the most expensive (with 4 beds) goes for more than 8,000 THB a night.
On Bang Kao Beach you'll find the Bang Kao Bungalow. Prices for accommodations start from 1,100 THB a night.
On the west coast
the closest beach to the capital Nathon doesn't have particularly nice water, partly because of the countless boats the dock here every day. Still the town deserves a visit, even just to take a look at the local market;
Taling Ngam Beach is a very nice beach thanks to the tropical forest that surrounds it, and the view of the National Marine Park of Ang Thong.
At the Villa Giacomelli, rooms start at 450 THB a night. In the local restaurant you can taste typical Thai dishes as well as some Italian recipes like pasta. Even though it doesn't directly face Taling Ngam Beach, you can reach the water in just a few minutes on foot.
If you want a bungalow experience, at the Lacoppola Garden Bungalow you can rent one for just 720 THB a night. You can also book without a credit card and pay once you've arrived at Taling Ngam.
Where to eat on Koh Samui
With more than 1,000 restaurants, Koh Samui offers a wealth of choices when it comes to food. In addition to Thai cuisine, you can also try Scandinavian, Indian, Japanese, Mexican, Italian, Argentinean and also Swiss and Lebanese cuisine.
If you like a romantic atmosphere and want to dine directly on the beach, you won't be disappointed with Hemingway's on the Beach Restaurant. The dishes on offer reflect the local cuisine and will satisfy seafood and meat lovers as well as vegetarians!
Among the specialties on the menus there's chicken with massaman curry (225 THB), typical Pad Thai (depending on the version from 200 to 250 THB), and vegetarian dishes like fried rice with vegetables and green curry for 200 THB.
With much higher prices, there's Supattra Thai Dining. This place is located near Bangrak Beach. One of its specialties is blue crab in pure Southern Thai-style, which costs 540 THB. Another typical dish is pork with Thai basil and eggplant covered in green curry for 380 THB. They also make Mango Sticky Rice for 200 THB a portion.
There are also cheaper taverns that you absolutely have to try, as with the street food you can find on Beach Road in Chaweng and all local markets.
Chaweng's main road, Chaweng Beach Road, is where you'll find in the majority of international restaurants on Koh Samui, many of which are run by expats.
If you want to try Indian cuisine Noori India Restaurant has a broad menu. Of their main dishes there are a good 19 different chicken recipes and 25 vegetarian combinations.
On the list of better Italian restaurants on Koh Samui there's Prego Restaurant. On the menu you'll find typical Italian dishes like pizza, pasta and risotto, but also recipes with meat and fish like tiramisù, gelato, panna cotta, and apple pie, all homemade.
With an area dedicated to barbeque, Gringos Cantina is Mexican restaurant that's particularly recommended for its grilled meat and fish. You can also try classic American dishes like hamburgers and Italian options like: pizza, pasta, and lasagne.
Prices are average for international restaurants on Chaweng Beach Road: 380 THB for 2 burritos, from 425 to 475 THB for a dish with 4 fajitas, 185 THB for a Caipirinha.
What to do on Ko Samui
Koh Samui is an island that offers much in the way of landscapes, nature and attractions. You can't fail to mention the temple of the Big Buddha (Wat Phra Yai). Situated on a small island (Koh Faan) it can easily be reached on foot thanks to a paved road that connects it to Koh Samui. The golden statue of this seated Buddha is a good 12 meters high and is visible from far away.
Another temple built in the north of the island is Wat Plai Laem. This Thai-Chinese religious complex, besides being very colorful, is also famous for its statue of the goddess Guanyin with 18 arms. In Chinese culture this divinity is considered the protector of women and children as well as sick and poor people.
Completed in 2004, Wat Plai Laem is visited daily by faithful Chinese who gather in front of the enormous statue of the fat Buddha, considered to be the bringer of well-being and luck.
Both statues are surrounded by a large lake full of fish that you can feed for 10 THB. The inhabitants of Koh Samui go to the lake to free the fish that they buy at the market. This gesture is considered to be a good omen.
If you want to visit a place little known to tourists, I recommend that you to take a tour of the Khao Hua Jook Pagoda. This oasis of peace is located on the top of a hill near the city of Chaweng. From above you have a wonderful view of Chaweng Beach, the lake and the Big Buddha.
Maenam is another Chinese temple. Though very small, it's the main gathering place for Koh Samui's Chinese community for celebrating traditional celebrations like Chinese New Years.
On the southern coast you'll find a rather interesting temple, Wat Khunaram, which has the mummified body of Buddhist monk Samathakittikhun Phra inside since 1973. A master of meditation, he predicted his death and decided that if his body didn't deteriorate after his death he wanted to be displayed in a glass shrine to inspire other people. Today his body is perfectly preserved, rendering him a miracle in the eyes of many.
Close to Lamai Beach is the Wat Sila Ngu Temple, also called the red temple for the tiles it's built with.
Another interesting place to visit is the Secret Buddha Garden. Situated on a hill 600 meters above sea level, you'll find a garden in the middle of the jungle full of statues depicting animals, human beings and even gods.
The mastermind of the Buddha Garden is Kuhn Nim Thongsuk, a Durian grower, who in 1976 decided to build the statues on his land. Getting there by scooter is not recommended since the road that goes up the hill is slippery. So I recommend that you rent a 4×4 vehicle, or join one of the organized tours that include this stop.
This mystical garden has splendid tropical flowers as well as a wonderful view over the southern part of the island. Some agencies, like Blue Stars, also organize tours to the nearby waterfalls for 300 THB a person.
Here are the other waterfalls you can visit on Koh Samui:
Nam Tok Na Muang 1: is the highest and most crowded waterfall (30 meters) on the island. Situated in the southwest 12 kilometers from Hua Thanon, you can also take a dip in a naturally stupendous swimming hole;
Nam Tok Na Muang 2 and Nam Tok Wang Saotong, are located near Nam Tok Na Muang 1. Less impressive than the first one, these two waterfalls are almost completely dry during the dry season;
Nam Tok Hin Lat: located near the capital, this waterfall has a natural pool where you can also take a dip. Nearby there's also Wat Hin Lat Temple, where they give Vipassana meditation lessons.
The grandfather and grandmother rocks, called Hin Ta and Hin Yai in Thai, are two rocks that became famous for their shapes that look like male and female organs.
They're situated near the southern coast of Lamai Beach and are just a few meters apart. Easily reachable by scooter or on foot, many skeptics don't believe it was nature that gave these rocks their shape but rather the hand of a local Thai behind their appearance.
Legend says that an old couple decided to travel by sea with their son to a nearby province in the hopes of finding him a wife. But during the trip a storm struck the boat and the two died and were changed into rocks. The Thais believe that touching the statues or swimming in the water around it brings luck to those hoping to have children.
If you like Thai food why not learn to cook a few dishes? There are lots of schools on Koh Samui and the majority offer lessons almost every day of the week. Regardless of your level, you can choose courses that last only 90 minutes or even a few weeks.
All the teachers, many of which have been professional chefs, speak English and will show you which ingredients to buy in local markets. Among the most well-known schools are the Samui Institute of Thai Culinary Arts, the Sandalwood Luxury Villas, and the Samahita Retreat (a yoga center where you can eat vegetarian dishes).
The first Golf Club in Thailand was instituted by the royal family in 1924, in the city of Hua Hin. In the north of Koh Samui you can play golf (remember that in Thailand you're obligated to have a caddy) at the Santiburi Samui Golf Club.
Immersed in a tropical green oasis, the luxurious club also offers beginners and children the possibility to take lessons with the master. Prices start at 2,000 THB for an hour of lessons. If there's two of you the cost goes down to 900 THB a person.
Other outdoor activities on the island are snorkeling and diving. Thanks to many organized yours run daily by agencies and diving schools such as 100 Degrees East and the Discover Dive Centre, you can admire the marine kingdom up close and if you're lucky you can see animals like turtles or whale sharks.
Here are some of the most popular excursions:
going to Ang Thong National Marine Park, a natural park composed of 42 uninhabited islands located 31 kilometers from Koh Samui. There are lots of things you can do in this area: snorkeling, diving, kayak, trekking, and visiting the emerald salt water lake;
a jungle tour by jeep, which includes several interesting sites like the Na Muang waterfalls and the Secret Buddha Garden.
For fans of muay thai, there are different places where you can watch matches. The most famous is Chaweng Muay Thai Boxing Stadium, where for 3 hours every Tuesday and Friday, both Thais and foreigners gather to watch matches and the most passionate ones even bet money. The price for entry is 1,500 THB a person for regular seats, 2,000 THB for those considered VIP.
If you stay at Lamai Beach or in the surrounding area, you can visit the Lamai Boxing Ring. Every Saturday night from 10 to midnight, they also hold free muay thai matches.
On Koh Samui you can also take muay thai lessons and even week-long sports retreats. The Lamai Muay Thai Camp for example offers a program with lodging and daily muay thai lessons with overall prices that are less than offered by European gyms.
Of a completely different style are the yoga centers and spas. Among the most well-known are The Yogarden and the Yoga House & Spa.
At the first center, located close to the Fisherman Village, you can not only practice yoga, but also stay there to follow a detoxifying feeding program starting at 5,000 THB a person for a total of 3 days (lodging not included).
At the Yoga House & Spa, you can undergo spiritual treatments, like reiki and acupuncture. Located on the Lamai Walking Street, this center offers group yoga lessons starting at 400 THB.
Shopping on Koh Samui can be a very relaxing activity. Other than the little markets and local artisan shops there are also several shopping malls (of the style you'll find in Bangkok) like the Central Festival Samui in Chaweng.
Practical advice
Hospitals on Koh Samui
When traveling in Asia it's good to take out an insurance policy before leaving. Even though Koh Samui has several hospitals and clinics, if for some misfortune you need one, you'll be asked show a copy of your insurance policy.
Roads and scooters
Pay particular attention to the roads if you decide to rent a scooter to see the island. Prices vary between 150 to 400 THB a day, depending on the model.
Remember too that:
so as not to find yourself in an unpleasant situation I don't recommend that you leave your passport with the rental agency. Many times they ask for it as a guarantee, and when you return the scooter they invent almost any type of damage (not caused by you), to make you pay to get your passport back;
take pictures of the scooter before leaving, so as to have an idea of where the previous scratches and marks are;
always wear your helmet when you drive and pay attention while on the road, because the locals are famous for not respecting the rules of the road and you'll often see them going the wrong way just to save a few minutes.
Road accidents are quite frequent in Thailand, especially on islands where the roads aren't in great shape and can be dangerous. The Land of Smiles is third after China and India when it comes to road fatalities.
If you don't want to drive a scooter you can pay for a ride on a songthaew, one of the little open taxis with seats on its side. Prices vary depending on the destination, which are written in English in the forward part. There are no official stops. When you see a songthaew pass by you can stop it and negotiate a price with the driver.
Taxi
Like all other Thai islands, on Koh Samui it's practically impossible to find a taxi driver who'll turn on the meter. In order to avoid being completely ripped off, I recommend that you download and app called NaviGo Thailand, available for both iOS and Android systems.
Thanks to this app both tourists and locals can take advantage of taxi service without spending a fortune.
When you choose the departure and arrival point, the app will show you the final price you'll have to pay, therefore avoiding unpleasant surprises. You can also see ahead of time who the driver will be and can check reviews by other users.
Animals
Even though the majority of agencies offer elephant trekking or a visit to a school of monkeys, I strongly recommend that you avoid this type of activity.
As is well-known, in Thailand and Asia in general animals are taken advantage of and mistreated for touristic purposes. A disconcerting fact is that in 1900 there were 30,000 free elephants and a good 100,000 in captivity. Today in Thailand less than 2,000 free ones remain and just 4,000 in captivity.
Photo Credits:

Koh Samui 08/09/12 by Web Design Samui