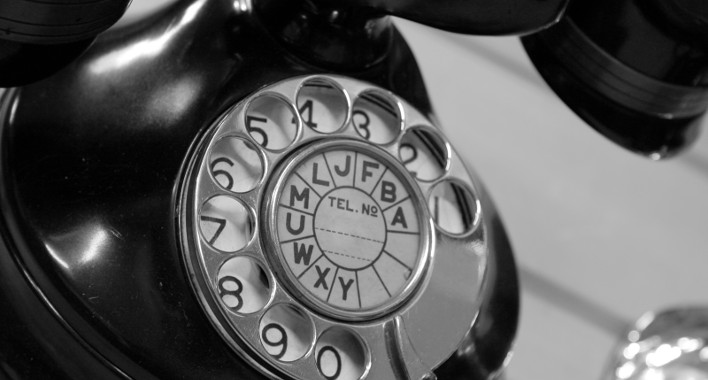 What is a virtual phone number?
A virtual number is a phone number that isn't associated to any physical phone line: all the incoming calls are re-direct to another number (for instance your mobile number).
Why you may need a virtual phone number
Have you ever used the roaming service while you were abroad? I did it when I was just arrived in China and I ended up paying a huge amount of money (at the time my family needed to contact me quite frequently and I was often off-line). After the first crazy expensive bill I decided to find a solution to this problem. And this is how I stumbled upon the virtual numbers.
Using a virtual number to redirect the calls from a local number in your country to your Chinese mobile number is probably the best option to receive calls in China or wherever you are. It's cheap and you won't have to teach your grandma to use Skype ; )
How does it works?
It's easier if I explain it through an example.
Imagine that you move from New York to Shanghai and you get a Chinese mobile phone number. Now, if you aren't online your family, friends or customers that are located in New York only have two choices: call you at your old U.S. mobile number or at your new Chinese mobile number. This is a classic "devil's choice" as both options are extremely expensive for both you and the person who is calling you.
However there is a third option: you can purchase a virtual phone number located in New York, U.S. Now when somebody calls you to this number will pay accordingly to U.S. local fees (that is almost nothing). However the number won't be real, in the sense that the call will be redirect to your Chinese mobile number and you'll pay a fee that will depend on the virtual number company of your choice. The good news is that this fee may be as little as 0.04. USD/minute.
So after you set up a virtual number anyone can call to your Chinese cell phone from U.S. (or any other country) and both him and you will pay a quite small fee. Now that's interesting!
This is the system used by most of 24h call centers' services: the people on the other side of the line often has an Indian accent because the call center is located in India even if you are calling to a local U.S. number: your call is being redirect through a virtual phone number service.
This is especially useful if you handle an international business and your customers need to call you from any country while you are in China.
What virtual phone number service do you suggest?
At the moment I use Kolmee and I'm satisfied with the service. You can read the pros and cons of Kolmee below:
Kolmee pros
The price: using Kolmee is way cheaper than receiving international calls to your Chinese or international SIM card for both who is calling you and you (0.03 Euro/minute or 0.04 USD/minute in China). Also, it's cheaper than any other virtual number's provider that I know.
It offers local numbers from over fifty countries: Here you can find the complete list of countries and cities from which you can get a local number.
You don't need an internet connection: Since nobody is always online it becomes easier to contact you. People won't need anymore to catch you up on the web, they can just call you at the phone. Get ready to receive calls at two a.m. from your grandmom!
You can have multiple associated numbers: If you need to receive calls from several different cities or countries, then you can get a local number for each of them and redirect all of these numbers to the same number in China.
You can change the destination number: If you are moving to an other country, province or you simply change your cell phone number, you can change the number where the calls will be redirect for free without needing to open a new account with Kolmee.
Phone call's quality: Usually the sound quality is good, without echoes. Also, I never had noticeable delay as it happens with Skype or standard calls. I have to recognize that sometimes the sound isn't perfect but it's still way better than any other system I've tested.
There are no registration or unsubscription fees: So it's also suitable for travelers who need to maintain contact with their home or work country while being on a short term trip for business or pleasure.
The service is constantly being updated: When I started to use it, more than two years ago, you could only get a number form one place and the only way to pay was through Paypal. Nowadays Kolmee offers local numbers from over fifty countries and hundreds (thousands?) of different cities and you can pay through your credit card, debit card or Paypal.
Kolmee offers a good post-sell customer service: If you have any problem you can contact them and normally they will answer within 24h.
Kolmee cons
Even if no product is perfect, I must say that it has been hard for me to come up with some cons.
You can't call: Virtual numbers can be used only to receive calls. Clearly if you want to activate a service for your business customers this is not a problem (unless you like to disturb your clients without a reason).
There is a monthly maintenance fee: If you choose the standard option (top-up) it has a monthly maintenance fee, usually a couple of Euros (I'll talk about that later).
Some countries need a prove of residence: Some countries like Ireland or Italy have strict regulations, you can get a local virtual number with Kolmee number if you can prove that you are living there (a phone bill it's enough). You can check here the list of countries that ask for a proof of residence is needed (they are indicated by a "*" character). Notice that within the English speaking countries only Ireland requires a resident proof while if you want a virtual number from U.S., U.K., Canada, Australia or New Zealand there is no need for such a proof and anyone can get a virtual number.
How it looks a Kolmee's account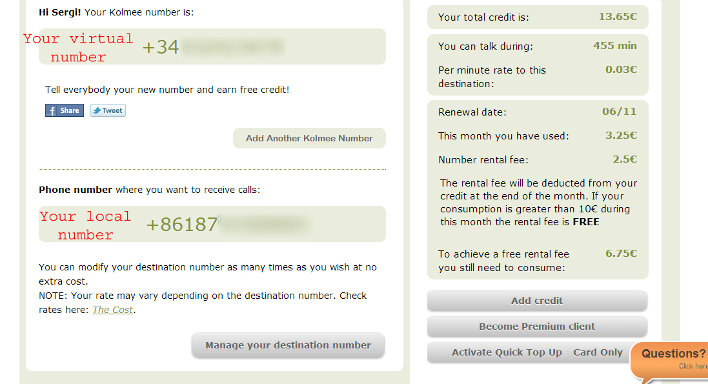 In the figure above you can check my Kolmee's account. You can see my virtual number (from Spain, it starts with the Spanish international prefix +34) and my destination number (a cell phone from China, it start with the Chinese international prefix +86). You can also see my credit (13.65 Euro), the rate per minute (0.03 Euro/minute), the date they're going to charge my monthly fee (2.5 Euro in my case) and how much I spent this month (3.25 Euro)
Checklist before purchasing
Make sure to read the following checklist before to purchase a virtual number.
Check if the country(s) where you want to buy a local virtual number needs a proof of residence
As I said before some countries require a proof of residence in order to let you open a new line. This depends on the country's regulation and not on the virtual phone number company you choose. Normally if you have a bank account in the country it should be enough. A gas or phone bill is also ok.
If the country requires a proof of residence (Ireland for instance) and you can't provide it, then send an inquiry by email to see if they can help you. If you can provide it – because you do live in Ireland – then check if your residence's province is covered by the service.
If you don't have any relation with this country (thus, no prove of residence) or Kolmee don't have the number from your area, is better not to open an account yet. Just send an email to them asking if they will have your area in the future or if there is another way to do it.
Which type of account should I choose?
Kolmee offers three types of accounts: Subscription, Prepayment and Prepayment Premium.
First of all, how many virtual numbers do you need?
If your answer is "more than one", there is no need for keeping reading this section as you need a Prepayment Premium account.
If you need only one number, how many calls do you expect to receive?
If you plan to receive few calls through your virtual number, for instance if you want to use it as a backup number when you aren't online, then you should get a Prepayment account.
If you think that you'll receive calls for more than two hours per month (because your customers are really annoying or your mother have to tell you every day what her dog did), then go for the Subscription account.
Notice that in some countries only the Prepayment Premium is available. Click here and choose the country you are interested on to know the details (in U.S. and U.K. all the accounts are available).
p.s If you already purchase a service but you got the wrong account you can still change it free of charge.
How much does it cost and how it works each type of account?
The Prepayment Premium and Prepayment accounts work at the same way: you top up a certain amount of money into your account (minimum 10 Euro) and you can talk until you finish your credit (as you can see in the caption above my credit is 13.65 Euro so I can still talk for nearly 8 hours).
In my case I'll also have to pay a flat fee of 2.5 Euro per month in order to use the service (the flat fee may vary depending on the country, in U.S. and U.K. you also have to pay 2.5 Euro per month). However if you spend more than 10 Euro per month you don't have to pay any flat fee, just the credit you used.
When your credit goes under 3 Euro (this is the default but you can change it in your profile area), you'll receive a notification via e-mail in order to top up again. If you run out of credit you won't be able to receive calls anymore.
If you choose a Subscription account you'll have to pay a minimum of 6 Euro per month (usually it corresponds to 200 minutes at 0.03 Euro/minute but it depends on the country). If you only talk 120 minutes (which correspond to 3.6 Euro at 0.03 Euro/minute) you'll still have to pay 6 Euro. However if you talk 240 minutes you'll have to pay 7.2 Euro (there is no flat fee).
As I said before this option make sense only if you are expecting to talk more than 120 minutes per month.
Do I need to pay any taxes?
If you're a European Union resident (national or not) you'll have to pay the VAT (21% of what you spend) if you're not you won't have to pay any taxes even if you get a E.U. virtual number.
What happens if I move to another place or I change my phone number?
Just head to Kolmee's website, sign in to your account, press "Manage your destination number" (you can see it in the capture above), and update your data for free.
What happen if I don't need Kolmee anymore?
Just sing in to your account and press the "Cancel Prepayment" or "Cancel Subscription" button (under the icon "Activate Quick Top-Up Card Only").
Click here to try Kolmee's virtual number
[Telephone Photo Credits: http://www.flickr.com/photos/macinate/]
Related Articles:
Sign up to get our free e-books ; )
Sign up to get the "Find a Job and Live in China e-Book" and the "Chinese/English Travel Phrasebook." Your email address will never be shared.
Enjoy this post? Please share a bit of love...