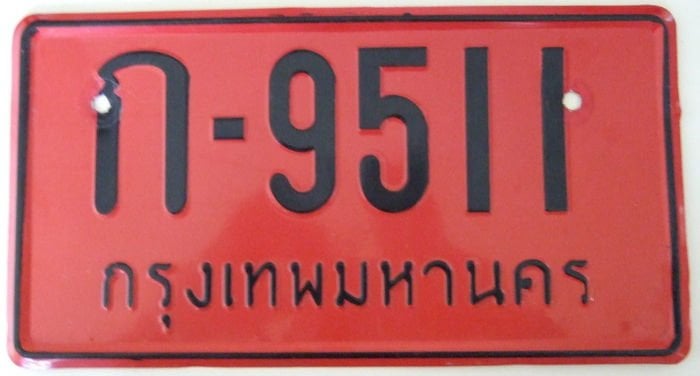 Drivers license in Thailand – Index
In order to legally drive in Thailand, you need to have an international license recognized by the Geneva Convention of 1949, or convert your home country's license so that you can drive in Thailand.
In fact, according to local laws, no foreign license can be recognized as a legal document in the Thai state, and driving with a foreign license is prohibited.
If you have already been to Thailand you probably know that most of the time when a local policeman stops a car or scooter driven by a local with a foreign license (not an international one!), they're rarely given a ticket for not having an international or Thai license.
The same thing happens when you rent a scooter: you'll almost never be required to show your license, and the few times that you are, they'll even accept those from your home country.
This though doesn't mean that it is recommended to drive with a foreign license, because if you get into an accident and don't have an international or Thai license, your insurance won't shell out a penny.
At this point, if you don't have the money to cover the expenses, they might even throw you into jail.
Who can apply for a Thai license?
Those who have a single or double entrance tourist visa, cannot apply for a Thai license, but they can use an international one, which you can apply for in your home country.
A Thai license can only be applied for by those who have a non-immigrant visa (here you'll find a list of categories of people who fall under this type of visa) or a work permit.
Obviously converting a foreign license into a Thai one is only done for the category of transportation of which you already have a license. Unlike other countries, in Thailand a motorbike license and an automobile license are two distinct documents.
Why convert your license into a Thai one?
Besides the legal factor and the insurance coverage mentioned earlier, converting your license into a Thai one has a few important advantages:
If you live in the Land of Smiles, it will certainly cost you less to have a local license than to continuously renew your international one;
A Thai drivers license is often accepted as an official document and will save you from always carrying your passport with you;
By already having a license from your home country, getting a Thai one is fast and easy and you won't have to pass a theoretic or practical exam;
A Thai license is also valid in another 10 countries that make up ASEAN.
Necessary documents
To convert your license, you'll have to go to the Land Transportation Office. Almost all the largest cities have one, while in the capital Bangkok there are five: the biggest is located in the northern part of the city, while on Sukhumvit Road, at Phra Khanong, there's a more "central" one.
If it's your first time applying for a Thai license, you'll get one good for two years, after which you can renew and get a version good for another five years.
The required documents are:
A medical certificate of good health no older than a month, which can easily be obtained in any Thai hospital or clinic for a cost of no more than 300 THB. You can show this to the doctor: ขอใบรับรองแพทย์เพื่อไปทำใบขับขี่;
A residence certificate or work permit. The former can be obtained for free at the immigration office;
Your passport and original license. If your license is not in English or Thai, you'll have to have it translated and certified by your country's embassy;
An application form. Most times it's only available in Thai, and for this reason I recommend that you have a local person accompany you during the application process, as quite often the officials don't speak a word of English;
If you don't have a license and have taken driving lessons at a Thai school certified by the Land Transportation Office, you can attach the school's certificate – which you'll receive upon completion – to the application.
You don't have to take any pictures since they'll be taken onsite.
If you're looking to get both a motorbike and automobile license, all documents are required in duplicate. The two licenses are in fact physically distinct, even though the process to get them is the same.
The whole process
If you want to convert your license into a Thai one:
You can apply for the recognition of your license by personally going to the circulation office or having someone from a specialized agency do so (at a much higher cost). Some agencies promise you that you'll get your Thai license in a few hours, on a tourist visa, for a price starting at 1,900 THB.
After getting all the necessary documents, you can go to the prearranged office. Besides handing in your documents, you'll also be asked to take a physical test at the motor vehicle office. This test has four different exercises, such as measuring your depth perception. Before taking this test you'll be shown an hour-long video in English with all necessary information about driving safely in Thailand as well as local road laws.
Once you finish the test, they'll take your picture and ask you to pay (155 THB for a motorbike license and 205 THB for an automobile), then give you your Thai license.
It usually takes between 3 and 4 hours to finish the whole bureaucratic process. I recommend that you get to the office early so as to get it all done in one day.
An important thing to remember is to renew your license before it expires in two years, otherwise you have to do the whole process all over again and wait another two years until you can get your five-year license.
A curious fact is that the expiration date always coincides with your birthday, while the date of issue means very little.
If you don't have a license:
If you've never gotten a license and want to do so in Thailand, the place to bring your documents is the same, with the difference being that besides the physical test you'll also have to take a theoretic and practical exam.
You can also take the theoretic exam in English and it's given only after you've watched five hours of video where the rules of the road in Thailand are explained. The video is in English with Thai subtitles.
The written exam is made up of 50 questions and to pass it you can't get more than 5 wrong. If you don't pass on your first attempt, you can take it again the next day without having to watch the video lessons for five hours.
When it comes to the practical exam, if you want to get a scooter license you'll be required to drive a route inside the motor vehicle center, where an official will observe you and judge your driving. You can either use your own motorbike or rent one for 50 THB. Before taking the test you'll be showed a video where they explain the exercises you have to do, including parking.
For the automobile practical test, you'll also take the test onsite and your driving will be evaluated by a local expert.
Photo Credits:

THAILAND dealer for test driving use. by Jerry "Woody"